This Healthy Potato Salad is nutrient dense with live probiotics, resistant starch, healthy fats and protein to make it a meal. It's naturally Whole30 and Paleo and is great for lunches and big crowds.
This salad is so versatile - it can be served for summer breakfast, lunch and dinner (wrapped in a lettuce leaf) and also makes a great snack in between. You can also make substitutions to some of the ingredients below and likewise omit or add other ingredients.
Healthy Party Food Salad
This Healthy Potato Salad is a spin-off of my childhood favorite Russian salad, Olivier (Olivié in Russian). Olivier Salad is a classic often found on dinner tables in Russia and many other European countries.
This salad is a staple party dish because all the chopping can be made ahead of time and then combined with mayonnaise just before serving. It's especially popular at birthdays, holidays and other celebrations.
In addition to serving this up to guests, I love putting this in picnic baskets and lunch boxes. It's a complete meal in one bowl and one you won't feel bad about devouring.
Healthy Potato Salad Recipe (Whole30, Paleo)
Originally, Olivier salad typically calls for bologna and drenched in genetically modified and rancid soy-based mayonnaise. And the pickles commonly used were that of the bright-green, vinegar-based variety.
With just a few healthy swaps, I was able to transform this childhood favorite of mine into a nutrient-dense, gut-healing, Whole30 and Paleo salad that graces our table year-round.
Nutrient Dense Potato Salad with Probiotics
If there ever was a healthy nourishing potato salad - this is it! Allow me to break it down for you just how healthy this salad is.
Cooked & Cooled Potatoes are a great source of resistant starch.
I recently learned how beneficial cooled potatoes are for their resistant starch quality. You can read more about it in this Chris Kresser post. In short, resistant starches are found in common foods such as rice, potatoes, green bananas, legumes and they 'resist' digestion making its way to the large intestine where it becomes healthy food for the gut bacteria.
In other words, it becomes a prebiotic for probiotics. For this Healthy Potato Salad Recipe, russets or Yukon potatoes are best. Easily prepare them the night before by piercing them with a fork and tossing them into a toaster oven like this one and bake at 400 F for 30 minutes or until fully cooked.
You may also cook the potatoes in the Instant Pot for 5-10 minutes, depending on the size of the potatoes. I have instructions in the recipe card how to cook all ingredients in the Instant Pot together to streamline this process.
Allow to cool overnight or if short on time, spread them out on a surface so the spuds don't touch each other. Once cooled, peel the potatoes - the skin should come off easily.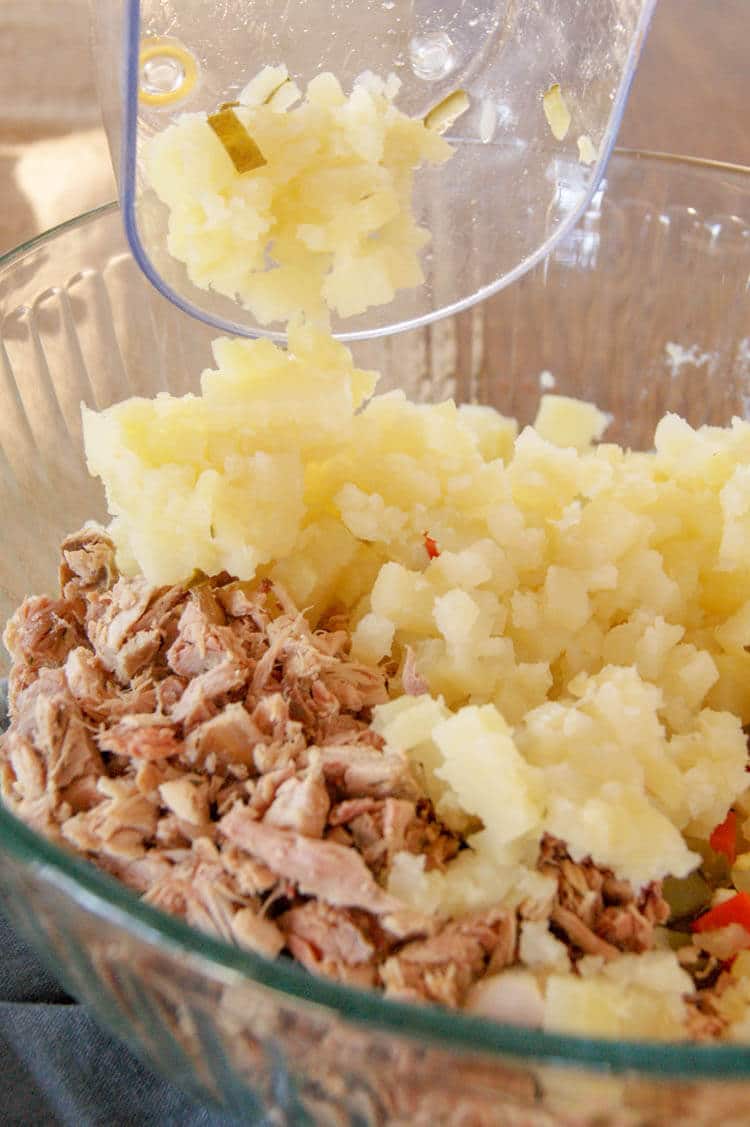 Lacto-Fermented Pickles are rich in live enzymes and healthy probiotics.
Gone are the days of Vlasic dill pickles. I don't even know why the word 'dill' is in the title since it's not even on the ingredient list. But Calcium Chloride, Polysorbate 80, Natural Flavors, and Yellow 5 are.
For that reason, skip the jar of natural flavors because those are anything but and opt for a much healthier version - lacto-fermented pickles. You can easily make your own HERE but a close second is Bubbies brand of pickles with only 2 ingredients.
I've also found truly cultured pickles at European markets. You want to look for the trademark cloudy brine and check that ingredient list to make sure they don't have any sugars or natural flavors.
Pastured Leftover Chicken is a much better option than Bologna.
Even though bologna may give that classic depth of flavor, the ingredients are less than desirable.
For the meat in this salad, you can either use grass-fed hot dogs such as Applegate or my favorite, leftover roast chicken. Using chicken is the least processed, from scratch option for this probiotic-rich Chicken Potato Salad and if you're going for that nutrient-density - this is a much better deal.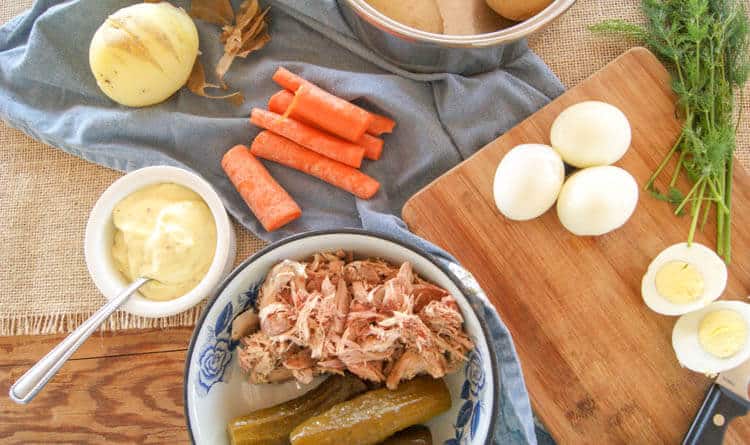 Helpful Tips for this Probiotic Chicken Potato Salad
Cook potatoes, carrots and eggs together in the Instant Pot followed by a quick release. Find the smallest potatoes and largest carrots so they are as close to size as possible. Chill before chopping. I like doing this the night before and have everything in the refrigerator ready for me the following day.
For additional probiotics, lacto-fermented mayonnaise is ideal. Learn to make your own here. Or this store bought option is the next best choice.
Season with salt at the end as it will depend on your mayonnaise, the saltiness of the pickles, and of course your choice of meat.
If serving this for a party, have everything chopped and ready to go, but hold of on the mayo until it's time to serve. Sans dressing, the chopped Probiotic Chicken Potato Salad can be refrigerated up to 3-4 days. You can prolong that by storing your chopped pickles in a separate container and adding them when you're combining the entire salad with mayo as that is the one ingredient that will release lots of juice. Or you can toss all the ingredients together and it's good for up to 2 days in the refrigerator.
To make this GAPS use celeriac root or turnip for potatoes. Or omit entirely.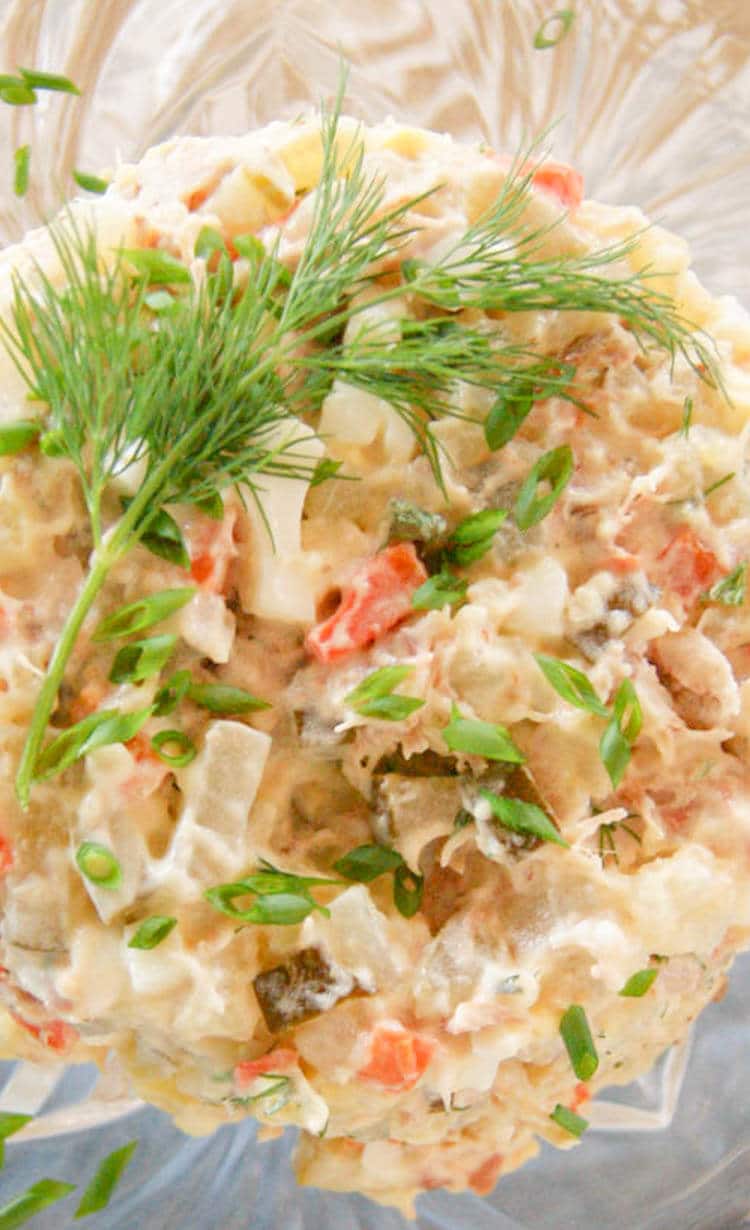 Tools Used in this Probiotic Chicken Potato Salad
6 quart Instant Pot - I use this electric pressure cooker to easily cook potatoes, eggs and carrots.
Chopping Wizard- this tool makes chopping so quick and easy, it almost feels like I'm cheating. I use it for all my bulk chopping needs, salsa & salads alike. I like that all the pieces are uniform and pretty. Sidenote: Don't use this for the chicken as it doesn't hold up well in this chopper. That should be cut by hand.
Printable Recipe
Healthy Potato Salad Recipe (Whole30, Paleo)
This Healthy Potato Salad is nutrient dense with live probiotics, resistant starch, healthy fats and protein to make it a meal. It's naturally Whole30 and Paleo and is great for lunches and big crowds.
Ingredients
4

small russet or Yukon gold potatoes

4

large carrots

6

eggs

4

lacto-fermented pickles

2

cups

leftover roast chicken

1

cup

lacto-fermented mayonnaise

1 ½

tablespoon

apple cider vinegar

1

tablespoon

fresh dill

salt and pepper to taste
Instructions
Cooking in the Instant Pot (best to do this the night before so everything chills well)
Place washed and scrubbed potatoes on a trivet in the Instant Pot inner pot. Add eggs followed by carrots (you may need to break them in half to get them to fit).

Add 1 cup of water to the inner pot. Close lid, set the safety valve to sealing position. Set the Instant Pot to "Manual" and reduce time to 5 minutes.

Once cooking cycle has completed, allow to Naturally Pressure Release for 5 minutes, followed by Quick Pressure Release any remaining pressure.

Remove eggs and transfer them to an ice bath. Carefully remove the carrots and potatoes from the Instant Pot and allow to completely chill. When tolerable, peel the potatoes and carrots (they're easiest to peel when still slightly warm to touch)
Putting the Salad together
Dice the cooked and cooled potatoes, carrots, and eggs to about 1-4-½ inch cubes. (I use the chopper and use the small square insert) Transfer to medium- size bowl.

Dice the pickles slightly bigger than ½ inches cubes. You don't want to cut them too small as they will release more juice that way.

Chop the chicken into bite size pieces and add to the salad mixture.

Mix mayonnaise and apple cider vinegar, fresh dill and season with salt and pepper.

Toss the salad with dressing and combine until thoroughly mixed. You may reserve this step until just before serving. Garnish with extra herbs such as dill, parsley and chives.
Notes
As a make-ahead dish, leave out the mayonnaise until the day of serving.
You can prolong the shelf-life (in the refrigerator) by storing the chopped pickles separately from the other ingredients so to avoid spoilage.
Fully combined Healthy Potato Salad keeps in the refrigerator up to 2 days. Without mayonnaise: 3-4 days. Without mayonnaise and pickles: up to 5 days.
Nutrition
Calories:
317
kcal
|
Carbohydrates:
18
g
|
Protein:
14
g
|
Fat:
20
g
|
Saturated Fat:
3
g
|
Cholesterol:
131
mg
|
Sodium:
449
mg
|
Potassium:
569
mg
|
Fiber:
2
g
|
Sugar:
2
g
|
Vitamin A:
4285
IU
|
Vitamin C:
6.5
mg
|
Calcium:
51
mg
|
Iron:
1.7
mg
Nutrition Information
The information shown is an estimate provided for your convenience by an online calculator. It should not be considered as a substitute for a professional nutritionist's advice. See our complete Nutritional Information Disclaimer.
©Prepare and Nourish • Content and photographs are copyright protected. Sharing of this recipe is encouraged and appreciated but please do NOT screenshot or copy/paste complete recipes to websites or social media.
If you liked the recipe above, please consider rating the recipe and leaving a comment below. Also, be sure to follow me on Facebook, Instagram, and Pinterest.
Other Healthy Potato Recipes:
Chilled Beet Soup (Whole30, Paleo)
Sheet Pan Garlic Butter Salmon with Asparagus and Potatoes
Butter & Dill Potato Medley in Instant Pot
Easy 5-Ingredient Chicken Scalloped Potatoes (Whole30, Paleo)
>>> Pin This <<<