This Probiotic Chicken Potato Salad contains live probiotics, resistant starch, and healthy fats. It will become a favorite once you see just how simple this salad comes together and how nutritious it is for you.
I may receive a commission if you purchase with links in this post. Full disclosure. 
Olivier Salad (Olivié in Russian) is a potato salad and can often be found on dinner tables in Russia and many other European countries.  This salad is a staple party dish because all the chopping can be made ahead of time and then combined with mayonnaise just before serving.  It's especially popular this time of the year.
Probiotic Chicken Potato Salad
I used to consider Olivier salad unhealthy because it typically calls for bologna and drenched in fattening soy-ladden mayonnaise.  That was before I converted to real foodism when I learned I can make my own mayo (get recipe here) with pastured chicken eggs and that bologna can easily be swapped with other more healthier options.
I love this salad for it's versatility – it really can be served for breakfast, lunch and dinner and also as a snack in between.  You can also make substitutions to some of the ingredients below and likewise omit or add other ingredients.
Resistant Starch Galore. I recently learned how beneficial cooked and cooled potatoes are for their resistant starch quality.  You can read more about it in this Chris Kresser post but in short, resistant starches are found in common foods such as rice, potatoes, green bananas, legumes and they 'resist' digestion making its way to the large intestine where it becomes food for the gut bacteria.
In other words, it becomes a prebiotic for probiotics.   So that makes this salad a superfood!  For this Healthy Chicken Potato Salad, russet potatoes are ideal.  Easily prepare them the night before by piercing them with a fork and tossing them into a toaster oven like this one and bake at 400 F for 30 minutes or until fully cooked.  Allow to cool overnight or if short on time, spread them out on a surface so the spuds don't touch each other.  Once cooled, peel the potatoes – the skin should come off easily.
Helpful Tips for this Probiotic Chicken Potato Salad
As with potatoes, eggs can be hard-boiled the night before so they are completely cooled when it's time to peel and dice. Everything cuts better when chilled.
Cook potatoes, carrots and eggs together in the electric pressure cooker for 5 minutes and do quick release. Select the smallest potatoes and largest carrots so they are as close to size as possible.
Gone are the days of Vlasic dill pickles. I don't even know why the word 'dill' is in the title since it's not even on the ingredient list.  But Calcium Chloride, Polysorbate 80, Natural Flavors,  and Yellow 5 are.  For that reason, skip the jar of natural flavors because those are anything but and opt in for a much healthier version – lacto-fermented pickles. You can easily make your own HERE but a close second is Bubbies brand of pickles with only 2 ingredients. I've also scored truly cultured pickles at European markets, you want to look for the trademark cloudy brine and check that ingredient list (just say no to vinegar).
Even though bologna gives a depth of flavor, the ingredients are less than desirable. For the meat in this salad, you can either use grass-fed hot dogs such as Applegate or use leftover roast chicken. Using chicken is the least processed, from scratch option for this Probiotic Chicken Potato Salad.
For additional probiotics, lacto-fermented mayonnaise is ideal. Learn to make your own here. Or this store bought option is the next best choice.
Season with salt at the end as it will depend on your mayonnaise, the saltiness of the pickles, and of course your choice of meat.
You can have everything chopped and ready to go, but hold of on the mayo until it's time to serve.  Sans dressing, the chopped olivier can be refrigerated up to 3-4 days.  You can prolong that by storing your chopped pickles in a separate container and adding them when you're combining the entire salad with mayo as that is the one ingredient that will produce a ton of juice.  Or you can toss all the ingredients together and it's good for up to 2 days in the refrigerator.
To make this GAPS or Paleo, omit potatoes. Otherwise, it's a great Whole30 salad, provided you use chicken.
 Tools Used in this Probiotic Chicken Potato Salad
6 quart Instant Pot – I use this electric pressure cooker to easily cook potatoes, eggs and carrots. I try to select the largest carrots and the smallest potatoes possible so they are similar in size. Just place them on a trivet with 1 cup water and set to manual for 5 minutes. Allow to naturally release pressure and set the carrots and potatoes aside to cool and eggs in cold water.
Chopping Tool- this tool makes chopping so quick and easy, it almost feels like I'm cheating.  I use it for all my bulk chopping needs, salsa & salads alike.  I like that all the pieces are uniform and pretty.  Sidenote: Don't use this for the chicken as it doesn't hold up well in this chopper.  That should be cut by hand.
Healthy Chicken Potato Salad
Healthy resistant starch, probiotic rich pickles and healthy fats and proteins makes this a healthy salad.
Print
Ingredients
4

small russet potatoes, cooked & chilled

4

large carrots, cooked & chilled

6

hard-boiled eggs, chilled

4

lacto-fermented pickles

2

cups

leftover roast chicken

1

cup

lacto-fermented mayonnaise

salt to taste

parsley, dill or chives for garnish
Instructions
Dice potatoes, carrots, eggs, pickles and meat of choice into a bowl.

Combine with mayonnaise, season with salt and combine well.

Garnish with your favorite herbs.

Store in the refrigerator.
Recipe Notes
1) As a make-ahead dish, leave out the mayonnaise until the day of serving.
2) You can prolong the shelf-life (in the refrigerator) by storing the chopped pickles separately from the other ingredients so to avoid spoilage.
3) Fully combined Probiotic Chicken Potato Salad keeps in the refrigerator up to 2 days. Without mayonnaise: 3-4 days. Without mayonnaise and pickles: up to 5 days.
If you liked the recipe above, please consider rating the recipe and leaving a comment below. Also, be sure to follow me on Facebook, Instagram, and Pinterest. 
Other Posts You Might Like
Crustless Skillet Pizza (Low-Carb, Primal, GAPS)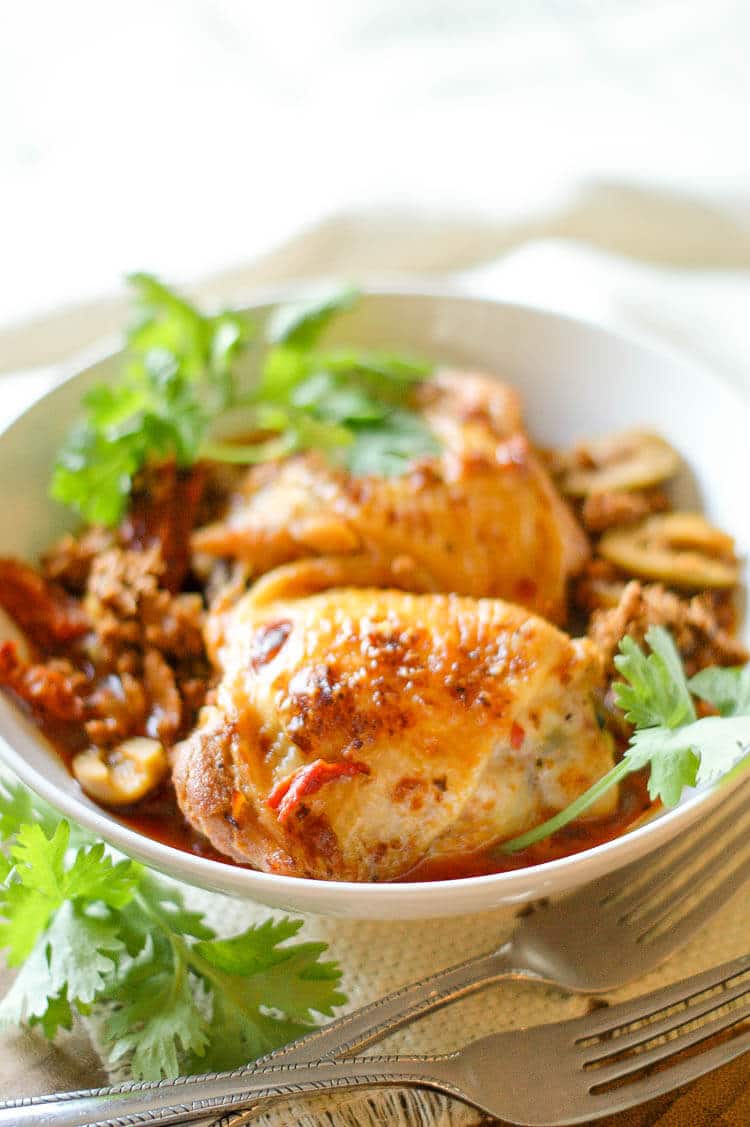 Instant Pot Citrus-Herb Basque Chicken
Lazy Cabbage Rolls (Low-Carb, Paleo, Whole30)
More Recipe Favorites
Parmesan & Garlic Roasted Purple Cabbage
Cabbage & Cucumber Salad
Butter & Dill Potato Medley in Instant Pot
Easy Chicken Scalloped Potatoes
STANDARD FTC DISCLOSURE:
In order for me to support my blogging activities, I may receive monetary compensation or other types of remuneration for my endorsement, recommendation, testimonial and/or link to any products or services from this blog. Please note that I only endorse products that are in alignment with Prepare & Nourish's ideals and that I believe would be of value to my readers. Prepare & Nourish is a participant in the Amazon Services LLC Associates Program, an affiliate advertising program designed to provide a means for sites to earn advertising fees by advertising and linking to Amazon.com. Statements on this website have not been evaluated by the Food and Drug Administration. Products and/or information are not intended to diagnose, cure, treat, or prevent any disease. For additional information, please visit my full Disclosure page.