This paleo Harvest Kale Salad is filled with slightly roasted kale, Brussel sprouts, and delicata squash all tossed in a smooth balsamic vinaigrette and topped with apples, pecans, microgreens and other seasonal toppings.
This Harvest Kale Salad is a perfectly nourishing, hearty, and flavorful salad for all your fall and winter festivities. This salad embodies all the amazing flavors of autumn produce. It's a delicious salad that also happens to be naturally Whole30, Paleo, and Low Carb.
Roasted delicata squash, sliced green apples, red onions all on a bed of nourishing kale and shaved Brussel sprouts. The delightful toppings that consist of pomegranate seeds, pepitas (pumpkin seeds) and a small handful of micro greens for a bonus nutritional punch are perfect to round off this bowl of deliciousness.
Delicata Squash Salad
Adding delicata squash to salads is one of the easiest ways to incorporate more seasonal gourds into your diet. They are one of our favorite squashes and one of the few that does not require the skin to be peeled.
It's so easy to prepare and cooks relatively quickly. Just cut the ends of the squash and then cut it lengthwise, exposing the seeds. Scoop out all the seeds and cut into slices (half moons). Note that the thinner you slice them, the faster they will cook. But take care to cut them with even thickness so they cook at the same time.
Toss the squash slices in avocado oil and seasonings and roast at 400 degrees Fahrenheit for 15-20 minutes. I prefer them to be slightly undercooked with a bite to them. But keep it in longer for more doneness.
Brussel Sprouts Kale Salad
I'm a firm believer in using what you have in the kitchen to make a recipe work. If you don't have Italian seasoning in your pantry for delicata squash, use a bit of dried basil, parsley, and oregano, or whatever other dried herbs you have. In fact, you can go even simpler and just use traditional salt and pepper to season it.
Likewise, use whatever variety of kale you have at the market. I happened to have curly but feel free to use Lacinto, Red Russian or whatever you have available to you. Just be sure the consistency and texture of the subbed veggies match what's in the recipe card. (Spinach would not be a good sub for kale as it will cook a lot quicker).
Kale is undoubtedly a healthy green vegetable. As are the Brussel sprouts. And I use them quite extensively in my home cooking because they are both rich in vitamins, nutrients and minerals. However, they both have a dark side....
Can Kale be Eaten Raw?
The short answer is yes! Kale can be eaten raw as evidenced by the plethora of green smoothie recipes online. But the best way to eat kale for nutrients is via gentle cooking.
The truth is, some vegetables are more nutritious when slightly cooked. Cruciferous greens such as spinach, chard, and kale contain a chemical known as oxalic acid, which can be irritating to the intestinal tract. It can also block nutrient absorption.
The oxalic acid binds with minerals such as magnesium and calcium and may cause them to crystallize throughout the body. This process can damage tissues and thus, creating inflammation in the body. (source)
The good news is that cooking these greens is a simple way to reduce the oxalic acid content.
Best Way to Cook Kale
The best way to cook kale is gently roasting in the oven at 375 degrees Fahrenheit for 15 minutes. This way, it still retains the vibrant green color but none of the bitterness that is associated with raw kale.
If you're skeptical about eating cooked greens in a salad, I assure you this salad will win you over. That's because the vegetables aren't cooked to mush. We are slightly roasting them in the oven for 15 minutes only (on the same pan as our squash!). The kale and Brussel sprouts still retain their shape, color, and texture but without the compromising effect of oxalic acid.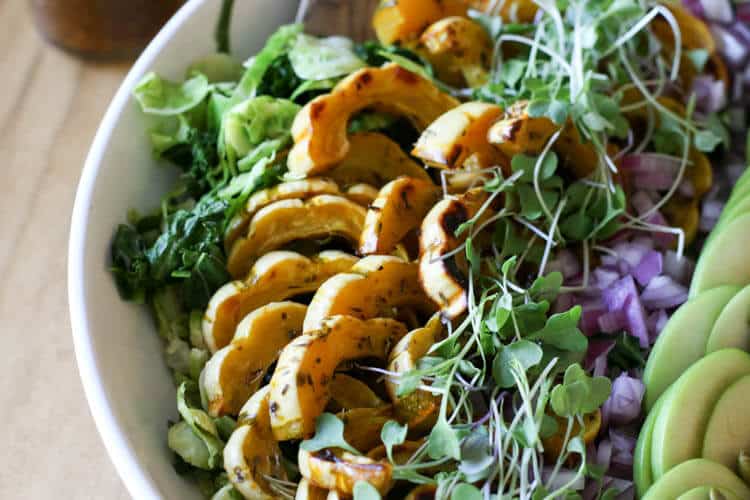 How to Make Balsamic Vinaigrette
The best part about this dressing is how simple it truly is. The ingredients are really simple and most likely are already in your pantry.
This balsamic vinaigrette consists of extra virgin olive oil, balsamic vinegar, Dijon mustard, and salt and pepper. Just add all the ingredients to a pint size mason jar and give it a good shake.
How to Make a Kale Salad
To save time, I bought already chopped kale and shaved Brussel sprouts at Trader Joe's. My shaved Brussel sprouts came in a bag of 12 oz which is roughly 3 cups.
The amount of greens doesn't have to be precise, just use what you have available to you and what's easiest.
I roasted delicata squash and kale with Brussel sprouts on the same pan. I used an extra large pan that I have when roasting vegetables. After 15 minutes of roasting, transfer the greens onto a large salad bowl and spread out the squash slices to resume roasting them.
This salad makes a generous party size salad. I topped it with some micro greens for an added nutritional boost.
This Harvest Salad is good (without the dressing) for up to 3 days in the refrigerator. Toss the avocados if uneaten otherwise they will turn brown and soggy but the rest of the salad can be stored in an airtight container in the refrigerator.
Helpful Items for this Harvest Kale Salad with Balsamic Vinaigrette
Harvest Kale Salad with Balsamic Vinaigrette
This paleo Harvest Kale Salad is filled with slightly roasted kale, Brussel sprouts, delicata squash all tossed in smooth balsamic vinaigrette and topped with apples, pecans, microgreens and pomegranate seeds.
Ingredients
1

delicata squash

sliced

3

tablespoons

avocado oil

1

tablespoon

Italian seasoning

1

teaspoon

sea salt

6

cups

kale

chopped

3

cups

brussel sprouts

shredded

¼

cup

red onion

diced

1

cup

granny smith apple, small

sliced

1

avocado

sliced

¼

cup

pomegranate anvils

¼

cup

roasted pumpkin seeds
Balsamic Vinaigrette Dressing
Instructions
Preheat oven to 375 degrees Fahrenheit.

Cut ends of delicata squash, then cut in half lengthwise. Remove seeds and pulp and cut to make ¼" thickness half-rings.

Season delicata squash with Italian seasoning and 1 teaspoon of sea salt. Drizzle avocado oil and toss well with hands. Spread in single layer on one half of a large, deep baking pan.

On the other side of the pan, toss chopped kale and shredded brussel sprouts. Season with salt and pepper if desired but not necessary.

Roast for 15 minutes. After that time, transfer the greens into a large salad dish.

Turn the oven to low broil. Spread out the squash slices out more on the pan and place back in the oven to broil for 3-4 minutes. Keep a close watch to avoid burning the squash.

Remove squash and allow to cool completely.

In a small jar, combine all ingredients for salad dressing and shake vigorously to blend everything.

To assemble the salad, spread cooled squash over the greens, followed by sliced green apples, sliced avocado, chopped onions, pumpkin seeds, and pomegranate anvils.

Pour balsamic vinaigrette over the salad and enjoy. The salad (without the dressing) can be kept in the refrigerator for up to 3 days in an airtight container.
Nutrition
Calories:
243
kcal
|
Carbohydrates:
13
g
|
Protein:
4
g
|
Fat:
21
g
|
Saturated Fat:
3
g
|
Sodium:
518
mg
|
Potassium:
512
mg
|
Fiber:
3
g
|
Sugar:
3
g
|
Vitamin A:
4066
IU
|
Vitamin C:
66
mg
|
Calcium:
80
mg
|
Iron:
2
mg
Nutrition Information
The information shown is an estimate provided for your convenience by an online calculator. It should not be considered as a substitute for a professional nutritionist's advice. See our complete Nutritional Information Disclaimer.
©Prepare and Nourish • Content and photographs are copyright protected. Sharing of this recipe is encouraged and appreciated but please do NOT screenshot or copy/paste complete recipes to websites or social media.


If you liked this Paleo Harvest Kale Salad above, please consider rating the recipe and leaving a comment below ⇓. Also, be sure to follow us on Facebook, Instagram, and Pinterest.
More Healthy Kale Recipes:
Sheet Pan Breakfast with Hash Brown, Kale and Bacon
Ground Beef and Kale Soup (Instant Pot)
Breakfast Kale Egg Cups
Lamb and Kale Skillet Dinner
>>>Pin This<<<
This post was originally published October 2018 but has since been updated to include helpful information.