This Classic Caesar Salad recipe is made from scratch with tangy homemade Caesar salad dressing, toasted croutons, and crunchy romaine lettuce.
My family loves a good Caesar Salad. In fact, we have this salad nearly every week.
The convenience of having only one type of vegetable makes this salad simple yet the dressing is supremely savory and tangy that it does not lack in flavor. Additionally, the homemade croutons and pungent shaved Parmesan adds a nice finishing touch.
Classic Caesar Salad
You'll find as with most recipes that traditional Caesar Salad recipe can be varied from one kitchen to the next. In fact, even restaurants have their secret recipes and yet, sadly, many leave us disappointed.
But this recipe has it all. It's made entirely from scratch - from crunchy croutons to creamy dressing and yet it calls for simple ingredients and very little prep time - 30 minutes to be exact.
What makes Caesar Salad classic?
What gives Caesar Salad that true classic flavor is the combination of anchovy-rich salad dressing, crunchy romaine lettuce, homemade croutons, and topped with shaved Parmesan.
Traditional Caesar Salad has anchovies (small briny fish) and raw eggs. This is a much simpler version without the use of raw eggs yet still very creamy and rich and delicious.
Caesar Salad wouldn't be complete without homemade croutons. Making croutons at home is fabulously easy and can be done in 8 minutes.
Lastly, it's important to generously sprinkle this delicious salad with some freshly shaved Parmesan but if you want to keep it dairy free, skip the parm.
Healthy Caesar Salad Recipe
It's no surprise that traditionally prepared Caesar Salad can also be healthy. That's because most recipes that are traditional or classic by nature are made with wholesome, nutritious ingredients.
It's also why it's important to source best quality ingredients like mayonnaise made with pastured eggs, and wild anchovies packed in olive oil.
Even making homemade croutons from leftover sourdough bread will increase the nutrition as sourdough is much better for digestibility.
Ingredients in Caesar Salad
Let's talk about the ingredients in this healthy Caesar Salad recipe.
romaine lettuce
garlic cloves
fresh lemon juice
Dijon mustard
anchovy paste
Worcestershire sauce (see homemade recipe here)
mayonnaise (see homemade recipe here)
Parmigiano Reggiano
anchovy fillets (optional)
sourdough bread
extra virgin olive oil
Italian seasoning or garlic powder
salt & pepper to taste
Caesar Salad Dressing Recipe
If you want read all the helpful tips and tricks about the Caesar Salad dressing, check out that post here.
I have a dedicated post for just the dressing because there's so much happening there and so many variations.
Also, it's important to distinguish between a dressing and a dip.
For this salad recipe, we are using a dressing. Therefore, we're saving all our Parmesan as a topping and will not add any to the dressing. Again, if interested, check out this Healthy Caesar Salad Dressing recipe to find out why!
Frequently Asked Questions & Tips
How to make Caesar Salad better?
Traditionally Caesar salad dressing is made with anchovies for that deep umami flavor. Don't skip on anchovy paste when making the dressing. For extra deliciousness, top the salad with some anchovy fillets. And homemade croutons also add tremendous flavor as does freshly shaved Parmesan.
Is Caesar Salad healthy?
Caesar Salad is as healthy as your ingredients. That's why it's important to use the best quality ingredients. As mentioned above, Caesar Salad can be a healthy side to your meal if using properly sourced ingredients.

You can make Caesar Salad keto by using keto-approved bread for croutons. Likewise, you can make the salad gluten-free or dairy free by skipping the croutons and cheese altogether.
What is the best lettuce to use in Caesar Salad?
Traditionally, Caesar Salad is made with romaine lettuce but any leafy green will do. I would suggest avoiding spring mix if you're going for the classic texture. Different kales like lacinato kale or dinosaur kale is often subbed to make Kale Caesar salad.
Make-Ahead Tips for Classic Caesar Salad
I love making this recipe when hosting company because it's really easy to assemble in under 5 minutes. It's important to mention that the dressing is best when consumed within a day. You can extend the life of the Caesar Salad dressing up to a week if you wait to add the fresh garlic until the day of.
Follow these make-ahead tips to make this delicious salad:
croutons can be made up to one week - store in an airtight container or bag at room temperature
Caesar Salad dressing (without garlic) can be made up to one week and stored in the refrigerator. Add fresh garlic on day that salad will be served.
Wash your leafy greens and dry them well - keep the chopped lettuce in a container in the refrigerator until ready to use.
Shave Parmesan ahead of time and store in an airtight container in the refrigerator until ready to use.
How to Make Classic Caesar Salad
The complete printable recipe is below in the recipe card for your convenience.
This Classic Caesar Salad recipe starts first with making croutons because we need them to be completely cooled before adding them to the salad.
To make homemade croutons, you'll need sourdough bread (any other bread will work too), olive oil or avocado oil spray, Italian seasoning or garlic powder, and sea salt.
For the traditional Caesar dressing, you'll need good quality mayonnaise, lemon juice, Dijon mustard, anchovy paste, Worcestershire sauce, and black pepper.
And of course, you'll need fresh and crispy romaine lettuce, Parmigiano Reggiano and anchovies to top if using.
Step 1. Homemade Croutons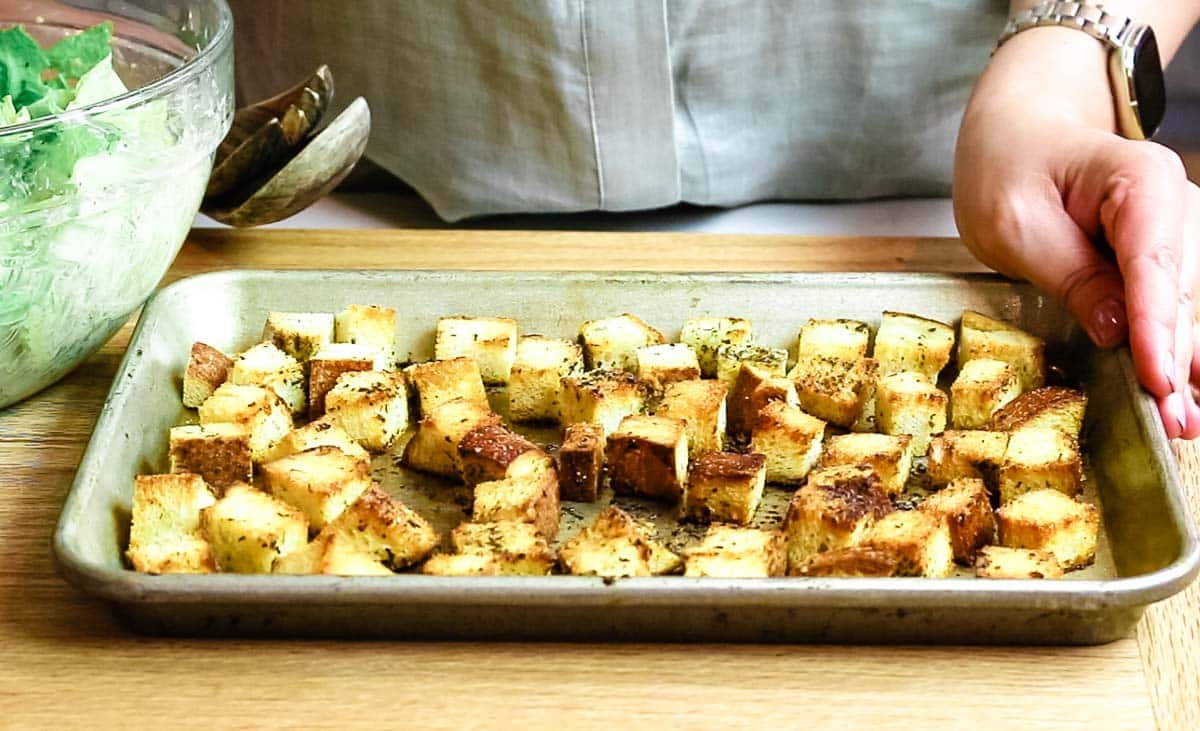 Making croutons is an easy way to avoid food waste and have crunchy topping to your salad.
I like to cut my bread into bread cubes but you can also just tear into small pieces. Using an oil spray is a convenient way to cover as much bread surface as possible. But you can gently coat your bread with drizzled extra virgin olive oil too.
For traditional crouton flavor, I like using Italian dried herbs but a simple garlic powder and salt works too.
Helpful Tip: Toss your homemade croutons directly in the sheet pan to avoid an extra bowl to wash. 
Toss homemade croutons together with oil and seasoning directly on a baking sheet. Bake for 7 minutes or until golden.
Remove from oven and set aside to cool completely.
Step 2. Caesar Salad Dressing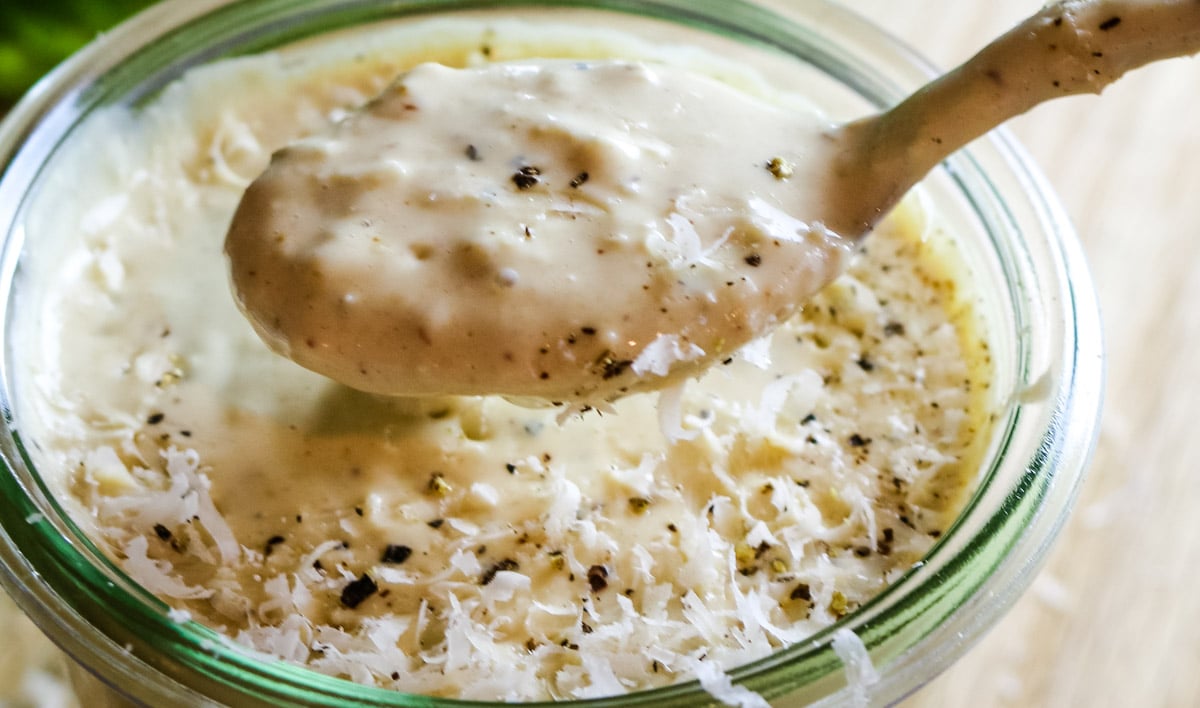 If you want a detailed post, complete with tips and tricks and various substitutions, check out Healthy Caesar Salad Dressing recipe.
But the short of it is this: combine all the ingredients for the dressing and keep in the refrigerator until ready to use. The creamy texture makes this truly the best Caesar salad.
If making this ahead of time, wait to add garlic until just before tossing the salad so it retains that fresh flavor.
Step 3. Assemble the Caesar Salad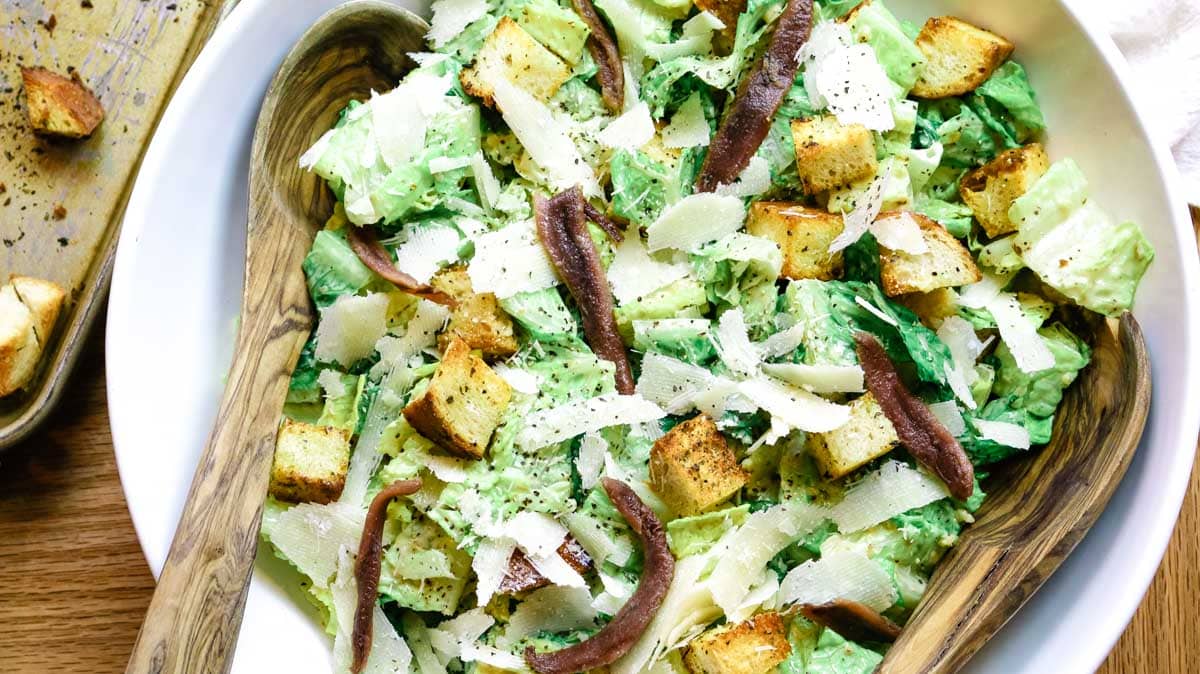 Chop the romaine lettuce into bite size pieces. You can also tear it for more rustic appeal. Rinse well under running water and dry completely. You want it thoroughly dry so the dressing coats the lettuce well. If there is any residual water droplets, the dressing will just slip off.
Helpful Tip: Make sure your lettuce is completely dry before tossing it with dressing so it coats well. 
Shave some Parmigiano Reggiano cheese or another aged Parmesan cheese. Add half of the cheese and half croutons to the lettuce and toss with the dressing to combine well.
Garnish with more croutons, Parmesan shavings, and anchovies if desired. If using anchovies, it's good to pat them with a paper towel first to remove excess oil.
Helpful Tools & Links
Below are some links that may be helpful to you as you make this Classic Caesar Salad recipe.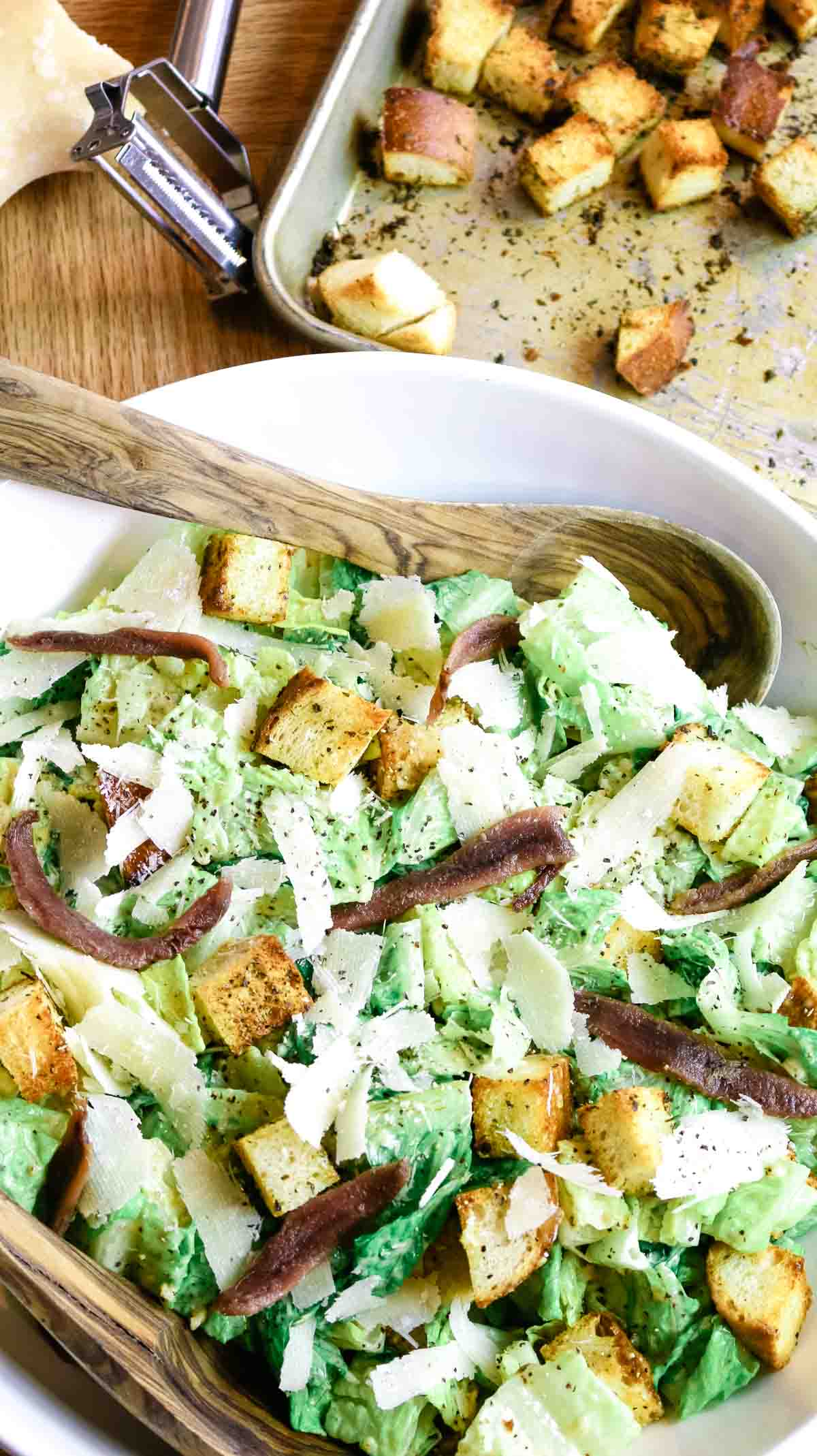 What to serve with Caesar Salad?
Caesar salad is widely enjoyed with an Italian pasta dish like Bolognese or Spaghetti and meatballs. But you can skip the pasta and enjoy it as a meal with the following suggestion:
Make it a meal! Add a healthy protein like grilled chicken breast or salmon for your main course and serve this healthier version of Caesar salad. You can also add a serving of canned wild sardines for an incredibly nutritious meal.
Did you make this? Please leave a ⭐ recipe rating in the recipe card below and leave a review in the comments. Thank you!💚
Printable Recipe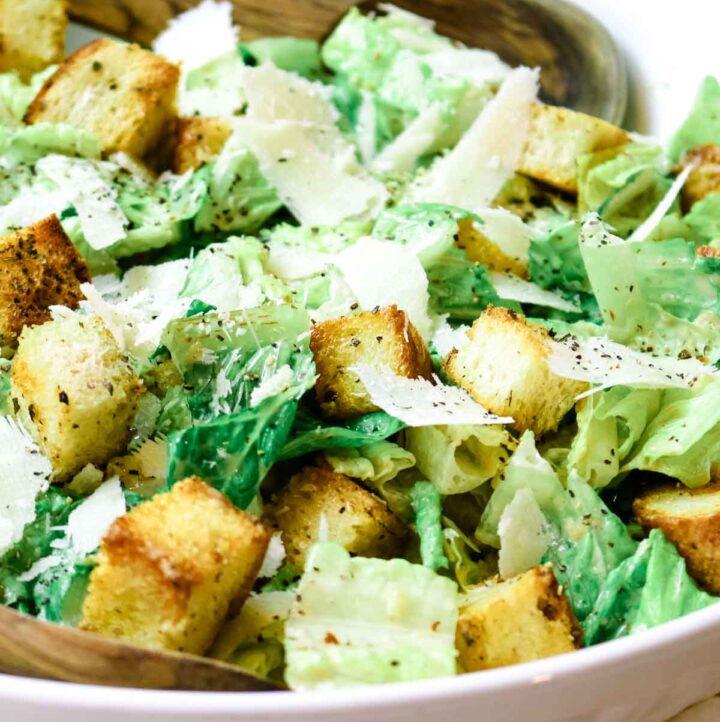 Classic Caesar Salad
This Classic Caesar Salad recipe is made from scratch with tangy homemade Caesar dressing, toasted croutons, and crunchy romaine lettuce.
Ingredients
Homemade Croutons
1

cup

day-old sourdough bread, cubed

2

tablespoon

olive oil

¼

teaspoon

Italian seasoning or garlic powder

¼

teaspoon

sea salt
Caesar Salad
1

head of romaine lettuce

approximately 1.5 pounds

2

ounces

Parmigiano Reggiano

2

ounces

anchovies

optional
Instructions
Croutons
Assembling Caesar Salad
Chop romaine lettuce and rinse well. Dry thoroughly to remove all excess water. Transfer chopped lettuce to a large salad bowl.

Add dressing, half of freshly shaved Parmigiano Reggiano and half of the croutons. Toss to combine well.
Notes
Croutons: alternatively to drizzling olive oil, an oil spray works even better because it has great surface coverage. Croutons can be up to a week and stored in an airtight container.
Dressing: can be made and stored in the refrigerator for up to a week if made without garlic. Simply add garlic when ready to toss with lettuce.
Lettuce: be sure that lettuce is thoroughly dried before adding dressing as it will not coat the lettuce well if there is any moisture
Anchovies: if topping salad with anchovy fillets, pat them dry with a paper towel first to remove excess olive oil
Make it a meal: add grilled chicken, steak, or salmon to the salad for a complete meal.
Nutrition
Calories:
238
kcal
|
Carbohydrates:
4
g
|
Protein:
7
g
|
Fat:
22
g
|
Saturated Fat:
5
g
|
Polyunsaturated Fat:
9
g
|
Monounsaturated Fat:
7
g
|
Trans Fat:
1
g
|
Cholesterol:
21
mg
|
Sodium:
478
mg
|
Potassium:
91
mg
|
Fiber:
1
g
|
Sugar:
1
g
|
Vitamin A:
501
IU
|
Vitamin C:
1
mg
|
Calcium:
140
mg
|
Iron:
1
mg
Nutrition Information
The information shown is an estimate provided for your convenience by an online calculator. It should not be considered as a substitute for a professional nutritionist's advice. See our complete Nutritional Information Disclaimer.
©Prepare and Nourish • Content and photographs are copyright protected. Sharing of this recipe is encouraged and appreciated but please do NOT screenshot or copy/paste complete recipes to websites or social media.