Incredibly flavorful condiment is recreated with real food ingredients and is paleo friendly. Use this Soy-Free Worcestershire Sauce in your favorite recipes or simply drizzle on top of steak.
Of all the condiments, this one is by far the most difficult to pronounce or spell for that matter.  This beloved condiment is a staple in burger recipes, caesar dressings and even cocktails like Bloody Mary.
Traditionally, Worcestershire Sauce is a fermented concoction of fish flavors, malt vinegar and spices. The ingredients were set to mature for 18 months before being bottled in Worcester, England, where the exact recipe is kept a secret.
As all ferments do, they take time to mature to release active enzymes. And while I realize this substitute comes short of the probiotic-rich craft, it will do in a pinch. Besides, it's still a much better option than store bought sauces that are full of soy and corn syrup.
Soy-Free Worcestershire Sauce
This version of Worcestershire Sauce can be whipped up in 15 minutes and no fermenting is required.  I know, I'm sad about the lack of live probiotics too but keep reading.  I love that our most beloved condiments can be re-created at home with real food ingredients. Be it ketchup, mayonnaise, barbeque sauce, or Worcestershire Sauce – all ingredients are pronounceable and clean. Truly something I feel comfortable serving my family.
Related: Homemade Mayonnaise
Key Players
Admittedly, the ingredient list seems long but truthfully, if you've been real fooding (as in verb) for a while, you should have most, if not all of these ingredients on hand.  For your convenience, I added my affiliate links to all of the ingredients in the recipe card should you find something unfamiliar.  Also, if you happen to be out of an ingredient or two, feel free to proceed with the recipe. You'll be pleasantly surprised how forgiving Worcestershire Sauce is since there are so many depths of flavor in this admired sauce.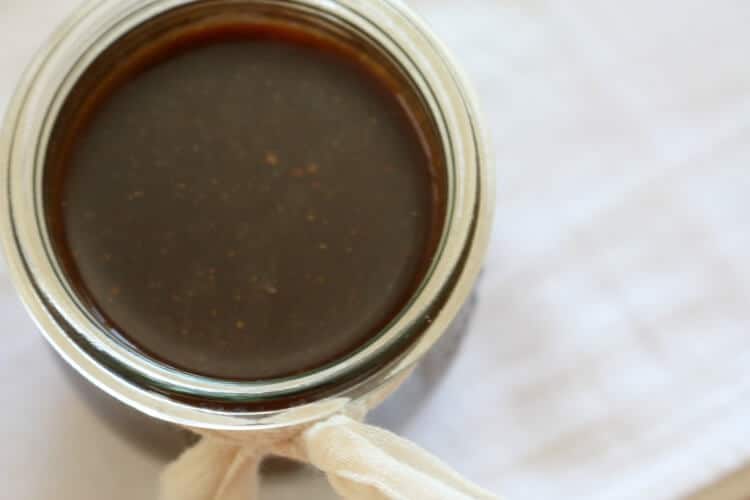 The richly flavored sauce lies somewhere between a condiment and seasoning.  Because of it's use of vinegar and shelf-stable ingredients, this sauce can be kept for a long time so I prefer to make a large batch and keep in the refrigerator. To use, simply shake well and douse your steak in homemade, soy-free Worcestershire Sauce.
My favorite use for Worcestershire Sauce is undoubtedly my Healthy Caesar Salad but I've added it to burgers, on top of steaks and even grilled salmon.
How do you like to use Worcestershire Sauce?
Soy-Free Worcestershire Sauce
Incredibly flavorful condiment is recreated with real food ingredients and paleo friendly. Use in your favorite recipes or simply drizzle on top of steak.
Print
Instructions
Combine all ingredients in a medium pot and stir to combine.

Bring mixture to a boil, constantly stirring. Allow to simmer for a minute, then remove and cool completely.


Pour into a bottle and store in the refrigerator. Shake well before using.
Pin this!