This easy but wholesome Worcestershire Sauce recipe is recreated with real food ingredients and is soy-free and gluten-free. Add Worcestershire sauce to enhance the flavor of your favorite dishes.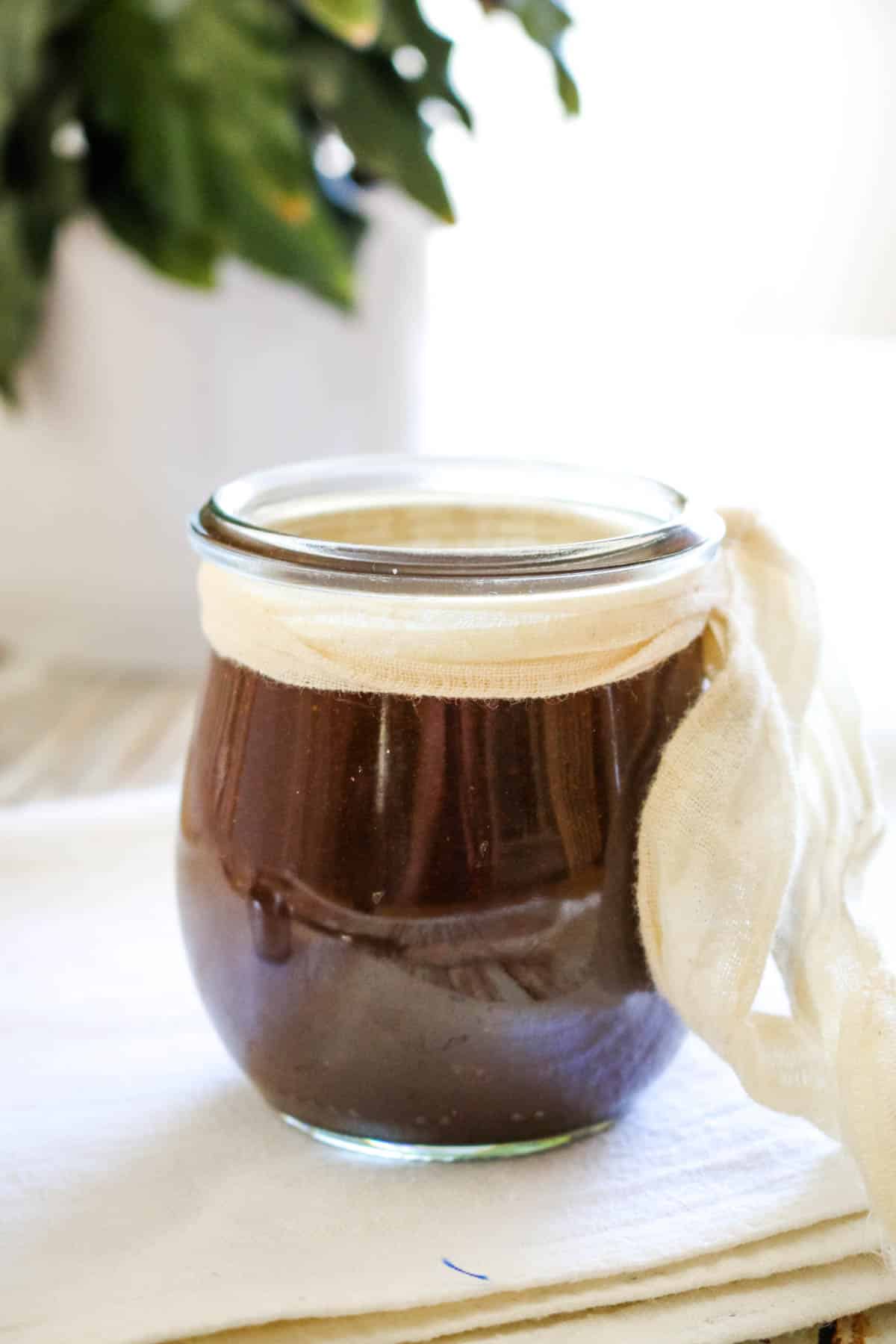 This richly flavored sauce lies somewhere between a condiment and a seasoning. The main ingredients are vinegar, anchovies, tamarind, molasses, garlic, onions, and other spices and seasonings.
Worcestershire sauce is a great flavor enhancer. It's an important ingredient in my homemade Caesar salad dressing. But it also adds a nice blend of sweetness and acidity to recipes like Veggie-Packed Sloppy Joes as well as Shepherd's Pie.
These days, there are many brands of Worcestershire Sauce on the market with varying flavors and consistency.
Chances are, you probably have a bottle of this condiment in the back of your refrigerator right now. But if you want to clean it up and give a shot at making a batch at home, this is it!
Jump to:
❓What is Worcestershire sauce?
Traditional Worcestershire Sauce was a fermented brew containing fish sauce, malt vinegar and spices. The ingredients were set to mature for 18 months before being bottled in Worcester, England, where the exact recipe is kept a secret.
The old school version is fermented in barrels and slowly cultured, releasing active enzymes.
Making homemade Worcestershire Sauce can seem intimidating but with simple ingredient swaps, it's actually quite easy to make.
💭Good to Know: Worcestershire is a highly mispronounced word. The correct pronunciation is 'woo-ster-sher'. 
❤Why you'll love this recipe
This homemade version is soy free, gluten free, and corn free (many conventional Worcestershire sauces have corn syrup that is likely GMO).
It uses nourishing ingredients that are naturally rich in minerals, enzymes, and vitamins and no xanthan gum or other thickeners.
This simple recipe can be conveniently made in 15 minutes with dried spices and seasonings.
If you are looking for a fermented sauce, this isn't it. This recipe takes a traditional food and modernizes it with ingredients conducive to a busy kitchen, with no compromise in flavor or nutrition.
Even though this Worcestershire Sauce adaptation comes short of the probiotic-rich craft, it's still a much better option than store bought sauces that are full of soy and high fructose corn syrup.
This rendition comes pretty close to the original recipe in flavor and texture. So skip the sauces off the shelves of grocery stores and make the real thing at home, with nourishing recipes that you can feel good about.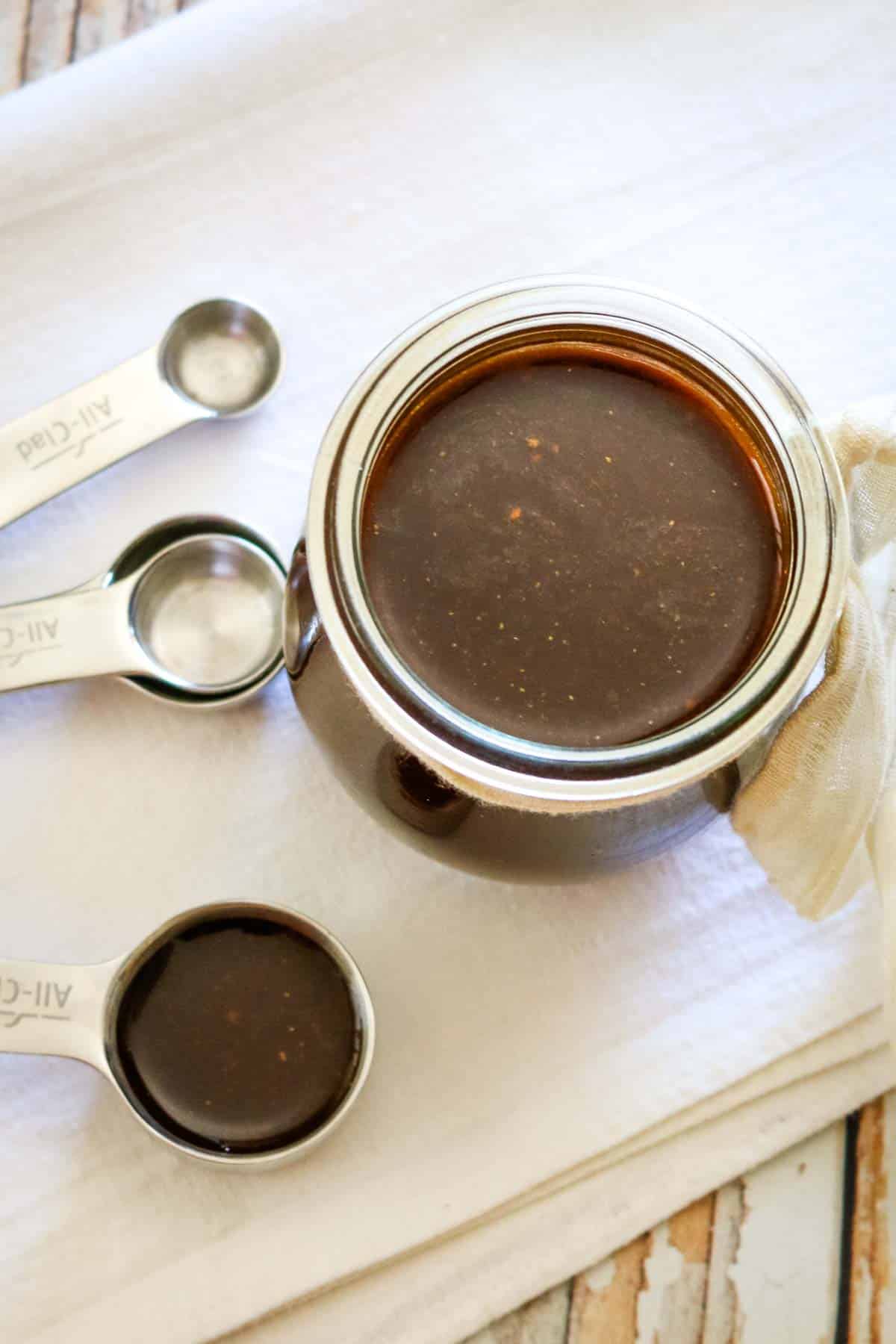 📖History of Worcestershire Sauce
Worcestershire Sauce dates back to early 19th century when British Lord Sandys tasted it during his travels to Bengal. It's believed he appointed a pair of chemists to replicate the flavor.
John Lea and William Perrins attempted to recreate the same flavor but were deeply disappointed with the results. Today, they're known as simply Lea & Perrins.
They set the jars in the cellar and forgot about them only to discover them years later under a thick layer of dust.
Turns out, the unintentional aging process created a rich and savory flavor that we now know as umami.
The two partners bottled more of this concoction and before long, Lea & Perrins Worcestershire Sauce spread throughout Europe and across the world. (source)
🍲Ingredients
This list of ingredients may appear exhaustive but it's necessary for the most flavorful sauce.
All ingredients are pictured in the collage image above, clockwise:
apple cider vinegar: most recipes call for white distilled vinegar but here we use apple cider vinegar. The flavor of apple cider vinegar and the health benefits outweigh its white counterpart
coconut aminos: this is a great soy sauce alternative. Prized for its high nutrient content, coconut aminos is often used in place of soy sauce. It's gluten-free and soy-free and adds great flavor to this sauce.
organic molasses: adds great depth of flavor and richness. Date paste works great as a Whole30 alternative. If making this Whole30 compliant, use only 2 tablespoons of date paste in place of molasses and omit the coconut sugar.
anchovy paste: this is gives that umami flavor.
coconut sugar
garlic powder
onion powder
ground mustard
dried ginger
cinnamon
black pepper
sea salt
See recipe card for exact quantities.
🚫Dietary Substitutions
This compliant Worcestershire sauce is gluten free, soy free, and grain free, making it naturally fit into a paleo diet lifestyle. It does have sweeteners like molasses and coconut sugar can be subbed with other sweeteners to make them compliant to a healing diet.
For a Whole30 friendly Worcestershire sauce, sub 2 tablespoons of date paste for molasses and omit coconut sugar.
For GAPS compliant sauce, use 2 tablespoons of honey as the sweetener.
To make vegan Worcestershire sauce, omit the anchovy paste.
👩🏽‍🍳Step-by-Step Instructions
The complete printable recipe is below in the recipe card for your convenience.
This Worcestershire sauce recipe calls for these ingredients: apple cider vinegar, coconut aminos, molasses, anchovy paste, coconut sugar, onion powder, garlic powder, ground mustard, dried ginger, cinnamon, black pepper, and sea salt.
Step 1. Simmer all ingredients
In a small-medium saucepan, combine all the ingredients together. Bring the sauce mixture to a boil, whisking regularly. Reduce to medium heat and simmer gently for 15 minutes until all the flavors have incorporated.
💭Pro tip: You may run the sauce through a strainer to collect all the spices that haven't dissolved. I don't bother with this step and prefer to keep it along with the sauce so it continues to impart it's flavor, but that is a personal preference. 
The sauce gets better with age so the longer you allow the ingredients to meld, the more flavorful it is.
The amounts listed in the recipe card makes a small batch. I often double it to make twice as much since it keeps up to a year in the refrigerator.
🔪Helpful Tools & Links
Below are some affiliate links that may be helpful to you as you make this recipe. You can find some of these items cheaper at your local store but it helps to have a link so you know what you're looking for.
Tools: small saucepan, mesh strainer,
Ingredients: apple cider vinegar, coconut aminos, blackstrap molasses, anchovy paste, coconut sugar, garlic powder, onion powder, ground mustard seed, ground ginger, ceylon cinnamon, real salt, black pepper
Storage Supplies: jelly mason jars, tall weck jars, 12oz. glass sauce bottle
🥗Serving Suggestions
If you ever wondered how to use Worcestershire sauce, the easiest way is to think of it as a flavor enhancer.
Worcestershire Sauce is one of those magical flavor-enhancing condiment with many uses. It can fix the most bland of recipes thanks to it's unique flavor profile. A splash of this magic concoction in a soup or chili may just save the day.
It's great in ground beef recipes like Veggie-Packed Sloppy Joes and Shepherd's Pie.
Additionally, Worcestershire Sauce is also great in homemade burgers or use as a tenderizer for tougher cuts of meat like roasts. It's also fantastic as part of marinade for chicken wings.
But don't limit it's use to meats only. It's great in salad dressings like this Caesar dressing and even adds great flavor to a Bloody Mary, a savory cocktail made with tomato juice.
❄Storage Instructions
To store: Worcestershire sauce can be stored in the refrigerator in a glass jar, bottle, or any airtight container for up to 1 year. Shake vigorously before use.
Storage containers: any 12 ounce jar will work like these jelly jars or these Weck cylindrical jars; my preference is storing the sauce in 12 ounce glass bottles with flip top cap for easy pour
💬FAQs
Is Worcestershire sauce gluten free?
Making homemade sauce guarantees clean, wholesome ingredients. Using coconut aminos instead of wheat-containing soy sauce, you eliminate all gluten and soy in this sauce, which is important for those on a strict gluten-free diet.
Is Worcestershire sauce vegan?
Traditionally, this condiment calls for anchovy paste and it is the only non-vegan ingredient in this recipe. You can omit the paste to make it vegan compliant but it will change the flavor slightly.
What is a good Worcestershire sauce substitute?
It is sometimes necessary to completely avoid the use of Worcestershire Sauce. In those cases consider these alternatives: balsamic vinegar or glaze, coconut aminos, and hoisin sauce. Another suitable replacement is oyster sauce or fish sauce (my favorite brand is Red Boat Fish Sauce).
Looking for ways to use Worcestershire sauce? Here are some ideas:
Did you make this? Please leave a ⭐ recipe rating in the recipe card below and leave a review in the comments. Thank you!💚
Printable Recipe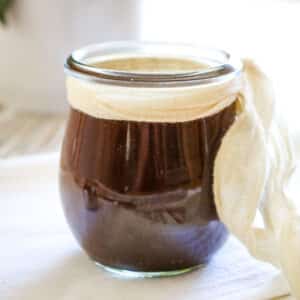 Homemade Worcestershire Sauce Recipe
This easy but wholesome Worcestershire Sauce recipe is recreated with real food ingredients and is soy-free and gluten-free. Add Worcestershire sauce to enhance the flavor of your favorite dishes.
Instructions
Notes
For Whole30: use 2 tablespoons of date paste to replace molasses and coconut sugar
For GAPS: use 2 tablespoons of honey to replace molasses and coconut sugar
For Vegan: omit anchovy paste
Recipe makes 12 ounces, approximately 1 ½ cups, or 24 servings. Serving size is 1 tablespoon.
Can be refrigerated for up to 12 months. Shake well before use.
Nutrition
Calories:
18
kcal
|
Carbohydrates:
3
g
|
Protein:
0.5
g
|
Fat:
0.2
g
|
Saturated Fat:
0.04
g
|
Polyunsaturated Fat:
0.05
g
|
Monounsaturated Fat:
0.1
g
|
Cholesterol:
1
mg
|
Sodium:
133
mg
|
Potassium:
46
mg
|
Fiber:
0.1
g
|
Sugar:
2
g
|
Vitamin A:
1
IU
|
Vitamin C:
0.1
mg
|
Calcium:
9
mg
|
Iron:
0.2
mg
Nutrition Information
The information shown is an estimate provided for your convenience by an online calculator. It should not be considered as a substitute for a professional nutritionist's advice. See our complete Nutritional Information Disclaimer.
©Prepare and Nourish • Content and photographs are copyright protected. Sharing of this recipe is encouraged and appreciated but please do NOT screenshot or copy/paste complete recipes to websites or social media.
This post was originally published April 2019 but has since been updated to include helpful information.