This Spicy Pork Ramen recipe boasts an easy 5-ingredient marinade and your favorite seasonal veggies and is perfect for an easy weeknight meal.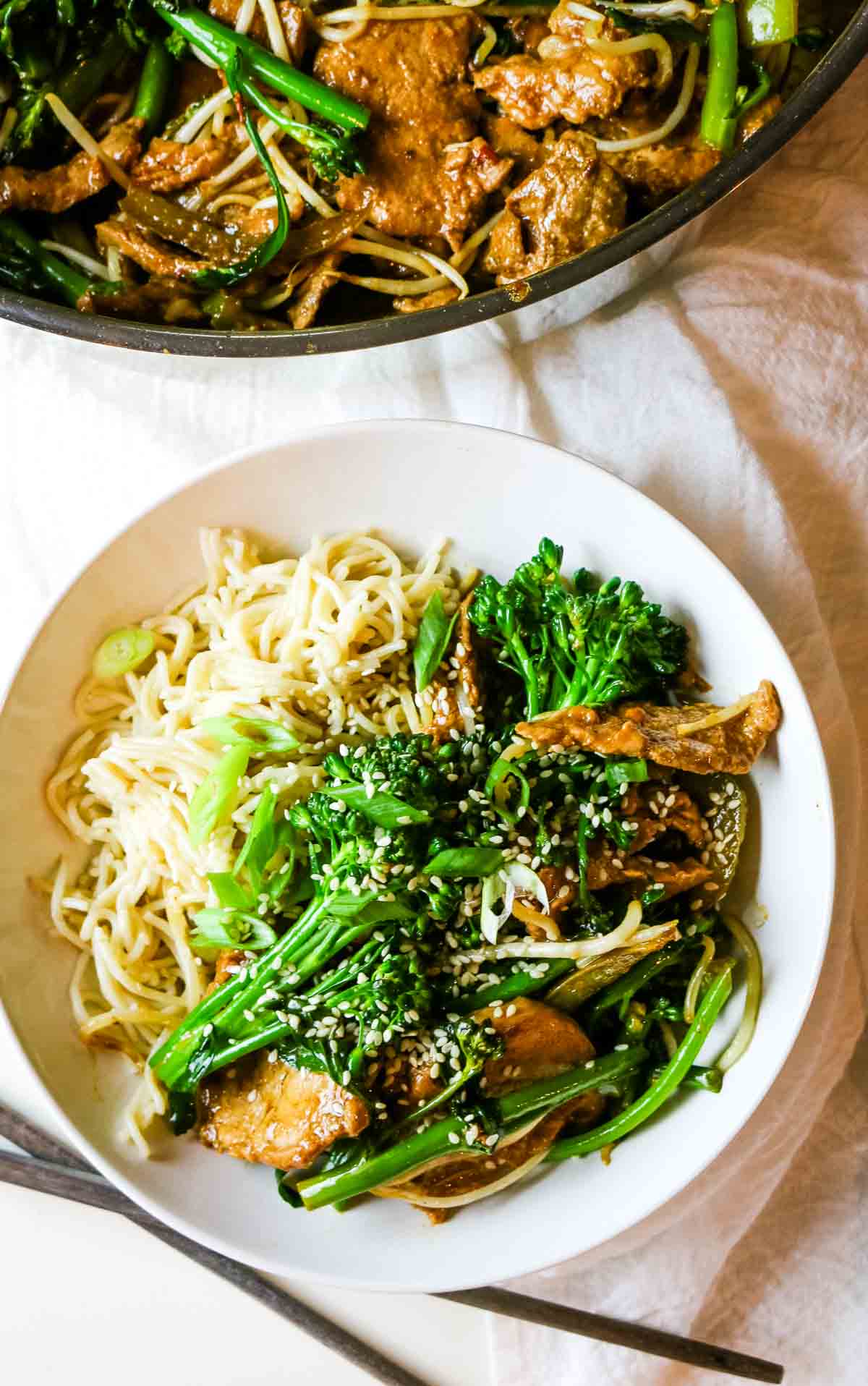 We're not big pork people but when we do have pork, it is loaded with flavor.
And this Spicy Pork Ramen recipe is no different. The pork tenderloin is first marinated in a sweet and spicy concoction. Then browned in a deep frying pan, tossed with equally charred vegetables and spooned over your favorite ramen noodles.
Because it's packed with so many vegetables, salad is not necessary but if you insist, this Asian Cucumber Salad would make a great accompaniment.
Jump to:
❤Why you'll love this Spicy Pork Ramen
Before we get to all the reasons why you need this recipe in your life, let's first unpack something.
Generally, ramen is known as a Japanese noodle soup - a combination of rich flavored broth with their distinct noodles. This recipe is not a soup. I wanted a pork ramen recipe that can be enjoyed throughout all the seasons, including our sweltering California summers.
And this one fits the bill:
Taste: spicy and sweet with a delectable umami flavor, this dish is packed with so much flavor
Texture: tender pork, crunchy vegetables, and velvety sauce over a bowl of al dente ramen
Level of difficulty: moderate-easy, it can get a little hairy towards the end as the pork and veggies are cooked quickly but otherwise fairly easy
Picky eaters: tone down the spice for more sensitive palates and use your/their favorite veggies
🍲Ingredients
This recipe has minimal ingredients to get maximum flavor.
pork tenderloin: this is the best cut of pork for this recipe but I've also used pork chops and pork steak; you want to use about 1-½ pounds of pork but a size anywhere between 1.3 and 1.8 pounds will work for this marinade
marinade: soy sauce, coconut sugar, chili garlic sauce, ginger, and garlic
vegetables: green bell pepper, baby broccoli, and mung bean sprouts
hoisin sauce: this is my favorite brand and it will bring everything together and is necessary to get that velvety, luscious texture
ramen noodles: We love this organic brand of gluten-free ramen made with brown rice and millet but use your favorite type of noodles.
See recipe card for exact quantities.
💭Good to Know: Genetically modified soybeans make up 94% of all US soybean crop. To avoid GMOs in your food, choose organic soy sauce if budget allows.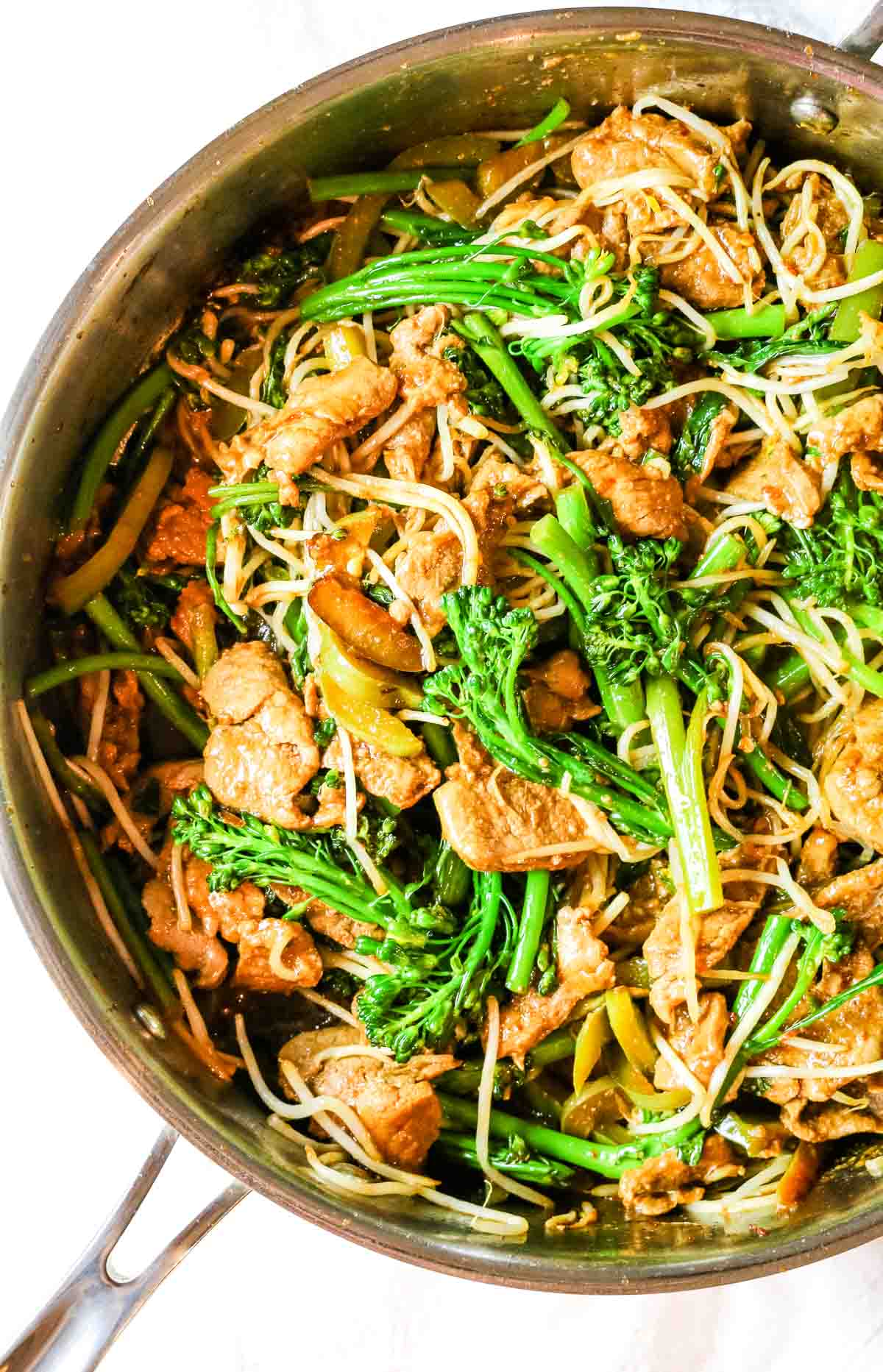 📖Substitutions and Variations
Soy Sauce Alternative - coconut aminos or liquid aminos are great soy-free alternatives
Chili Garlic Sauce - use your favorite brand of chili sauce but it will vary in spiciness. Add more heat by using this Gochugang paste (it is fiery!)
Coconut sugar: brown sugar is a great sub
Kid friendly - keep the heat down by just using a few teaspoons of chili garlic sauce
Veggies: swap the bell peppers, broccoli, and mung bean sprouts and use any variety of your favorite vegetables. Some great options are asparagus, bok choy, green beans, julienned carrots, mushrooms, and snap peas.
Rice: enjoy this spicy pork and vegetables over a bed of rice
💭Make it Nutrient-Dense: If using rice, cook it in bone broth for additional health benefits. Check out this post on How to Cook Perfect Rice in Instant Pot.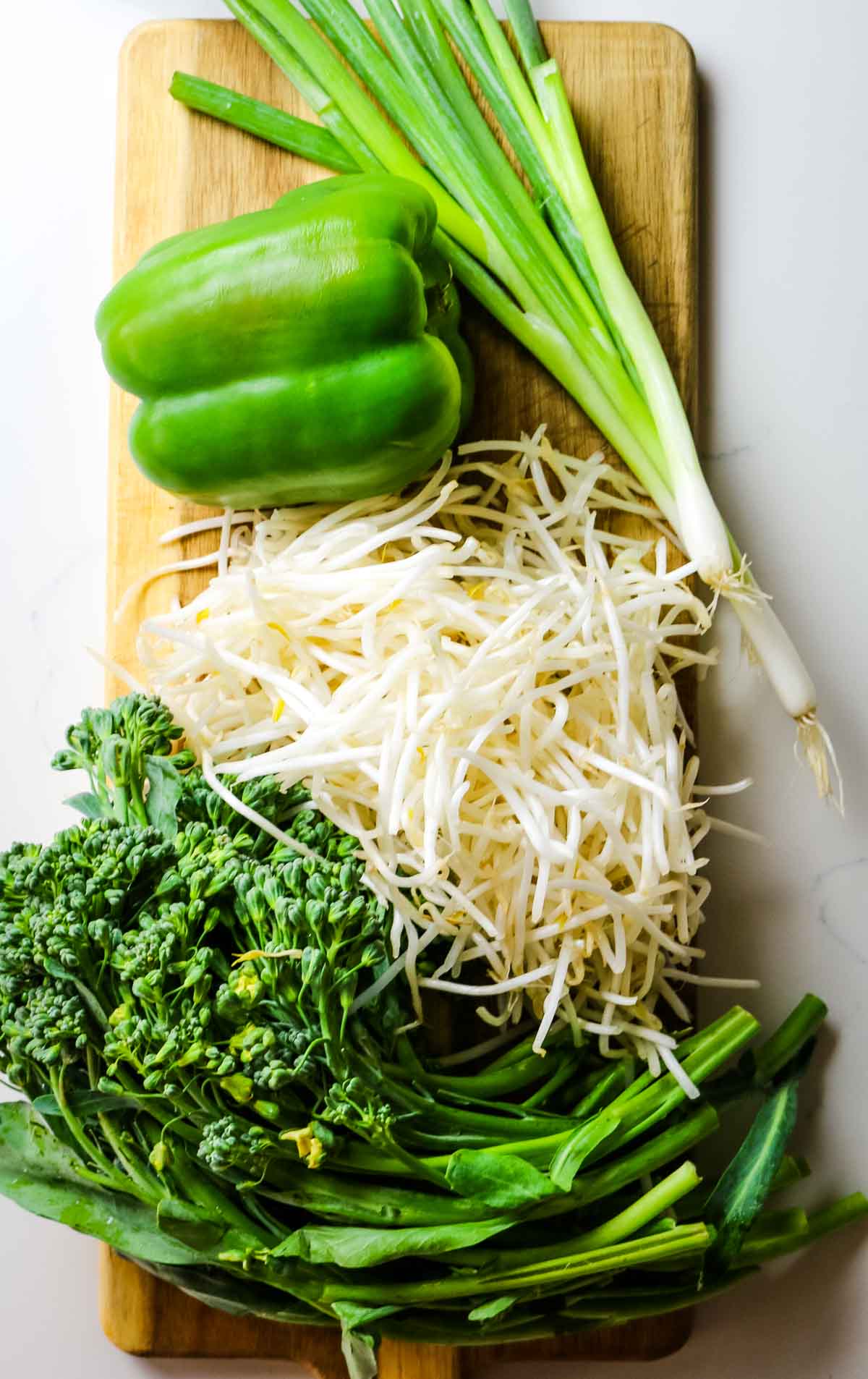 🚫Dietary Substitutions
This recipe is so versatile and can be suited to fit your dietary needs.
The only questionable ingredient in this recipe could be the chili garlic sauce because it may have a long list of ingredients, depending on the brand.
Unless you find squeeky clean hoisin sauce, that can be another problematic ingredient but this is a great brand with good ingredient list. If you choose to omit hoisin sauce for dietary reasons, I would suggest making a simple slurry of coconut aminos and arrowroot starch to imitate that velvety texture and emit that delicious umami flavor.
💭Helpful Tip: Reading the ingredient list on packaged foods is a good practice to make sure you are getting the cleanest products available to you.
💭Helpful Tips
🕐Time Saving Tip: use the convenience of jarred or frozen minced ginger or garlic; you can marinade the pork up to 24 hours shaving precious minutes during rush hour dinner time.
💲 Money Saving Tip: use whatever crunchy veggies are in season and on sale; pork tenderloin often goes on sale - stock up when it does
🗓Make-Ahead Tip: double the marinaded pork and freeze for a future easy meal
💭Helpful Tip: Tamari is a fermented soy sauce but has a thicker consistency and richer flavor than regular soy sauce. It works exceptionally well in recipes like this Spicy Pork Ramen Noodle.
👩🏽‍🍳Step-by-Step Instructions
The complete printable recipe is below in the recipe card for your convenience.
This Spicy Pork Ramen recipe calls for these ingredients that you will need: pork tenderloin, marinade ingredients: soy sauce, coconut sugar, chili garlic sauce, ginger, garlic, veggies like broccoli florets or baby broccoli, green bell pepper, ming bean sprouts, hoisin sauce, and avocado oil for frying. Additional sea salt to taste if necessary.
Step 1. Marinade pork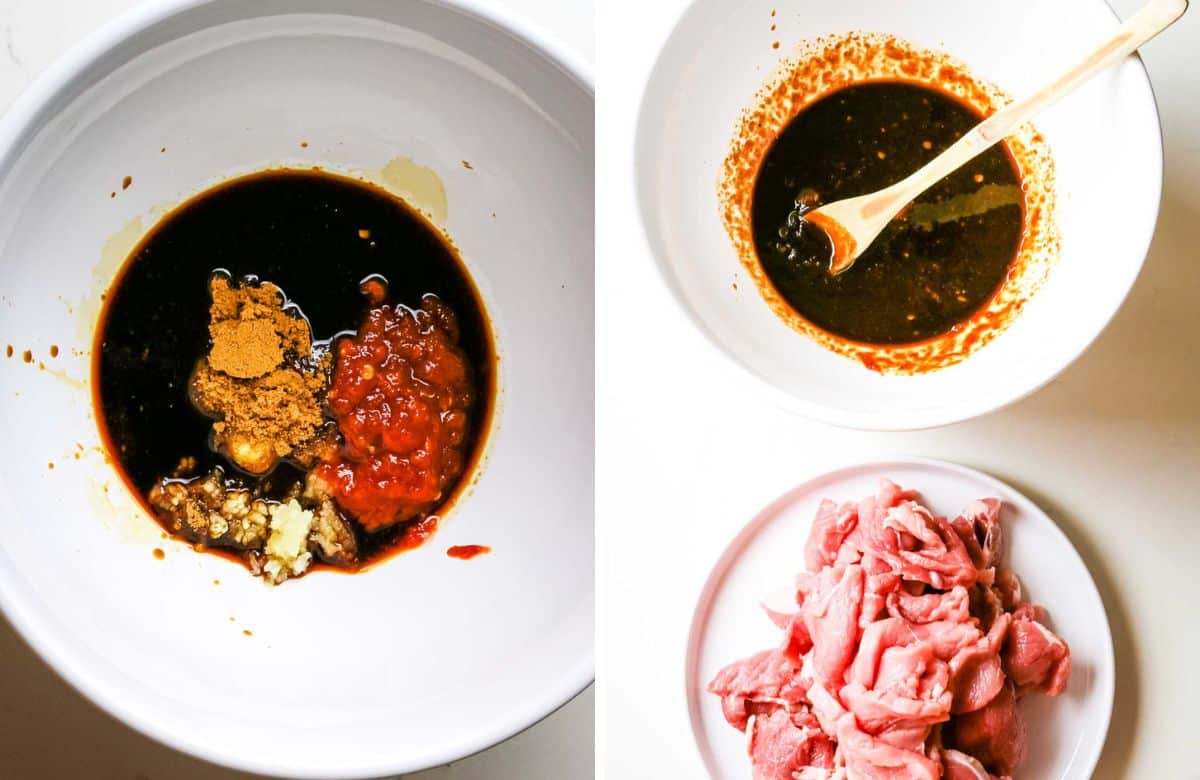 In a medium bowl, combine soy sauce, coconut sugar, chili garlic sauce, fresh ginger, and minced garlic.
Cut pork tenderloin into thin slices. Toss the pork with the marinade, cover and marinade for at least an hour or overnight for best flavor.
If you only have time to marinade for one hour, you can leave it out at room temperature but anything beyond that should be refrigerated. Remove from refrigerator 30 minutes prior to cooking to allow the meat to come to room temperature.
While pork is marinading, prepare the vegetables. Cut the bell pepper into strips and broccoli into bite-size florets.
Step 2. Cook pork
Heat two tablespoons of avocado oil in a deep frying pan over medium-high heat. Add pork to pan, spreading evenly in single layer to not overcrowd. You will need to cook pork in 2 batches, possibly adding more oil as needed between the batches.
Cook for approximately 3 minutes then flip the pork pieces and cook the other side another 3 minutes or until fully cooked through. There should be no pink.
Remove from pan and set aside.
Step 3: Cook vegetables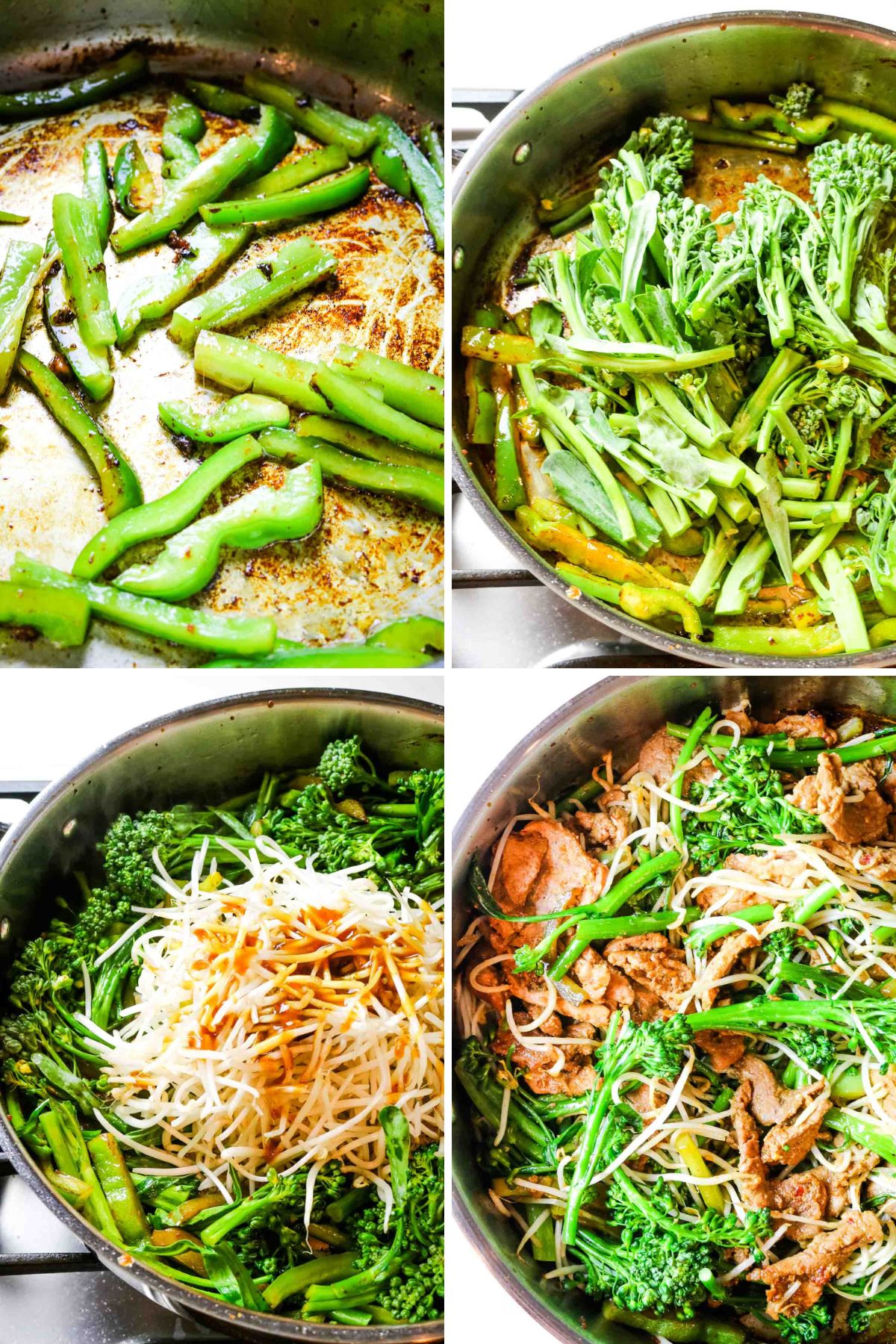 Add more avocado oil. Add bell pepper strips and broccoli and cook for approximately 2-3 minutes or just until slightly charred.
Push the bell peppers and broccoli to the sides of the pan, creating a well in the center. Add mung bean sprouts and hoisin sauce. Close the lid and allow the steam to soften vegetables for two more minutes. It will release delicious cooking liquid that will create the most addictive sauce for this ramen bowl.
Transfer the meat back to the pan and gently toss with vegetables to combine everything. Taste for salt and season if necessary.
Scoop over cooked ramen noodles, garnish with spring onions and black sesame seeds.
🔪Helpful Tools & Links
Below are some links that may be helpful to you as you make this recipe. You can find some of these items cheaper at your local store but it helps to have a link so you know what you're looking for.
🥗Serving Suggestions
The most obvious way to serve this spicy pork is over your favorite ramen noodles. But over a bed of rice is also a good option. I personally prefer to enjoy this on it's own without anything. I find that the tender mung bean sprouts already give a noodle-y type of shape and texture.
Some fun garnish ideas are green onions, sesame seeds, and red chili flakes for extra heat. A drizzle of sriracha sauce and sesame oil adds a fancy touch.
These Spicy Pork Ramen bowls are packed with so many vegetables that I don't find it necessary to add a side or salad to it. A small fermented condiment like kimchi or a garnish of fermented jalapenos is always in order though.
If you're serving company and insist on a refreshing side salad, consider this Asian Cucumber Salad or this popular Cabbage Cucumber Salad.
♨️Storage and Reheating Instructions
To store: any leftovers can be stored in airtight containers in the refrigerator for up to 4 days. Keep the ramen separate from the pork and vegetables. The veggies will release more liquid with time.
Storage containers: glass snap containers are perfect for leftovers
To reheat: gently reheat spicy pork and vegetables in a small covered saucepan over medium heat until pork is heated through.
💬FAQs
What kind of pork is best for these bowls?
Tenderloin is best for this recipe as it has a perfect balance of fat and lean meat. It works great in the marinade too and cooks quickly. However, I have made this recipe with both pork chops and pork steak with great results. Steak was exceptionally tender and so amazingly delicious.
How can I easily slice the tenderloin into thin slices?
To make it easy to slice the tenderloin, pop it in the freezer for 30 minutes to slightly solidify. It will be very lightly frozen but that should make the slicing into uniform pieces easier.
How can I make this into a ramen noodle soup?
This recipe is best suited as a bowl without broth. However, you can add deeply flavored hot broth over your ramen noodles and spoon the spicy pork and vegetables over it.
Looking for more easy dinners? Here are some ideas:
Did you make this? Please leave a ⭐ recipe rating in the recipe card below and leave a review in the comments. Thank you!💚
Printable Recipe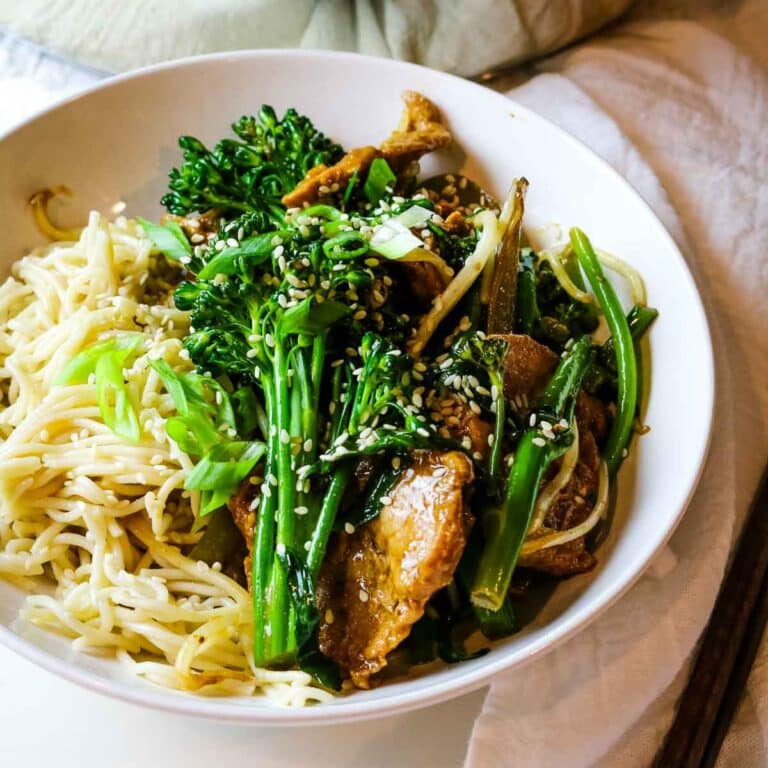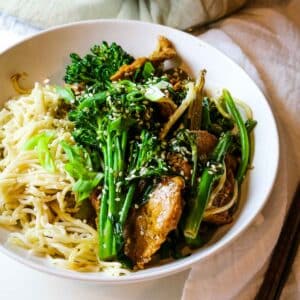 Spicy Pork Ramen Recipe
This Spicy Pork Ramen recipe boasts an easy 5-ingredient marinade and your favorite seasonal veggies and is perfect for an easy weeknight meal.
Equipment
deep stainless steel frying pan
Instructions
Marinate pork tenderloin
In a medium bowl, whisk together 4 tablespoons soy sauce, 4 tablespoons coconut sugar, 3 tablespoons chili garlic sauce, 2 tablespoons minced ginger, and 1 tablespoon minced garlic.
Cooking pork and vegetables
Notes
Marinade ingredients is good for pork tenderloin between 1.3-1.8 pounds in weight.
Feel free to use other vegetables: green beans, sliced carrots, mushrooms, snap peas are all great options.
Change it up: enjoy this over a bed of rice or completely grain free on its own.
Nutrition
Calories:
516
kcal
|
Carbohydrates:
53
g
|
Protein:
33
g
|
Fat:
19
g
|
Saturated Fat:
6
g
|
Polyunsaturated Fat:
3
g
|
Monounsaturated Fat:
10
g
|
Trans Fat:
0.04
g
|
Cholesterol:
74
mg
|
Sodium:
2334
mg
|
Potassium:
872
mg
|
Fiber:
5
g
|
Sugar:
14
g
|
Vitamin A:
444
IU
|
Vitamin C:
72
mg
|
Calcium:
62
mg
|
Iron:
4
mg
Nutrition Information
The information shown is an estimate provided for your convenience by an online calculator. It should not be considered as a substitute for a professional nutritionist's advice. See our complete Nutritional Information Disclaimer.
©Prepare and Nourish • Content and photographs are copyright protected. Sharing of this recipe is encouraged and appreciated but please do NOT screenshot or copy/paste complete recipes to websites or social media.