This No Bake Lemon Blueberry Mousse is slightly tart and wonderfully sweet. Made with only 5 simple ingredients, it's naturally primal and paleo-ish using probiotic-rich whole milk kefir and maple syrup for sweetness. 
This post is in partnership with Nancy's Yogurt. Opinions, recipe, and photography are my own – I only recommend products I truly love and support and want to share with you.  
Mousse is one of those foods where you either love it or hate it. For some, it's always been a favorite velvety dessert, for others it was an acquired taste. And still for others, it's not happening.
Mousse is a dessert of many flavors but with a light and airy texture. It typically incorporates air bubbles in egg yolks and cream to create that light consistency.  My version of mousse calls for five ingredients and no baking or cooking required. It's a much simpler version but still packs a lot of flavor.
Full Fat is King
I would advise against using lowfat or non-fat milk kefir in this recipe. The full fat found in whole milk kefir is what gives this Lemon Blueberry Mousse it's decadent and velvety texture. It becomes a very rich, luscious treat.
Unfortunately, most store shelves flaunt skimmed kefirs only thinking they are doing the public a service. And while it's true that most people mistakenly think that low-fat, non-fat and fat-free are healthier labels but that's all they really are. Labels.
During the skimming process, these low-fat products are stripped of important nutrients.  Nutrients that are responsible for optimal nervous and digestive health. Moreover, studies reveal that when people skimp on the fat, they tend to replace it with sugar and carbs, both of which can spike blood sugar.
Most importantly,  fat does not make one fat. In fact, fat is an incredibly satiating nutrient, delaying the release of sugars in the bloodstream, which helps prevent overeating. So full fat can be used to aid in weight loss.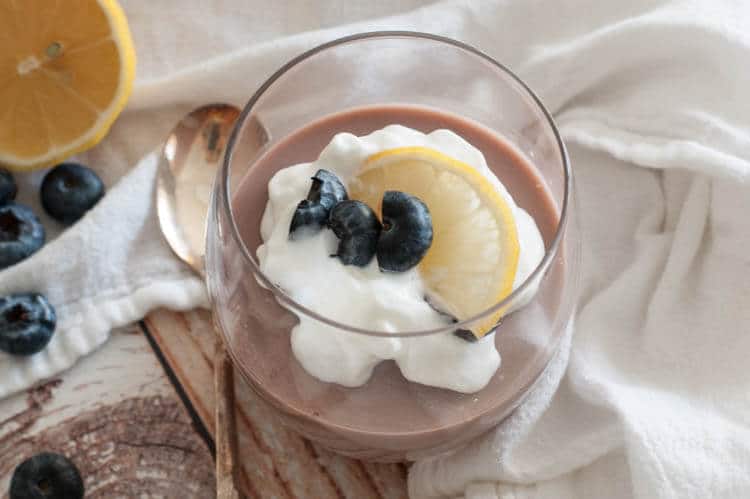 Related: Nourishing Foods Defined
Clean Whole Milk Kefir
Fats, animal fats included, are actually good for you when sourced from a healthy product.  Nancy's Yogurt Whole Milk Kefir is made from local milk, made with care by farmers who share the love for their cows and the fresh, healthy milk they produce. This isn't a big factory farm operation.
Instead, they receive milk from local family farms who pledge to never use artificial growth hormone rBGH/rBST and the milk is always free of herbicides, pesticides, and any trace of antibiotics. This is beyond being organic or non-GMO, of which they both are certified.
The magic of Ferment
Milk kefir is also a great dairy product for those who are lactose intolerant as the lactose is broken down to lactic acid because of enzyme action.  Many with digestive upset following milk consumption do fine with milk kefir and other cultured foods. Note: It's important to listen to your body and do what is right for you individually. 
Nancy's Whole Milk Kefir contains more than 50 billion CFUs in every cup serving with 11 different probiotic strains to deliver live, beneficial bacteria to the digestive tract.  We love adding Nancy's flavored Whole Milk Kefir to smoothies for that added boost of live probiotics.
Or this delicious mousse made with Nancy's Blueberry Kefir.
No Bake Lemon Blueberry Mousse
This mousse is perfectly tart and yet sweet enough for a nice dessert after special dinner. It's wonderfully wholesome and can be whipped up in no time. The hardest part is waiting for it to set.
This mousse is much simpler than what you normally find in mousse recipes. There's no cooking of the egg yolks and slowly adding in the cream. In fact, this recipe doesn't even call for egg yolks nor cream. Just 5 simple ingredients that any real-food kitchen probably already has.
In order to create that light texture, we'll be using a combination of whole milk kefir and grass-fed gelatin instead of the egg yolks and cream.  And the only heat we'll be using is to bring ½ cup of blueberry juice to a simmer to dissolve the gelatin. Note: you can also use ½ cup of boiling water in place of the hot blueberry juice to fully avoid heating anything. If going this route, add 1-2 tablespoons of maple syrup to compensate for the lost sweetness. 
Printable Recipe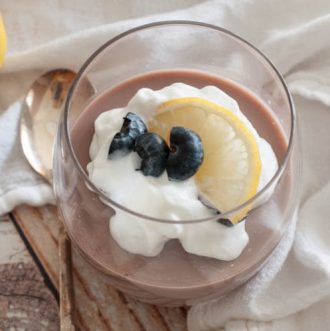 No Bake Lemon Blueberry Mousse
Subtly tart and wonderfully sweet, this airy and light dessert only has 5 ingredients.
Instructions
Sprinkle gelatin over ½ cup of room-temperature blueberry juice. Set aside to "bloom."

Heat remaining ½ cup blueberry juice in a small saucepan. When gently boiling, pour over the bloomed gelatin and stir to dissolve.

Add maple syrup, lemon juice and whole milk kefir and combine well.

Pour into individual glasses or ½ pint size mason jars. Set in the refrigerator for 2-4 hours or until firm.

Garnish with whipped cream, lemon slice, and fresh blueberries.
Nutrition Information
The information shown is an estimate provided for your convenience by an online calculator. It should not be considered as a substitute for a professional nutritionist's advice. See our complete Nutritional Information Disclaimer.
©Prepare and Nourish • Content and photographs are copyright protected. Sharing of this recipe is encouraged and appreciated but please do NOT screenshot or copy/paste complete recipes to websites or social media.
 If you liked the recipe above please consider rating the recipe and leaving a comment below. Also, follow me Facebook, Instagram, and Pinterest.

Other Desserts You Might Like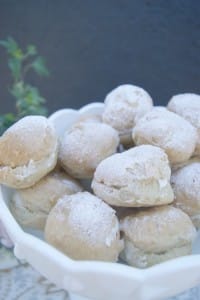 Grain Free Cream Puffs with Buttercream Filling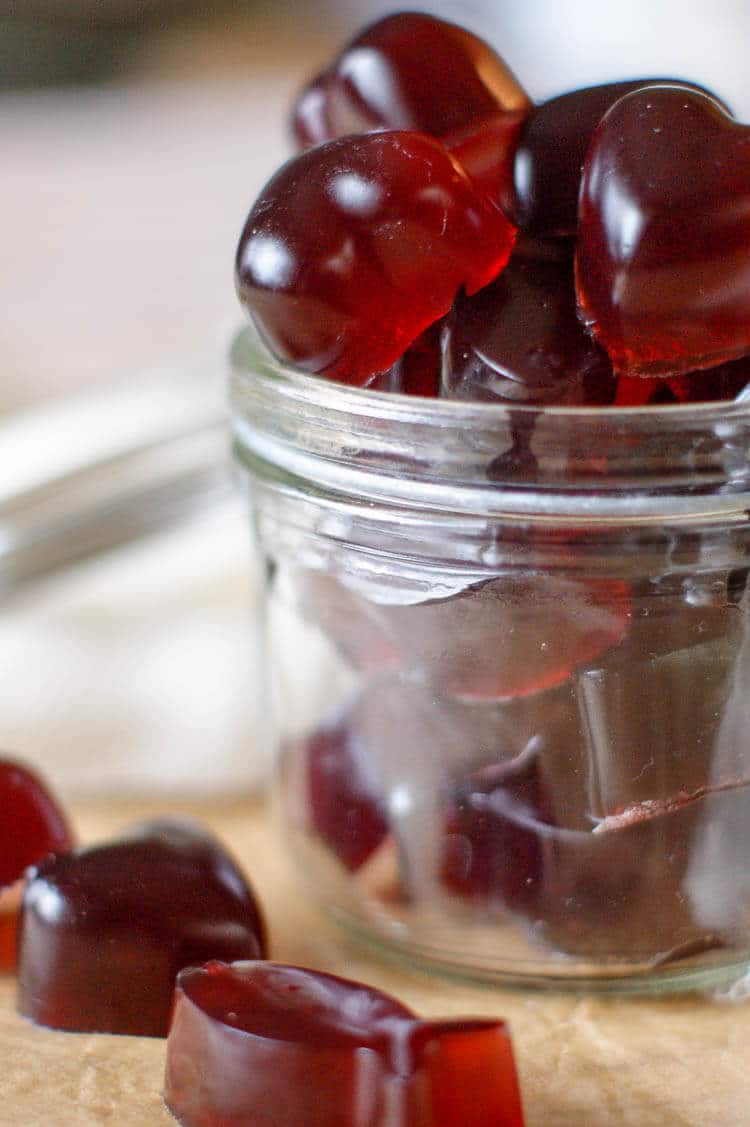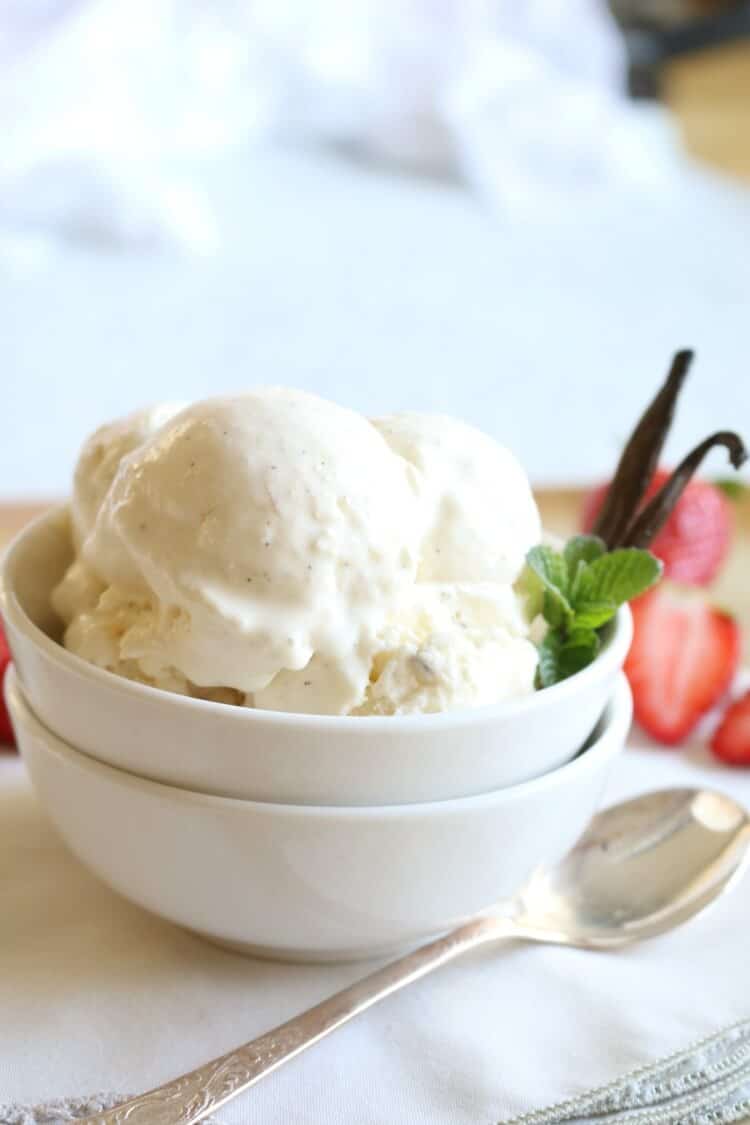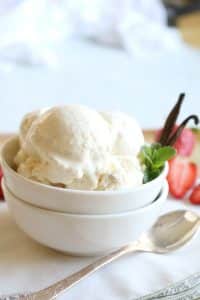 STANDARD FTC DISCLOSURE:
In order for me to support my blogging activities, I may receive monetary compensation or other types of remuneration for my endorsement, recommendation, testimonial and/or link to any products or services from this blog. Please note that I only endorse products that are in alignment with Prepare & Nourish's ideals and that I believe would be of value to my readers. Prepare & Nourish is a participant in the Amazon Services LLC Associates Program, an affiliate advertising program designed to provide a means for sites to earn advertising fees by advertising and linking to Amazon.com. Statements on this website have not been evaluated by the Food and Drug Administration. Products and/or information are not intended to diagnose, cure, treat, or prevent any disease. For additional information, please visit my full Disclosure page.