Paleo Vanilla Bean Ice Cream is made from 3 healthy ingredients and can be served soft serve or traditional. This Paleo treat is healthy and delicious the entire family can enjoy.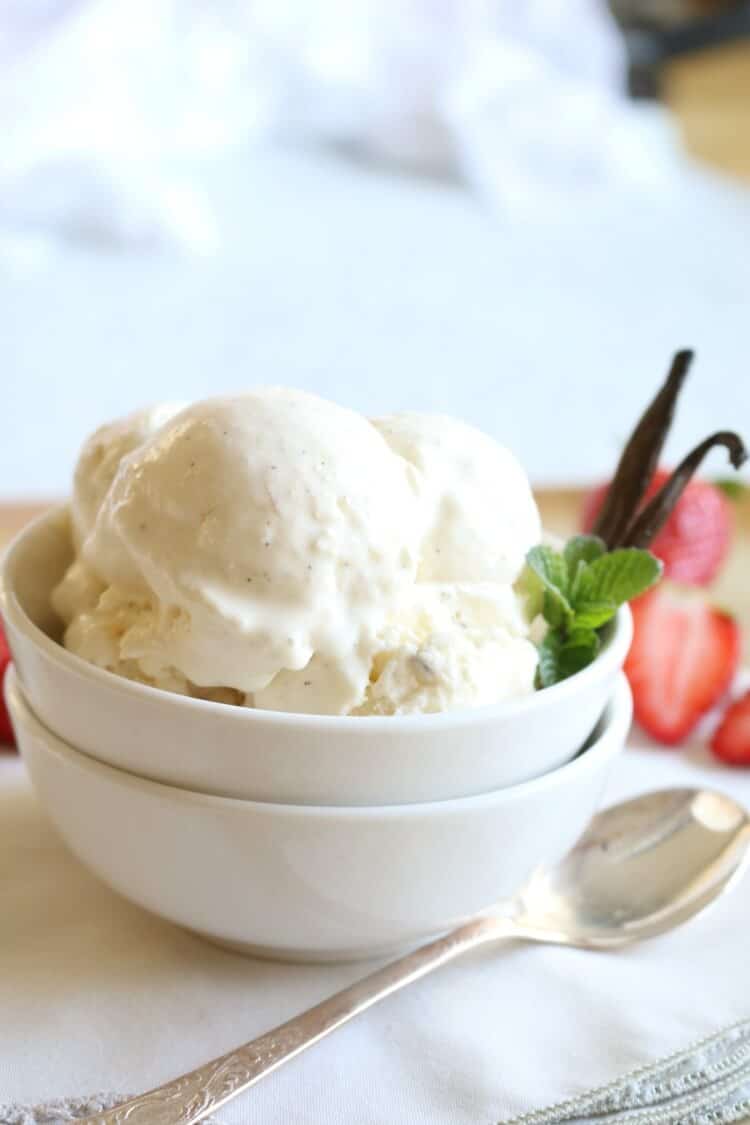 I'll be the first to admit, I have a really close relationship with real dairy. I love the variety of cheeses I can buy at Costco (I usually throw 3-4 different bricks in my cart every time I go there).
I especially appreciate that dairy in raw and fermented forms are actually beneficial for your health, provided you are not intolerant to them. That's why I regularly make yogurt and we purchase pastured butter quarterly in 40-pound blocks (which conveniently lasts us 3 months).
But despite this, I realize coconut in its own right is a health food and therefore, have been slowly transitioning to consuming more of the coconut goodness. I'll be honest, it's been a tough transition. My family isn't a big fan of all things coconut. I can't get away with using coconut oil when sauteeing vegetables. And I certainly can't make coconut ice cream and call it just like"store-bought ice cream."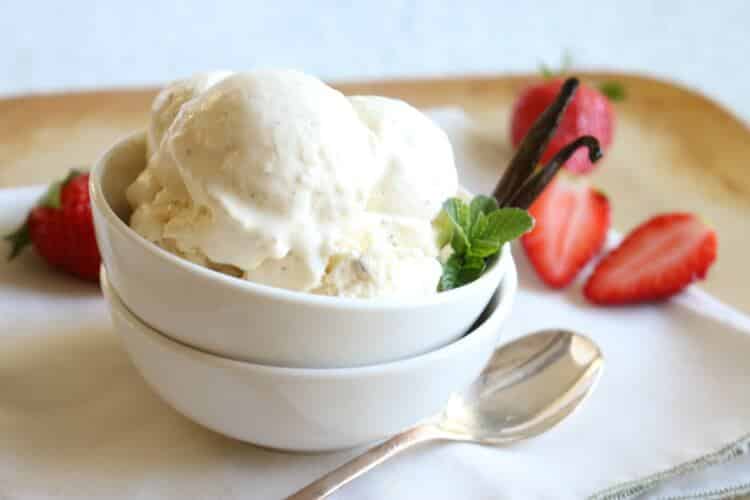 But you know what....
Much to my surprise, this is one of the few recipes that my kids prefer I use coconut milk instead of the dairy heavy cream. They keep asking for it and when made with only 3 ingredients, 3 healthy ingredients - I'm always happy to oblige.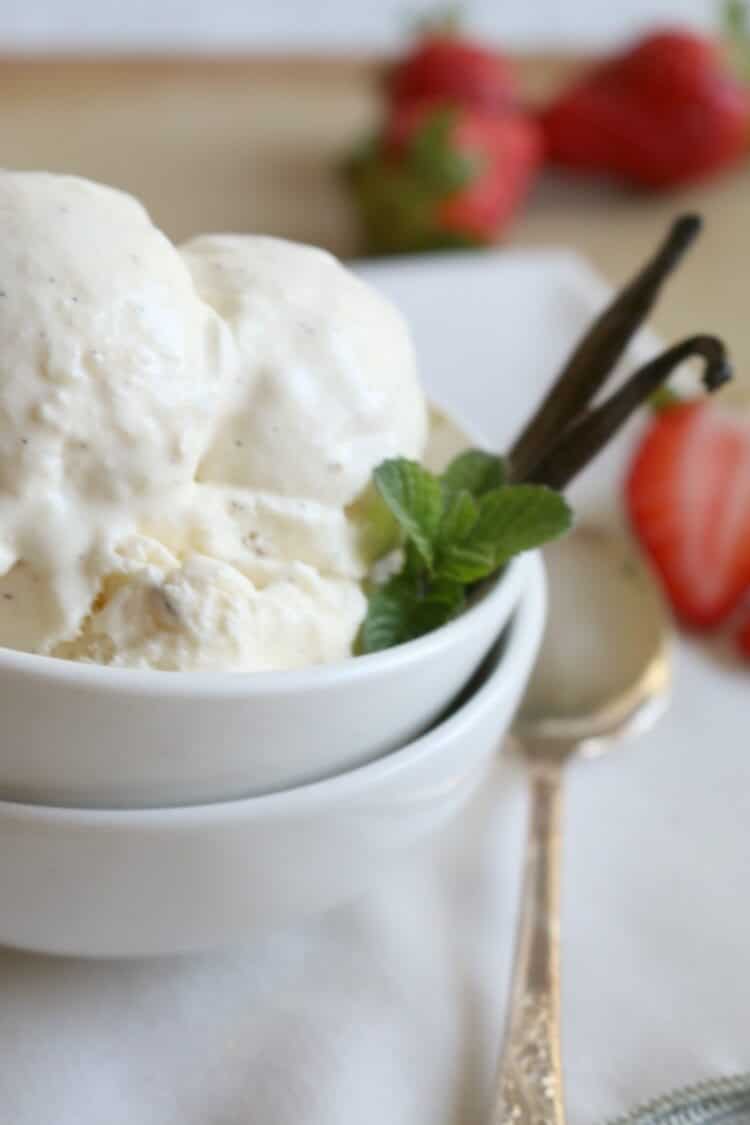 3 Ingredient Vanilla Bean Ice Cream (Paleo)
Vanilla Bean Ice Cream sounds so much fancier than plain Vanilla Ice Cream, no? Don't skimp on the vanilla, those specks of vanilla and the smell is sweetly divine. Simply split open a vanilla bean and scrape off the beans with a butter knife directly into the ice cream mixing bowl.
I make my own vanilla extract and when I do, I keep the beans in the bottles until the extract runs out. I use those softened beans for the ice cream.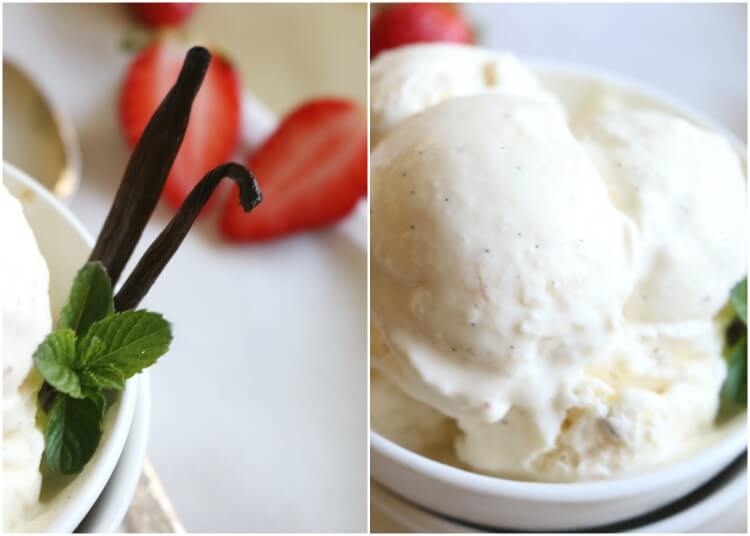 No vanilla beans? No worries, just add 2 tablespoons of the extract. By adding the alcohol base extract, your ice cream won't be rock solid when completely frozen so you can compensate for the lack of vanilla bean specks that way.
Soft Serve or Traditional?
You can enjoy this paleo ice cream soft serve style by right after churning it. If you're opting for more solid ice cream, transfer the mixed frozen treat into a freezer safe container and freeze for several hours. Either way, it's a winner! And a healthy one at that!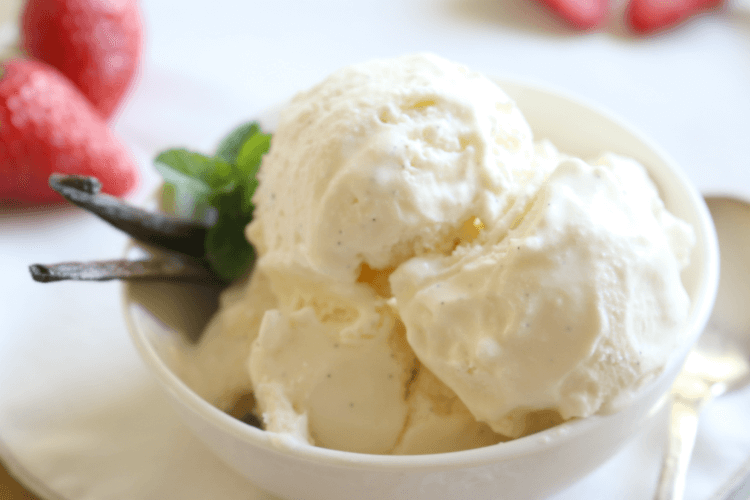 Helpful Items for Making This Paleo Vanilla Ice Cream
Enjoy this Paleo Vanilla Ice Cream on top of Paleo Baked Pecan Apples. Or drizzle this Homemade Chocolate Syrup (Paleo, GAPS) over the ice cream.
Of course, if you're like me - you can spoon it straight out of the ice cream maker bowl.
Printable Recipe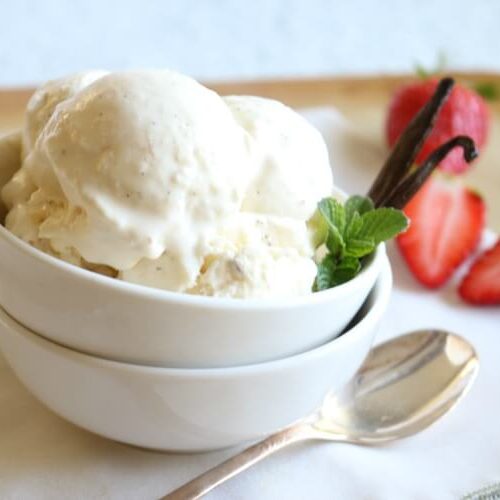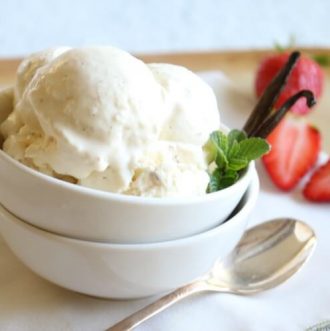 Paleo Vanilla Bean Ice Cream
With 3 wholesome ingredients, this paleo vanilla ice cream will become your favorite treat year round.
Ingredients
1

13.5 oz can

full fat coconut milk (room temperature)

*

1

13.5 oz can

full fat coconut cream (room temperature)

*

⅓ - ½

cup

maple syrup

1

teaspoon

scraped vanilla bean seeds

OR

3

tablespoons

vanilla extract
Instructions
Place the ice cream maker bowl in the freezer 12 hours before or according to the manufacturer's instructions.

Combine coconut milk, cream and maple syrup in a blender until smooth and frothy (about 2-3 minutes). Pour the mixture in the previously-frozen ice cream bowl and churn according to the manufacturer's instructions.

Add vanilla extract or scrape vanilla seeds from the beans with a butter knife and add directly into the ice cream bowl as its churning.

After approximately 35 minutes, you can enjoy this soft serve consistency or transfer the ice cream into a freezer safe container and freeze for 4 hours to get more solid ice cream. Ice cream will keep for up to 2 weeks.
Notes
*My favorite coconut milk and cream is Trader Joe's brand as it doesn't contain guar gum and is full fat. This recipe calls for either 2 cans of 13.5 oz coconut milk or 3 cartons of Aroy-d coconut milk (no guar gum). You need a total of 3 ½ cups of coconut milk + cream with 1:1 ratio.
*You can get full cream by chilling the coconut milk in the refrigerator overnight and then skimming the fat from the top. Doing so you may need 4 cartons to work with to get to a combined 3 ½ cups of liquid. You may also need to heat the cream to bring it to room temperature so it combines well with sweetener.
*Recipe makes a quart of ice cream.
|Nutrition Information Disclaimer |
Nutrition
Calories:
19
kcal
|
Potassium:
9
mg
Nutrition Information
The information shown is an estimate provided for your convenience by an online calculator. It should not be considered as a substitute for a professional nutritionist's advice. See our complete Nutritional Information Disclaimer.
©Prepare and Nourish • Content and photographs are copyright protected. Sharing of this recipe is encouraged and appreciated but please do NOT screenshot or copy/paste complete recipes to websites or social media.
>>>Pin This <<<