These paleo Stuffed Baked Apples are filled with crunchy pecans, shredded coconut, and a touch of honey that are then baked to tender perfection.
This apple dessert are a super low maintenance version of apple crisp. Imagine those familiar warm spices, the crunchy topping and the irresistible sweet cinnamon filling all nestled in tender apple halves.
Best of all, these paleo baked apples are incredibly simple to make and can be in the oven with just 10 minutes of prep time.
Stuffed Baked Apples (Gluten Free, Dairy Free)
These paleo Stuffed Baked Apples have that perfectly crunchy, honey-sweetened pecan crumble that is the envy of all apple crisps.
The best part is that it's only 5 ingredients (including the apples) and truly does not take more than 10 minutes to throw everything together.
The hardest part is waiting patiently for the apples to bake while filling your house with that warm fall aroma.
Top these baked apples with this 3-Ingredient Vanilla Ice Cream and drizzle with salted caramel sauce and you have a perfect fall dessert.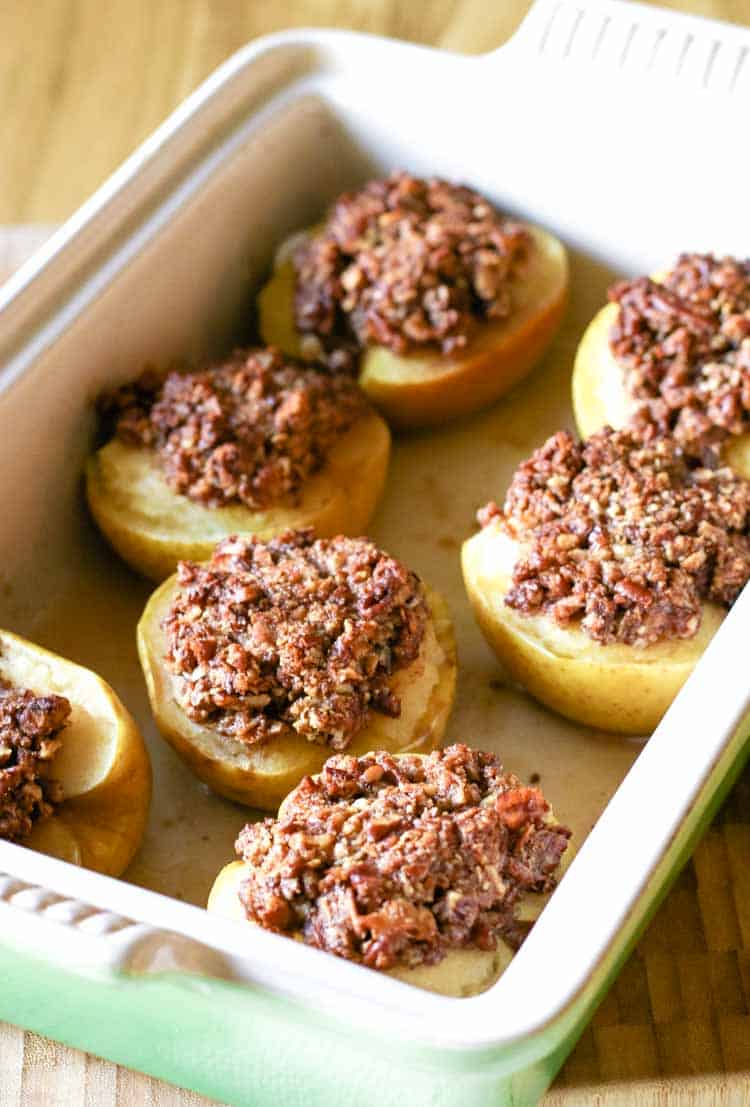 What Kind of Apples are Best for Baking?
The best apples for baking are those that keep their structure and texture intact after spending some time in a blazing oven. In my experience, Granny Smith apples have fared very well in holding up under the heat. They also happen to have that perfect sweet-tart balance and are generally pretty versatile in most apple desserts.
In addition to Granny Smith apples, below are a few more varieties that deserve an honorable mention when baking apple desserts:
Honeycrisp
Jonagold (Jonathan)
Braeburn
Fuji
Pink Lady
Golden Delicious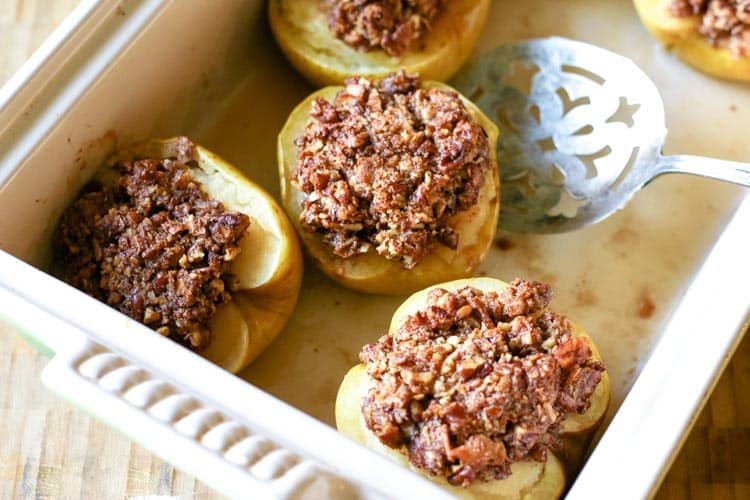 How to Make Oven Baked Apples
These paleo baked apple dessert is one of the most easiest treats you'll ever make. Start with your choice of apples, wash and dry them well. Cut them in half and scoop out the core with a sharp edged spoon. Set your apple halves in a deep baking dish.
Meanwhile, combine all the delicious apple toppings in a small bowl or a food processor. Use coconut oil to make these completely dairy free but go for butter if you want a more rich texture.
Spoon the topping on the apple halves and bake in the oven for 30 minutes.
Be sure to read all my tips below to achieve the best texture and flavor of the oven baked apples.
Baked Whole Apples vs. Baked Apple Halves
We love to make this recipe with apple halves rather than whole apples. The reason is we can always go for that second half if needed. But usually one baked apple half with the topping and a scoop of ice cream is more than plenty to satisfy that sweet tooth.
The baked apple halves are also great for kiddos since the whole apples are way too much for them to begin with.
Having said that, you can easily convert this recipe from baked apple halves to baked whole apples. All ingredient amounts will remain the same.
To make baked whole apples, core the apples with a paring knife and a sharp spoon. Fill with the pecan crumble and proceed as with the apple halves.
When baking whole apples, you may need to increase the baking time to 45 minutes but always check until fork tender. I would err on the side of slightly underdone rather than overbaked. The pecan stuffing doesn't have anything that truly needs to be cooked (i.e. oats) therefore, you're really just baking the apples so as soon as they are tender and luscious, pull out the baked apples.
How do you Eat Baked Apples?
We love eating these healthy Stuffed Baked Apples warm, topped with vanilla ice cream and a touch of caramel drizzle.
If so desired, you can skip the apple skin when eating. The flesh easily scoops out with the spoon and that perfect mixture of melting ice cream, luscious apple and crunchy pecan crumble is melt-in-your-mouth good!
Tips for Healthy Baked Apples with Topping
Pick apples of the same size for even cooking.
If you're wrestling with the apples to sit well in the dish, just cut a small piece off the rounded part of the apple half to create some stability. Just keep in mind, that as soon as the apples are baked and softened, they are set pretty firmly in the dish.
In order to retain that crunch in the pecans, be sure they are just coarsely chopped. Use room temperature butter or coconut oil (for dairy free) so the crumble ingredients combine well.
Depending on the size of your apples, you can use an ice cream scoop similar to this one to scoop out the center cores. I purchased mine at an estate sale and I love it for these jobs because the edges are very thin. A melon baller would work just as well.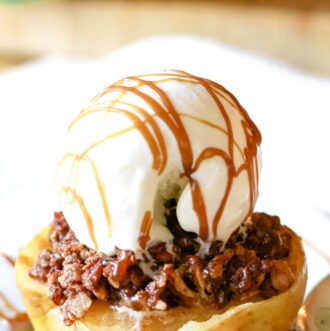 Stuffed Baked Apples (Gluten Free, Dairy Free)
These paleo Stuffed Baked Apples are filled with crunchy pecans, shredded coconut, and a touch of honey that are then baked to tender perfection. 
Instructions
Preheat oven to 350 degrees Fahrenheit. Grease a large casserole dish with butter and set aside. 

Cut the apples in half, remove the core with a melon baller or similar tool.

Add all topping ingredients into a bowl and combine well.

Spoon 2-3 tablespoons of pecan crumble onto the apple halves.

Bake for 30 minutes or until apples are tender but not mushy.

Serve apples warm. If desired, top with vanilla ice cream and drizzle with caramel.
Nutrition
Calories:
262
kcal
|
Carbohydrates:
26
g
|
Protein:
2
g
|
Fat:
19
g
|
Saturated Fat:
9
g
|
Sodium:
89
mg
|
Potassium:
178
mg
|
Fiber:
4
g
|
Sugar:
21
g
|
Vitamin A:
57
IU
|
Vitamin C:
4
mg
|
Calcium:
23
mg
|
Iron:
1
mg
Nutrition Information
The information shown is an estimate provided for your convenience by an online calculator. It should not be considered as a substitute for a professional nutritionist's advice. See our complete Nutritional Information Disclaimer.
©Prepare and Nourish • Content and photographs are copyright protected. Sharing of this recipe is encouraged and appreciated but please do NOT screenshot or copy/paste complete recipes to websites or social media.
If you liked the recipe above, please consider rating the recipe and leaving a comment below ⇓. Also, be sure to follow us on Facebook, Instagram, and Pinterest.
Other Baked Desserts You May Like:
Easy Paleo Banana Muffins
Flourless Chocolate Chip Pumpkin Bars
Almond Orange Cookies
Healthy Chocolate Muffins
>>>Pin This<<<
This post was originally published November 2018 and has since been updated to include helpful information.