It's not as much as avoiding sugar as it is about the type of sugar you're consuming.  Natural sweeteners such as sucanat and maple syrup are actually rich in minerals.  Read on and see what sweeteners are actually good for you.
This post may contain affiliate links for your convenience.  Thank you for supporting this site with purchases made through these links.  See full DISCLOSURE for details.
You'll notice I don't post a lot of sweets here.  I'd like to say we're all crazy about eating healthy and avoid sugar like the plague but sadly that's simply because I'm not much of a baker.  Nonetheless, my kids - as all kids do, enjoy a good cookie every now and then.
Fortunately, you don't have to sacrifice your sweet tooth for the sake of clean eating.  There are healthier options to white sugar.
I must add that sugar is still sugar no matter the form.  Even though these natural sweeteners are noticeably better alternatives to conventional forms, they should still be consumed in moderation.  Likewise, it is always best to make decisions based on how your body reacts to a specific food.  If you find you have problems with ongoing sugar cravings or that you suffer from insulin resistance, it's best to not tempt with unnecessary sweets no matter the source.
Alternative Natural Sweeteners
Maple Syrup
Pure maple syrup is made from evaporated maple tree sap.  It's rich in magnesium, zinc and other minerals and helps maintain optimal immune system function.  Grade B maple syrup is darker, richer and more complex and therefore is high in phytochemicals and antioxidants.  It's also high in calcium, B vitamins and vitamin A.
In Recipes: Substituting sugar with maple syrup rarely works as is - you have to tweak the recipe, specifically the quantities of other liquids since it's a liquid sweetener.  I would recommend replacing one cup of sugar with ¾ cups of maple syrup and reduce other liquids by a few tablespoons. For cookie recipes, refrigerate the dough for 30 minutes so it can set.  Take note that Grade B maple syrup has a distinct flavor so the end result may be affected.  It's dark in color so your baked goods may be darker than usual.
Honey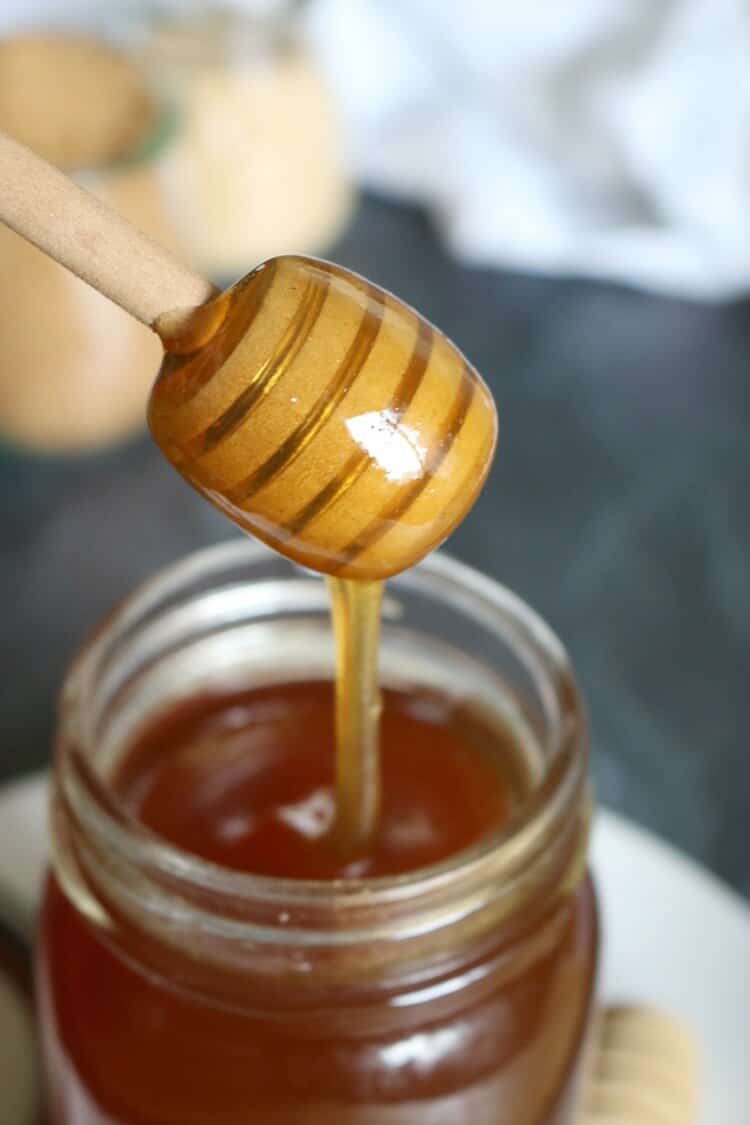 Raw honey is pure, unfiltered and unpasteurized and is rich in minerals and nutrition. Unfortunately, most of the honey consumed today has been heavily processed and is stripped from it's incredible nutritional value and health benefits. I recommend seeking out a local beekeeper and inquire how they care for their bees and how honey is extracted.  Local honey may also help with seasonal allergies.  You know your honey is high quality if it crystallizes and solidifies after a few weeks.
Darker honeys are typically higher in bioactive compounds and have greater antioxidant abilities. (source)  This buckwheat honey is a high in antioxidants, but because of the price and nutrient profile, I would leave this one to enjoy raw.
In Recipes: As with maple syrup, when substituting sugar with honey, reduce the amount of other liquids.  I would recommend replacing 1 cup of sugar with ¾ cups of honey and reduce other liquids by 3-4 tablespoons. For cookie recipes, refrigerate the dough for 30 minutes so it can set.  Because honey browns faster than other sweeteners, reduce cooking temperature by 25F degrees to avoid burning.
Coconut Sugar
Coconut sugar also know as palm sugar, is made from the sap of coconut palm flower blossoms.  Coconut sugar is a great source of minerals such as magnesium, potassium and zinc, vitamin C, B vitamins and even contains amino acids.  It has been the sweetener of choice for centuries in Asia.  And contrary to skepticism, coconut palm sugar is in fact, a sustainable sweetener. (source)  We love it for it's slightly caramel taste and smell.
In Recipes: Coconut sugar can be used on a 1:1 basis for white sugar but take note the dark color and the rich flavor.  It's best with baked goods containing cinnamon, clove, and cacao.  It's also a great alternative to brown sugar with exact amounts. No other adaptations are needed.
Rapadura
Rapadura, also known by it's brand-name Sucanat, is a whole, unrefined cane sugar that is made by crushing the cane and extracting the juice, and dehydrating in into granules.  It's considerably healthier than conventional cane sugar because it retains the natural molasses and trace nutrients like calcium, potassium, and vitamins.
In Recipes: Sucanat can usually be substituted 1:1 for white or brown sugar but it's best used in recipes where brown sugar is called such as gingerbread, spice cookies, or rich chocolate desserts. Because of it's large granules, you may want to pulse a few times in a food processor to achieve the same texture. No other alterations are needed.
Maple Sugar
Maple syrup is pretty amazing in its own right, but maple sugar takes the cake when it comes to the most delicate sweetener on the market.  It's made by condensing maple syrup to a thick consistency by boiling out all the moisture.  What's left are these delicate sweet granules known as maple sugar.
In Recipes: Because of it's distinct flavor, maple sugar rarely can be subbed for white sugar without altering the taste of the end product.  I personally love the flavor but it heavily depends on what you're hoping to achieve.  It's best sprinkled on your morning oats or other hot porridge but if you're daring, feel free to sub 1:1 with white sugar.  This is also one of more costlier options for sweeteners preventing most from cooking with it.
Turbinado
Less processed than traditional cane sugar, turbinado is made from the first pressing of sugar cane and retains some natural molasses.  It's crushed directly from the harvested sugar cane, and the juice is allowed to evaporate naturally then crystallized in a way that the vitamins and minerals in the sugar cane are retained.  This sweetener has large, tan-colored crystals is slightly moist to touch.
Because this sweetener is the most cost efficient, it's my choice when baking for large parties.
In Recipes: Replace the white sugar with turbinado sugar using 1:1 ration.  No other alterations are needed.  This sweetener is not the best option for delicate and airy deserts such as mousse or angel cake but is great in sweet breads and cookies.
...More Natural Sweeteners
Molasses is another liquid sweetener that is rich in minerals and flavor.  It adds depth to recipes with spices like cinnamon and clove and cacao.
Jaggery is made from palm, coconut and java plants and typically comes in a cone like shape. It has an earthy sweet flavor that is delicious on oatmeal and other porridges.
Muscovado sugar is a wonderful, unrefined alternative to brown sugar.  Ir's rich, dark, moist granules behave just like brown sugar in a recipe.
Stevia is an herb that is considered to be up to 200 times sweeter than sugar. Some people don't particularly care for the aftertaste of stevia but because it doesn't raise blood sugar levels like regular sugar does, it makes a great alternative for many.  Many modern forms of stevia are highly processed so stick to stevia in herb form or pure extract.
Organic Sugar & Confectioner's Sugar
Finally, cane sugar is the most refined sugar on the market. It's stripped from mineral rich molasses and is void of nutrients.  Having said that, organic non-GMO cane sugar is still a better option than conventional, non-organic sugar and exponentially better than high fructose corn syrup. Use sparingly.
Confectioner's Sugar is ground cane sugar and is great delicately sprinkled on top of deserts such as these. It can be easily made at home by pulsing sugar in a coffee grinder until powder form. Note: be careful when lifting the lid off grinder. Use sparingly.
Knowing that there are healthier options for sweeteners, you can now enjoy those treats guilt-free.  
Related: The Real Food Guide to Salt