Rich in chocolate and naturally sweetened with honey and banana, these Healthy Chocolate Muffins are completely flour-less and made in the blender with only 6 main ingredients.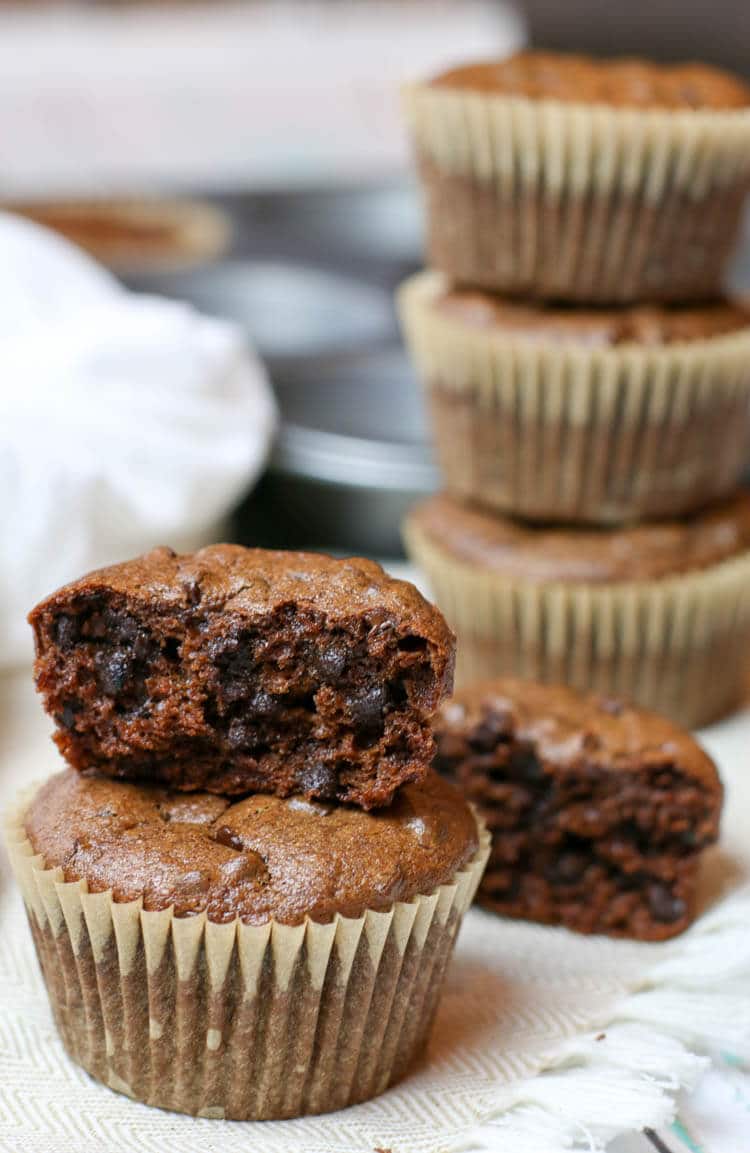 Healthy Chocolate Muffins
These Chocolate Muffins are made with simple ingredients that you most likely already have at home.
Most importantly, they are all clean ingredients that you will feel good about serving your family. Naturally sweetened with only banana and a bit of honey, these muffins aren't overly too sweet but if you need more sweetness, I recommend adding a few drops of stevia extract so as to not alter the texture.
They are perfectly moist, rich in chocolate and decadent texture -- these easy blender muffins are ideal for a sweet treat after a meal.
With 5 grams of protein in one serving, these muffins have a good macro ratio, which is always great at keeping those blood sugars stable.
The best part is that these Healthy Chocolate Muffins are easily made in a blender and they freeze well making them perfect for school lunches.
Why you should make these Healthy Chocolate Muffins
I know that there are a myriad of "healthy" chocolate muffins on the internet. In fact, healthy is such a subjective term that what would be considered healthy for one person may not be so for another.
What makes these muffins stand out from the rest is that they are entirely flour-less and intentionally full of nourishing ingredients. Even though I don't ascribe to vegan recipes, this recipe in particular is naturally dairy free but without sacrificing healthy fats and nutrients that can only be found in animal products.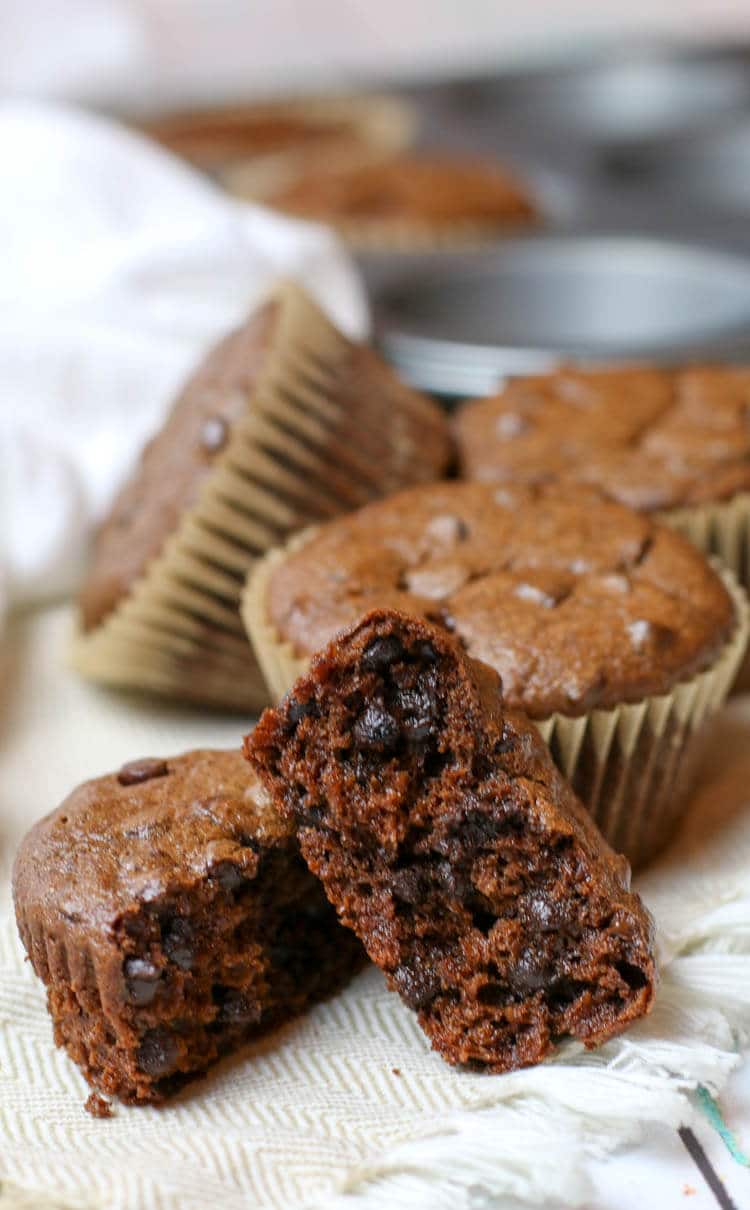 Flour-less Chocolate Muffins
The more I learn about food sensitivities and health in general, the more I realize that it's not so much about omitting foods that wreak havoc on your body but it's just as important to include nutrient dense foods as much as possible.
Even though I can probably do without - kids are naturally drawn to sweets and treats. And I'm fine with that provided that these treats are made with wholesome ingredients and as healthy as can be.
These Healthy Chocolate Muffins are not only gluten-free but they are entirely flour-less. No wheat flour. Not even gluten-free flour. No almond flour or coconut flour. None. And yet, the texture is still perfectly moist, crumbly, and delicious.
The ingredients that bind these chocolate muffins together are the egg and almond butter and it yields the most perfectly flavored chocolate muffins. Using nut butter will yield rich and soft muffins.
High Protein Chocolate Muffins
These chocolate muffins are surprisingly full of protein. They are naturally sweetened with banana and honey and the almond butter is rather satiating for a sweet treat.
Want to up the protein? You may also add additional collagen peptides for a boost. (Use discount code PREPARE10 for 10% off my favorite 3rd party tested hydrolyzed collagen). Having those complimentary macros in a balance will help keep the blood sugar stable.
A serving of one muffin has 5 grams of protein, if adding the collagen. You can double that without sacrificing texture for twice more protein.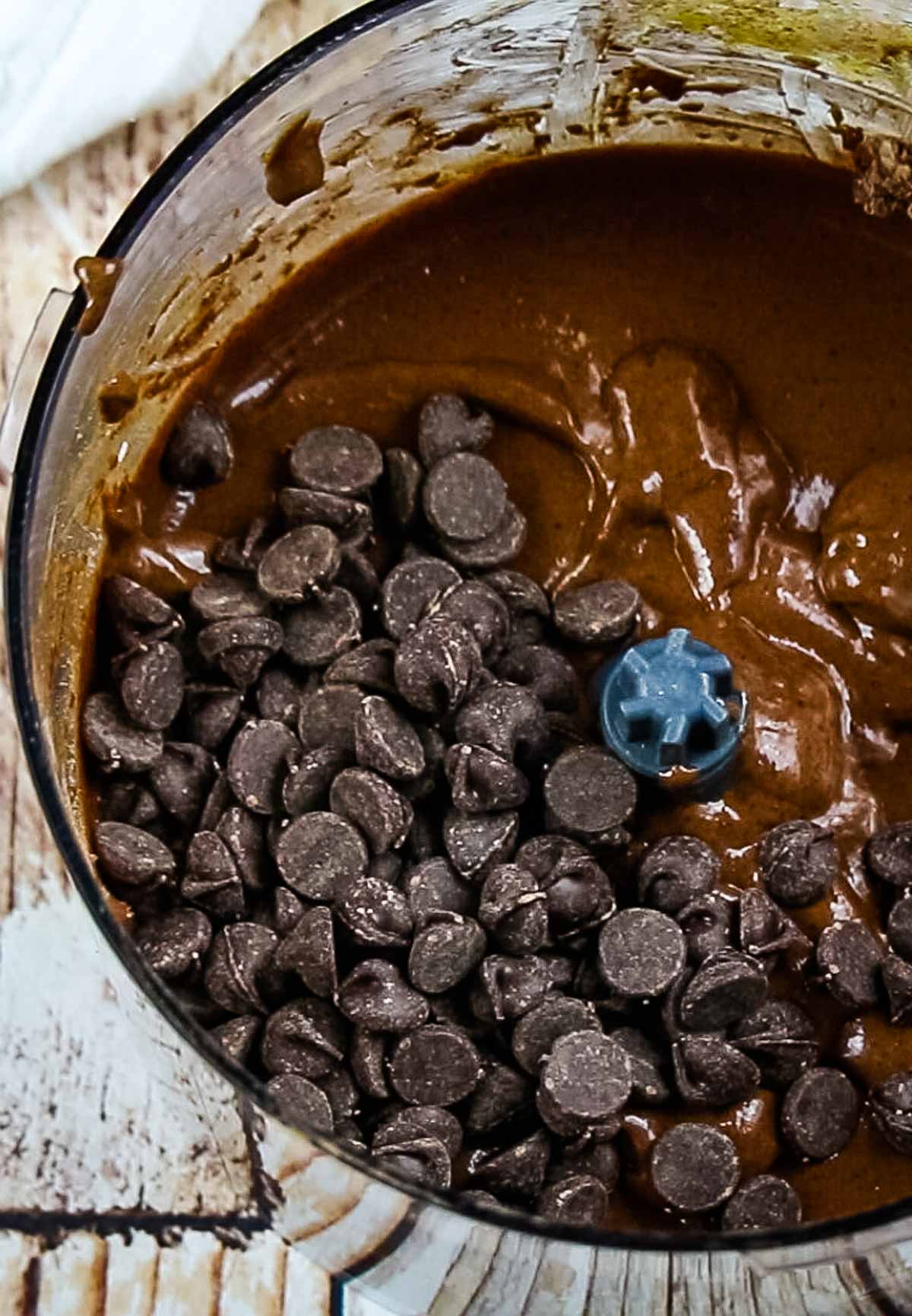 Double Chocolate Muffins
Want more chocolate with your chocolate muffins?
Add some chocolate chips to make them Chocolate Chip Muffins. Just be sure to use fair trade chocolate. We love Lily's because it's sugar-free and low carb and even though these chocolate chip muffins aren't necessarily low-carb, I always appreciate cutting sugars whenever I can.
Healthy Chocolate Muffins with Banana
I love using overripe bananas to naturally sweeten baked treats to avoid using additional sugar.
If you don't care for the banana flavor, don't worry. Between all that chocolate, you won't even taste the banana in these healthy chocolate muffins.
But an easy way to mask the banana flavor is to add vanilla bean powder. This powder is 100% pure ground vanilla bean powder and is more potent than the extract. Just ⅛ teaspoon of dried vanilla beans will do the trick.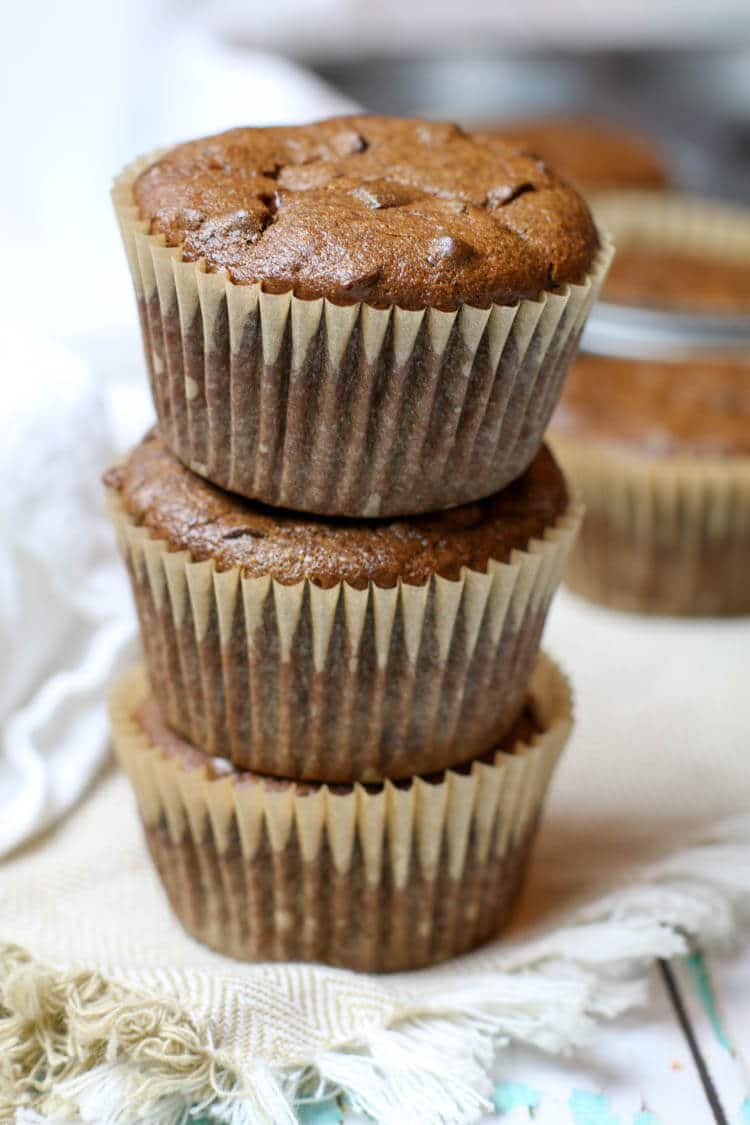 What nut butter can I use in flour-less muffins?
The best nut butter to use in chocolate muffins is the one that your family enjoys.
My default is almond butter. I find it's relatively inexpensive and the organic version is widely available in my town. Cashew butter would be great too but it's pretty pricey if baking with it.
Peanut butter in particular would be a fantastic swap in these healthy chocolate muffins since peanut butter and chocolate pair so well together.
As always and with every packaged food, be careful to read the ingredient label to be sure to avoid nasty additives. Most nut butters should only have the nuts and possibly sea salt but check to make sure it's not rancid.
Lastly, it's important to note that these muffins, although healthy, are still a treat, meant to be enjoyed sporadically and after a full meal. Nuts in excess can be hard to digest if not properly prepared so as with everything else, it's best consumed in moderation and with a nourishing diet.
Frequently Asked Questions & Tips
How to Make Healthy Chocolate Muffins
The complete printable recipe is below in the recipe card for your convenience.
These chocolate muffins are crazy easy and can be easily whipped up in a blender or food processor. It has egg, banana, nut butter, cocoa powder, honey, collagen peptides, vanilla, baking soda, sea salt, and chocolate chips.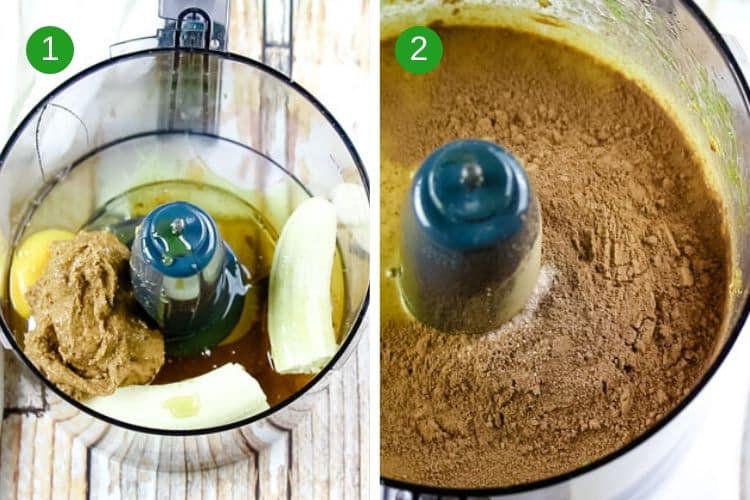 Blend egg, banana, and almond butter in a processor. Add cacao powder, salt, and vanilla and blend for another 30 seconds.
Add baking soda and pulse just enough to combine. Don't overmix. Stir in chocolate chips and scoop approximately ½ cup of batter into each muffin.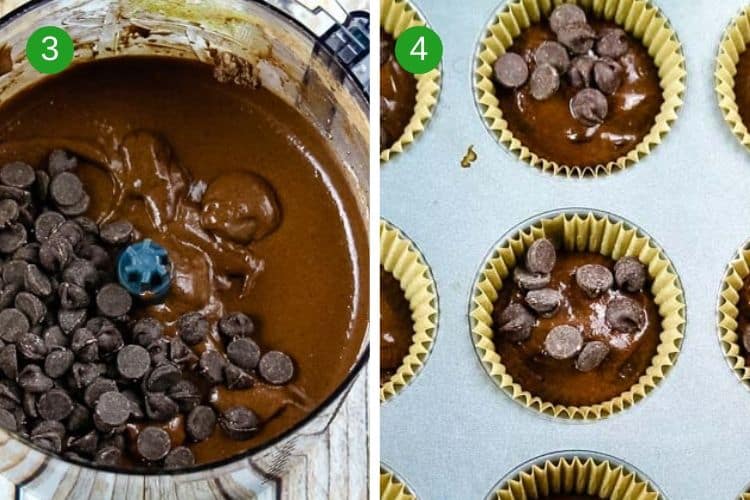 Bake until toothpick comes out clean. Once baked, transfer the muffins from the pan onto a cooling rack and allow to rest for 15 minutes. You can dig in right away but be careful with the melted chocolate!
Store these muffins at room temperature for up to 4 days. If wanting to store them longer, stick them into the refrigerator or freeze them for longer.
Helpful Tools & Links
Want more healthy baked treats?
Did you make this? Please leave a ⭐ recipe rating in the recipe card below and leave a review in the comments. Thank you!💚
Printable Recipe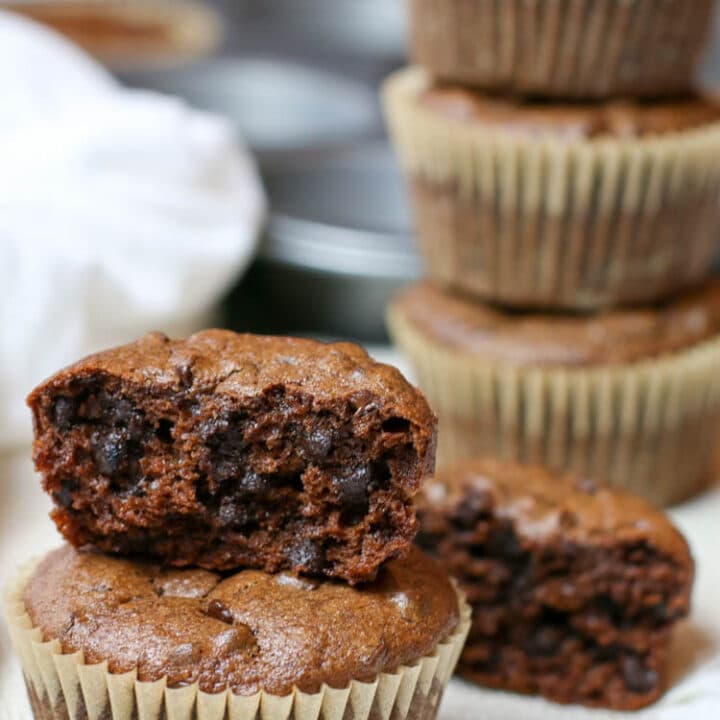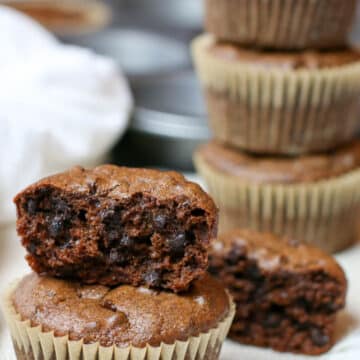 Healthy Chocolate Muffins
Rich in chocolate and naturally sweetened, these paleo treats are easily made in the blender with only 6 main ingredients. They pack easily and freeze perfectly - make them today!
Notes
To reduce the flavor of banana, look for one with less brown spots.
You may use sugar free chocolate chips such as Lily's to keep the carb count lower.
For additional boost of protein, add collagen peptides to the batter before baking. 
Nutrition
Calories:
245
kcal
|
Carbohydrates:
25
g
|
Protein:
5
g
|
Fat:
15
g
|
Saturated Fat:
6
g
|
Polyunsaturated Fat:
2
g
|
Monounsaturated Fat:
6
g
|
Trans Fat:
1
g
|
Cholesterol:
15
mg
|
Sodium:
106
mg
|
Potassium:
278
mg
|
Fiber:
4
g
|
Sugar:
18
g
|
Vitamin A:
37
IU
|
Vitamin C:
1
mg
|
Calcium:
56
mg
|
Iron:
2
mg
Nutrition Information
The information shown is an estimate provided for your convenience by an online calculator. It should not be considered as a substitute for a professional nutritionist's advice. See our complete Nutritional Information Disclaimer.
©Prepare and Nourish • Content and photographs are copyright protected. Sharing of this recipe is encouraged and appreciated but please do NOT screenshot or copy/paste complete recipes to websites or social media.
This post was originally published January 2018 but has since been updated to include helpful information.