Honey Citrus Mint Tea recipe, once a Starbucks secret menu item, can now be made easily at home with just a handful of real food ingredients and 10 minutes.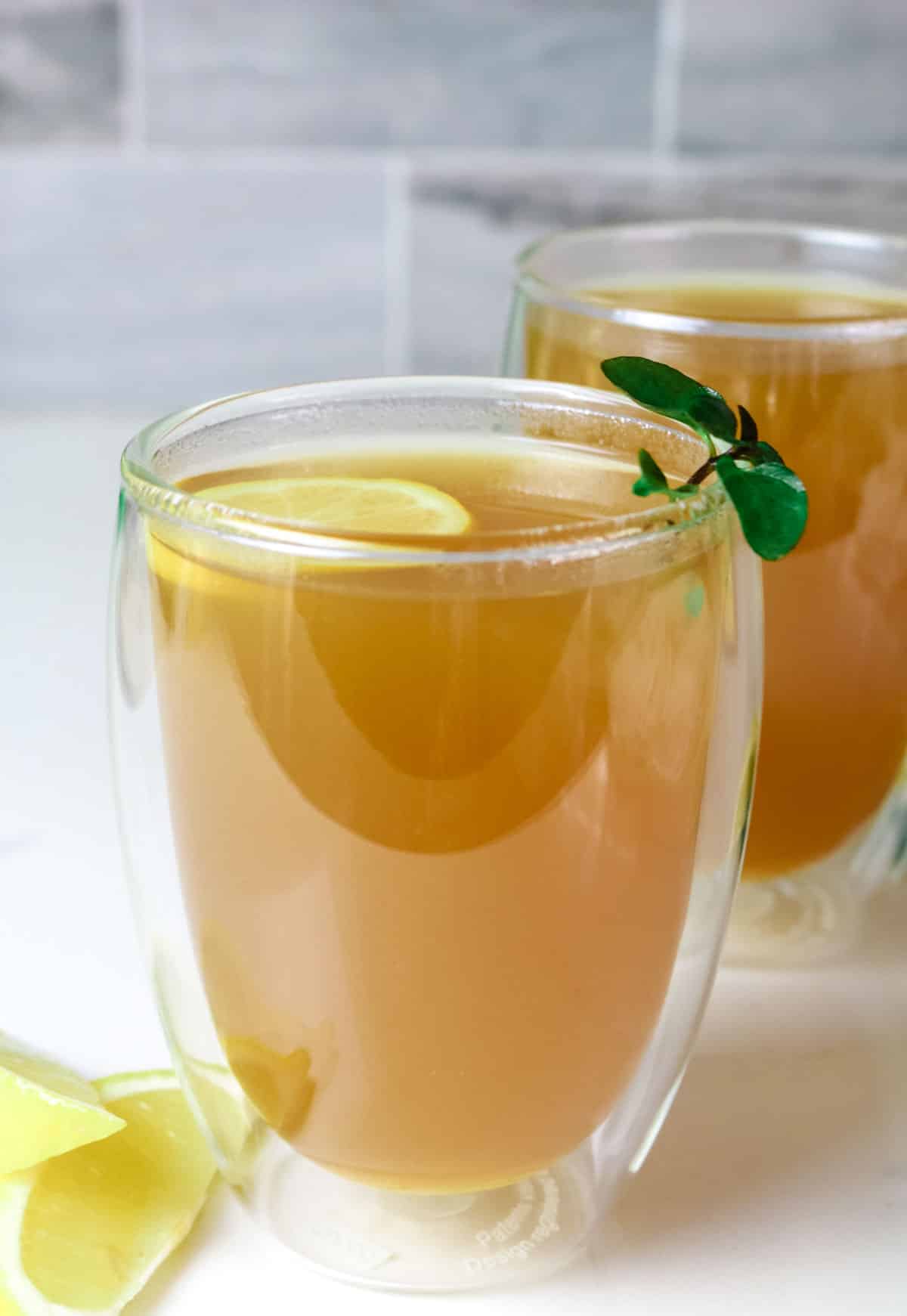 Honey Citrus Mint Tea, as a title is fairly new but the recipe has been around since 2016. Originally, this Starbucks secret menu item was called Medicine Ball Tea or Cold Buster for it's aid in alleviating cold symptoms, especially sore throat.
After gaining popularity on social media for its health benefits, this warm drink is now part of the official drink lineup at Starbucks known as Honey Citrus Mint Tea.
As the name suggests, this hot item is made with steaming lemonade, a blend of teas, and sweetened with honey.
But Honey Citrus Mint Tea can easily be recreated at home with similar ingredient list as the base. Moreover, Starbucks prices often makes a deep dent in your wallet, giving you all the more reason to make this lovely drink at home.
Honey Citrus Mint Tea (Medicine Ball Tea) Highlights
This popular Starbucks customer creation was previously known as Cold Buster and currently can be ordered as Honey Citrus Mint Tea.
Starbucks basic ingredient list to Honey Citrus Mint Tea is lemonade, Jade Citrus Mint tea and Peach Tranquility, honey blend, and optional peppermint pump.
The 130 calories and 30 grams of sugar grande is just scratching the surface of why you should recreate this drink at home.
What is in the Medicine Ball at Starbucks?
Before we dive in, it's important that I mention there's no shame on anyone who opts for the Starbucks drive thru. I occasionally do so myself as a treat but there's also power in knowledge, which is what this post is about.
According to Starbucks, Honey Citrus Mint Tea (Medicine Ball Tea) contains lemonade, an infusion of mint green tea and peach tea, and honey blend.
Simple enough. Right?
When at the supermarket, I always strive to purchase foods with as short ingredient list as possible and preferably ones that I can pronounce. Using that same logic, it would make sense that this drink is safe.
Except when we break it down, it's not so short.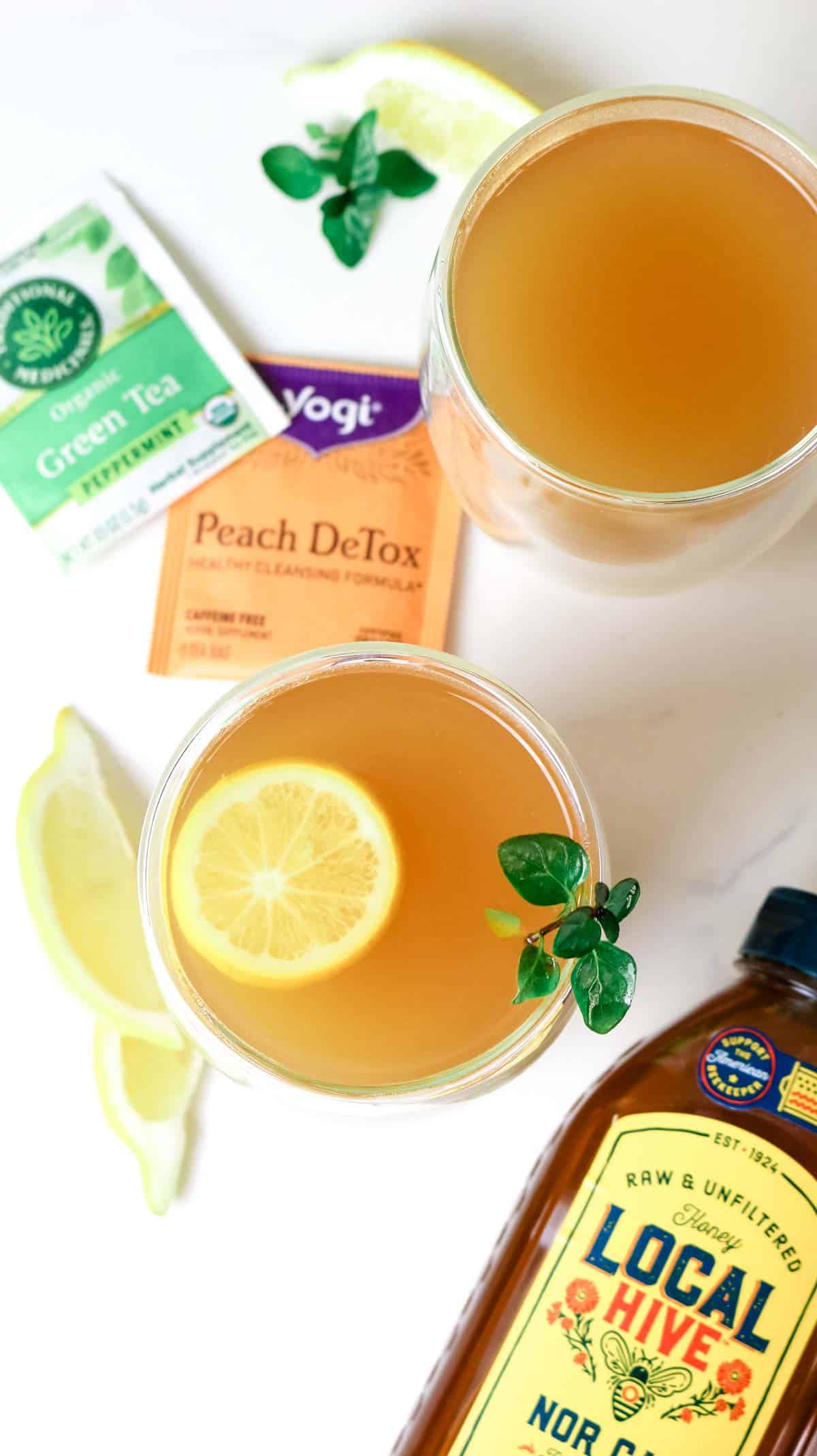 Green Mint Tea and Peach Tea
Let's start with the most harmless ingredient and the star of this drink: the teas.
Starbucks uses Teavana teas in their drinks. Specifically, in Honey Citrus Mint Tea, Teavana Jade Green Mint tea and Peach Tranquility is used.
But Teavana is known for adding natural and artificial flavors in their teas, which is really a nicer term for crude oil or coal tar.
Have you noticed how strong the flavor of Teavana teas are? That's the "natural flavors" covering up the inferior taste and poor quality of their tea. Natural flavor can be anything found in nature, broken down and added to a food. But just because it's found in nature, doesn't mean I want to drink it.
Not to mention the Peach Tranquility tea also has a smidge of rice flour for that extra touch. No, thanks.
Besides, if a tea is of good quality, I want to taste the natural essences of that flavor without anything else added to it. Thankfully, there are brands available on the market that produce cleaner teas (keep reading!).
Lemonade
According to Starbucks, the lemonade ingredients are water, lemon juice, sugar, and lemon oil. All easy to pronounce and pretty common on the market.
But if we're using this drink to curb a cold, why are we suppressing our immune systems further with sugar. Especially when we have a God-given natural sweetener that may actually help beat colds and flus - raw, unfiltered honey.
Sugar-sweetened lemonade isn't the worst thing one can consume, but there are better options.
Honey Blend
If the teas and lemonade, don't persuade you to recreate this Honey Citrus Mint Tea at home, perhaps the honey blend that is used in Starbucks drink will.
The honey blend is used as a sweetener and it's exactly that. A blend of honey flavor.
According to Starbucks, this honey blend consists of honey, water, natural flavors, potassium sorbate, xantham gum, and citric acid.
Real honey should have one ingredient: honey.
Is Honey Citrus Mint Tea good for you?
Homemade Medicine Ball or Honey Citrus Mint Tea can absolutely be good for you. Just looking at the Starbucks ingredient line up, there are so many opportunities to take this drink from drab to fab with little effort.
Let's see how simple swaps can transform this drink into a warm and nourishing aid in fighting the germs. See how simple this Honey Citrus Mint Tea Recipe really is!
Teas: since this is an important ingredient in this drink, find the best quality teas on the market. Some of the better tea brands are Traditional Medicinals, Numi, and Yogi teas. We'll use Traditional Medicinals Green Tea Peppermint to replace Teavana's Jade Mint Tea and Yogi Peach Detox to replace Peach Tranquility. We'll add an extra bag of plain peppermint tea for good measure.
Lemonade: In the spirit of making things simpler, we'll opt out of lemonade entirely. Instead, we'll use pure lemon juice sweetened with honey. Less ingredients and less fillers. Of course, if you so choose, you may go with organic or homemade lemonade.
Honey: Instead of an obscure honey blend, we'll use regular raw and unfiltered honey.
Add-ons: Some choose to add a pump or two of peppermint flavor to their Honey Citrus Mint Tea at Starbucks. If you wanted more of that minty flavor, you can do so in two ways: steep an extra peppermint tea bag along with the other teas or add a drop or two of peppermint extract.
Helpful Tip: When using honey, allow the drink to slightly cool before adding as heat will kill raw and beneficial enzymes. 
Honey Citrus Mint Tea Recipe Ingredients
Traditional Medicinals Teas: This is one of my favorite tea brands. They regularly go on sale at my local Sprouts and I often use the Subscribe & Save feature on Amazon and order in bulk for additional savings.
To make Starbucks Medical Ball without Teavana, use Traditional Medicinals Peppermint Green Tea (they also have Lemongrass Green Tea which would be lovely too) and another kind of mint (spearmint is my choice!).
Another option is to use Numi Jasmine Green Tea and Traditional Medicinals Spearmint or Pukka Three Mint tea. The options are limitless thanks to so many amazing teas on the market.
Yogi Peach Detox Tea: Admittedly replacing Teavana's Peach Tranquility with healthier alternatives was a little more challenging. I suppose extracting peach flavor isn't as simple as drying peppermint leaves.
Thankfully Yogi has a tea comparable to Teavana's Peach Tranquility, minus the added flavoring junk.
Pure Lemon Juice: this is the brand I love and use. It's great for making lemonade easy! Use as much or as little per personal preference.
Honey: this is another super simple ingredient. Local is best but these are my favorite brands that I often find at Sprouts or Costco:
Helpful Tips and Frequently Asked Questions
Can you make Medicine Ball tea without lemonade?
Yes. You can skip the lemonade and instead use pure lemon juice and honey for sweetness. Exact instructions are below.
Is there caffeine in Honey Citrus Mint Tea?
When ordering at Starbucks, yes, it will have caffeine because Teavana's Jade Mint tea contains green tea. However when making Honey Citrus Mint Tea at home, you can selectively choose teas without caffeine.
Can I make Honey Citrus Mint Tea in advance?
Yes. Make the Honey Citrus Mint tea per recipe and can be kept in the refrigerator for several days. Additionally, you can double the recipe and make in large batches. However, with the simplicity of the recipe, a young child can make this.
Can Honey Citrus Mint Tea be enjoyed cold?
Of course when drinking warm, Honey Citrus Mint tea may provide soothing relief from sore throat and cough. But feel free to enjoy this as a cold beverage. In fact, it would make a very refreshing and healthy iced tea.
How to make Honey Citrus Mint Tea (homemade Medicine Ball)
The complete printable recipe is below in the in the recipe card for your convenience.
Step 1. In a large jar or mug (that holds at least 2-½ cups capacity), pour boiling water over 3 bags of desired tea and allow to steep 5-7 minutes.
Step 2. Remove tea bags. Add pure lemon juice and raw honey to the steeped tea and stir well until honey is fully dissolved. (Note: the acidity of lemon juice will make the tea cloudy, this is normal.)
Step 3. Pour tea into mugs. Add slice or wedge of lemon and fresh mint for garnish, if desired. For additional peppermint flavor, you may add a drop of peppermint extract.
Want More Nourishing Drink Recipes?
Did you make this? Please leave a ⭐ recipe rating in the recipe card below and leave a review in the comments. Thank you!💚
Printable Recipe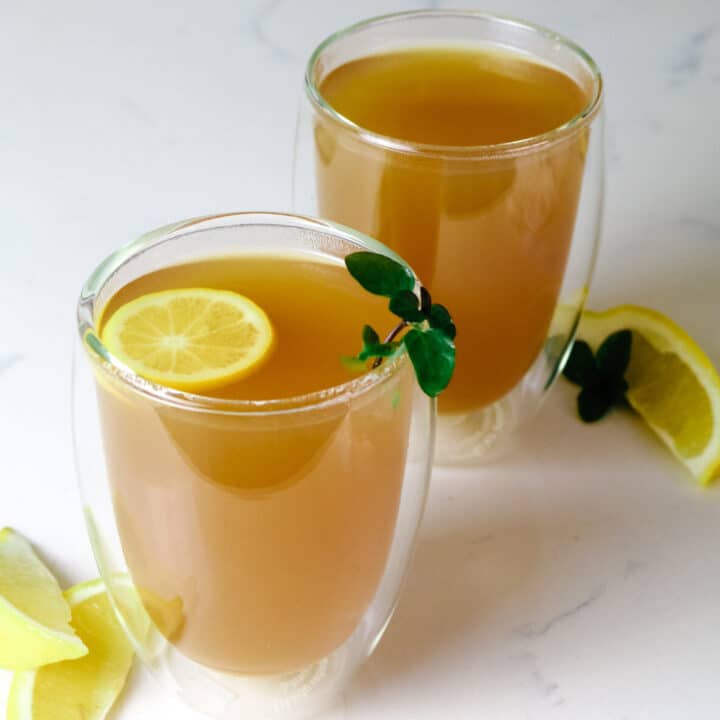 Honey Citrus Mint Tea Recipe (Starbucks Copycat Medicine Ball Tea)
Honey Citrus Mint Tea, once a Starbucks secret menu item, can now be made easily at home with just a handful of real food ingredients and 10 minutes.
Ingredients
1

tea bag

green tea

1

tea bag

peppermint tea

1

tea bag

peach detox (or other fruity or citrus flavor)

2

cups

boiling water

3

tablespoons

pure lemon juice (approx. 1 small lemon)

4

tablespoons

raw honey
Instructions
Remove tea bags, add lemon juice and honey and stir until honey is dissolved. (Note: the tea will change color with the added acidity from lemon - that is normal)
Notes
There are various ways to make the tea combination but in keeping with the Starbucks copycat recipe, try these:
Traditional Medicinals Green Tea with Peppermint, Yogi Peach Detox, Traditional Medicinals Spearmint OR Peppermint, and/or Pukka Three Mint tea
You want to have a blend of good green tea, some variation of mint, and a fruity flavor like peach.
To make this decaf, use decaf green tea or use an extra tea bag of mint.
To skip extra sugar in lemonade, the recipe above calls for pure lemon juice and honey. If using lemonade instead, reduce hot water to 1 cup, honey to 1-2 tablespoons depending on sweetness of lemonade, and add 1 cup of lemonade.
You may drink Honey Citrus Mint Tea chilled, although effects will be different.
Leftovers can be kept in the refrigerator for up to a week.
When adding honey, make sure to tea has been slightly cooled to retain the beneficial enzymes.
Nutrition
Calories:
133
kcal
|
Carbohydrates:
36
g
|
Protein:
1
g
|
Fat:
1
g
|
Saturated Fat:
1
g
|
Polyunsaturated Fat:
1
g
|
Sodium:
14
mg
|
Potassium:
45
mg
|
Fiber:
1
g
|
Sugar:
35
g
|
Vitamin A:
1
IU
|
Vitamin C:
9
mg
|
Calcium:
11
mg
|
Iron:
1
mg
Nutrition Information
The information shown is an estimate provided for your convenience by an online calculator. It should not be considered as a substitute for a professional nutritionist's advice. See our complete Nutritional Information Disclaimer.
©Prepare and Nourish • Content and photographs are copyright protected. Sharing of this recipe is encouraged and appreciated but please do NOT screenshot or copy/paste complete recipes to websites or social media.