Boost your immune system with this nutritious smoothie rich in vitamin C and antioxidants. Sweet citrus fruits are blended with carrots, ginger, turmeric, and a bit of coconut oil for healthy fats. Add in additional whole foods vitamin C for an extra boost.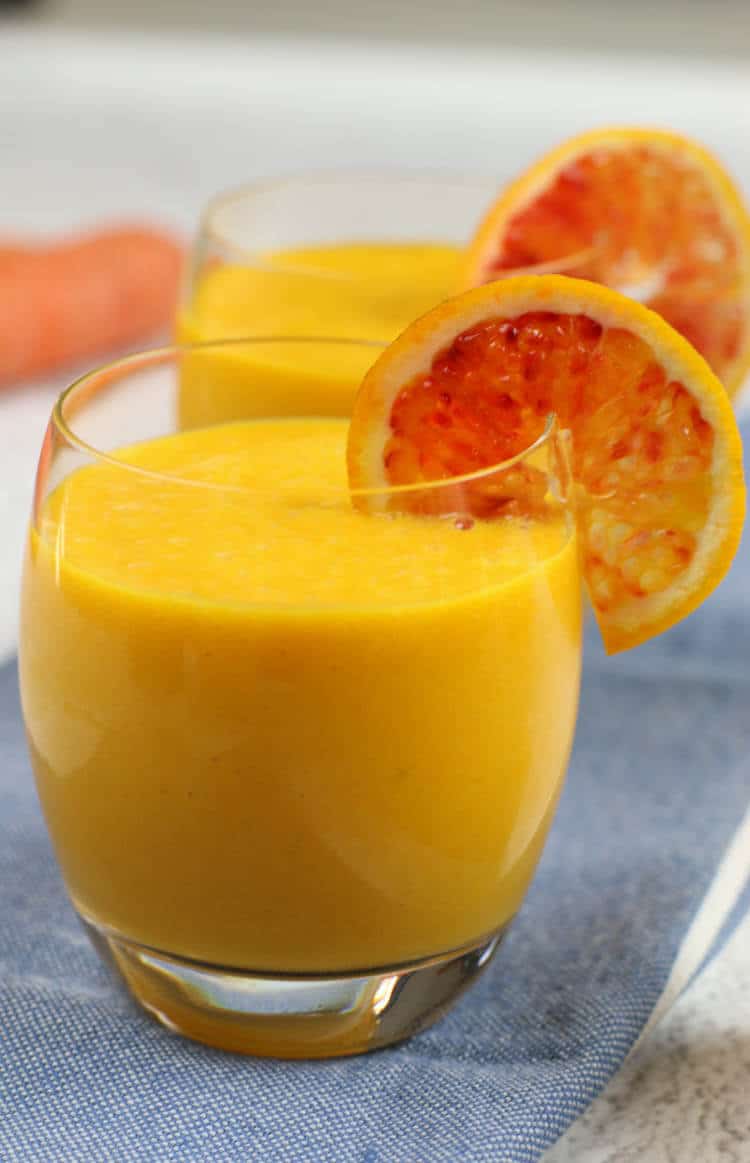 I may receive a commission if you purchase with links in this post. Full disclosure. 
Looking for more ways to boost your immune system?
This Immune Boosting Citrus Ginger Smoothie is rich with vitamin C and antioxidants to help keep your immune system in working order. It's filled with fresh citrus fruits, beta-carotene-rich carrots, medicinal spices such as ginger and turmeric and optional Vitamin C powder that comes straight from fruits and berries. This smoothie isn't your ordinary smoothie - it definitely has a kick to it thanks to ginger and turmeric. That's why adding honey to taste and a bit of coconut oil cuts that spicy taste.
Immune Boosting Citrus Ginger Smoothie
Smoothies are a great way to get maximum benefits in a small glass. The problem is a lot of smoothies are created without much thought as to bioavailability of nutrients and their dependency on other important cofactors.
Note: I'm not a nutritionist, dietician, nor medical professional. This recipe was created based on my personal experience and Google research on bioavailaibity of nutrients. 
Citrus
Citrus fruits such as clementines and oranges are well known for their high Vitamin C content. Feel free to use whatever citrus fruits you have at home.  The difference between using the whole citrus fruit instead of just orange juice, for example, is that you are including the pith (white film between membranes) in the smoothie. The pith is a good source of additional Vitamin C and fiber. (source)
Carrots
Raw food enthusiasts will have you believe that cooking food denatures their profile and destroys beneficial nutrients. However, some vegetables are best eaten cooked for maximum nutrition.
Everybody knows carrots are good for you. They are rich in beta carotene and other nutrients and help support the immune system. However, you can boost that nutrition by steaming them first.  Cooking carrots actually increases the amount of beta carotene that is converted into Vitamin A and is subsequently absorbed by our bodies. (source)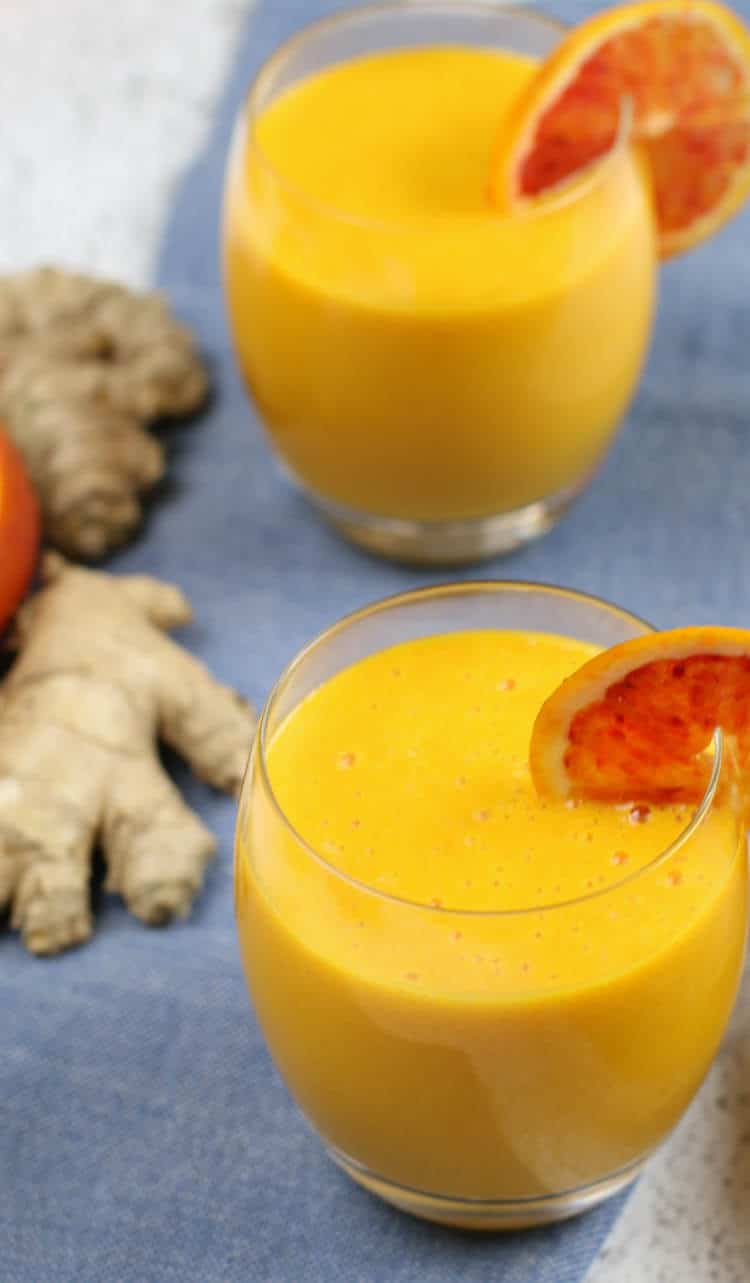 Ginger
Ginger is an anti-bacterial workhorse with powerful medicinal properties.  Ginger is so effective at warming the body that it breaks down accumulation of toxins and clears out the lymphatic system. This process boosts the immune system.  Additionally, fresh ginger (not dried) may strengthen the immune system by preventing cold viruses from entering human cells. (source)
Turmeric
Turmeric is another medicinal spice that has anti-inflammatory, anti-bacterial and antioxidant properties. Though not my favorite, I appreciate the health benefits from turmeric and add it to recipes as much as I can. Turmeric is more bioavailable when taken with black pepper so don't forget to add a small pinch. Likewise, the healing compounds of turmeric cannot be absorbed without a healthy fat, that's why adding a tablespoon of coconut oil does wonders in this smoothie.
Vitamin C Powder
Finally, if you wanted to amp up the vitamin C in this Immune Boosting Citrus Ginger Smoothie, add a tablespoon or two of this whole foods Pure Vitamin C Powder. It's made from fruits and berries and one tablespoon will give you 1440mg of Vitamin C.
The problem with vitamin C supplementation is that most on the market are anything but. Rather it's ascorbic acid, a lab-created, synthetic version that may lead to imbalances and deficiencies. Getting vitamin C from whole foods is always best. This vitamin C powder is in it's purest form and I love keeping this on hand to add to smoothies.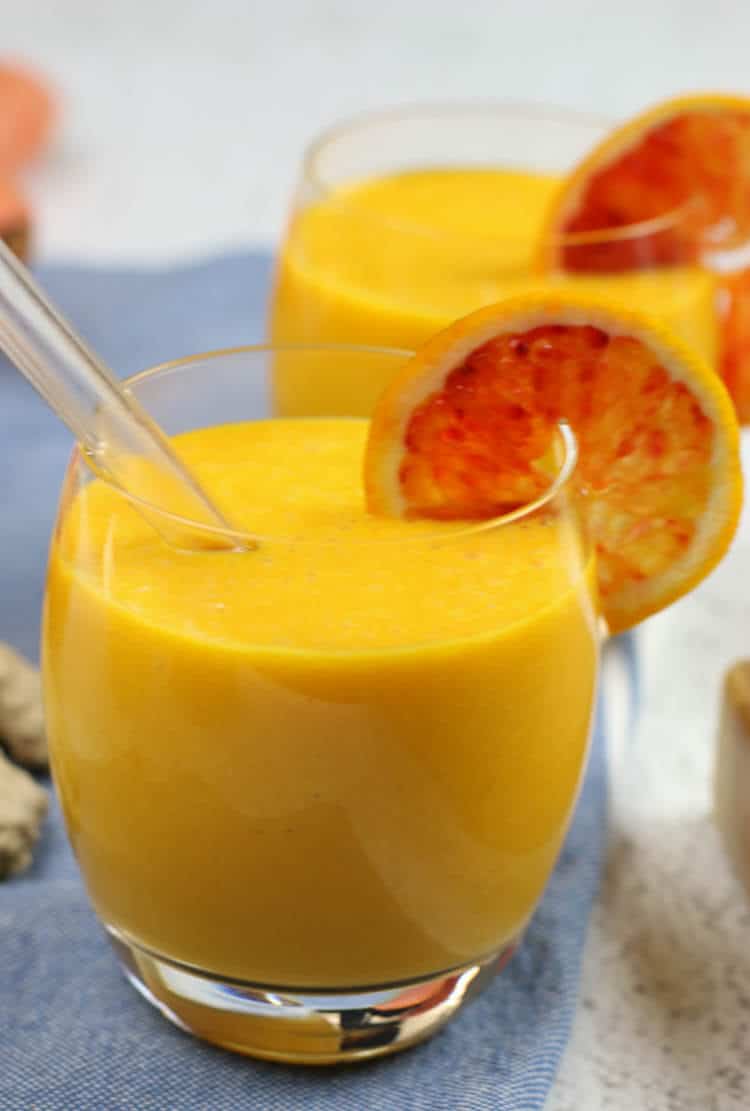 Tools Used In This Recipe
Turmeric - I agree this spice has a very peculiar taste. But it's full of antioxidants and nutrients and belongs in this smoothie. Don't forget to add a pinch of black pepper for best absorption of turmeric compounds.
Whole Foods Vitamin C Powder - this brand is my favorite on the market. It's made from whole fruits and berries with no additives or fillers.
Blender - We have a NutriBullet that we use daily but I've used a Ninja in the past that blended smoothies well.
Printable Recipe
Immune Boosting Citrus Ginger Smoothie
Sweet citrus fruits are blended with carrots, ginger, turmeric, and a bit of coconut oil for healthy fats.
Instructions
Add all ingredients to the blender. If using NutriBullet - start with solids then add liquids last. If using a regular blender - start with liquids then solids.

Blend until smooth. Enjoy immediately.
Nutrition Information
The information shown is an estimate provided for your convenience by an online calculator. It should not be considered as a substitute for a professional nutritionist's advice. See our complete Nutritional Information Disclaimer.
©Prepare and Nourish • Content and photographs are copyright protected. Sharing of this recipe is encouraged and appreciated but please do NOT screenshot or copy/paste complete recipes to websites or social media.
If you liked the recipe above, please consider rating the recipe and leaving a comment below. Also, be sure to follow me on Facebook, Instagram, and Pinterest.
MORE RECIPE FAVORITES:
Instant Pot Honey-Sweetened Cranberry Juice (GAPS, Paleo, Primal)
 Lazy Cabbage Rolls (Low-Carb, Paleo, Whole30, GAPS)
Roasted Carrots with Garlic (Low-Carb, GAPS, Whole30, Paleo)
Cabbage & Cucumber Salad
Crustless Skillet Pizza
Instant Pot Squash & Lamb Curry
Parmesan & Garlic Cabbage Steaks
STANDARD FTC DISCLOSURE:
In order for me to support my blogging activities, I may receive monetary compensation or other types of remuneration for my endorsement, recommendation, testimonial and/or link to any products or services from this blog. Please note that I only endorse products that are in alignment with Prepare & Nourish's ideals and that I believe would be of value to my readers. Prepare & Nourish is a participant in the Amazon Services LLC Associates Program, an affiliate advertising program designed to provide a means for sites to earn advertising fees by advertising and linking to Amazon.com. Statements on this website have not been evaluated by the Food and Drug Administration. Products and/or information are not intended to diagnose, cure, treat, or prevent any disease. For additional information, please visit my full Disclosure page.