This Herbal Coffee is a decadent and delicious coffee substitute that has many added health benefits. It's completely caffeine-free and can be enjoyed any time of day.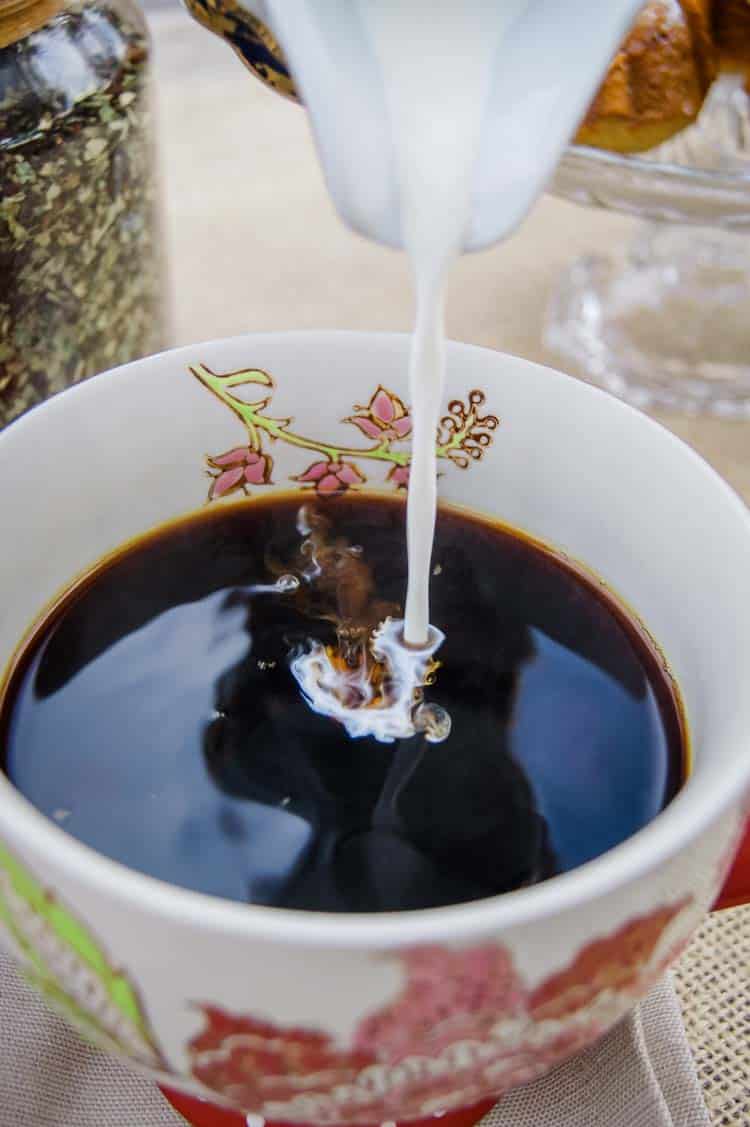 You can enjoy this herbal coffee black or add your favorite fixings for more of a latte or butter coffee feel. Either way, this Herbal Coffee is a great alternative to regular coffee and has amazing nutritional benefits.
What is Herbal Coffee?
Herbal coffee is a blend of herbs that has a similar texture, flavor and richness as traditional coffee. It's typically caffeine free and has several health benefits.
It's a great alternative to those wanting to cut back on caffeine or ditch it all together. Depending on the ingredients of the herbal coffee, it may reduce inflammation, decrease blood sugar and improve digestive health.
Though specific ingredients and amounts vary from recipe to recipe, they generally have the same key players.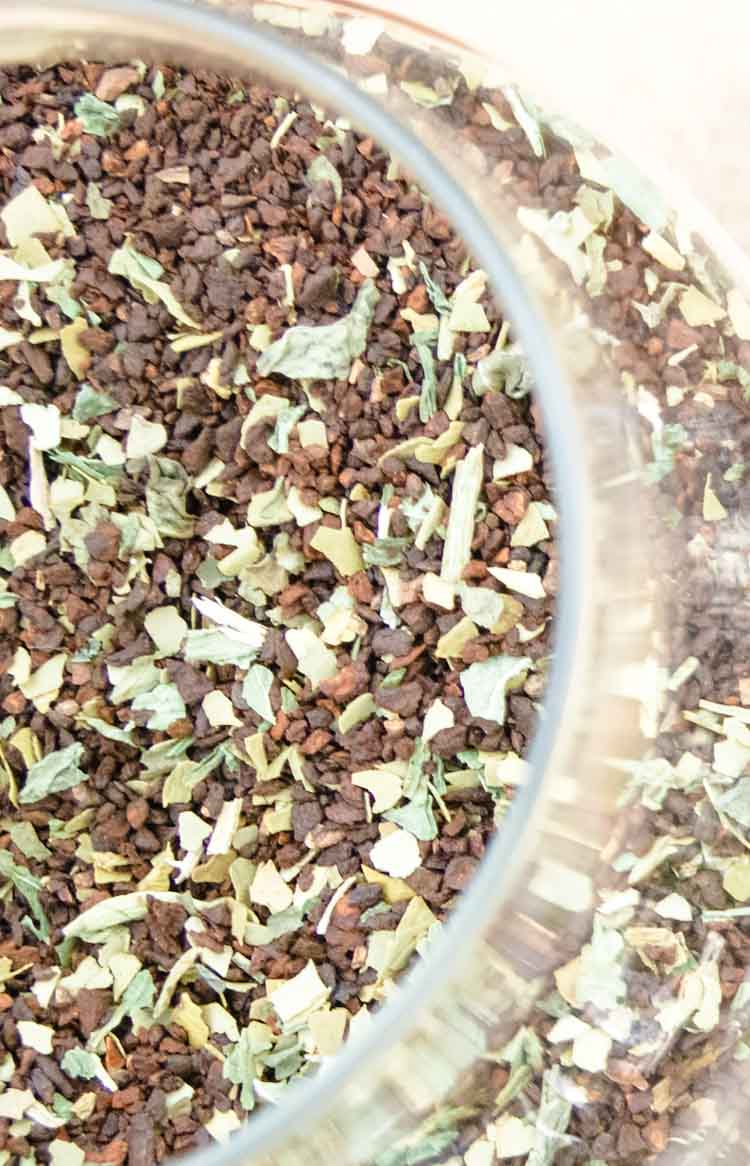 What are the ingredients in Herbal Coffee?
Herbal coffee starts with an herbal coffee mix. A 4-ingredient concoction that consists of chicory root, dandelion root, dandelion leaves and Yerba Mate.
Chicory Root: Chicory is a relative of the dandelion plant. It's leaves are popular in salads and the roots are great in coffee substitutions.
In addition to being a great source of vitamins and minerals such as zinc, magnesium, and potassium, chicory also contains inulin. Inulin is a soluble fiber that feeds digestive flora to the intestines, making chicory root a powerful probiotic. (source)
Dandelion Root: Though technically considered a weed, dandelion actually has a long history of therapeutic use in countries including Korea and Mexico. Be sure to use roasted dandelion root.
Dandelion roots contain chemicals whose biological properties are being studied for their roles in human health. Specifically, evidence suggests that dandelion contains antioxidants and compounds that may support body's natural immune response. (source)
Dandelion Leaves: Often found in herbal medicine, dandelion leaves are a rich source of beta-carotene which then converts into vitamin A. Flowering plant and leaves are rich in vitamin C, fiber, potassium, iron, calcium, magnesium, zinc and phosphorus.
Yerba Mate: These are the leaves and stems of the mate plant and like most teas, are rich in vitamins and minerals. It has an herbal, grassy taste that resembles certain types of green tea.
There is anecdotal evidence suggesting Yerba Mate may contain caffeine, though in much smaller quantities than the regular coffee. (source)
This ingredient is optional in this herbal coffee substitute so feel free to omit for a completely caffeine-free experience.
How to make Herbal Coffee
To make the Herbal Coffee blend, in a medium glass jar, combine the dry ingredients: chicory root, dandelion root and leaves, and Yerba Mate, if using. Mix well and store in an airtight container at room temperature.
When ready to enjoy this coffee substitute as a warm latte, brew the herbal coffee blend first. For a single serving, add a tablespoon of the blend to a French Press and pour boiling water over it. Set aside to steep for 5 minutes. If using coffee maker, use as you normally would with coffee.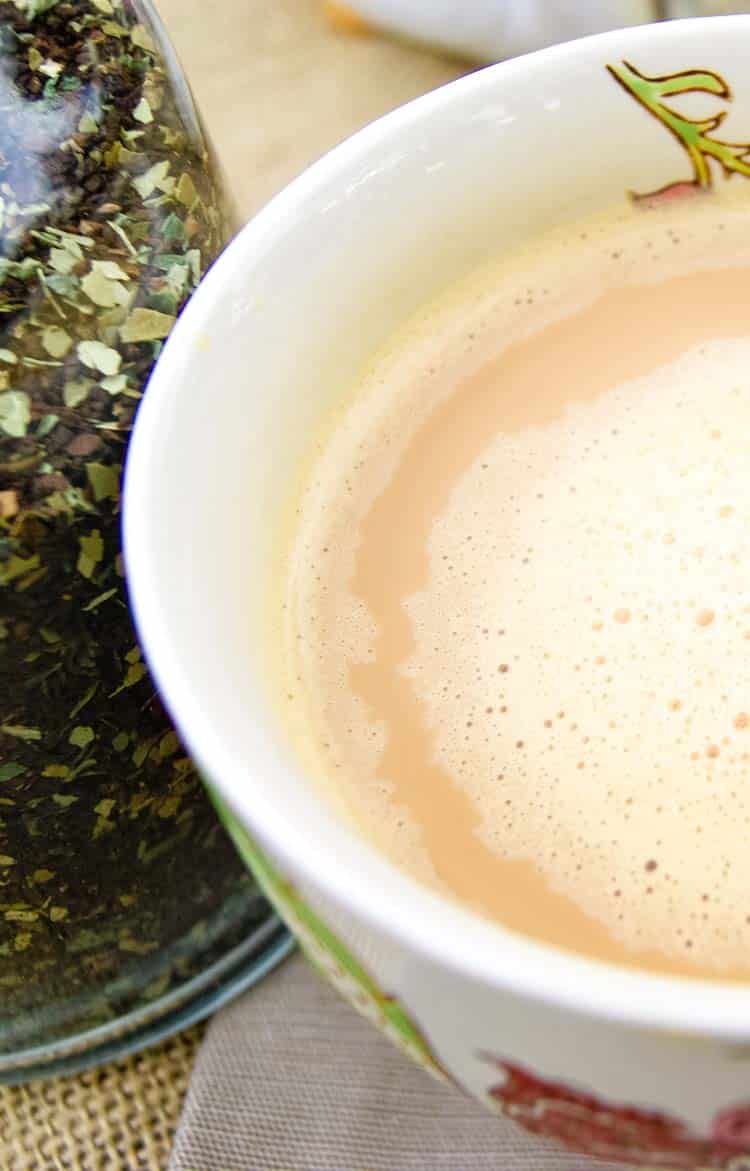 Herbal Coffee Recipe
And now for the fun part. When the herbal coffee has been sufficiently brewed, pour into a mug and enjoy all the nourishing additions. Here are some of the favorites:
Butter: By now, you've probably heard of the health benefits of "butter coffee" so don't skimp out on the healthy fats. Butter in your coffee, or in this case, herbal coffee, adds additional essential nutrients your body needs to thrive. It keeps you fuller longer, reduces jitters and gives a more sustained energy flow.
Additionally, you may add coconut oil or MCT oil for further benefits.
Collagen: I add collagen to my warm drinks at any chance I get and this Herbal Coffee is no different. Collagen peptides are rich in protein and amino acids but if you don't have that on hand, just omit it.
We love Perfect Supplements brand as they are exclusively sourced from grass-fed cows and are the highest quality on the market. If ordering, be sure to use my code for an additional discount for Prepare & Nourish readers.
Milk or Cream: A "latte" isn't complete without the creaminess that comes from milk. If dairy-free, any nut milk will do as will coconut milk. My favorite is raw milk but that's a personal preference.
Sweeteners: If you prefer a sweet coffee drink, be sure to check out this post on healthy alternative natural sweeteners. Some of the favorite ways to sweeten this drink is with maple sugar, maple syrup or coconut sugar. You may also use monkfruit to make this low carb.
You may also add other flavor enhancers such as cinnamon, nutmeg or even pumpkin spice. If you want specific instructions on how to make seasonal herbal coffee, be sure to check out this Easy 2-minute Keto Pumpkin Spice Latte.
Coffee with Herbs - helpful picks
Herbal Coffee (caffeine-free)
This decadent and delicious coffee substitute has many added health benefits. It's completely caffeine-free and can be enjoyed any time of day.
Ingredients
To make "Latte"
1

tablespoon

herbal coffee blend

1

cup

boiling water

2

teaspoons

butter, coconut oil, MCT oil

¼

cup

milk or cream of choice

2

tablespoons

grass-fed collagen

1

teaspoon

sweetener of choice

(optional)
Instructions
Combine all ingredients for the coffee blend. Store in a glass jar.

For single serving, brew 1 tablespoon of herbal coffee blend in a French press. Steep for 5 minutes.

Pour into a mug, add the rest of the ingredients and whisk vigorously to combine everything well.

Sprinkle with cinnamon if desired and enjoy while warm.
Notes
Note: Herbal coffee blend is not calculated in the nutrition facts.
Nutrition
Calories:
83
kcal
|
Carbohydrates:
3
g
|
Protein:
6
g
|
Fat:
5
g
|
Saturated Fat:
3
g
|
Cholesterol:
14
mg
|
Sodium:
77
mg
|
Potassium:
40
mg
|
Sugar:
3
g
|
Vitamin A:
174
IU
|
Calcium:
34
mg
Nutrition Information
The information shown is an estimate provided for your convenience by an online calculator. It should not be considered as a substitute for a professional nutritionist's advice. See our complete Nutritional Information Disclaimer.
©Prepare and Nourish • Content and photographs are copyright protected. Sharing of this recipe is encouraged and appreciated but please do NOT screenshot or copy/paste complete recipes to websites or social media.


If liked this Herbal Coffee recipe, please consider rating it and leaving a comment below ⇓. Also, be sure to follow us on Facebook, Instagram, and Pinterest.
More Healthy Drinks:
Easy 2-minute Keto Pumpkin Spice Latte
Instant Pot Cranberry Juice
Nourishing Hot Cocoa with Honey-Sweetened Marshmallows
>>> Pin This <<<
This post was originally published January 2016 but has since been updated to include helpful information.