Learn how much dried parsley to substitute for fresh parsley to ensure your recipes are flavorful and well-balanced. Plus, find out when to best use fresh parsley and when dried is needed. This unique herb has a different density and volume than other herbs; therefore, the conversion ratio is slightly different.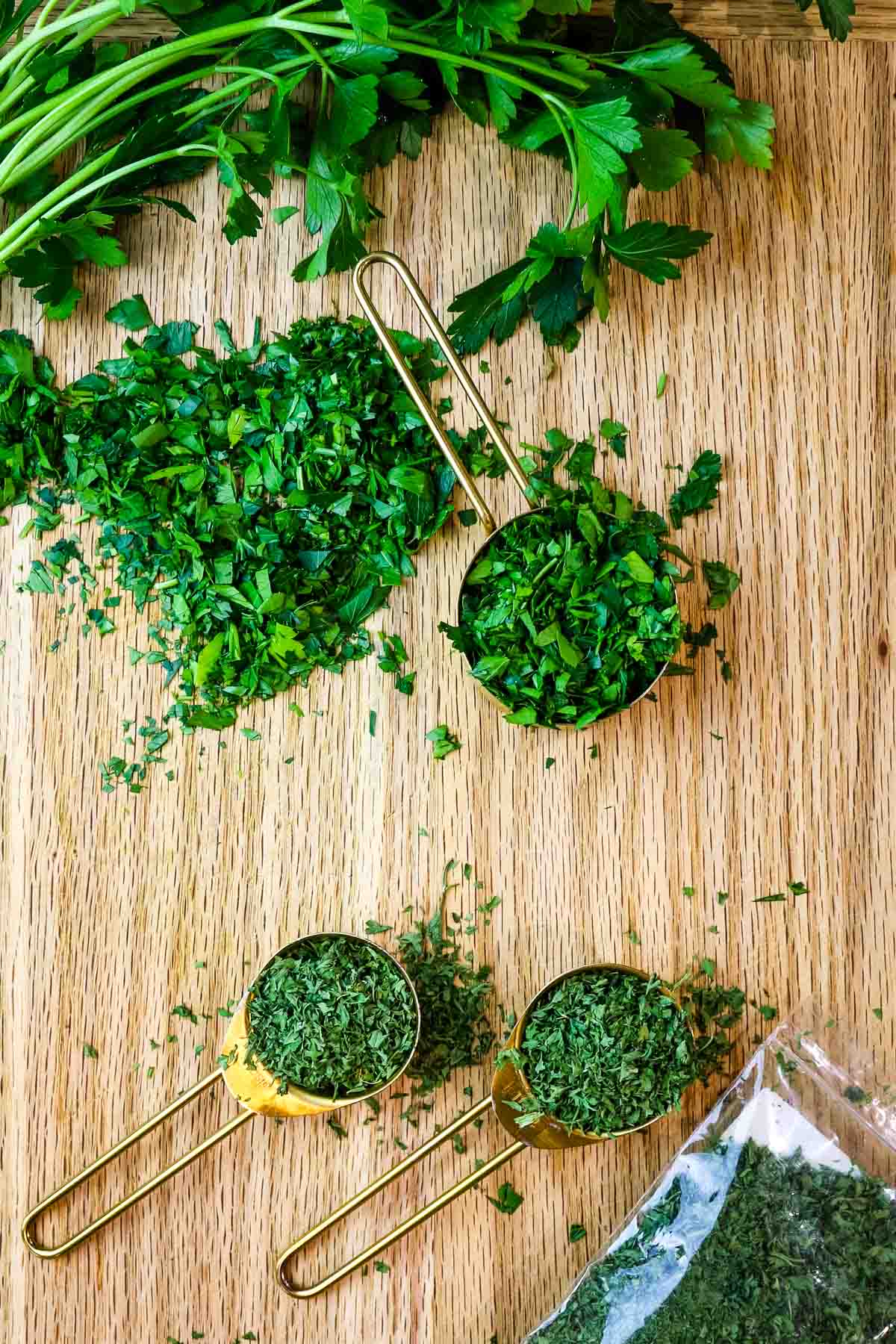 Fresh parsley is a fragrant herb used in various dishes. It adds a bright and fresh flavor to everything from soups to salads. It's an excellent garnish to red cabbage steaks and chicken potato bake and adds great flavor to the overall dish.
However, due to convenience or availability, you may need to reach for dried parsley instead of fresh.
In some cases, dried herbs have a stronger flavor; thus, they are a convenient option for recipes requiring longer cooking times. The good news is that there's an easy to determine how to make this simple switch.
Jump to:
Is Dried Parsley the Same as Fresh Parsley?
Dried parsley is different from fresh parsley. While both come from the same plant, the flavor, texture, and nutritional content differ.
Fresh parsley has a bright, herbaceous flavor, while dried parsley has a more muted and concentrated flavor.
In terms of texture, fresh parsley is crisp and delicate, while dried parsley is brittle and crumbly.
Nutritionally, fresh and dried parsley are similar in vitamin and mineral content. (source) The most significant benefit of using dried parsley is that it has a longer shelf life. Plus, it is a convenient option for recipes that require longer cooking times.
💭Pro tip: Parsley is the most commonly used herb in culinary. It is widely used in many different cuisines around the world.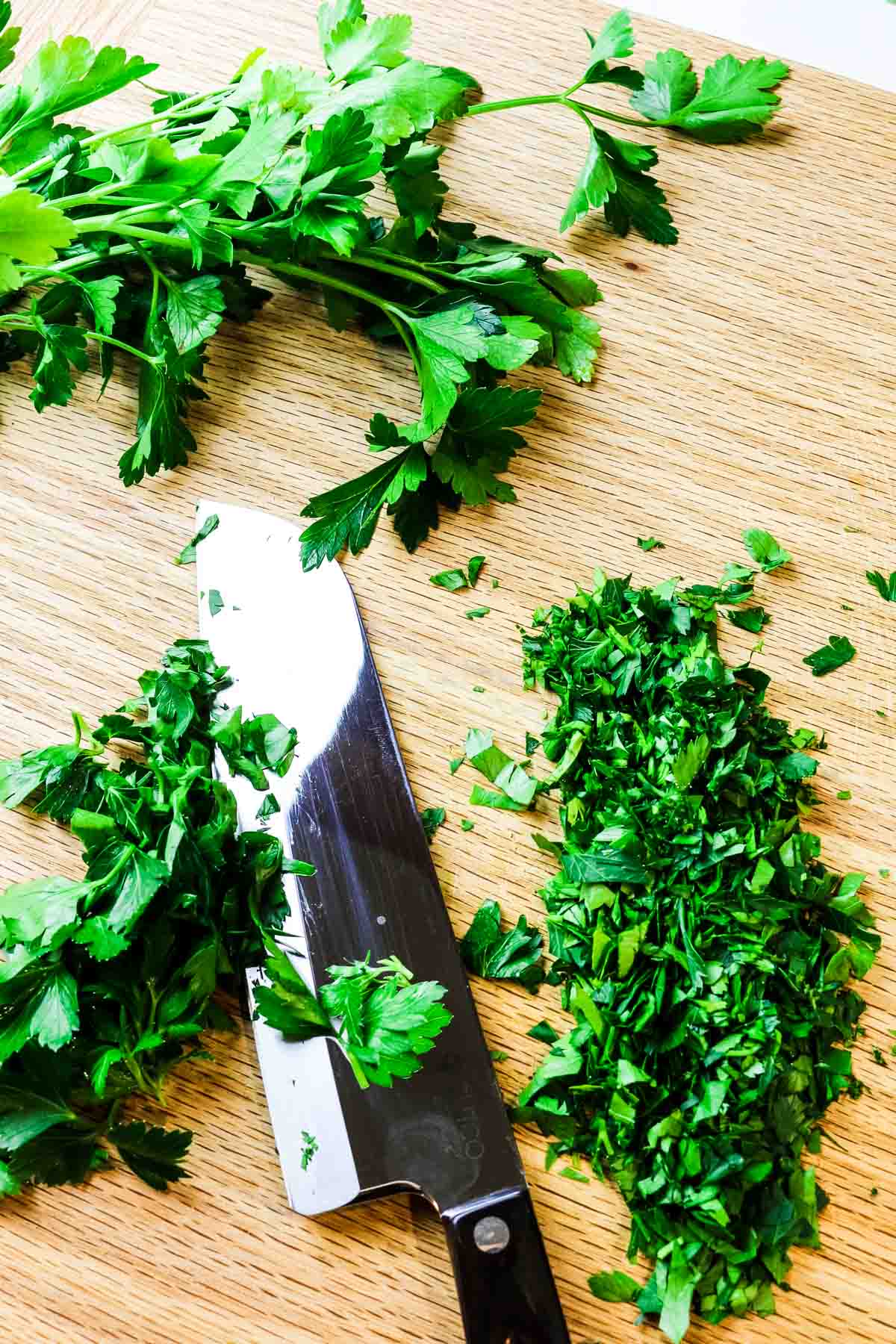 Fresh Parsley Substitute
Is it okay to use dried herbs instead of fresh ones? And what would make a good fresh parsley substitute?
Generally, it is okay to use dry herbs instead of fresh ones. However, it's essential to remember that the flavor and aroma of dried herbs are more concentrated than their fresh counterparts.
The same is true as it relates to the flavor of parsley. Plus, there can be a few different forms of parsley: fresh, dried, and even frozen. In most cases, they are interchangeable. Therefore, dried parsley makes a fantastic substitute for fresh, adding a robust taste to your dish.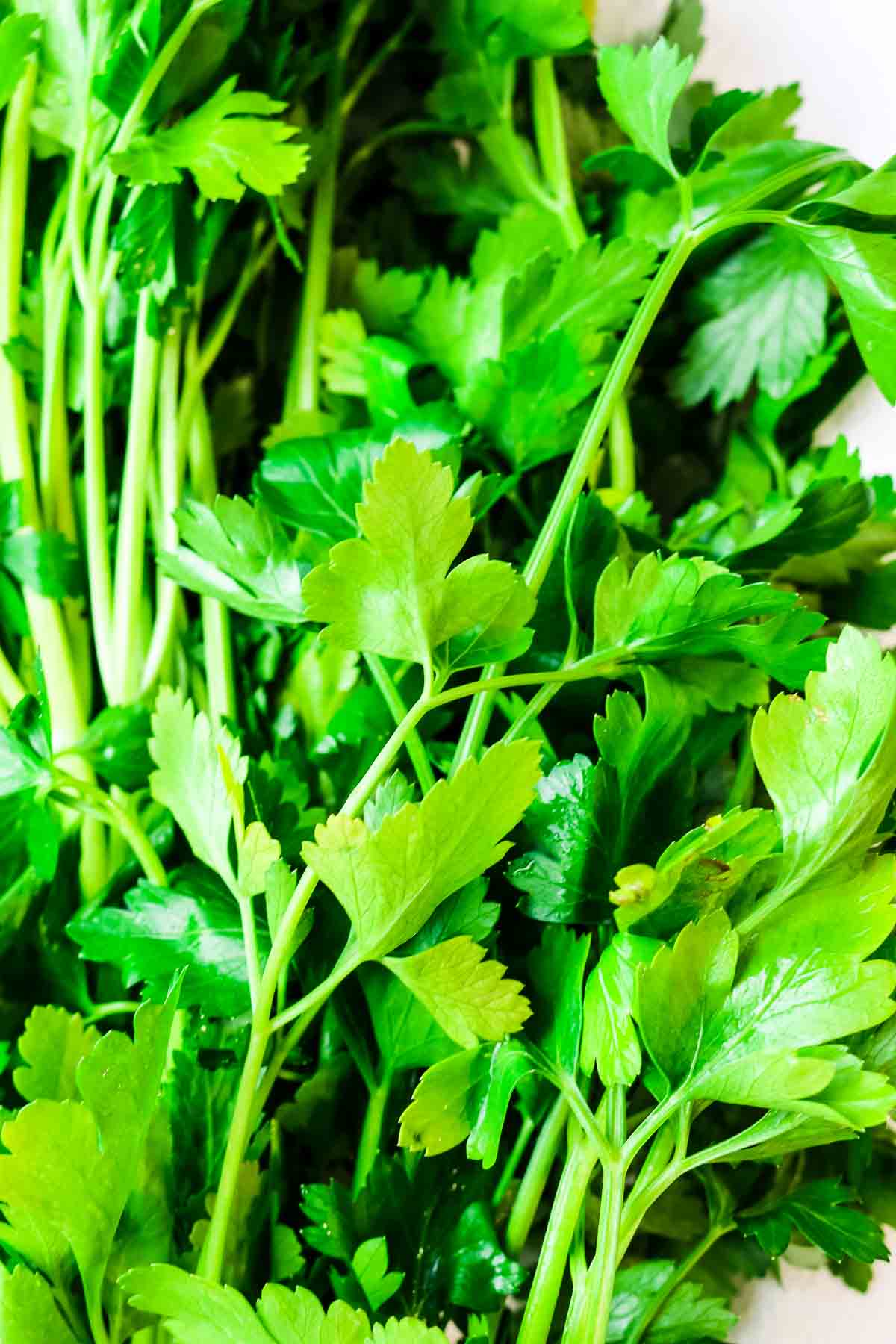 Easy Formula for Most Herbs
The general rule of thumb for substituting dried herbs for fresh is to use one-third the amount of dried herbs as you would use fresh herbs.
For example, you can use one teaspoon of dried equivalent for one tablespoon of fresh herbs. Note: there are three teaspoons in a tablespoon.
But this fresh-to-dried herb converter doesn't work perfectly with all types of herbs. Different herbs have different conversion ratios. And as you will quickly learn, fresh to dried parsley conversion is different.
So why do fresh-to-dried herb conversion ratios differ?
In short, the drying process affects the conversion ratio of fresh to dried herbs. Drying herbs removes the water content, which concentrates the flavor and aroma of the herb.
As a result, you would need a lesser quantity of dried herbs to produce the same flavor profile as fresh.
Plus, herbs have varying degrees of density and volume. Herbs that are lighter and more dense, such as thyme or rosemary, require less dried herbs to achieve the same flavor as fresh ones.
Conversely, larger volumes and less dense herbs, like fresh basil, parsley, or cilantro, require a 1:1 or 1:2 conversion ratio to achieve the right flavor.
To complicate things further, the amount used will also vary depending on the recipe and your personal preference. When it comes to herbs, measure with your heart and adjust as needed to achieve the desired flavor and aroma.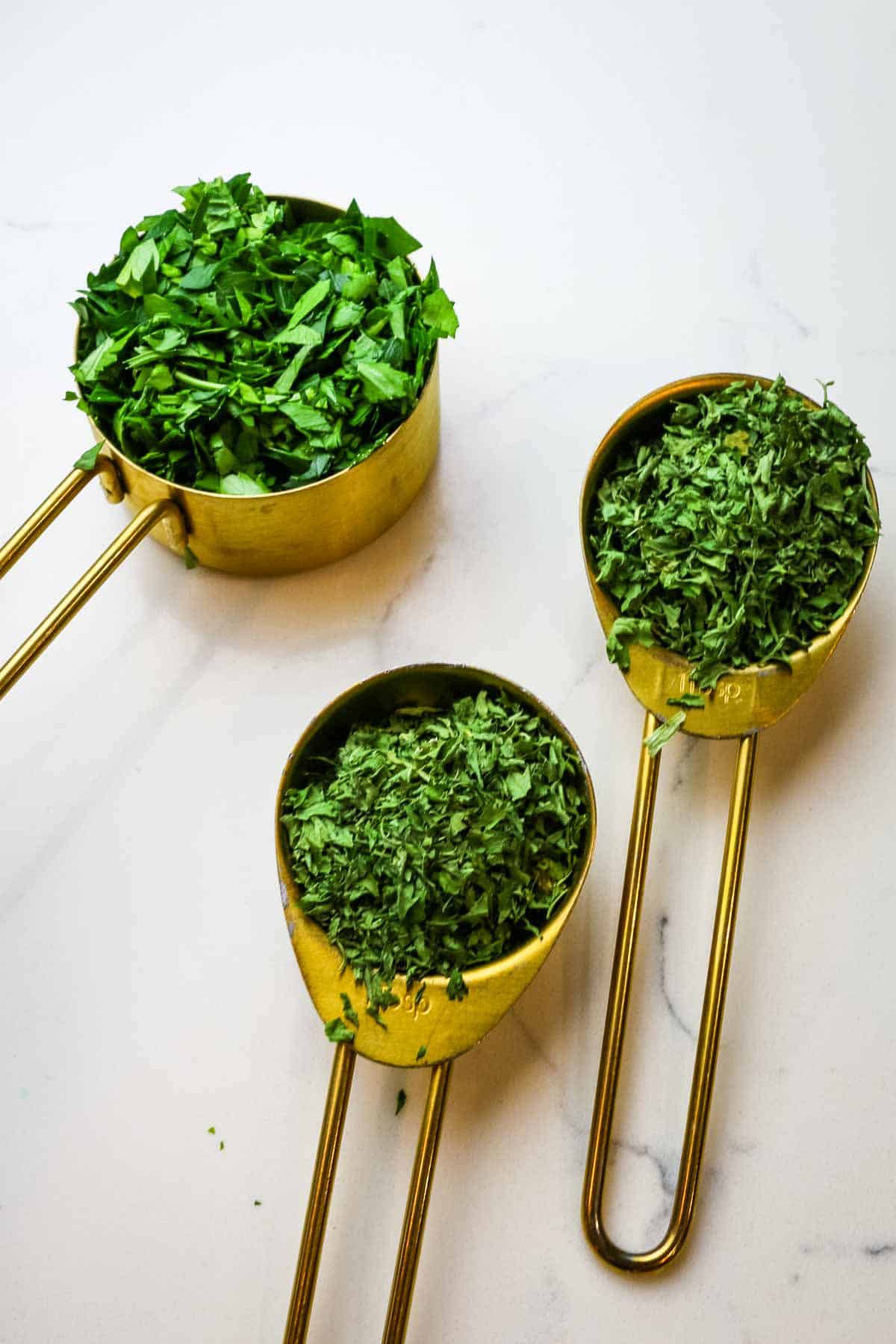 Fresh Parsley to Dried Parsley Conversion
Following the conversion ratio above, you may want to know how much dry parsley to substitute for fresh.
For example, how much dry parsley would you need for a ¼ cup of fresh?
If a recipe calls for a quarter cup of fresh parsley, you would substitute two tablespoons of dried parsley and achieve the same fresh flavor.
Another way to look at it is this: a quarter cup is four tablespoons of fresh parsley. Therefore, following the 2:1 ratio, you would need half of that amount or two tablespoons of the dried version.
Using this same ratio, you can substitute as little as a tablespoon of fresh parsley with 1.5 teaspoon of dried parsley.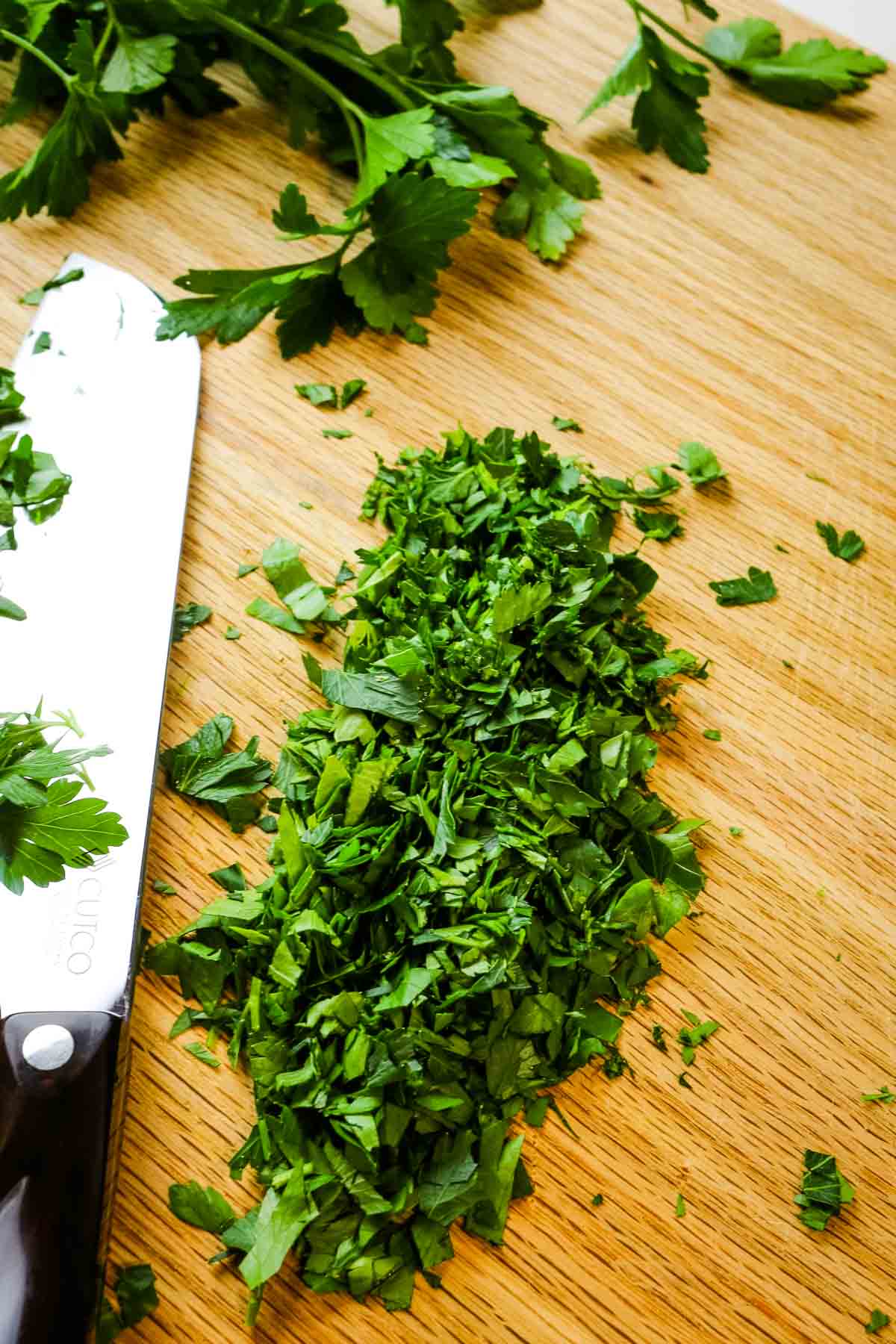 When to Use Fresh Parsley
Use chopped parsley to add a bright and fresh flavor to a dish. It is particularly well-suited for salads such as avocado cabbage slaw and cucumber and tomato salad. It's also excellent in your favorite marinades and sauces.
The bright green color and delicate texture of fresh parsley make it an attractive garnish for many dishes. The pop of color enhances the overall presentation. You can see that in action in lazy cabbage rolls and crustless pizza. It also adds a pleasant peppery taste to Uzbek soup Shurpa.
It's also a great herb to use when cooking with fish, such as this nourishing fish soup, as it complements the delicate flavor of seafood.
Parsley is a versatile herb that has fresh but strong flavor. But for best results, add fresh parsley at the end of cooking or use it in fresh recipes.
💭Make it Nutrient-Dense: When budget allows, opt for organically grown parsley to avoid pesticides as soft herbs are more fragile, making them harder to clean.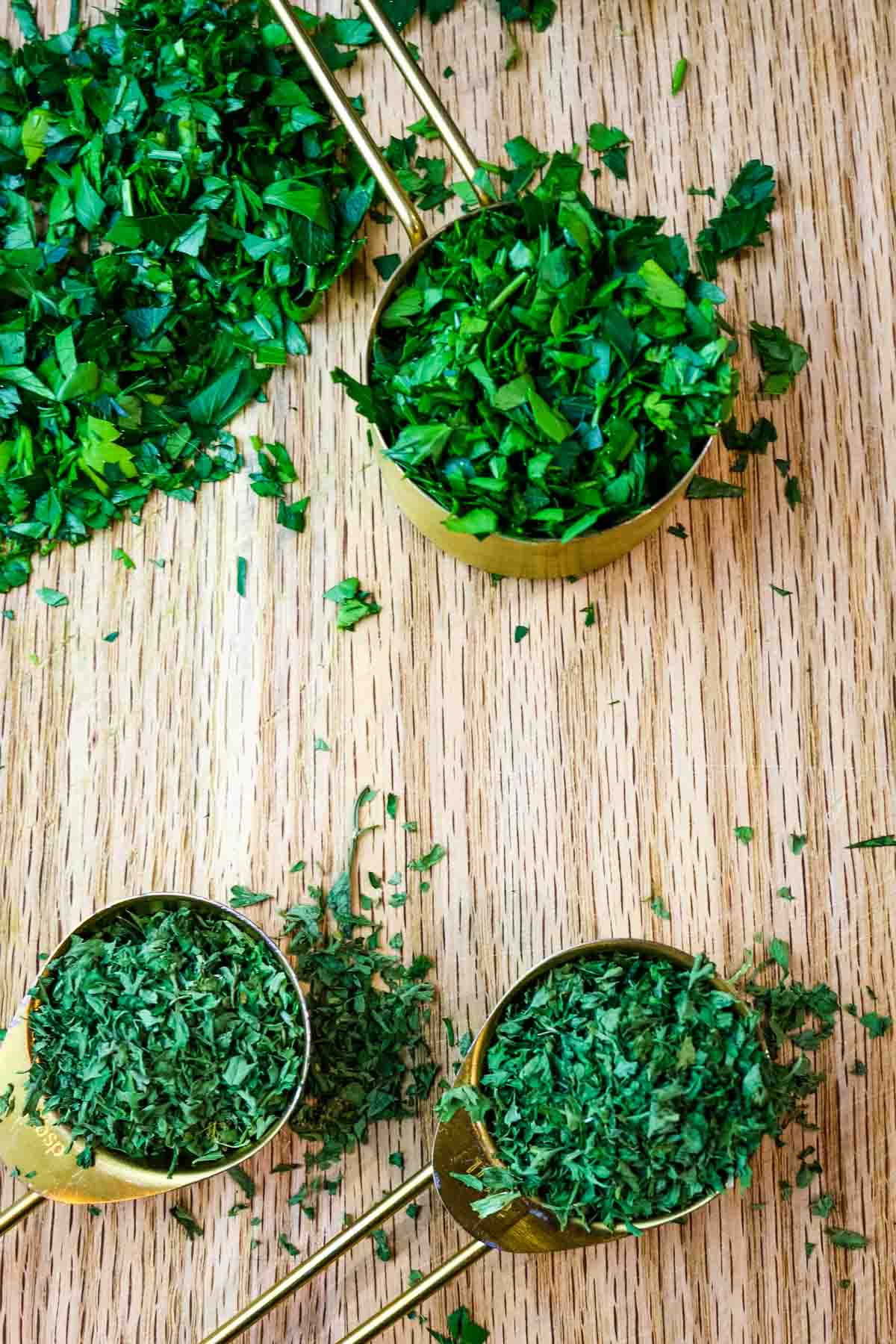 When to Use Dried Parsley
On the other hand, you may want to use dried parsley when fresh is unavailable or when you need a longer shelf life for your herbs.
A jar of parsley flakes is a great addition to your spice cabinet. It quickly elevates a dish and is a convenient option to jazz up your favorite recipes.
Dried parsley is excellent in spice blends like ranch seasoning, rubs for meats like air fryer pork tenderloin, and various marinades, as it can add a subtle herby flavor to the mix. It's also a key ingredient in salad dressings like homemade ranch dressing.
Use dried parsley for slow-cooked dishes, such as chicken stew, hamburger vegetable soup, and casseroles like this chicken cabbage bake, as it can hold up to long cooking times without losing flavor.
💭Pro tip: There are numerous types of parsley, but curly parsley and flat-leaf or Italian parsley are the most common types found in your local grocery store.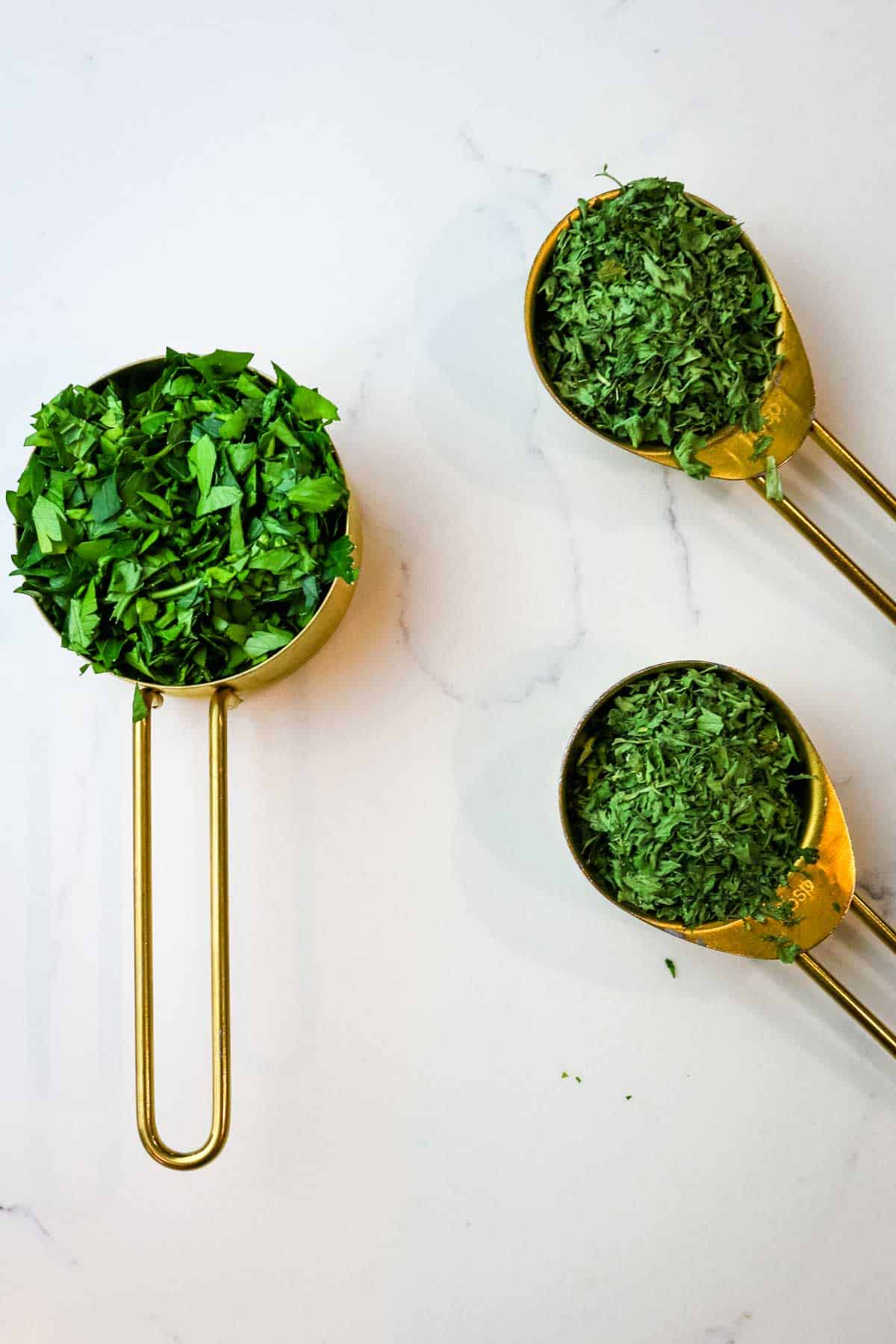 Fantastic parsley pairing suggestions:
FAQs
Is dried parsley the same as parsley flakes?
Yes, parsley flakes are simply the dried leaves of the parsley plant that have been crumbled or chopped into small pieces. The terms "dried parsley" and "parsley flakes" are often used interchangeably in recipes and the spice aisle of grocery stores. It's worth noting that some brands may offer different variations of dried parsley, such as fine or coarse flakes, but they are all essentially the same product.
How do I use dried parsley flakes?
You can use dried parsley flakes in a variety of ways in your cooking, such as seasoning, spice blends, marinades, dressings and dips and spreads. You can also add them as garnish to the finished dish for a pop of color.
How much dried parsley equals ½ cup fresh?
To convert half of a cup of fresh parsley, you will need about half of that in dried parsley, or quarter cup of dried parsley.
Looking for more related posts? Here are some ideas: