This tender lamb chop and potato duo is a hit at our house and I hope you enjoy this simple yet comforting and delicious soup.
Soups are one of those amazing elixirs that magically transport those gross-to-eat veggies into your kids' tummies.  Not that I think veggies are gross - it's just that some kids don't care for zucchini or mushrooms or celeriac root (I have one that hates all three).
I've adapted to ever so finely chop or even grate those vegetables and toss them into a pot of bone broth for extra nourishing factor.  I'm sure this isn't the most recent development and many moms have done just that for centuries but really, fellow moms, this was life changing to me!  I came across some research that it takes about 12 tries for a person to grow accustomed to a new food.  That is 12 times grating that zucchini or fine chopping those mushrooms!  I can attest to the fact that this works.  My most pickiest child now loves onions and herring whereas before he wouldn't even touch it with a 12-foot pole.  But we're still working on the zucchini.
Every so often, when we get weary of eating so many soups with bell peppers, mushrooms, and kale, I opt to prepare a more simpler meal such as this.  Shurpa has three main players: lamb, potatoes and onions and since all my family members love all those three - it's a winner!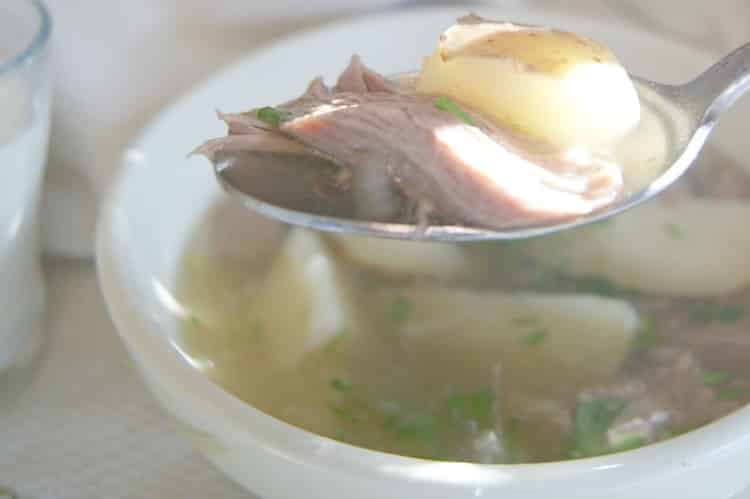 I learned how to make this soup from my mom-in-law and it's quickly become a favorite in our house.  With little hands-on time, this soup is easy to prepare for a cold night to nourish them youngins and a great option for an open-fire camping night.  Hello 18th century cooking out in the wild!  Either way, it's  a sure way to comfort your tummies and nourish your minds with the healthy proportion of fats, protein and carbs.
Making Shurpa Soup
Sear lamb chops in your choice of cooking fat on both sides.  Don't release too soon - let the chops brown before turning them over.
Add peppercorn, bay leaves, and water and bring to boil at high heat.  Reduce heat to medium and allow to cook an additional 20 minutes until chops are tender.
Add quartered potatoes and diced onions and continue to cook for 5-7 more minutes.  Season with ground pepper and check for salt.
Garnish with chopped parsley.  We enjoy this soup with a glass of Tuzluk and some homemade bread.  And I'm sure you'll find this soup comforting and delicious your entire family will love.
Shurpa – Middle Eastern Lamb Soup
A favorite any time of year!
Ingredients
2

lamb shoulder chops

1

T

lard

tallow or ghee*

3

quartered russet potatoes

I used red potatoes in the photo but russet do give a stronger flavor

1

onions

1

t

peppercorns

salt to taste
Instructions
Sear the lamb chops in your choice of fat in a large pot (I used my dutch oven) until it easily comes off the surface. Flip over and sear the other side.

Add enough water to cover ⅔ of the pot.

Add bay leaves, peppercorns, and salt and allow the lamb broth to come to a boil on medium-high heat.

Spoon the fat and impurities rising to the top with a slotted spoon. Reduce heat to slow simmer. Cook for 1 ½ hours until lamb is tender and falls off the bone easily.

Optional step: remove cooked lamb from pot.

Add potatoes and diced onions and let them cook for about 15 minutes.

While the vegetables are cooking in the rich broth, I use this time to pick the meat off the bones. Add the lamb meat back to the soup after the vegetables have cooked and I usually throw the bones into the freezer for some crock-pot bone broth later.

Check for salt and add more as necessary. Top with chopped parsley and give the soup a stir.
Notes
- Some recipes floating on the internet call for variety of different vegetables, I prefer to stick to the original recipe as I was taught and the way my family enjoys this soup. There are many other soups that include a whole rainbow of veggies but sometimes a basic soup with the classic carrots and potatoes is a all you need, especially on a fall day like today.
-Shurpa is traditionally prepared on an open fire and the taste is like non-other. Try it if you have the resources for that. This is a great soup to prepare while camping on a chilly night.
- Because the amount of time the lamb broth is cooked is rather short (1 ½ hours), I like to throw the bones into my freezer for the next time I make my perpetual bone broth. Alternatively, if I happen to have the bone broth going at the moment, I would just add the bones to the cooker after my next bone broth collecting session.
-After the meat has completely cooked, some people prefer to chill the broth and collect the fat that rises to the top and save it for cooking later. Feel free to do this, however, I always leave the fat in all of my broths and stocks because I learned that it is absolutely essential for children's growing bodies.
Nutrition Information
The information shown is an estimate provided for your convenience by an online calculator. It should not be considered as a substitute for a professional nutritionist's advice. See our complete Nutritional Information Disclaimer.
©Prepare and Nourish • Content and photographs are copyright protected. Sharing of this recipe is encouraged and appreciated but please do NOT screenshot or copy/paste complete recipes to websites or social media.

Let's connect! I share more personal, daily snippets of life on Instagram, insightful articles and awesome recipes on Facebook and pin away like it's going out of style on Pinterest.
This post has been shared on: Thank Goodness It's Monday| Anti-Procrastination Tuesday | Healthy, Happy, Green & Natural | Allergy Free Wednesday | Let's Get Real Fridays | Gluten Free Fridays | FoodieFriDIY | Funtastic Friday | Real Food Friday |