This list of Best Recipes for Unexpected Guests provides a variety of quick and easy recipes to help you be prepared for last-minute visitors. From appetizers to main courses and desserts, these recipes are simple, versatile, and delicious, and don't compromise on nourishment for you and your guests.
Whether it's a last-minute visit from friends or family, unexpected guests can throw a wrench in your meal plans.
But don't worry, I have you covered with this list of the best recipes for unexpected guests that feature quick and easy, reliable recipes that you can whip up quickly.
In this post, I'm sharing some delicious and versatile recipes that will impress your guests while saving you time and stress. The best part is that these recipes won't just satisfy your guest; they will also nourish them well.
Ultimately, the most important thing is to be hospitable and make your guests feel welcome, whether offering them a simple snack or a full meal; the warmth of your hospitality and the kind gesture matter most.
Jump to:
Why you need these recipes
Having a list of wholesome recipes that you can make quickly for unexpected guests can be helpful for several reasons:
Saves time and stress: If friends and family arrive unexpectedly at your home, you may feel rushed and stressed trying to figure out what to feed them. Having all these recipes on one list can save you time and alleviate stress.
Offers a variety of options: This list of easy meals can ensure that you have a variety of options to choose from. This way, you can cater to different dietary preferences and know there is something for everyone.
Impress your guests: Not that you need to, but food is a love language for some. With a list of tried and tested recipes, you can confidently offer your guests a delicious meal that will bless them.
What to start with
Once it's established that you are feeding your surprise guests, you have to quickly assess what ingredients you have on hand. Depending on the time of day and how many guests there are, you might serve a light snack, a full meal, or something in between.
💭Pro tip: If your pantry is lacking in ingredients, stock up with items like jarred olives, artichoke hearts and roasted bell peppers, crackers, and nuts so you're prepared next time last minute guests arrive.
If you decide to offer a whole meal, complete with protein, you will need to thaw the meat first.
Before you do anything else, pull the frozen meat out of the freezer and place it in a leak-proof plastic bag. Submerge it in a bowl of room temperature water and change out the water every 30 minutes. The meat should thaw in about an hour.
This works surprisingly fast for ground meats like sausage, ground chicken, or ground beef.
💭Pro tip: The best way to thaw meat is to submerge sealed package of frozen meat in a bowl of room temperature or cold water. Replace water every 30 minutes until meat has thawed.
Why Finger Foods are Great
You may be wondering how finger foods made it on the quick and easy list of Best Recipes for Unexpected Guests.
The reality is that offering finger foods or appetizers for your last-minute guests can be a fun and interactive way to show hospitality. Serving snacks is always a good idea for several reasons:
#1 Easy to prepare: Do a scavenger hunt of your refrigerator and pantry and pull out foods that can be eaten as a snack or appetizer. Consider protein-rich sources like deli meats and dips like hummus.
#2 Versatile: Snacky foods can cater to different dietary preferences and tastes. Dairy-free? Skip the ranch and pull out hummus to pair with carrot sticks.
#3 Convenient: Keeps things simple and stress-free, which is great for you and your guests. Finger foods require minimal utensils, plates, and table space and lets your guests mingle and socialize while they eat.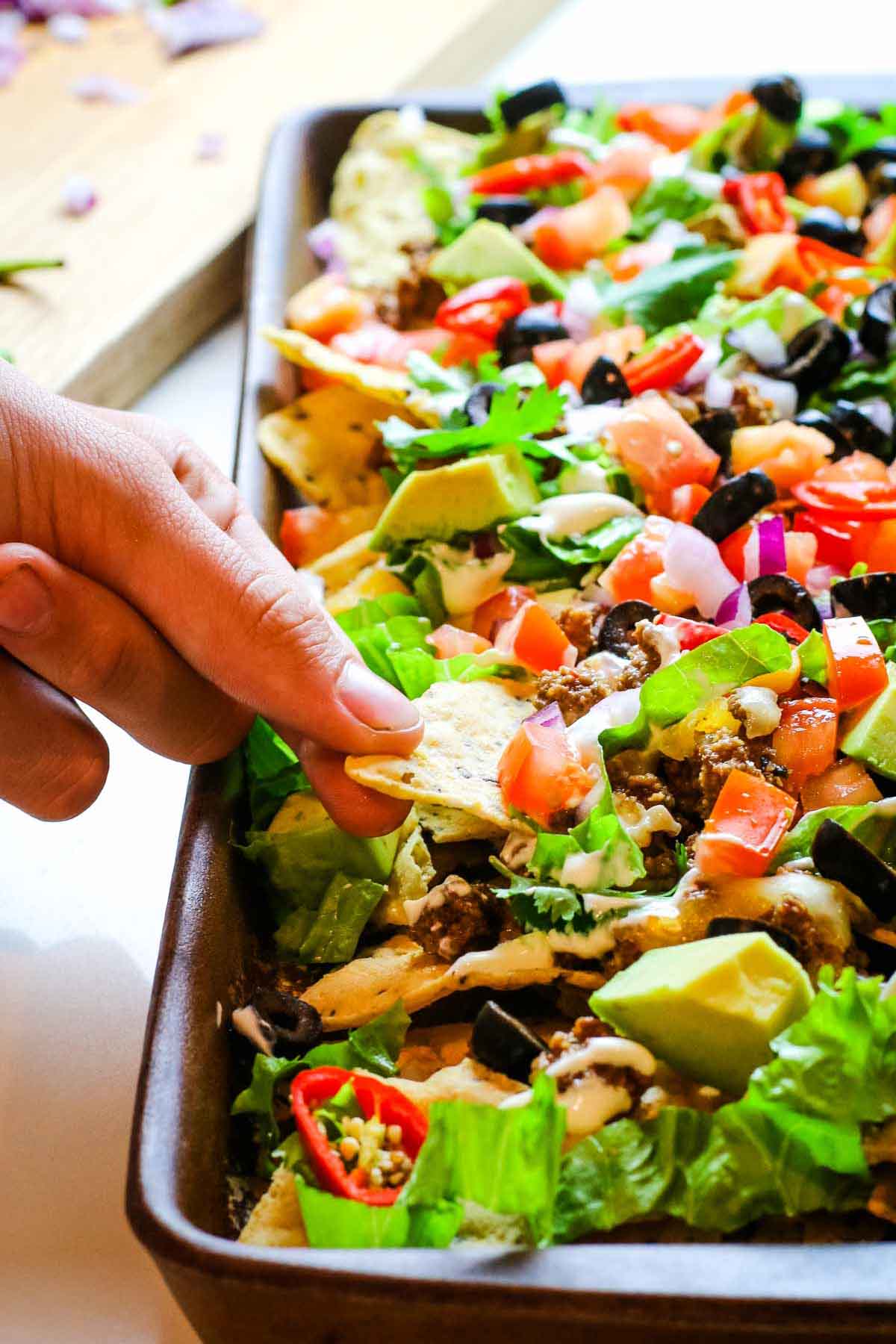 Appetizer Ideas
Here are some finger foods you can set out in plain sight for your guests to serve themselves:
Cheese and crackers: Arrange a variety of cheeses, crackers, and fruit on a platter for a simple and elegant snack. Add nourishing proteins like cured salami, lox salmon, easy beef liver pate or beef tongue sliders.
Vegetable platter: Cut up fresh veggies like carrots, celery, cucumbers, and red peppers, and serve them with a dip like hummus, ranch dressing or French onion dip. It's a great way to include extra vegetables on your table.
Fruit skewers: Thread chunks of fresh fruit onto skewers for a colorful and refreshing snack.
Bruschetta: Top toasted sourdough baguette slices with a mixture of diced tomatoes, garlic, olive oil, and basil for a classic Italian appetizer.
Deviled eggs: This egg dish is a classic appetizer with only 4 ingredients. Making them in your Instant Pot is the perfect solution to easy finger food. Garnish with some fresh herbs for an extra fancy appeal.
Shrimp cocktail: Serve cooked shrimp with cocktail sauce and lemon wedges for an elegant and easy-to-prepare appetizer. Lazy cocktail sauce: combine ketchup with lemon juice and horseradish to taste.
Impress with the best things: If you want to wow your guests with new things, try this Everything Bagel Cucumber Bites with Smoked Salmon appetizer. Another delicious and satisfying option is the Air Fryer Bacon Wrapped Jalapeno Poppers and Caprese Stuffed Avocado with only 5 ingredients.
Tight Budget Meals
Shrimp and salmon are great, but sometimes unexpected visits can also mean unexpected expense. Not to worry.
If you're moving beyond finger foods and needing a full meal, consider these budget-friendly options that nourish your guests without breaking the bank:
Baked potatoes: Bake some potatoes in the oven and top them with whatever you have. It mustn't be the classic broccoli, cheddar, and bacon bits.
To add some protein, sloppy joes are loaded with flavor and take only 30 minutes to make. And if you do decide to bust out bacon, making homemade bacon bits is almost always the healthier and more cost-efficient route.
Serve pork: This choice of protein is generally cheaper than red meats like beef and lamb. Pastured pork can be a little pricey, but if you want to feed a crowd on short notice, these recipes can fit the bill.
Throw a pork tenderloin in the air fryer and pair it with Cabbage Cucumber Salad (feel free to use coleslaw for ease and convenience) or roast vegetables like this Easy Roasted Broccolini.
Use ground meats: Ground beef, chicken, and turkey are usually cheaper than whole cuts. And they are great for making a quick meal on short notice because they thaw quickly using the cold water method mentioned above.
Try this Crustless Skillet Pizza or the Best Taco Meat that you can line up with other Mexican-inspired toppings like pico de gallo, blender salsa, and chunky guacamole.
💭Pro tip: Stock up on healthy proteins when they are on sale at the grocery stores and farmers market. Meats can freeze up to 6 months when properly sealed and stored
Simple Dinners
The best recipes for unexpected guests have to be quick and easy.
And while we're all about offering simple and quick dinners, they must also be healthy and nourishing. But the term simple can be subjective and mean different things to different people.
For some, simple dinners mean Instant Pot or crockpot meals. For others, the best recipe is one that you can slap on a sheet pan and pop in the oven for 30 minutes. Here, you'll find a blend of all of those.
One thing to note is that the recipes below are wholesome meals, complete with hearty protein, healthy carbohydrates, and rich in fiber. This makes it super easy to nourish your guests well.
Easy soups: This deeply nourishing 40-minute Ground Beef Vegetable Soup is a great choice to serve unexpected visitors. Chicken Noodle Soup takes very little time if you already have the chicken cooked and broth made. Pair Instant Pot Zuppa Toscana with crusty bread and have a meal on the dinner table in no time.
Casseroles: Grab a casserole dish and make this Easy 30-Minute Tuna Casserole or one of our popular recipes, the 5-Ingredient Chicken Potato Bake. And don't forget this hearty keto Chicken Cabbage Casserole that is creamy and flavorful. Lastly, Lazy Cabbage Rolls, topped with a dollop of sour cream, embody the essence of comfort food.
Large salads: A salad can either be a side dish or serve as the main dish, but it's clear that they are a fantastic option to serve last minute. The best part is there's something for everyone.
Try this gluten-free pasta salad featuring pantry items like pasta, olives, and artichoke hearts. If you have fresh ingredients, Buffalo Chicken Salad or Caesar Salad can be an excellent option.
💭Make it Nutrient-Dense: Make sure your meals are accompanied by a spoonful of probiotic-rich fermented food and use bone broth as much as you can.
Meals for a Crowd
For me, easy party meals usually mean meals that can be made on one sheet pan because they make feeding a crowd easy. In fact, when I think of what are some of the best recipes for unexpected guests that are quick and easy, I almost always think of sheet pan meals.
One great thing about these meals is that their nutritional value can often be enhanced simply by pairing them with a fermented food such as salsa or sauerkraut.
Sheet Pan Nachos are consistently favored every time we serve them to our guests. Top them with fermented pico de gallo, blender salsa, and chunky guacamole. For a spicy kick, don't forget to set out the lacto-fermented jalapenos.
Sausage and Peppers in the Oven are a close second. This sheet pan meal comes together quickly in under 30 minutes. Serve it with some Dijon mustard and simple raw sauerkraut or spicy sauerkraut with ginger and garlic.
Sheet Pan Garlic Butter Salmon, Asparagus, and Potatoes is a complete meal in one - full of flavor and easy to put together. It pairs excellently with fermented cherry tomatoes or green tomatoes.
Check out these 30-minute recipes for your unexpected guests:
Quick Desserts
There are plenty of quick and easy dessert options that your guests will love. A super quick dessert solution that always works is fresh fruit.
Berries like strawberries and blueberries are lovely treats that most people enjoy. Or try a fruit salad. Chop up some fresh fruit and toss them together for a light and refreshing dessert. During the holiday season, this Fall Fruit Salad always goes well.
Healthy Stuffed Baked Apples and Coconut Flour Banana Muffins are baked sweet treats that are great for last-minute guests. Lastly, you can make dairy-free vanilla ice cream together and enjoy it with a drizzle of chocolate syrup.
Helpful Tips
Add a ferment: It's important to keep gut health optimal, so it's always a great idea to add a fermented food such as sauerkraut and kimchi to any meal.
Keep staples ready: Smother salmon with homemade mayonnaise for an instant meal. Or you can toss chicken wings with buffalo sauce for an easy dinner. Top your favorites with sriracha mayo to elevate any tasty dish.
Know your flavors: You can enhance the flavor of any meal by adding a spicy jalapeno kick - try fermented jalapenos or roasted jalapenos. And if you have this easy garlic confit on hand, it is delightful on sourdough bread for an easy starter.
Have nourishing basics down: You can build the best soup with a nutrient-dense broth in your fridge. Even if it's frozen solid in your freezer, it thaws quickly on the stovetop. Ensure you are stocked with chicken bone broth and beef bone broth.
Have Healthy Basics on Hand
Helpful Tools and Links
Below are some affiliate links that may be helpful to you as you consider how to serve your guests best. You can find some of these items cheaper at your local store, but it helps to have a link so you know what you're looking for.
What are your favorite meals to serve unexpected visitors?