This Fall Fruit Salad with Yogurt Dressing has your favorite fall and winter fruits like crisp apples, pears, persimmons, and seasonal citrus - tossed in a delicious maple Greek yogurt dressing with chia seeds for a nutritional boost.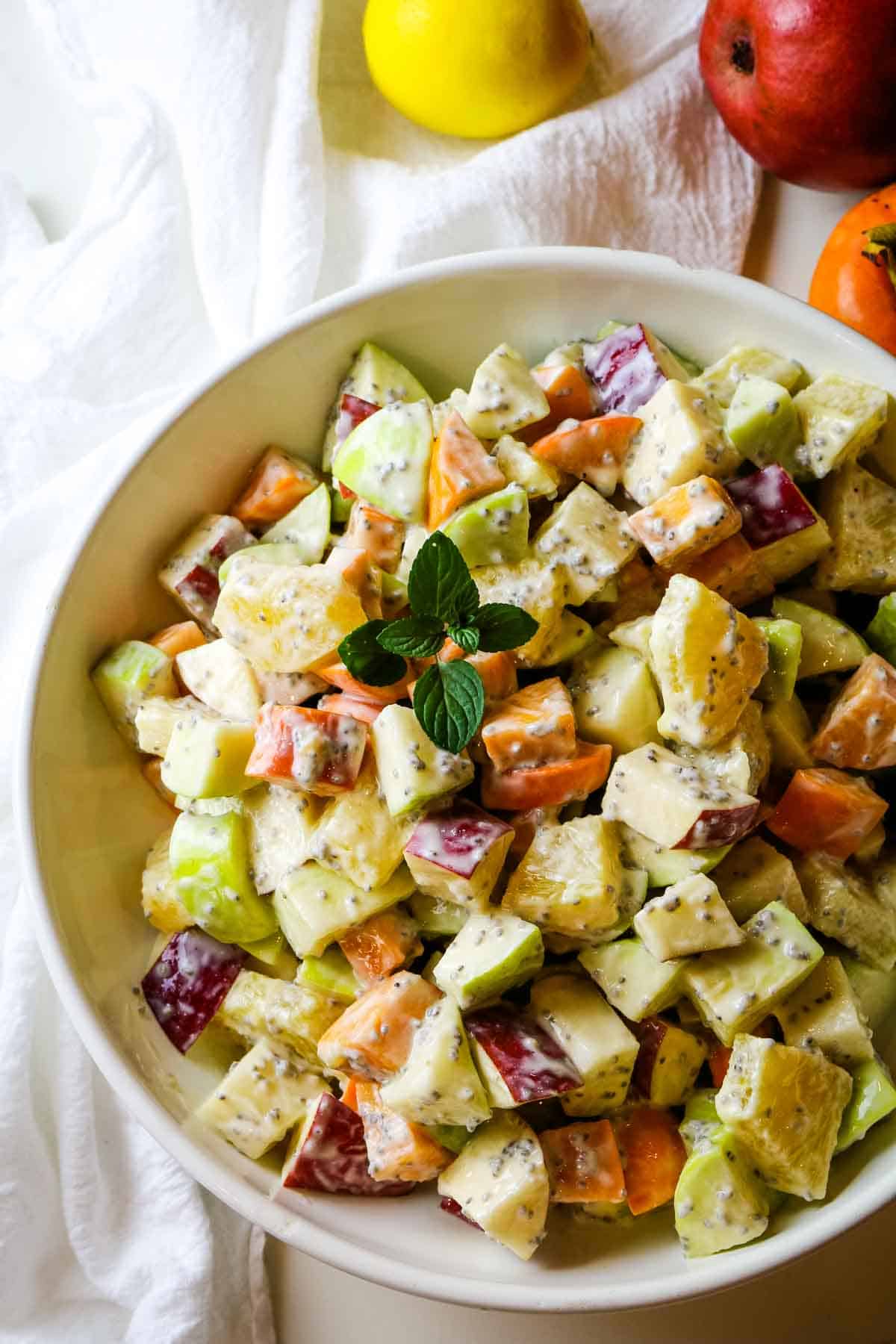 The best way to enjoy a variety of seasonal fruits is in a bowl. This salad is packed with vitamins - all the stuff you need just in time to greet cooler months and the seasonal nasties they may bring.
The dressing recipe for this fall fruit salad is hardly a recipe. It's a loose combination of Greek yogurt, real maple syrup, and chia seeds. The Greek yogurt adds delicate creaminess and hefty protein to the fruit salad.
Jump to:
Why you'll love this recipe
Seasonal - We're all about enjoying produce at peak season and this recipe is no different. Use the best local fall and winter fruits for the freshest flavor.
Versatile - Don't have D'Anjou pears? Swap it with Bartlett pears. This recipe is incredibly versatile without much sacrifice in flavor.
Not soggy - Ever come across a very watery, sloppy fruit salad? Most fruit has high water content but there's a simple trick to avoid watery fruit salad.
Nourishing - The protein from the Greek yogurt dressing keeps the fruit sugars balanced.
This recipe along with many more is part of a collection of 50 Healthy Holiday Recipes. You can find that entire round up at this link.
💭Helpful tip: Poppy seeds are a popular addition to fruit salads but chia seeds takes it up a notch as it absorbs moisture making this salad crunchy for days.
Ingredients
This autumn fruit salad recipe has your favorite ingredients in one bowl. Start with approximately 2 ½ pounds of fall fruits, chop them up, and toss with a creamy dressing.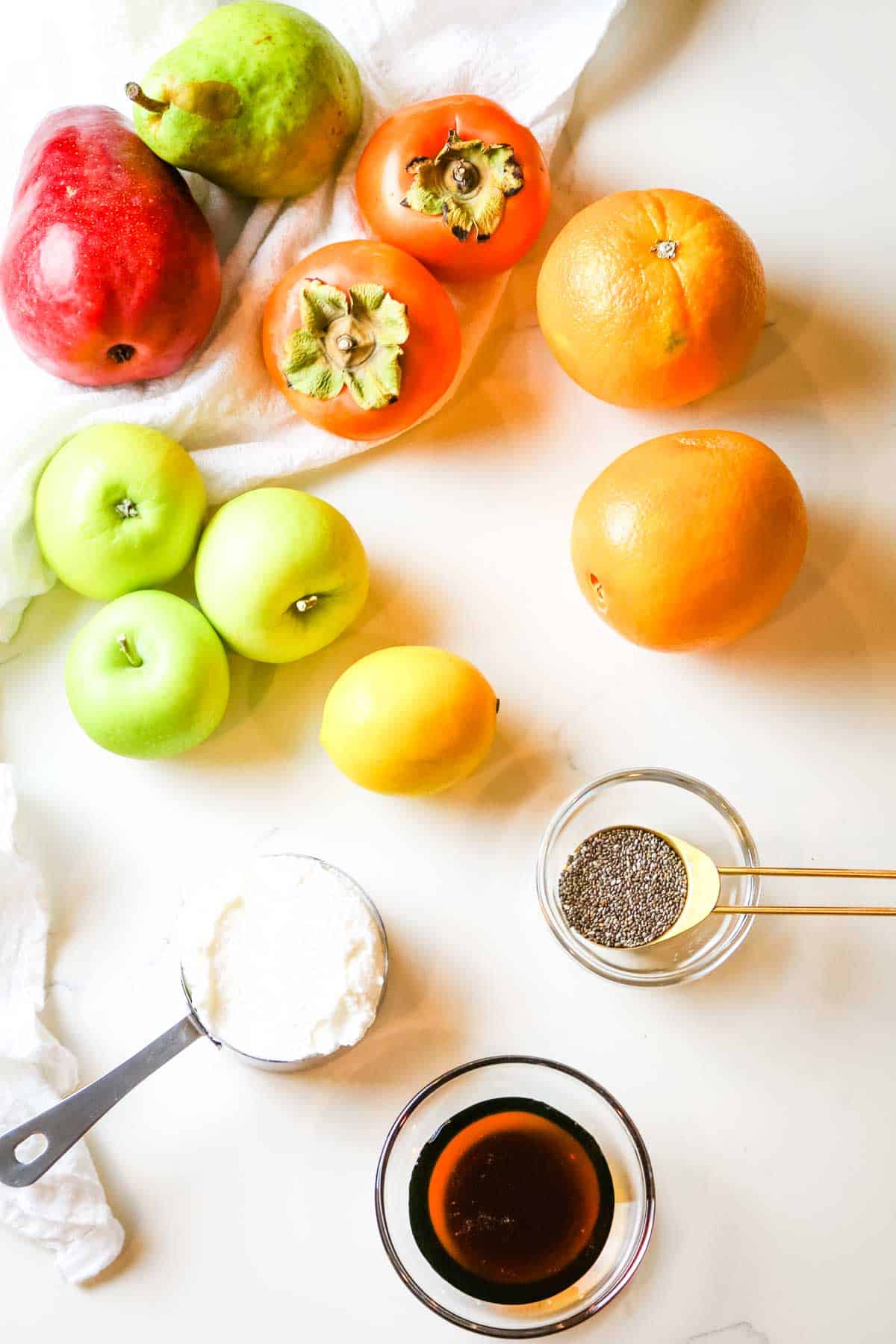 apples: Any crunchy apples would work. My favorite to use in this recipe is Granny Smiths since they are a little tart but Pink Lady apples and Honey Crisps are also great choices.
persimmon: Fuyu persimmons are the best variety as they are the most non-astringent and can be eaten raw.
oranges: Use your favorite variety of oranges: navel, cara cara, or valencia oranges are great as are blood oranges but even clementine oranges would work.
pears: I love using red Anjou pears but you can use traditional bartlett pears or green D'Anjou pears. Bosc or Asian pears would be add a fun twist of flavor to this fruit salad.
lemon: Just a squeeze of a small Meyer lemon to halt the browning of apples and pears is all that's needed (fresh lime juice would work too).
Greek yogurt: This will make that protein-rich creamy dressing.
maple syrup: You need just a little bit of sweetener. Raw honey may be used instead.
chia seeds: This nutritional powerhouse serves two important purposes so try not to skip.
See recipe card for exact quantities.
💭Make it Nutrient-Dense: Use fall-fat, pastured Greek yogurt and Grade A maple syrup for nutritious fruit salad.
Variations
As mentioned already, you can totally change up the main ingredients to suit your needs. Use whatever fruits you have on hand. This Fall Fruit Salad with Yogurt Dressing recipe is pretty versatile.
This delicious fruit salad has a wonderful flavor the way it is written. But you can totally level it up with these suggestions:
Vanilla Greek Yogurt - use vanilla yogurt and skip the maple syrup for a touch of vanilla flavor.
Heighten citrus flavor - add some lemon zest or orange zest to bump up the citrus game.
Pumpkin spice - add a teaspoon of pumpkin pie spice to the dressing for a little hint of cinnamon spice and everything nice.
Perfect for winter - toss in some pomegranate seeds (also known as pomegranate arils) and diced red grapes to make a winter fruit salad.
Add color - add some fresh kiwi and blackberries for vibrant colors.
Crunchy - this salad is very crunchy on its own but pecans, walnuts, and pumpkin seeds would make a lovely addition.
Dietary Substitutions
Fall Fruit Salad with Yogurt dressing is a nourishing fruit salad with lots of great benefits.
To make this paleo and dairy free, you may substitute coconut yogurt or your other favorite dairy-free version for Greek yogurt.
The maple syrup adds just a touch of sweetness but is not too overpowering. If you find that the fruits in your salad are overly sweet - just omit the maple syrup. Likewise, honey would be a great way to add a subtle sweetness and it would also be GAPS-compliant.
Chia Seeds in Fruit Salad
When you add chia seeds to a liquid such as juice, they become very gelatinous and thicken the liquid. In this case, the liquid is the juices from the fruit. The chia seeds absorb these naturally released fruit juices which give a very smooth, creamy fruit salad without all the sogginess.
Chia seeds are also a nutritional powerhouse. They are an excellent source of fiber, protein, calcium, and other vitamins and minerals. Chia seeds are naturally gluten-free and low in calories.
Helpful Tips for Meal Prep
This salad is great to make ahead, especially around the holidays. But there are some things you have to keep in mind when doing so.
Exposed fruits undergo oxidation the longer they sit, turning brown and soggy. They are still safe to eat but their appearance is less than desirable. There are a number of ways to avoid this natural process but I would only recommend this if making this well in advance of more than 2 days.
If you know the salad will be consumed within 24 hours, just prepare as is, without the need for these additional steps. But if you would still like to meal prep for a longer shelf life, consider these tips:
Persimmons and citrus fruits do well during oxidation and will not turn brown but the citrus will release juice if the orange segments have been cut.
Consider adding apples and pears just before serving. If not possible, toss them with lemon juice or something acidic. Adding pineapple juice, though not fall or winter fruit, will also help with preserving the bright appearance.
Keep cut fruit in separate containers and toss them together just before serving.
Adding chia seeds will help absorb the moisture from the fruits.
Transfer the fruit salad to an airtight container and refrigerate immediately.
Step-by-Step Instructions
The complete printable recipe is below in the recipe card for your convenience.
This fall fruit salad recipe calls for a handful of ingredients: Granny Smith apples, red and green Anjou pears, persimmons, oranges, Greek yogurt, maple syrup, chia seeds, and lemon juice.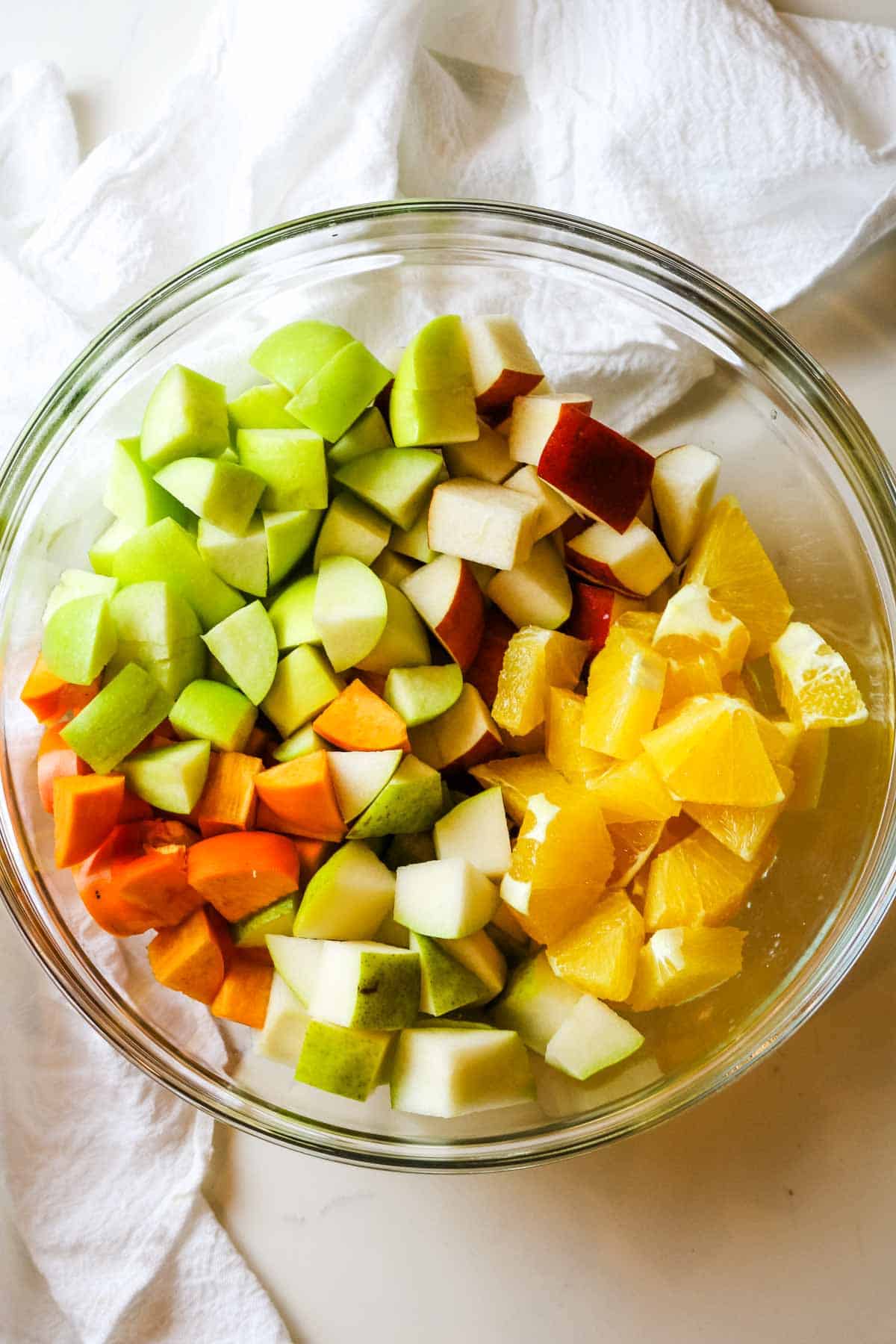 Step 1. Prepare fruits
Wash and dry fruit. Peel oranges. Dice all fruit into ½" pieces and add to a large bowl. Drizzle lemon juice over apples and pears to keep them from browning.
💭Helpful tip: To save time and easy clean-up: make the dressing directly in the large mixing bowl then toss the the fruits to it.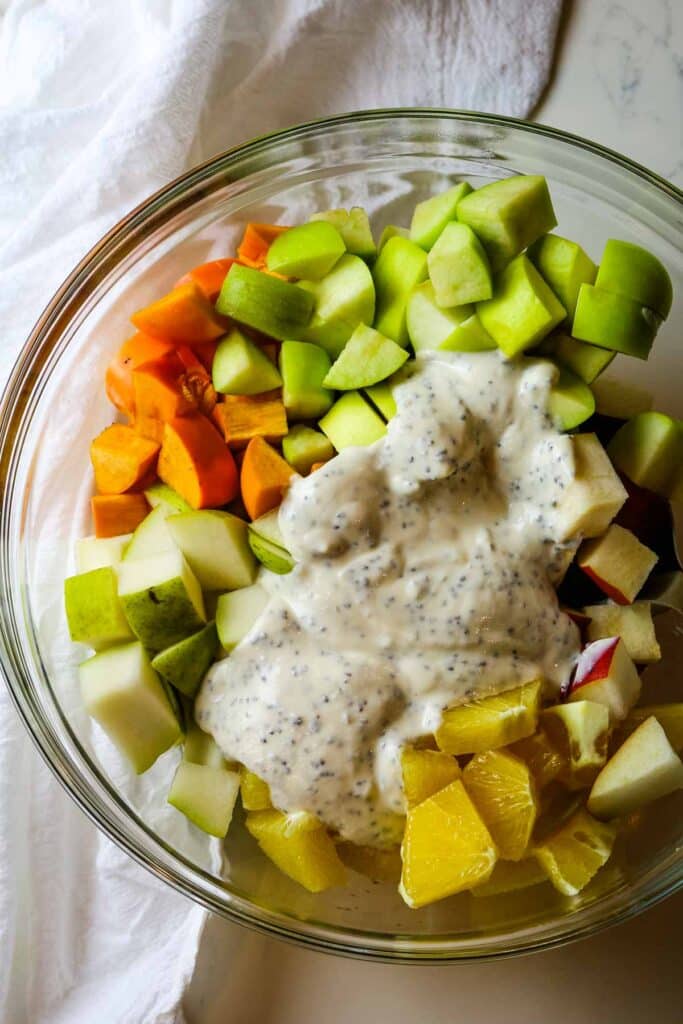 Step 3. Toss fruit with dressing
Pour yogurt dressing over the chopped fruit and toss to combine well.
💭Helpful Tip: Garnish with fresh sprigs of mint or pomegranate seeds for a festive aesthetic.
Helpful Tools & Links
Below are some affiliate links that may be helpful to you as you make this recipe. You can find some of these items cheaper at your local store but it helps to have a link so you know what you're looking for.
Serving Suggestions
We love having this salad as a healthy dessert after a holiday meal. It has natural sugars but not overly sweet.
It can also be enjoyed as a side salad with any meal.
For best result, enjoy this salad the next morning after making it. The flavors will have mixed together making a very delicious fruit salad.
Fall Fruit Salad with Yogurt Pairing Suggestions
Storage Instructions
To store: Leftover fresh fruit salad can be stored in an airtight container for up to 3 days in the refrigerator. This salad is actually tastier the next day after all the flavors have melded together.
Storage containers: these glass snap containers are perfect for leftovers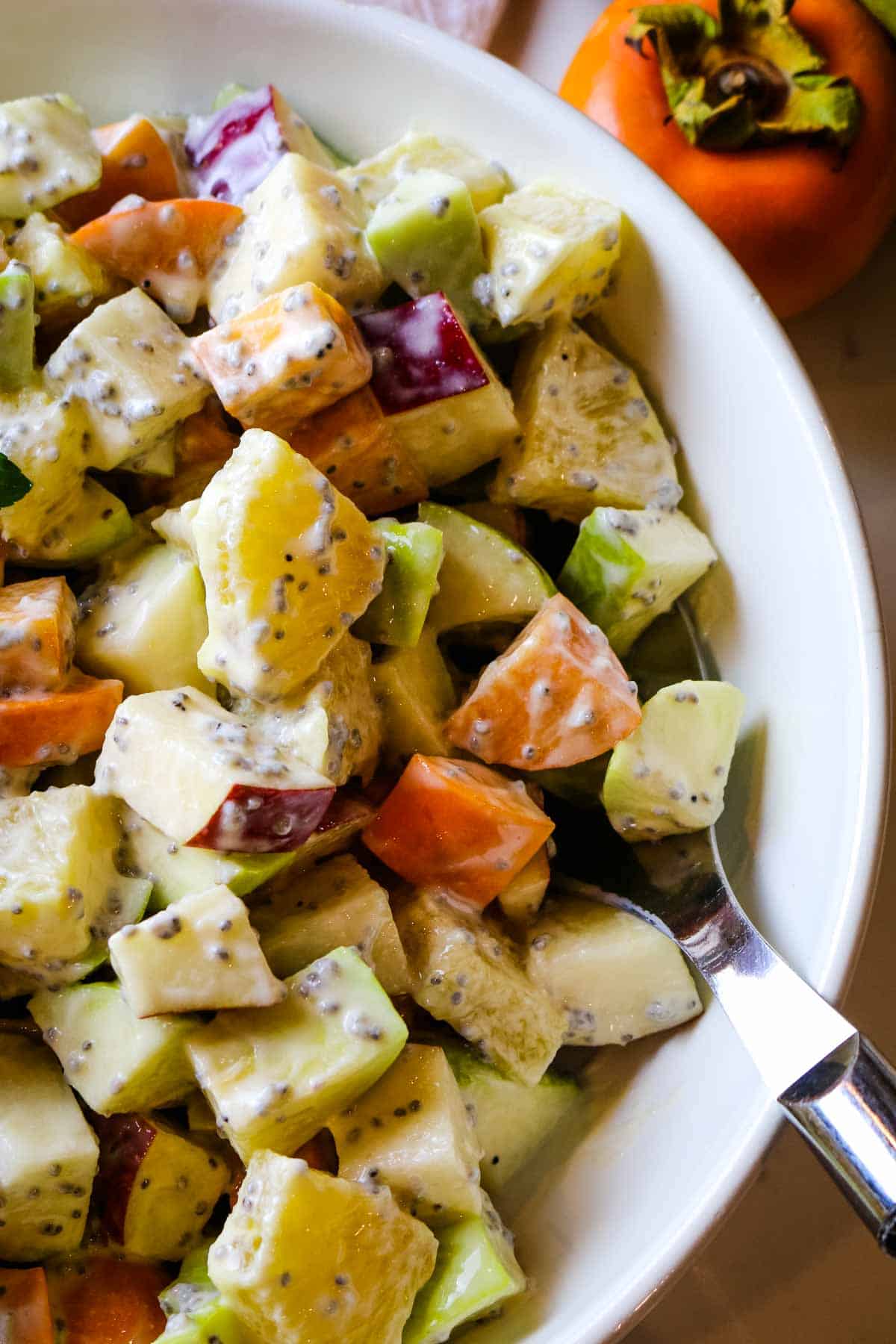 FAQs
What fruits go well with yogurt?
Eating fruits with protein-rich Greek yogurt is an easy way to keep your blood sugars stable. Any fruits will go well with yogurt. To keep with the autumn and winter theme, fall fruits like Granny Smith apples, D'Anjou pears, persimmons and citrus fruits pair well. The addition of pomegranate arils would give this salad a festive flare.
How to keep fruit salad from getting soggy?
Fruit is naturally high in water and will release liquid as soon as it's mixed with citrus. To avoid the fruit salad from getting soggy, use chia seeds in the dressing. Chia seeds will absorb excess moisture and add nutrition to the salad.
How long will this fruit salad last?
When properly stored in the refrigerator in an air-tight container, this fruit salad will last up to 3 days. Thanks to the chia seeds, it will not be runny or soggy and the apples will still retain their crunch.
Looking for more fall recipes? Here are some ideas:
Did you make this? Please leave a ⭐ recipe rating in the recipe card below and leave a review in the comments. Thank you!💚
Printable Recipe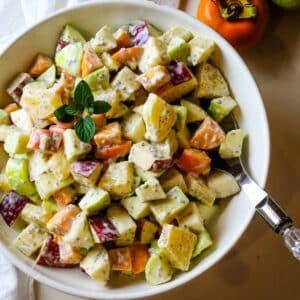 Fall Fruit Salad with Yogurt
This Fall Fruit Salad with Yogurt Dressing has your favorite fall and winter fruits like crisp apples, pears, persimmons, and seasonal citrus - tossed in a delicious maple Greek yogurt dressing with chia seeds for a nutritional boost.
Ingredients
2

Granny Smith apples, diced

approximately 2 cups

2

Anjou pears, diced

approximately 2 cups

2

Fuyu persimmons, diced

approximately 2 cups

2

oranges, peeled and diced

approximately 2 cups

½

cup

Greek yogurt

3

tablespoons

maple syrup

1

tablespoon

chia seeds

1

tablespoon

lemon juice

optional
Notes
A serving size is approximately 1 cup. Makes 10 servings. This recipe makes a generous size for a crowd but you can cut it or double it as needed.
Substitutions: use whatever apples, pears, and oranges you have available to you. You will need approximately 2 ½ pounds of fresh fruit or 8-9 cups of diced fruit.
Leftovers: can be stored in an airtight container in the refrigerator for up to 3 days.
Drizzle lemon over pears and apples to avoid browning.
Use honey instead of maple syrup to make GAPS-compliant Fall Fruit Salad.
Chia seeds will absorb the liquid naturally released from the fruits.
Consider adding healthy toppings like pecans, roasted coconut chips, cacao nibs, cinnamon, pomegranate arils, etc.. 
Nutrition
Calories:
123
kcal
|
Carbohydrates:
30
g
|
Protein:
2
g
|
Fat:
1
g
|
Saturated Fat:
0.1
g
|
Polyunsaturated Fat:
0.3
g
|
Monounsaturated Fat:
0.1
g
|
Trans Fat:
0.003
g
|
Cholesterol:
1
mg
|
Sodium:
5
mg
|
Potassium:
266
mg
|
Fiber:
3
g
|
Sugar:
14
g
|
Vitamin A:
89
IU
|
Vitamin C:
40
mg
|
Calcium:
50
mg
|
Iron:
1
mg
Nutrition Information
The information shown is an estimate provided for your convenience by an online calculator. It should not be considered as a substitute for a professional nutritionist's advice. See our complete Nutritional Information Disclaimer.
©Prepare and Nourish • Content and photographs are copyright protected. Sharing of this recipe is encouraged and appreciated but please do NOT screenshot or copy/paste complete recipes to websites or social media.
This post was originally published December 2015 but has since been updated to include helpful information.