The holiday season is upon us which means it's time to start planning those menus! This collection of 50+ real food, Healthy Holiday Recipes is exactly what you need to keep you and your family well fed and sustained during this wildly busy season. Some are paleo, Whole30, keto, GAPS, low carb but all are delicious and nourishing!
The holidays are here and with that comes plenty of delicious food. Days are filled with various activities and events and lots of entertaining - no wonder it's a favorite season for many! But holidays can also be a challenging time when you're following a certain way of eating.
To help you stay on track with healthy eating during this holiday season, we've compiled this list of nutritious and delicious recipes that everyone will love.
50+ Healthy Holiday Appetizers, Sides, Salads, and More
This collection of healthy holiday recipes will not leave any guest deprived when faced with all the party food galore. From favorite brunch recipes to serving a crowd and ending the evening with delicious holiday treats, this round up has you covered.
If preparing healthy real food is just as important to you during the holidays as it is any other time, get ready to bookmark this collection of Healthy Holiday Recipes. Some of these recipes are paleo, GAPS, low carb but all of them are gluten-free with an emphasis on traditionally prepared foods.

Healthy Holiday Appetizers
Who doesn't love appetizers? Start your evening right with a few of these healthy bite-size finger foods.
Savory Sliced Apple Appetizers - Slightly tart slices of Granny Smith apples are loaded with savory cream cheese and delicious crunchy toppings. They are GAPS, primal and totally wholesome. Think caramelized apple slices but fancier savory version.
Everything Bagel Cucumber Bites with Smoked Salmon - Healthy smoked salmon on top of cream cheese topped cucumber slices and finished off with Everything Bagel seasoning. This delicious, super easy, 15-minute low carb appetizer will wow everyone!
Bacon Avocado Jalapeno Poppers - With only 5 simple ingredients, these poppers are filled with creamy cheese mixture, avocado slice and wrapped in crispy bacon as it's baked to perfection.
Caprese Stuffed Avocados - Stuffed with fresh mozzarella, garden tomatoes, and basil - drizzled with balsamic glaze and dusted with crunchy salt flakes. This low carb treat is an easy 5-ingredient appetizer and a great way to start the holiday festivities.
Cajun Sweet Potato Fries - These oven baked healthy Cajun fries are subtly sweet boasting all the savory, spicy and smokey flavors. Crispy edges and soft centers make these one of the best fries.
Three-Cheese Stuffed Mushrooms - With only 6 ingredients, these keto and primal morsels make a great appetizer.

Healthy Holiday Salad Recipes
Including a nice variety of healthy salads to your holiday menu is always a smart idea. Check out these delectable salads that would pair so well with your healthy mains and entrees.
Harvest Kale Salad - This paleo, Whole30 and low carb salad is filled with slightly roasted kale, Brussel sprouts, and delicata squash all tossed in a smooth balsamic vinaigrette and topped with apples, pecans, microgreens and seasonal toppings.
Carrot Salad with Cilantro and Garlic - Caramelized onions, pungent coriander and zesty cilantro are the finishing touches to julienned heirloom carrots and add rich flavor. This salad can actually be prepared well in advance of your dinner party and the depth of flavor is amazing!
Healthy Gluten-Free Pasta Salad - Don't knock this just because you're not serving this on a picnic blanket at your local park. We believe that pasta salad can be enjoyed even in the cooler months, especially when it has diced salami, tomatoes, artichoke hearts, and feta cheese all wrapped in an easy yet delicious zesty dressing. It can easily be adaptable for low-carb and paleo, Whole30 diets - just swap out the pasta with spaghetti squash or zucchini noodles.
Healthy Caesar Salad - If you haven't tasted real Caesar salad, the kind with real Caesar dressing that is rich in anchovy flavor, zesty garlic and creamy parmesan - you are missing out. This Caesar salad is the real deal. Make it an easy starter meal by adding grilled salmon or chicken.
Cabbage Cucumber Salad - Made with simple ingredients and can be prepared well ahead of your holiday dinner, this cabbage has been a favorite for years. It's pairs well with just about any kind of meat and is easy on the wallet thanks to the cabbage!
Healthy Holiday Soups
Soups are one of the best ways to include extra nutrition in the form of nourishing bone broth and seasonal vegetables. And just because soups are not commonly served at holiday meals, doesn't mean you can't start now. This is a small sampling of some healthy soups that can be included on your holiday menu.
Nourishing Gluten-Free Chicken Noodle Soup - A seasonal classic and a favorite for many. This soup is nourishing and can easily be made with 8 simple ingredients. Use leftover turkey meat instead of chicken, and zucchini noodles or spaghetti squash strands for paleo, Whole30, and keto version.
Pumpkin Turkey Chili - Warm up to this hearty and delicious low carb chili made easily in the Instant Pot. Full of flavor and paleo, keto and Whole30 friendly - it's a sure way to satisfy everyone's hunger.
Easy Chicken Stew - This healthy version of chicken stew is perfectly seasoned with only 8 main ingredients and made in the Instant Pot to simplify your time. It's another favorite during the cooler months, and one that is especially kid friendly thanks to all the comfort-food ingredients.
Lamb and Vegetable Soup - Start your holiday festivities with a bowl of wholesome of nutrition. Lamb is commonly prepared for the holidays, so whether you're serving this soup for Thanksgiving or warming up to it after seeing Christmas lights - it always goes down easy.
Hamburger Soup Recipe - Don't let the name fool you. It's easy (thanks hamburger meat!) but can also be just as fancy with the variety of seasonal vegetables. This soup is a hearty, delicious and an incredibly easy one-pot meal. It's loaded with nutrition and is perfect for those following Whole30, Paleo or Keto lifestyle.
Healthy Holiday Sides
Side dishes are the best part about a holiday dinner and these are no exception. Some of these are classics while others have a unique flare but they all make a healthy and delicious addition to your holiday table.
Scalloped Sweet Potatoes with Bacon - This can easily be dubbed as weeknight side dish or served at a fancy holiday party. Either way, this Whole30 and Paleo side dish is a favorite with only 4 ingredients and supremely flavorful (thanks bacon fat!).
Scalloped Butternut Squash with Caramelized Onions - Thinly sliced butternut squash covered in a creamy mixture of caramelized onions, garlic and cream. This side dish is loaded with amazing aroma and delicious flavors.
Roasted Carrots with Garlic - Oven-roasted with garlic and herbs makes an easy and delicious side to go with any dish. It's a great paleo and Whole30 addition to your table.
Creamed Mushrooms with Red Wine Reduction - This recipe is full of satisfying flavors in caramelized onions, garlic, rich butter and cream and finished off with red wine reduction. It's great over Thanksgiving turkey, creamy mashed potatoes, or just as is!
Oven-Roasted Garlic Parmesan Cabbage Steaks - With only 4 ingredients, this keto and primal side dish always wins the hearts of cooks around the world. It's also budget-friendly and simple to throw together as a last minute addition.
Easy Roasted Broccolini - Sometimes the best side dish is also the easiest one. A simple roasted broccolini in all it's glory with just a handful of the best seasonings. It's low carb and primal and very delicious on most about anything.
Loaded Mashed Potatoes - This creamy and delightful side dish is rich with butter, cheddar cheese and topped with bacon and scallions, bringing all the comforting ingredients in one easy dish. This side dish is a favorite since it's easily done in the Instant Pot, freeing the very coveted stove top for other delicious goodies.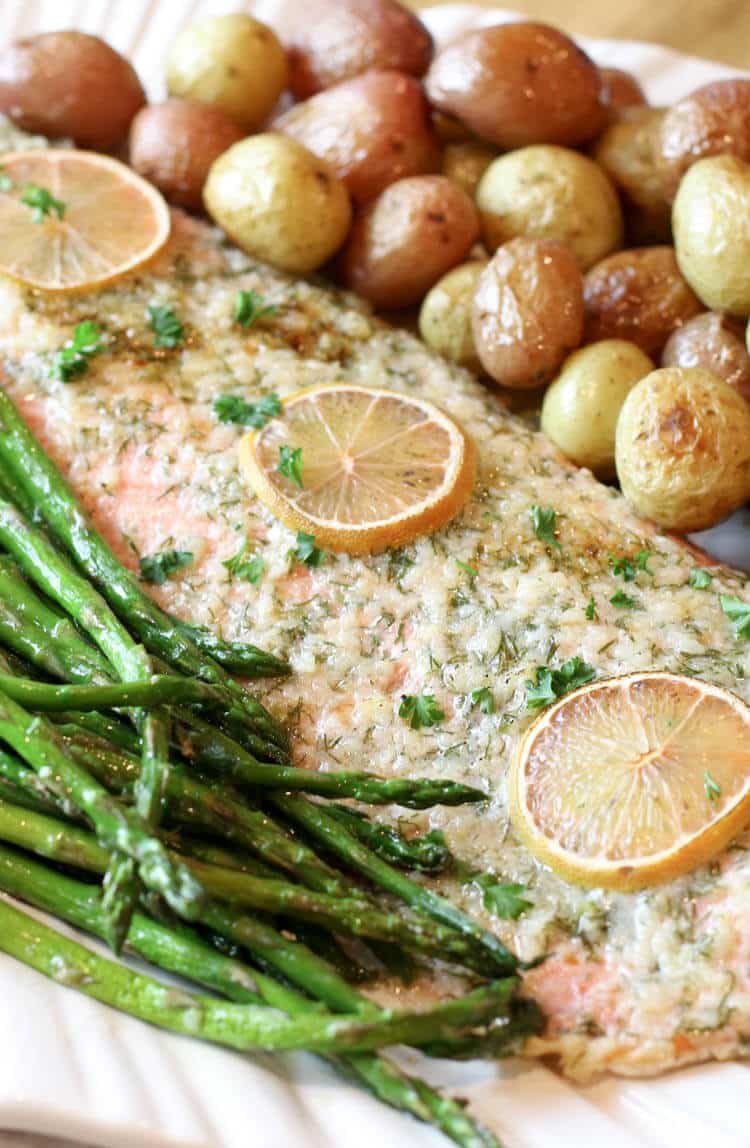 Healthy Holiday Main Dishes
If you want something festive but a different pace from the traditional turkey or ham, check out these recipes below. These are great for a casual dinner with friends and family and yet look festive enough to be classified as "dinner party" official.
Sheet Pan Garlic Butter Salmon, Asparagus and Potatoes - Garlic butter slathered over wild salmon and baby potatoes and asparagus all cooked on the same sheet pan. A complete meal on one pan - full of flavor and easy to put together.
Oven-Baked Swedish Meatballs - These are just as comforting as the original version but without the gluten or dairy. They come together easily and baked (instead of pan fried!) saving you time and wiping down the stovetop grease splatter. Serve over spaghetti squash and it's paleo, Whole30 and low carb!
Fish en Papillote - This elegant yet simple dish in which the fish and veggies are wrapped in parchment paper and cooked together to delicious perfection always looks fancier than it really is. It's healthy and easy and totally paleo, Whole30 and keto.
Chicken Potato Bake Recipe - An easy yet flavorful casserole that is sure to please everyone! With only 5 main ingredients, this bake is a great go-to recipe and is naturally Whole30.
Healthy Classic Stuffed Cabbage Leaves - This is the ultimate comfort food. Easy ground meat and rice filling wrapped in cabbage leaves and topped with flavorful tomato sauce and baked to delicious doneness - these will go fast!
Lazy Cabbage Rolls - If you don't care for the rolling of the cabbage rolls - check out this recipe. It's packed with traditional flavors like onion, carrots and tomato sauce but without the rolling part. The cauliflower rice makes this paleo, low carb and Whole30.
Instant Pot Ribs Recipe - Delicious, flavorful, tender and best of all easy to make with just 5 ingredients and 30 minutes cook time. Pair this with your favorite roasted vegetable (check out the sides above) for an easy paleo and Whole30 dinner.
Lamb and Squash Curry - This tasty meal starts with tender lamb, diced butternut squash, creamy coconut milk and a nice helping of curry flavor. Made in the Instant Pot, this is naturally paleo, Whole30, and low carb. Enjoy over perfect rice or cauliflower to keep with that grain free theme.
Citrus-Herb Basque Chicken - Another Instant Pot recipe. Full of bold flavors from spicy chorizo, fragrant thyme, sweet orange juice, briny olives and sun-dried tomatoes. Enjoy with roasted vegetables or over a bowl of rice.
Offal Recipes
Some of these recipes are not only "healthy" in the general term of being gluten-free, possibly dairy and/or grain free, but they are also nutrient dense. That means the nutrient profile of these recipes is exceptional and beyond what a typical "healthy" recipe will have. Such recipes may call for organ meats (offal), bone broth, or other nutrient-dense ingredients. But rest assured, they do not lack flavor.
Generally, the cooler months is a great time to consume foods with organ meats. That's because they are highly nutritious, particularly rich in A and B vitamins, as well as minerals like iron, magnesium, selenium and zinc. Don't forget to include some of these nutrient-dense recipes to your holiday table. Most are appetizers but nourishing bone broth can easily be used in any of the soups.
Easy Beef Liver Pate - No chicken liver soaking here and yet full of flavor. It's low carb, keto, GAPS, and has options to make this dairy free and paleo and Whole30.
Browned Beef Tongue Appetizer - Don't be intimidated by beef tongue (cooking or eating). It doesn't take much effort to cook it and it actually tastes a lot like roast beef but with increased nutrition. This is a childhood favorite and makes a fancy party appetizer.
Cod Liver, Rice, and Eggs Lettuce Wraps - Everyone is familiar with cod liver as a supplement but few know that that there are cod liver recipes and they are delicious. This one was born after our trip to Russia several years ago and I still make it regularly.
Lox Layered Salad (Salmon and Root Vegetables) - Cured salmon is tucked in a variety of healthy root vegetables (carrots, potatoes, beets) and hard boiled eggs - this dish is rich in nutrition and resistant starch and looks absolutely stunning on a holiday dinner table.

Healthy Holiday Drinks
Some of these healthy holiday drinks can be enjoyed along with your meal, while others are rich that it's best you savor them as a treat afterwards. Either way, know that they are healthy and delicious and a great way to round off your holiday meal.
Easy 2-minute Keto Pumpkin Spice Latte - Rich in flavor and healthy fats, this PSL will become a regular addition to your festivities. This drink can be made with herbal coffee to up the nutrition and coconut cream to keep it paleo.
Cranberry Juice Recipe - Slightly tart, with hints of cinnamon and sweetened with honey, this homemade cranberry juice recipe is simple and made even simpler in the Instant Pot with very little hands on time needed. Feel free to add a splash of your favorite hard liquor for an adult drink.
Cleansing and Healthy Herbal Coffee - This gut-healing and nutrient-dense drink is the perfect coffee substitute. Enjoy this with the Pumpkin Spice Latte above or as you normally would coffee.
Nourishing Hot Cocoa - Packed with nutrient-dense ingredients in the hot cocoa mix (think mineral-rich coconut sugar, fermented raw cacao powder, and grass-fed collagen for a protein kick) - this one actually has instructions to make into small gifts (complete with printable gift tags). Enjoy this with homemade honey-sweetened marshmallows and you're golden.
Immune Boosting Citrus Ginger Smoothie - Keep your immune system in top shape with this nutritious smoothie rich in vitamin C and antioxidants. Sweet citrus fruits blended with carrots, ginger, turmeric, and a bit of coconut oil for nutrient absorption - this drink is paleo, GAPS, and primal compliant.
Homemade Tomato Juice - If you ever wondered if you can make tomato juice easily from tomato paste - the answer is YES! Moreover, it's easier than you actually think and when using real salt and a bit of fat for nutrition - you have a health drink on your hands.

Healthy Holiday Desserts
Finish off your holiday dinner party with one of these guilt-free desserts.
Paleo Crepe Cake with Cranberries - This gluten-free, grain-free, dairy-free, nut-free wonder of dessert tastes just as lovely as it looks. Perfectly satisfying with graceful layers of cassava crepes, whipped coconut cream and maple-sweetened cranberries.
Fall Fruit Salad with Yogurt - A wholesome dessert in the form of a salad is always welcomed at any holiday table. This one boasts all the favorite winter fruits such as crisp apples, pears, persimmons and seasonal citrus - tossed in a yogurt dressing with chia seeds for a nutritional boost.
Stuffed Baked Apples - Filled with crunchy pecans, shredded coconut, and a touch of honey for a subtle sweet addition - these paleo half apple treats are a perfect serving size for kids and adults alike.
Easy Paleo Banana Muffins - Made with coconut flour and free from dairy, nuts, gluten and grains. These treats make a delicious, perfectly moist Paleo dessert or snack for Christmas light sight seeing.
Coconut Flour Brownies - These are made with just a handful of ingredients and sweetened with honey, making them GAPS and paleo compliant.
Flourless Chocolate Chip Pumpkin Bars - This tasty blender recipe calls for just 6 ingredients and they are all wholesome and nutritious. These bars make a great low carb and paleo treat, dessert or a snack for all your holiday events.
Almond Orange Cookies - With hints of orange zest, these crispy thin almond cookies are dunked in chocolate and topped with toasted almonds. These are naturally gluten-free, primal and GAPS with paleo suggestions.
Lemon Poppy Seed Bundt Cake - This delicious grain free bundt cake has the perfect blend of tartness and delicate sweetness from honey. Rich lemon glaze is the perfect finishing touch atop this sweet treat.
We hope this collection of 50+ Healthy Holiday Appetizers, Sides, Salads and More was helpful to you as we go into the holiday season.


If liked this round-up, please consider rating it and leaving a comment below ⇓. Also, be sure to follow us on Facebook, Instagram, and Pinterest.
>>> Pin This <<<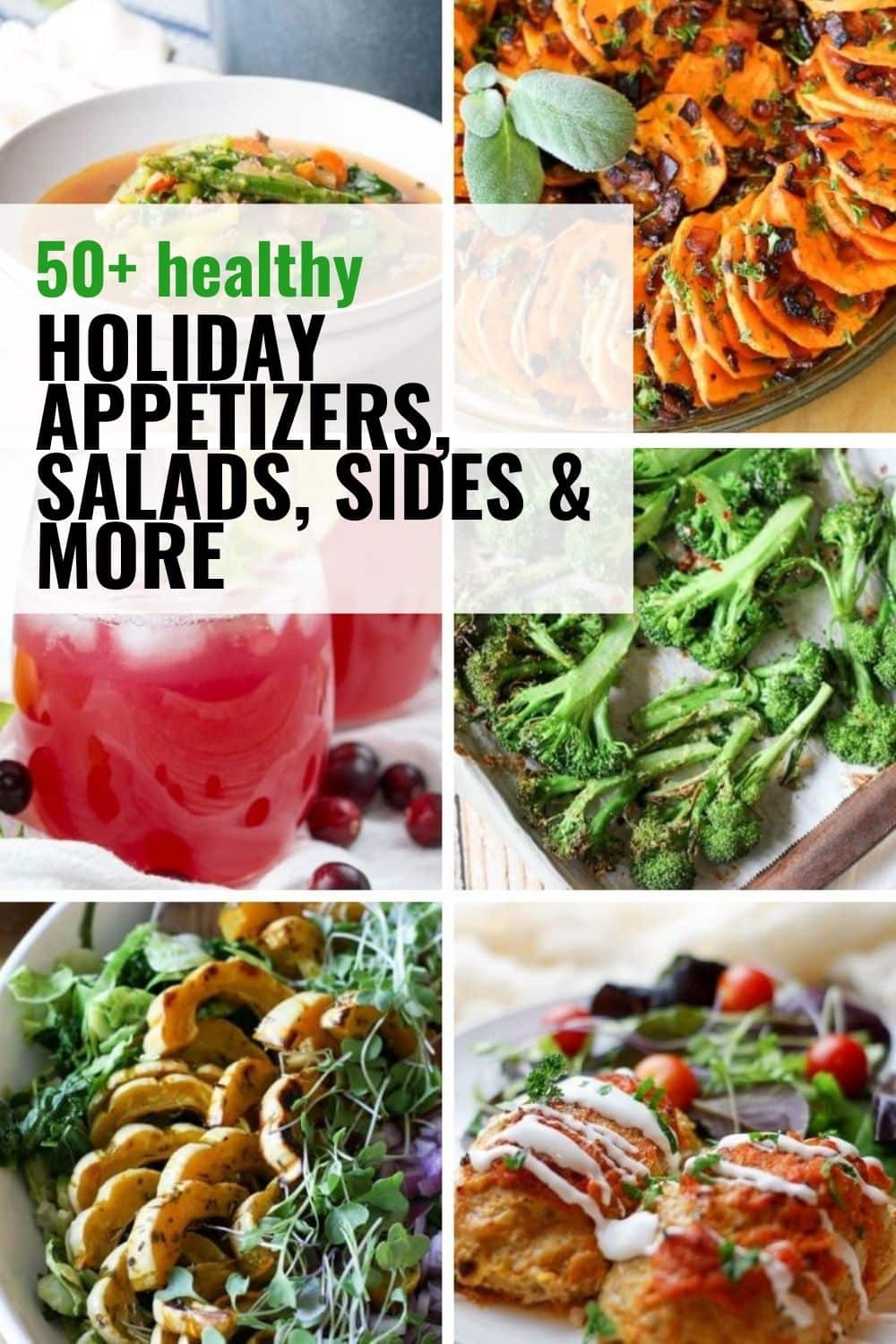 This post was originally published November 2017 but has since been updated to include helpful information.