Homemade Buffalo Sauce is a fiery, zesty, and a delicious sauce that can easily be whipped together with 4 ingredients and 5 minutes.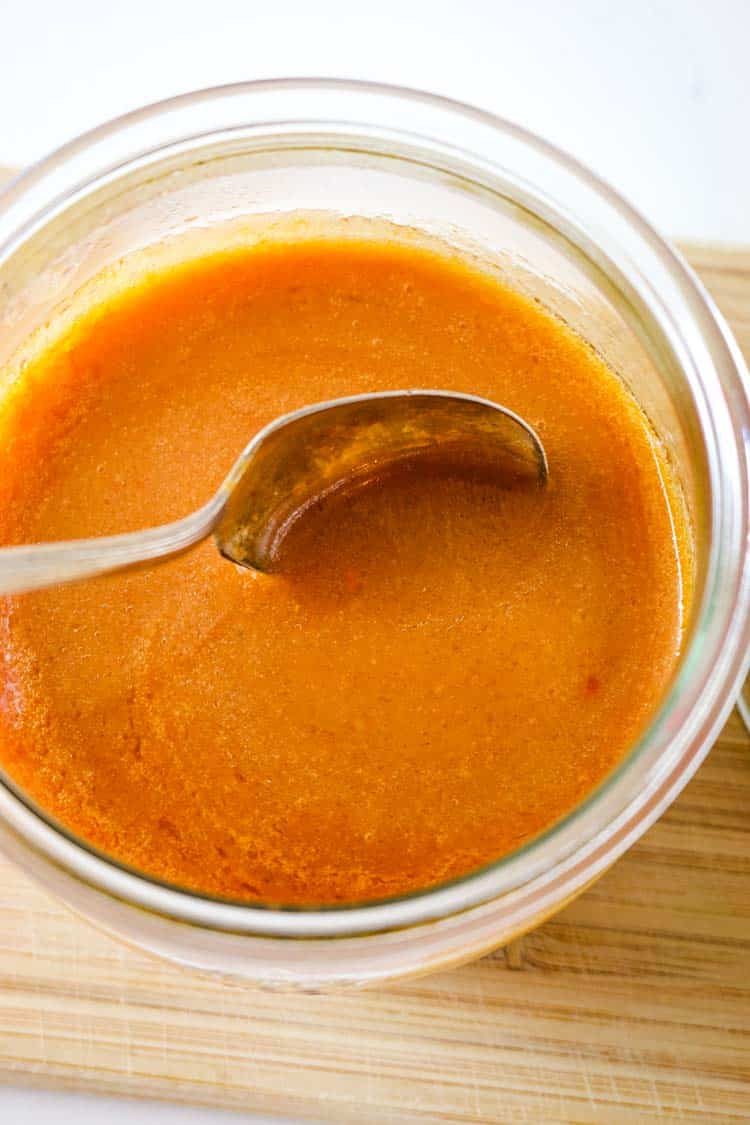 This easy and healthy Homemade Buffalo Sauce will become a new favorite condiment! Made with hot sauce, butter (or ghee for dairy free), Worcestershire sauce, and a touch of honey, it comes together in 5 minutes with the best flavor and texture! It's perfect for wings, dips, salads, and veggies.
Homemade Buffalo Sauce
Before we get into what exactly is buffalo wing sauce, let's first establish that homemade sauces are lightyears better than what you'd find in stores.
Making your own condiments like mayonnaise, salad dressings, and sauces is the best way to avoid nasty fillers, thickeners, and preservatives in your food.
The good thing is that most condiments actually take very little effort to make them at home. A bonus perk is that the taste is supremely better than any store bought version can offer. Once you get a taste of Homemade Buffalo Sauce, there is no turning back to stuff pulled off the store shelves.
Check out other homemade dressings and sauces:
Homemade Mayonnaise
Soy-Free Worcestershire Sauce
Sriracha Spicy Mayo
Simple House Dressing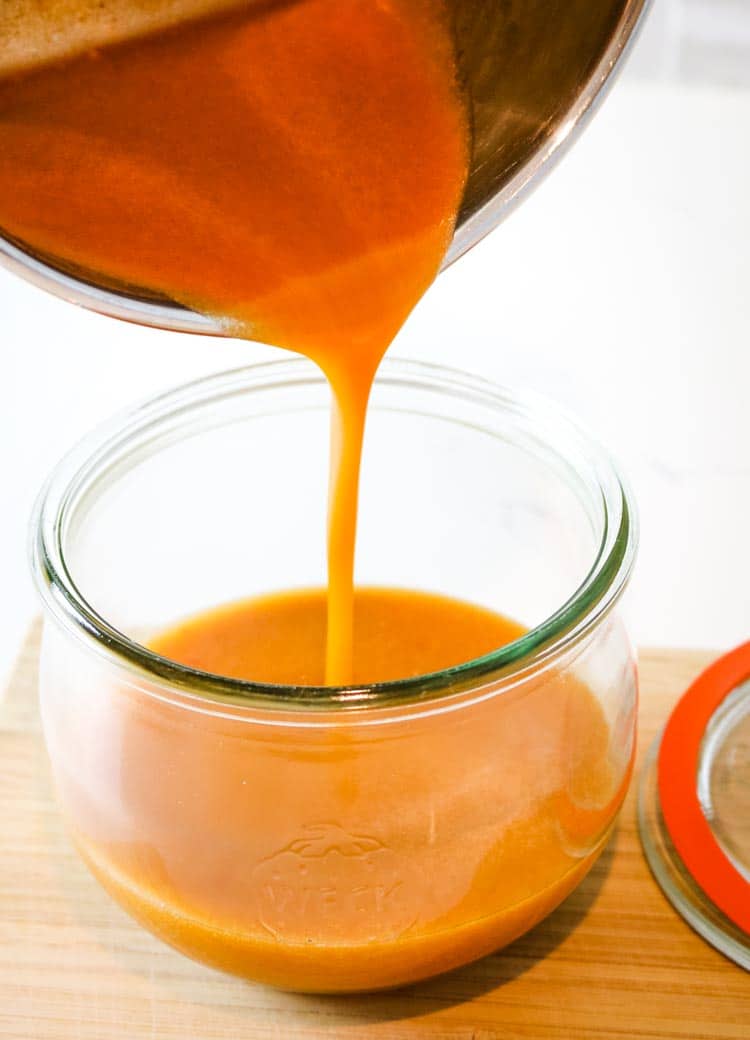 What is buffalo wing sauce?
Buffalo wing sauce is a tangy sauce consisting mostly of cayenne pepper hot sauce and melted butter. Some add other ingredients to emphasize a certain spin on buffalo sauce but the main key players are very simple kitchen staples.
Buffalo wing sauce has varying levels of spiciness. It can be mild, medium, or hot depending on your preference.
According to some reports, buffalo sauce originated in Buffalo, New York. There are several different claims as to who the original owner of this magic sauce is but one thing remains: the growth and popularity of buffalo sauce is enjoyed by all.
Buffalo wing sauce was typically only used on chicken wings. In the 1960s, chicken wings were considered an undesirable cut of meat, primarily reserved for stock and broth. To give them a chance at life, chefs and cooks smothered them in buffalo sauce and the idea took off!
During the 1970s and 1980s, buffalo wings gained in popularity as an appetizer across the United States and Canada. Which brings us to today, where we have buffalo chicken galore, complete with pizzas, burgers, and salads all showcasing that tangy buffalo flavor.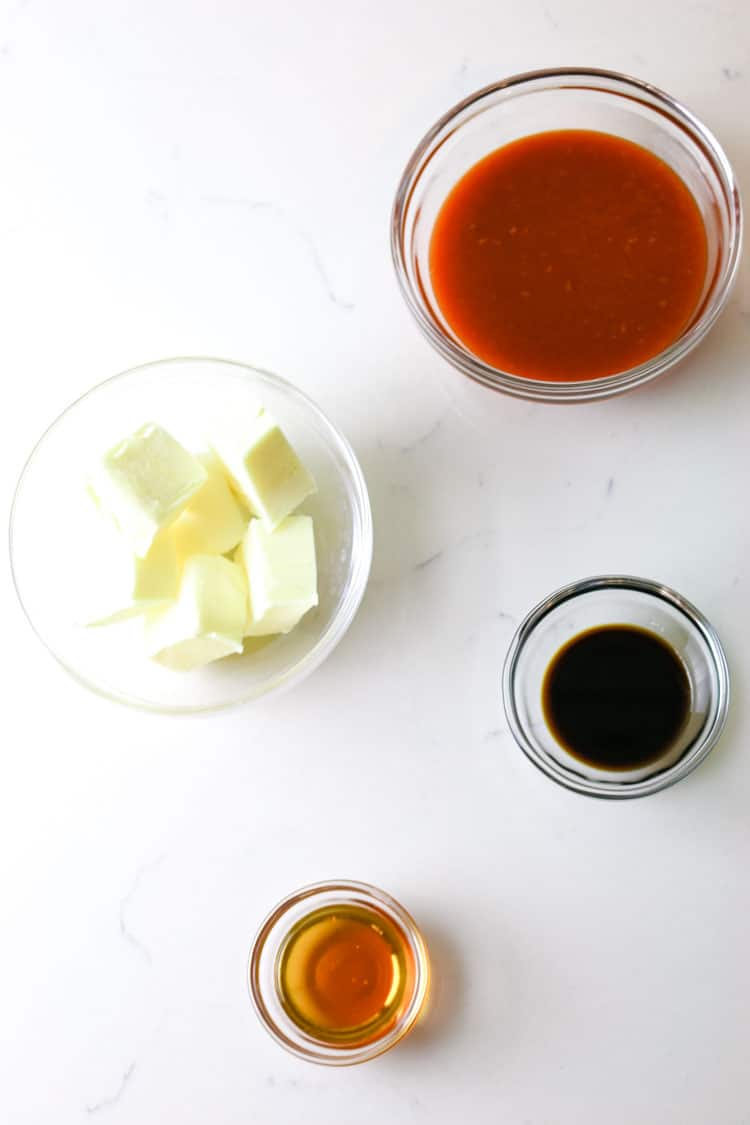 What are the ingredients in Homemade Buffalo Sauce?
This Homemade Buffalo sauce recipe could not be easier. It calls for 4 simple ingredients:
Hot Sauce - use your favorite vinegar-based hot sauce. Rumor has it that the original Buffalo Wing Sauce recipe was made with Frank's RedHot original flavor hot sauce. The good news is that Frank's RedHot has simple and clean ingredients making it a great option to use for paleo and Whole30 Homemade Buffalo Sauce.
Butter - a very necessary ingredient in Buffalo Wing Sauce recipe as it adds richness and depth to this yummy sauce
Worcestershire Sauce - this kitchen staple adds that perfect umami flavor. If you want to skip Worcestershire sauce, add a dash of smoked paprika, garlic and onion powder to give that similar taste.
Honey - not so much for adding sweetness, a tablespoon of this healthy sweetener will balance the hot sauce

Healthy Buffalo Sauce Recipe
This Homemade Buffalo Sauce is a much healthier version that what you'd find in stores. Even organic versions often have thickeners, fillers, and rancid oils that aren't welcome in a healthy diet.
If you are on a healing diet like Whole30, GAPS, or Paleo, check out these variations:
For GAPS - skip the Worcestershire sauce and use ½ teaspoon smoked paprika, ½ teaspoon garlic powder and ½ teaspoon onion powder.
For Whole30/Paleo - use ghee in place of butter and watch for that Worcestershire sauce ingredients. If you are looking for a Paleo/Whole30-compliant Worcestershire sauce, you can find that recipe here.
How to Make Homemade Buffalo Sauce
Step 1. Melt butter in a small saucepan over medium-low heat.
Step 2. Add hot sauce, Worcestershire sauce, and honey. Whisk gently over low heat for approximately 3 minutes.
Step 3. Remove from heat, season with salt and pepper to taste and enjoy!
Homemade Buffalo Sauce will keep refrigerated in a sealed container for up to 2 weeks. It may solidify because of the butter, if so, gently warm it up in a small saucepan over low heat.
Common Questions about this Homemade Buffalo Sauce Recipe
Q. Can I use hot sauce other than Frank's RedHot Sauce?
A. Yes. If you have a different hot sauce that you absolutely love - use that! My only suggestion here would be to use one that is vinegar-based and free from bad ingredients.
Q. Can I adjust the level of heat?
A. If using Frank's RedHot sauce, this Homemade Buffalo Wing Sauce will not produce necessarily a very spicy sauce. This could be a good thing, depending on the subject matter. Everyone has different tolerance for heat. If you want to add some heat, I would recommend adding a touch of cayenne pepper to your preference.
Q. Can this sauce be used in other recipes besides chicken?
A. Buffalo sauce may have started out as a chicken wing sauce but it is so much more than that. Try it to top eggs, casseroles, hash browns, sandwiches, and salads. It really is a great alternative to straight up hot sauce thanks in part to it's luscious texture and milder flavor.
Printable Recipe
Homemade Buffalo Sauce
Homemade Buffalo Sauce is a fiery, zesty, and a delicious sauce that can easily be whipped together with 4 ingredients and 5 minutes.
Instructions
Notes
Buffalo wing sauce will solidify slightly when refrigerated. To warm, transfer to a small sauce pan and reheat on low heat until melted.
Recipe makes 1 cup or 16 tablespoon servings.
Nutrition
Calories:
57
kcal
|
Carbohydrates:
1
g
|
Protein:
1
g
|
Fat:
6
g
|
Saturated Fat:
4
g
|
Polyunsaturated Fat:
1
g
|
Monounsaturated Fat:
1
g
|
Trans Fat:
1
g
|
Cholesterol:
15
mg
|
Sodium:
209
mg
|
Potassium:
22
mg
|
Fiber:
1
g
|
Sugar:
1
g
|
Vitamin A:
190
IU
|
Vitamin C:
6
mg
|
Calcium:
4
mg
|
Iron:
1
mg
Nutrition Information
The information shown is an estimate provided for your convenience by an online calculator. It should not be considered as a substitute for a professional nutritionist's advice. See our complete Nutritional Information Disclaimer.
©Prepare and Nourish • Content and photographs are copyright protected. Sharing of this recipe is encouraged and appreciated but please do NOT screenshot or copy/paste complete recipes to websites or social media.
If you liked this Homemade Buffalo Sauce, please consider rating the recipe and leaving a comment below. ⇓