Sriracha Mayo or Spicy Mayo as some may call it, is a simple 5-minute sauce made from mayonnaise and hot sauce. This creamy spicy mayo is a versatile spread, dip, sauce, and dressing. Find out how to make sriracha mayo!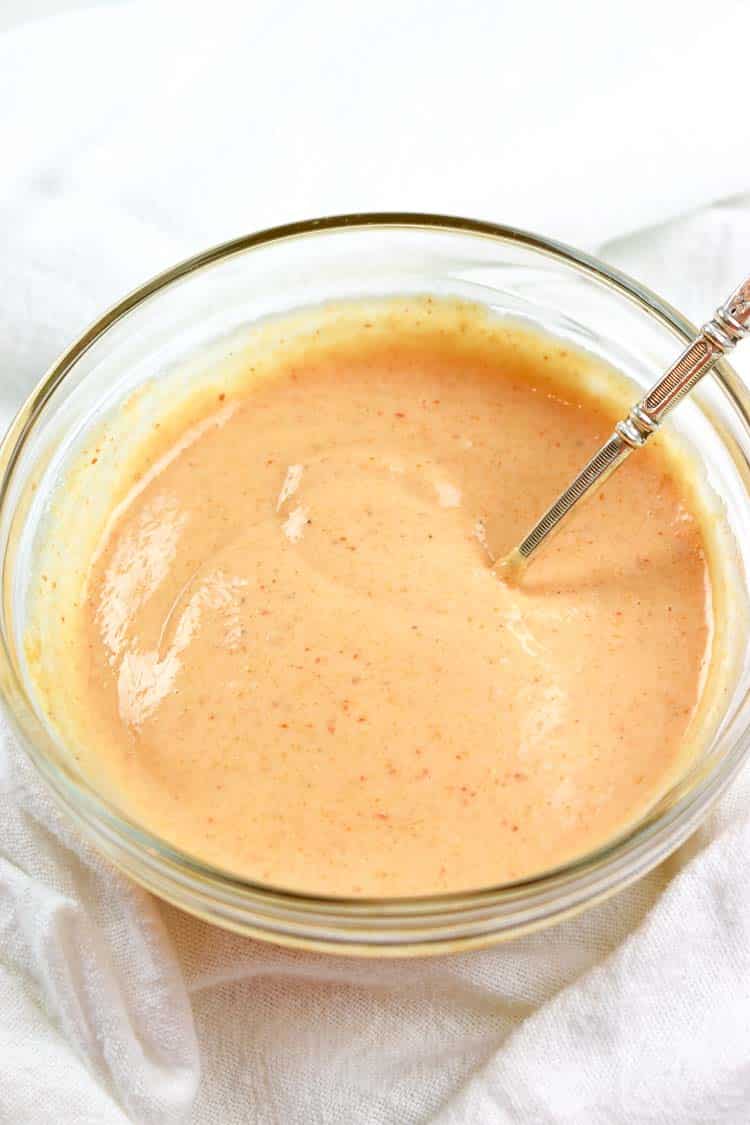 If you ever wanted to make your own Sriracha Mayo to dip your fries in - look no further. This 5-minute Spicy Mayo recipe will fill that void in your culinary life.
Next time you make homemade Cajun fries or Sheet Pan Sausage and Peppers, you should try drizzling a little of this Sriracha Mayo on top. This spicy mayo brings all your favorite dishes up a notch. And the best part is that it literally takes under 5 minutes and with only two simple ingredients.
What is Sriracha Mayonnaise?
There's probably not a person who doesn't know what mayonnaise is. Right?
It's a creamy emulsification of eggs, seasonings and good quality oil. But what is sriracha?
Sriracha sauce is believed to have been developed in Sri Racha, Thailand, hence the name Sriracha. It's a type of hot sauce made from paste of chili peppers, distilled vinegar, garlic, sugar and salt. In Thailand where it originated, it is frequently used as a dipping sauce and as a condiment for noodles and omelettes.
Sriracha made it's way to the United States in the early 1980s by a company called Huy Fong Foods. You've probably seen this sriracha sauce - it's often referred to as "rooster sauce" from the image of the rooster on the bottle.
With the rising popularity of sriracha, more companies are developing <cleaner> versions of this Asian-inspired hot sauce (more on that below).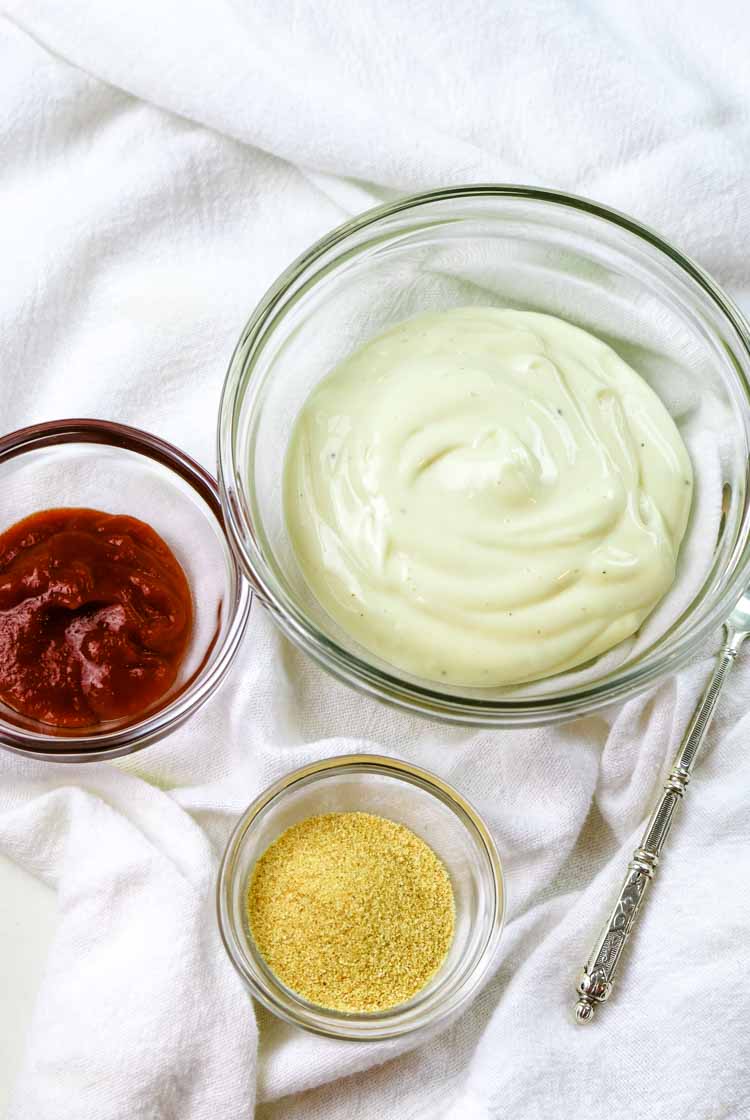 Sriracha Mayo Ingredients
This recipe calls for just 3 simple ingredients: mayonnaise, sriracha sauce, and garlic powder (optional).
• Mayonnaise
I always prefer homemade mayonnaise. The taste and texture of homemade mayonnaise doesn't compare to any out on the market. Here's a simple recipe to making mayonnaise from scratch at home.
If making your own mayo seems daunting, no problem! Thankfully, there are plenty of clean brands of mayonnaise on the market. Some of the best options are Chosen Foods mayonnaise, Primal Foods, and Sir Kensingtons.
Always be sure to check the ingredient label on the mayo and avoid unflattering ingredients such as rancid oils (canola/corn oil and any preservatives). Mayo should have real and simple ingredients like eggs, vinegar or lemon juice, mustard, lemon, salt, and oil (avocado oil is ideal).
• Sriracha Sauce
This hot sauce contains chili peppers, vinegar, and various seasonings as mentioned above. It's a popular condiment in Asian-inspired cuisines but has been making waves even with traditionally American dishes like french fries and onion rings.
If you have a favorite bottle of sriracha - use that in this recipe. But as in all things here at Prepare and Nourish, we take ingredients seriously. Grab that bottle of sriracha and check out the ingredient list. If you notice words that you can't pronounce, it's probably best that you find a bottle with cleaner ingredients.
Our favorite brand is Sky Valley by Organicville. It uses organic cane sugar to add subtle sweetness but this Yellowbird Sauce Sriracha uses agave syrup instead. Better yet, find a local source that bottles their own premium sriracha sauce and support local small businesses that way. Just make sure the ingredients are clean. A little xantham gum is okay for thickening the sauce but preservatives such as potassium sorbate and sodium bisulfite are not necessary.
• Garlic Powder
This is optional but I find it gives a great flavor and mellows out the sriracha. Dried garlic is not as pungent as fresh and adds a great balance to this spicy mayo. If you find that by adding garlic powder, your spicy mayo has become too thick, simply thin it out with a few tablespoons of water or lime juice. You may also omit the garlic powder entirely.
• Other Flavorings
This is also completely optional but a few tablespoons of lime juice, a dash of cayenne pepper, or dried parsley can all be added for extra flavor. Start low and add more to taste as necessary.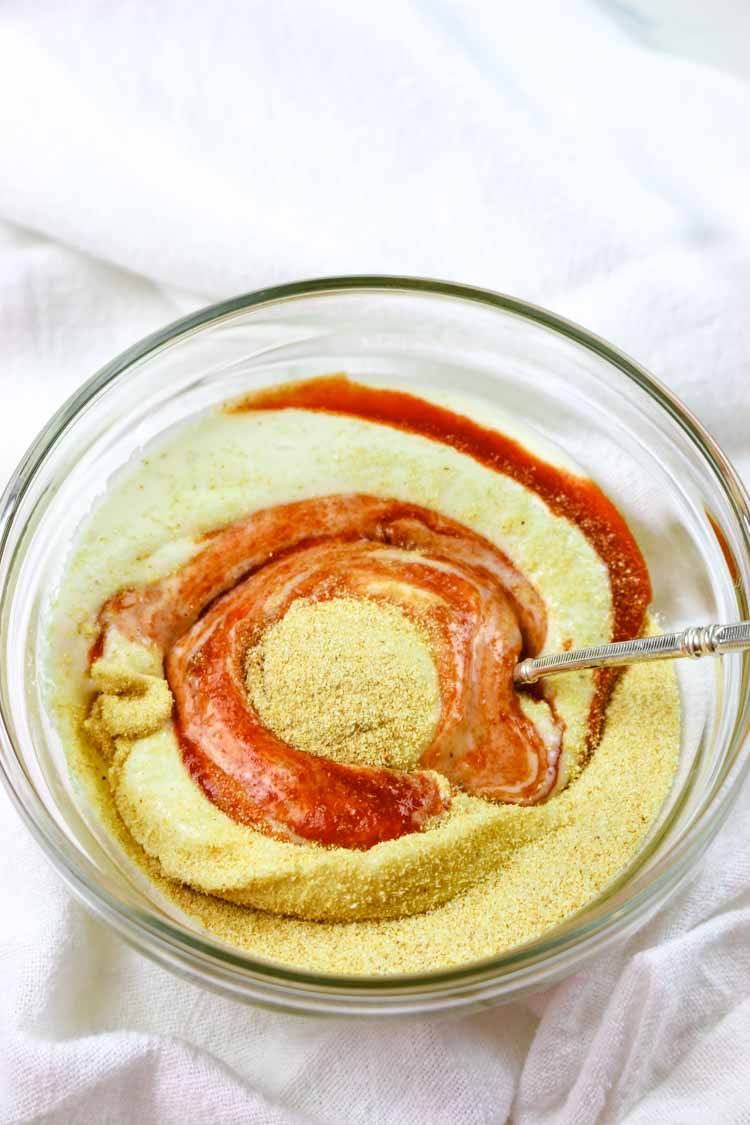 How to Make Sriracha Mayo (5-minute Spicy Mayo Recipe)
Sriracha Mayonnaise or Spicy Mayo is just that. It's a creamy blend of these two mainstay condiments. Some recipes add additional ingredients like lime juice, garlic powder, or more heat in the form of cayenne pepper but the base of Spicy mayo is mayonnaise and some hot sauce.
To make Sriracha Mayo, simply stir together mayonnaise and sriracha. Add additional flavorings if so desired and you are ready to dip those fries into this Spicy Mayo!
Spicy Mayo is Dairy-Free and Nut-Free
If you vet out the best quality mayonnaise and clean sriracha, this Spicy Mayo makes a great dairy-free sauce. This Sriracha Mayo is naturally free from dairy, nuts, and gluten, making it Whole30, Paleo, and Low Carb. Just pay attention to the ingredients on the mayonnaise and the sriracha.
What can you eat with Spicy Mayo?
A better question is what can you NOT eat with Spicy Mayo?
Of course there's the traditional dishes where Sriracha Mayo would be necessary such as this Salmon Poke Bowl, Paleo Vietnamese Shaking Bowl, Cajun Sweet Potato Fries.
But this creamy, tangy, slightly spicy sauce can also be great to drizzle this Sheet Pan Sausage and Peppers, or dunk these Instant Pot Ribs. We enjoy this Spicy Mayo with breakfast hash and eggs as well as a snack to dip onion rings with. It's a good thing it literally takes a few minutes to whip up this sauce. The options are endless!
Printable Recipe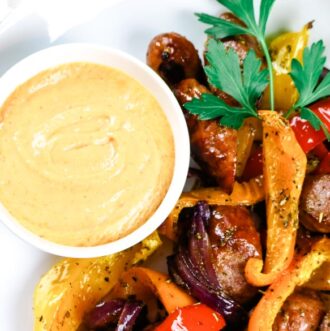 Sriracha Mayonnaise Recipe (5-minute Spicy Mayo)
This quick, easy, and flavorful spicy mayo recipe is perfect as a dip, sauce, or dressing in coleslaws and salads.
Instructions
Notes
To thin this spicy mayo to make it more drizzle-like sauce, just add 1-2 tablespoons of water and stir well to combine.
Nutrition
Calories:
155
kcal
|
Carbohydrates:
1
g
|
Protein:
1
g
|
Fat:
17
g
|
Saturated Fat:
3
g
|
Trans Fat:
1
g
|
Cholesterol:
9
mg
|
Sodium:
194
mg
|
Potassium:
14
mg
|
Fiber:
1
g
|
Sugar:
1
g
|
Vitamin A:
18
IU
|
Vitamin C:
1
mg
|
Calcium:
2
mg
|
Iron:
1
mg
Nutrition Information
The information shown is an estimate provided for your convenience by an online calculator. It should not be considered as a substitute for a professional nutritionist's advice. See our complete Nutritional Information Disclaimer.
©Prepare and Nourish • Content and photographs are copyright protected. Sharing of this recipe is encouraged and appreciated but please do NOT screenshot or copy/paste complete recipes to websites or social media.
If you liked this easy Spicy Mayo recipe, please consider rating and leaving a comment below. ⇓
>>> Pin This <<<