This Salmon Poke Bowl is rich in diced salmon in creamy sriracha mayo on top of a bed of rice (or cauli-rice) and topped with avocado, jalapeno and green onions.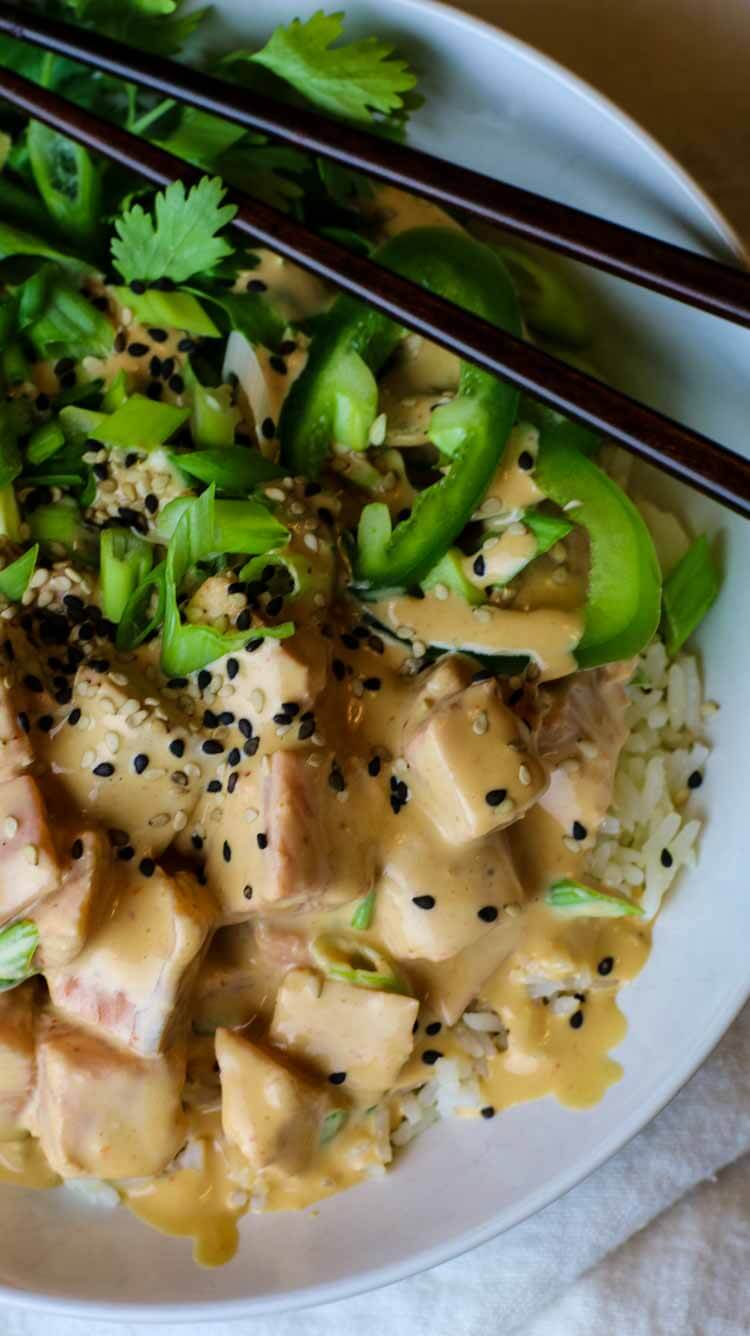 I recently polled my Instagram followers if they would love a Poke recipe and not surprisingly the reply was an overwhelming YES!
Turns out you all love poke as much as we do!
What does Poke taste like?
I always like to say that Poke is the equivalent of lazy sushi.
I once spent an obscene amount of money and a whole day's worth making a myriad of sushi rolls for my family. Biggest mistake in my cooking life! I'd rather go out (with a bottle of my own Coconut Aminos) and splurge on some chef made sushi than spend an entire day preparing all the ingredients, cooking, and rolling those sushi rolls.
That's where Poke bowls come in.
Poke is the ultimate solution to your sushi craving.
It has all the umami flavors of sushi but without the hassle and exorbitant cost of this Japanese dish.
Poke is Cheap Sushi
In short, poke is much more cost-efficient than making your own sushi rolls. That's because you're using very limited variety of fish and toppings.
I prefer to keep Poke simple and enjoy it over a bed of rice with a few simple toppings such as sliced avocado, scallions, and fresh jalapenos. Top with sesame seeds and dig in!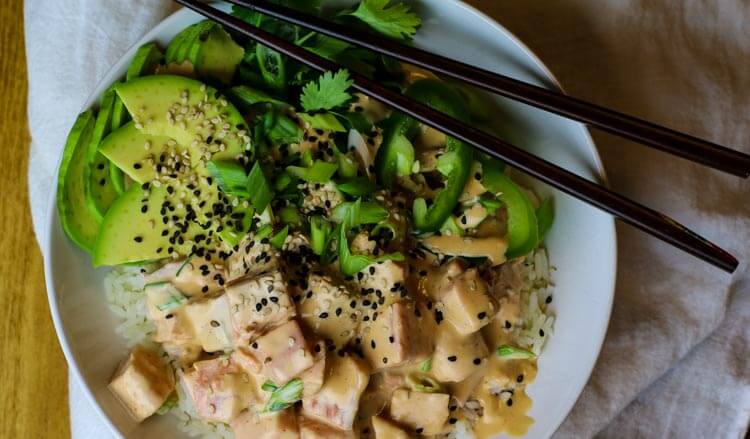 Consuming Raw Fish Safely
Because Poke is very similar to sushi, it, therefore, calls for raw fish. But there are some things you need to keep in mind when consuming raw fish.
How do you consume raw fish safely?
When buying raw fish for sushi or to consume raw, look for sushi-grade fish that has been flash-frozen, thereby reducing the ice crystals typically formed in regularly frozen fish.
The problem with the term "sushi-grade" is that it doesn't really have a standard and the biggest potential hazard with consuming raw fish is the risk of parasites. Farmed salmon, supposedly is not likely to have this issue but there are other problems with farmed salmon that is beyond the scope of this post.
Your best option is to find a fish-monger that specializes in flash-freezing fish for sashimi or sushi specifically.
Commercially frozen fish is frozen quickly at -4 degrees Celsius, much lower than typical home freezers. That means you're better off purchasing fish that has been commercially frozen rather than freezing fresh fish yourself.
Home freezer is not cold enough for "sushi-grade" fish
The reality is a standard home freezer is not cold enough nor quick enough to flash freeze fish to make it suitable for raw consumption.
Having said all that, I usually purchase frozen Kirkland Wild Salmon from Costco that are individually wrapped and be sure to keep it in my deep freezer that is set to 0 degrees for 10 days before thawing it for consumption (raw or cooked!)
Perhaps, I'm not following my own advice to go out of your way to source "sushi-grade" fish but this has worked for us for years without any ill effects so I trust this method.
Please do what you feel is safe for your family and what you are most comfortable with. Our kids don't usually eat sashimi or poke so it's mostly my husband and myself. I would most certainly take extra precaution if the kids partake in raw fish though.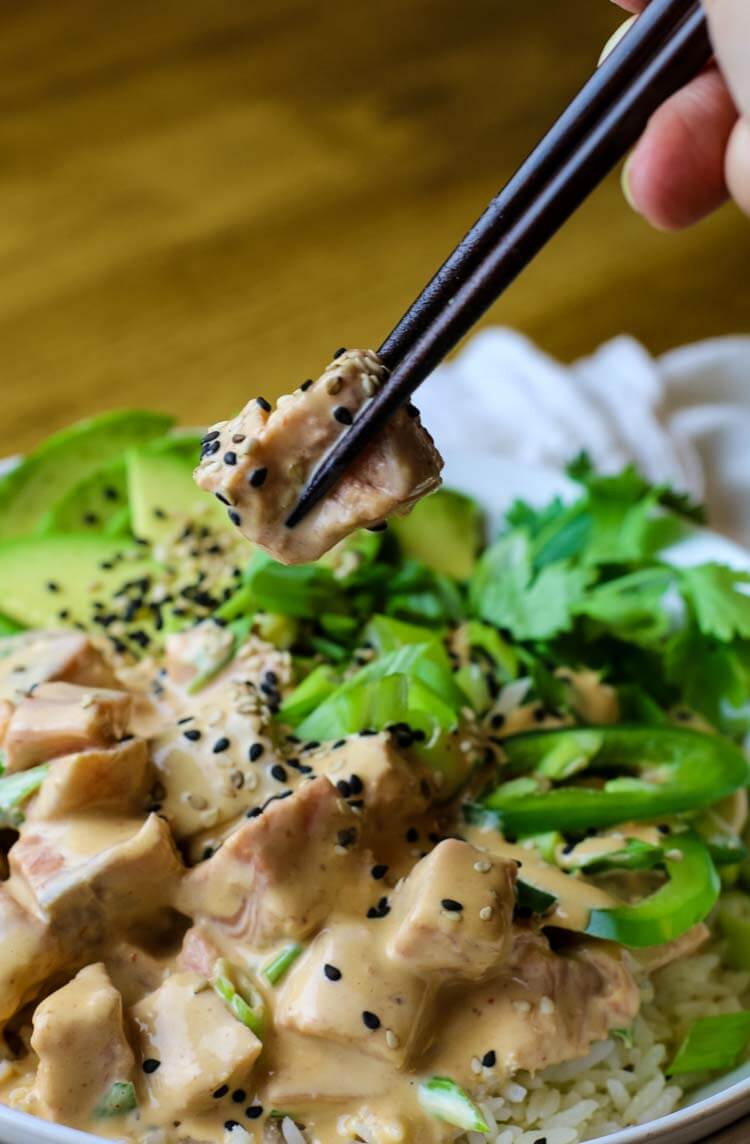 Creamy Poke Sauce Recipe
Now that we have the fish covered, let's move on to the sriracha mayo that makes up this Creamy Poke Sauce.
This Salmon Poke is drenched in gloriously delicious sriracha mayonnaise sauce that is out of this world.
I recognize that many poke bowls are very minimalistic in their sauces. Soy sauce, lemon juice, done and done. But you know that drizzle that tops beautiful sushi rolls. Yep - it's the sriracha mayo (among other flavors).
This creamy poke sauce recipe has only 5 simple ingredients with bold flavors but not too overpowering.
This amount of ingredients for the sauce makes a generous amount for the fish and also the drizzle over the entire bowl. The flavor is absolutely amazing for this Salmon Poke Bowl. It has the perfect amount of kick, umami, and tartness from the vinegar.
Masago in Poke Bowls
If you are thinking masago is missing from this list - you are correct!
Masago, is in short, fish eggs, also known as roe, that come from small fish called capelin. The capelin fish exist in the Atlantic and Pacific oceans.
Masago is bright orange in color and is often used to coat the outside of the sushi rolls. It adds wonderful taste and texture to poke bowls and I so wish I'd have that in the ingredient list.
The problem was when it came time to purchase masago, I had an unusually difficult time to find some. I was finally successful in finding it - at a whopping $24 per pound for 2 pounds. The reality is no one really has the need for 2 pounds of masago in their freezer. So I skipped it entirely. And honestly, I can't really say I miss it.
But if you can source a small amount (2 ounces vs 2 lbs?!) of masago, by all means, go ahead and purchase some. I would add about two teaspoons of masago to the creamy poke sauce and top the entire bowl with some additional roe for good measure.
Great Standby Poke Meal
The benefit of this super easy sushi imposter is that the entire dish can come together in 20 minutes. Starting with frozen fish and uncooked rice!
If you forgot to defrost the fish, simply place the fillets (provided they are individually vacuum-sealed) in a bowl and cover with water. The fillets defrost amazingly well in under 10 minutes. Note: do not use this defrosting method for unsealed fillets.
You can make this Poke Bowl as satiating as you'd like. My husband enjoys this Poke over some sushi and topped with avocado slices, and other greens.
Some additional toppings for Poke Bowl:
Thinly sliced kale
Cucumbers
Sweet onion
Radishes
Green onions
Pineapple
Edamame (organic in small amounts is fine!)
Corn (organic is fine)
Jalapeno
Cilantro
Basil
Mung Beans
Sprouts
Sesame Seeds
Shrimp
Note: I don't bother with sushi rice and always have Lundberg Long Grain White Rice on hand. I use this pressure cooker recipe to have amazing rice cooked in no time in the Instant Pot.
Related: How to Cook Perfect Rice in Instant Pot (Instructions for Soaked and Regular Rice)

Poke Meal that is Paleo, Whole 30 and Low Carb
The best thing is that the Poke itself is naturally Paleo, Whole 30, and Low Carb provided that you use compliant mayonnaise. Simply use riced cauliflower instead of white rice and you're covered!
How to Make Poke Bowl
Cook rice.
Combine cubed salmon and creamy poke sauce together.
Assemble - spoon creamy poke salmon over a bed of rice. Top with avocado slices, green scallions, fresh jalapenos and generously sprinkle sesame seeds.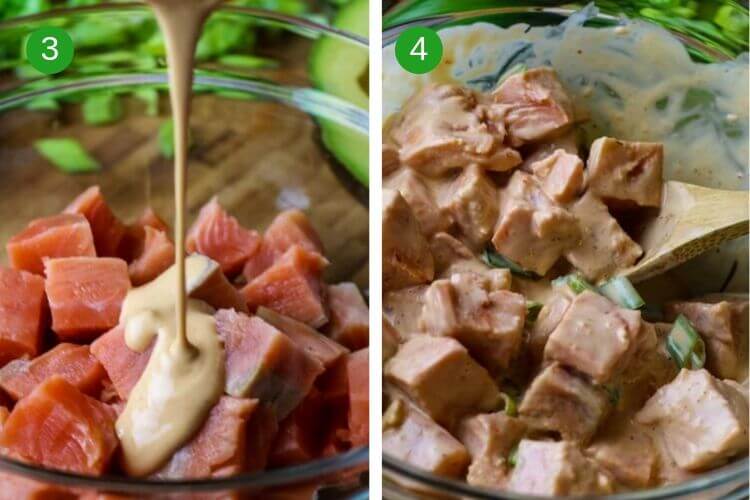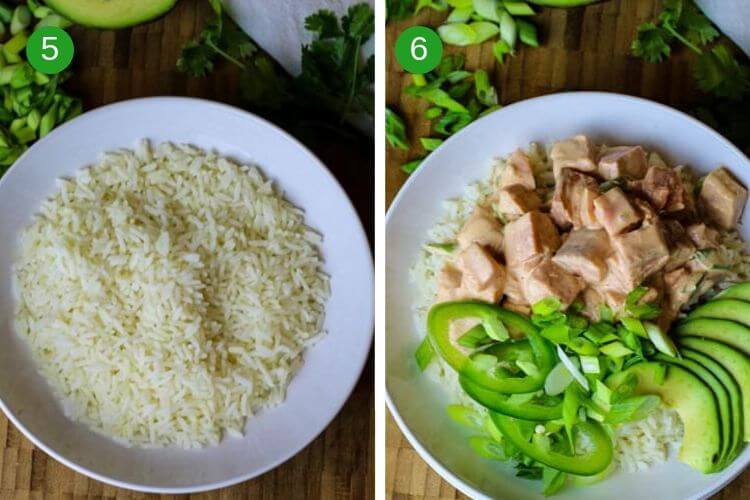 Simple yet incredibly delicious!
Printable Recipe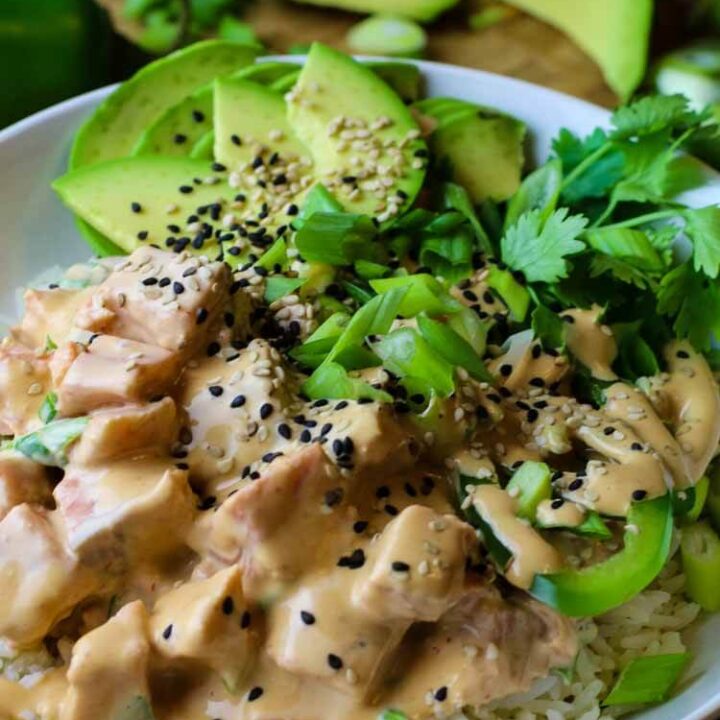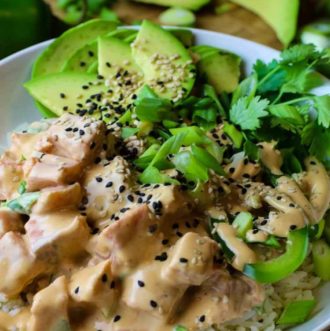 Salmon Poke Bowl (Paleo, Whole 30, Low Carb)
This Salmon Poke Bowl is rich in wild salmon in creamy sriracha mayo on top of a bed of rice (or cauli-rice) and topped with avocado and greens.
Ingredients
⅓

cup

mayonnaise

1-½

tablespoons

sriracha

1

tablespoon

sesame oil

2

teaspoons

fish sauce

or anchovy paste

2

teaspoons

rice vinegar

1

pound

wild salmon

3

cups

cooked white rice

or 3 cups of riced cauliflower

toppings: avocado, jalapeno, green onions, sesame seeds
Instructions
Cook white rice per instructions and set aside to cool. Alternatively, you may use riced cauliflower to keep this Paleo, Whole30 and Low Carb compliant.

In a small bowl, combine all ingredients for creamy poke sauce: mayonnaise, sriracha, fish sauce, sesame oil, and rice vinegar.

Dice salmon fillet into ¼ - ½" cubes. Toss salmon cubes with creamy poke sauce and combine well.

Spoon creamy poke over bowled rice.

Top with avocado, jalapeno, green onions, and sprinkle with sesame seeds.
Nutrition
Calories:
949
kcal
|
Carbohydrates:
67
g
|
Protein:
52
g
|
Fat:
50
g
|
Saturated Fat:
8
g
|
Cholesterol:
140
mg
|
Sodium:
896
mg
|
Potassium:
1194
mg
|
Fiber:
1
g
|
Sugar:
1
g
|
Vitamin A:
91
IU
|
Vitamin C:
2
mg
|
Calcium:
51
mg
|
Iron:
2
mg
Nutrition Information
The information shown is an estimate provided for your convenience by an online calculator. It should not be considered as a substitute for a professional nutritionist's advice. See our complete Nutritional Information Disclaimer.
©Prepare and Nourish • Content and photographs are copyright protected. Sharing of this recipe is encouraged and appreciated but please do NOT screenshot or copy/paste complete recipes to websites or social media.
If you liked the recipe above, please consider rating the recipe and leaving a comment below. Also, be sure to follow me on Facebook, Instagram, and Pinterest.
Other Bowl Recipes You Might Like:
Oven-Baked Mahi Mahi Sprouted Grains Bowl
Paleo Vietnamese Shaking Beef Bowl (Paleo, Whole30)
>>>Pin This<<<