Oven-baked and paprika-seasoned Mahi Mahi fillets on a bed of sprouted grains, roasted bell peppers and drizzled with Lime-Yogurt Dressing makes for an easy weeknight meal or special dinner.
I love simple dinners. Especially when you can throw half of the ingredients on a sheet pan and call it good. This super simple yet scrumptious dinner idea came to be on a very busy weeknight.
The beauty of having frozen fish in your freezer is that it can thaw in under 30 minutes. And fish naturally cooks quickly. It's no coincidence that our seafood days happen to land on the same days I don't menu plan. Hmmm.. Perhaps a quick prep and cook time has something to do with that?
Mahi Mahi
I get my Mahi from Costco in the frozen section. Sidenote: did you know all fish needs to be frozen for up 7 days before eating? That's enough time to kill any parasites and yes, fish often have parasites. But by having the fish frozen for at least a week, those parasites don't stand a chance. There's no such thing as "fresh" fish - in fact, chances are the "fresh" fish at the market has probably been on ice since the fish hook was removed. So freeze the fish!
The Mahi Mahi used in this recipe is humbly seasoned with paprika and salt. I love using paprika on fish. It adds a robust flavor without killing the tenderness of the fish. Mahi Mahi is a thicker, more hardier fish making paprika a great choice of seasoning.
Bell Peppers
To add more veggies to this meal, just toss a few bell pepper slices directly on the pan along with the fish. If you like them well cooked, place them in the oven 10 minutes before adding Mahi to the pan. We don't like them too soft and overcooked and find that 20 minutes is plenty time for them to get cooked to perfection.
Sprouted Grains
To make this dish even more simpler, I used store-bought sprouted grains. truRoots is a wonderful brand and I'm always happy to see a large bag of this Sprouted Rice and Quinoa blend at Costco. I try to do my best to soak grains for maximum nutrition but I always appreciate falling back on these conveniences when they are available to me.
Related: DIY Soaking and Sprouting Lids for Mason Jars
No sprouted grains? No problem. Just use your favorite gluten free grains like white rice, buckwheat or quinoa.
Lime Yogurt Dressing
A simple dish has to have a simple dressing to top all this simpleness, right? The dressing comes together so effortlessly. As for all my dressings, I use a wide-mouth quart mason jar and an immersion blender to bring all the ingredients together. Toss full fat yogurt, garlic cloves, lime juice, salt and fresh parsley and give it a whirl. Drizzle on your bowl generously.
Alternatively, you can also throw all those ingredients in a regular blender (no mincing garlic necessary) and it gets the job done.
Related: How to Make Yogurt
Mahi Mahi Sprouted Grains Bowl
To bring all the flavors together, scoop a cup or two of the cooked grains onto a bowl, add bell peppers, baked mahi and top with fresh grape tomatoes. Drizzle the dressing and dig in! Easy weeknight meal.
Mahi Mahi on Sprouted Grains Bowl
Mahi Mahi on Sprouted Grains Bowl - Oven-baked and paprika-seasoned Mahi Mahi fillets on a bed of sprouted grains, roasted bell peppers and drizzled with Lime-Yogurt Dressing makes for an easy weeknight meal or special dinner.
Ingredients
1 ½

lbs

wild Mahi Mahi (4 fillets)

2

teaspoon

paprika

1

tablespoon

avocado oil

3

bell peppers

2

cups

sprouted grains

1

cup

grape tomatoes

fresh herbs like parsley for garnish
Lime Yogurt Dressing
1

cup

yogurt

3

garlic cloves, minced

3

tablespoons

lime juice

2

teaspoons

sea salt

¼

cup

fresh flat leaf parsley
Instructions
Preheat oven to 400F degrees.

Prepare and cook sprouted grains according to package instructions.

Pat dry mahi fillets and coat with oil. Generously rub paprika and salt and spread evenly covering all sides. Spread the fish on one side of the sheet pan.

Cut bell peppers in thick wedges and spread them on the opposite side of the fish. Coat with oil and season with salt and pepper.*

Place peppers and fish in the oven to bake for 18 minutes or until fish is cooked and flaky.
Lime Yogurt Dressing
Combine yogurt, minced garlic, lime juice, salt and fresh parsley in a mason jar and blend well with immersion blender. Alternatively, you may also use a typical blender to bring your dressing together.
To Assemble Bowls
Place a scoop of grains on one side of the bowl, followed by bell peppers on the other, and a mahi fillet. Add fresh grape tomatoes and drizzle with yogurt dressing.
Notes
*The cooking time for bell peppers and fish is the same, however, should you prefer to have your peppers more soft, place them in the oven for about 5-10 minutes to get a head start before adding fish to the pan. 
Nutrition Information
The information shown is an estimate provided for your convenience by an online calculator. It should not be considered as a substitute for a professional nutritionist's advice. See our complete Nutritional Information Disclaimer.
©Prepare and Nourish • Content and photographs are copyright protected. Sharing of this recipe is encouraged and appreciated but please do NOT screenshot or copy/paste complete recipes to websites or social media.
Pin this!
You May Also Like

Seared Salmon Tacos with Asparagus and Scallion Salsa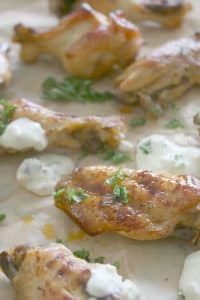 Instant Pot Buffalo Chicken Wings with Blue Cheese Dip