Made with real food ingredients and honey as the sweetener in the sauce, these Buffalo Chicken Wings are as healthy as they are delicious.  Dunk them in the Blue Cheese Dip for extra flavor factor.
This post may contain affiliate links for your convenience.  Thank you for supporting this site with purchases made through these links.  See full DISCLOSURE for details.
I have to admit, when I first heard about the Instant Pot, I was skeptical.  I just chalked up all the hype to a sly marketing trick because after all, pressure cookers have been around for a very long time.  Nothing new there.  Oh and also?  They're used as explosive devices.  So there's that.
But then as I dug a little deeper, I realized this shiny gadget wasn't just a pressure cooker.  It also served as a slow cooker, a rice cooker and a cheesecake maker.  Coincidently, this was around the time my slow cooker of 14 years had given up on me and I was in the market for a new one.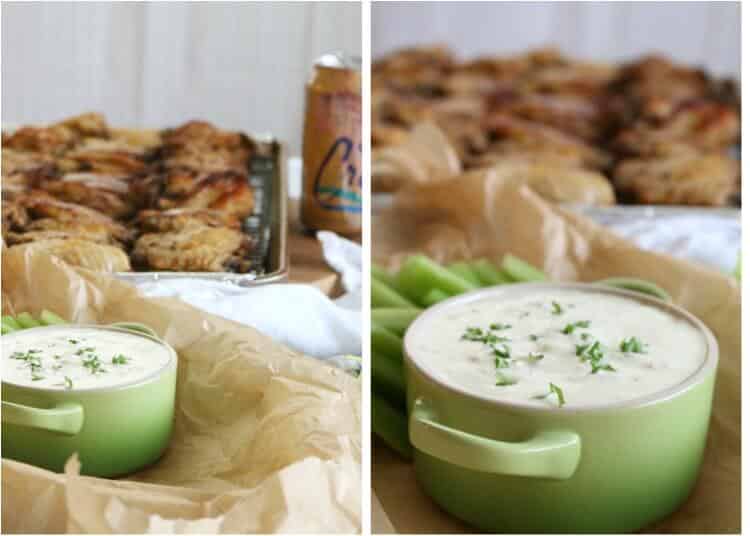 Of course it made total sense to buy another small appliance when my kitchen was already overflowing with all the fun toys a girl can have.  Since then, I actually acquired a second instant pot and an extra inner pot and sealing ring, for you know, just in case.
Yes, the Instant Pot has redeemed my home cook status on more than one occasion.  It can cook frozen meats in under an hour, chili in 18 minutes, and the best hard-boiled eggs for the impatient egg peeler.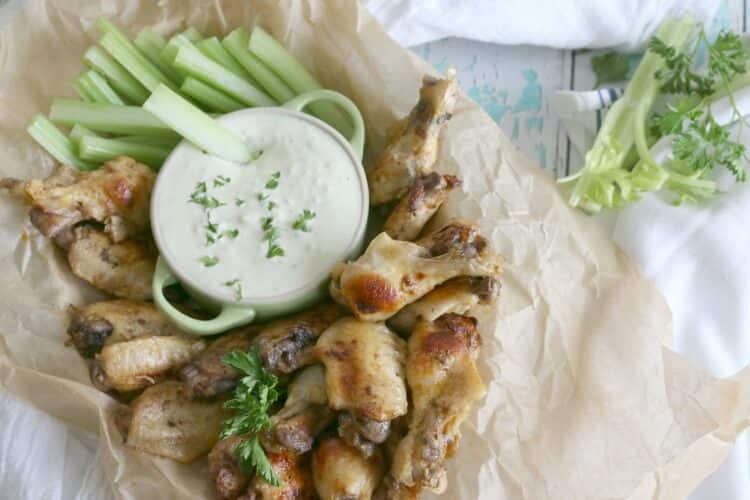 I've yet to find something that the Instant Pot cannot make.  Okay, steak.  That's meant to be slapped on a grill.  But Instant Pot is so fabulously versatile.  It makes breakfasts. Soups. Salads.
In fact, during our total kitchen remodel last fall, I cooked 80% of our meals in the Instant Pot.  The rest 20% was Chipotle, in case you're wondering.  I became so comfortable with it that I seriously reconsidered the purpose of a stove or the double oven that I thought I needed.
But even though I now have a fully functioning kitchen, I still resort to my Instant Pot daily.  Like for these Buffalo Chicken Wings.
I cooked these wings in the pressure cooker and then drenched them in the hot buffalo sauce, which is by the way, sugar-free!  Finally, I broiled the wings for a few minutes -just enough to give it crispy skin.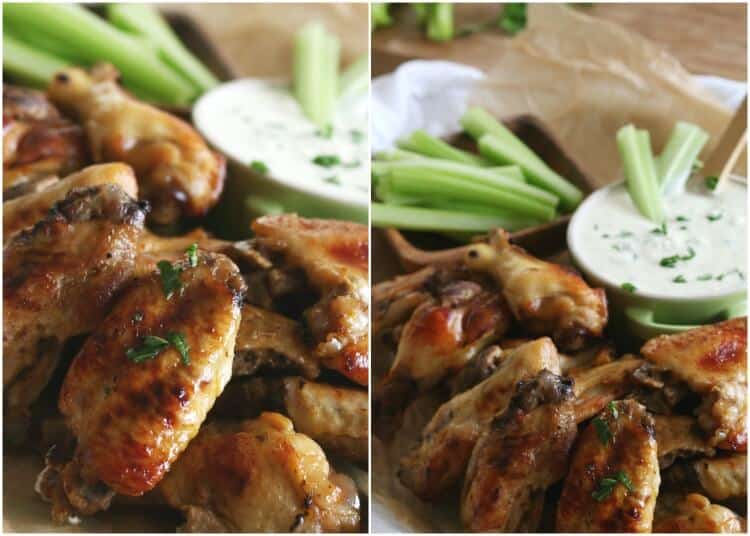 The Blue Cheese Dip is the perfect condiment for the wings.  I find it odd that hot sauce and blue cheese would pair so well together, but they do.  So many unexplainable things.  The perfect combination of blue cheese, sour cream, and mayo all blended with garlic and lemon is amazingly delicious.
Instant Pot Buffalo Chicken Wings with Blue Cheese Dip
My Picks & Suggestions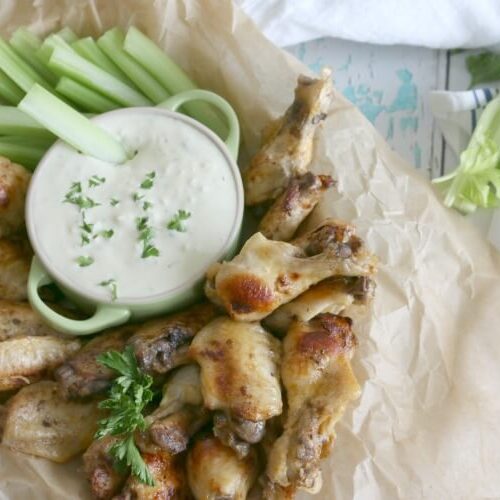 Instant Pot Buffalo Chicken Wings with Blue Cheese Dip
Print
Ingredients
For Chicken Wings:
4

pounds

chicken wings

cut at joint

1/2

cup

hot sauce

my pick

1

tablespoon

pure honey

my pick

4

tablespoons

pastured butter

my pick

1/4

teaspoon

salt

my pick
Blue Cheese Dip:
1/2

cup

sour cream

1/2

cup

crumbled Blue Cheese

1/4

cup

mayonnaise

my pick OR (make your own)

2

garlic cloves

minced

1

tablespoon

lemon juice
Instructions
Chicken Wings:
Pour 1 cup of water into the bottom of the stainless steel inner pot.

Set the steamer basket or trivet in the pot and place chicken wings in single layer, as much as possible (some pieces will overlap, that's okay, but try to space them out evenly).

Close the lid on the pressure cooker and turn the valve to Sealing position.

Press Manual and set time to 10 minutes on high pressure.

When the 10 minutes is up, press Cancel and let the pot naturally release pressure (this should take approximately 10-15 minutes).

Meanwhile, prepare the Buffalo Sauce by heating hot sauce, honey, butter and salt in a small saucepan over medium heat.

When Instant Pot has depressurized and the silver dial (safety pin) dropped, carefully open the lid. Remove chicken wings and pat dry with paper towels.

Directly on a baking sheet, pour buffalo sauce over the chicken wings and toss gently to combine. Spread the wings in a single layer on the sheet and place under the broiler for 5 minutes or until browned.

While chicken is broiling, combine crumbled blue cheese, yogurt, mayonnaise, garlic and lemon. Salt and pepper to taste if desired.