Looking for information on how long does tuna casserole last in the fridge? This post covers everything you need to know to keep your leftovers safe and delicious. Let's enjoy that comfort food for as long as we can.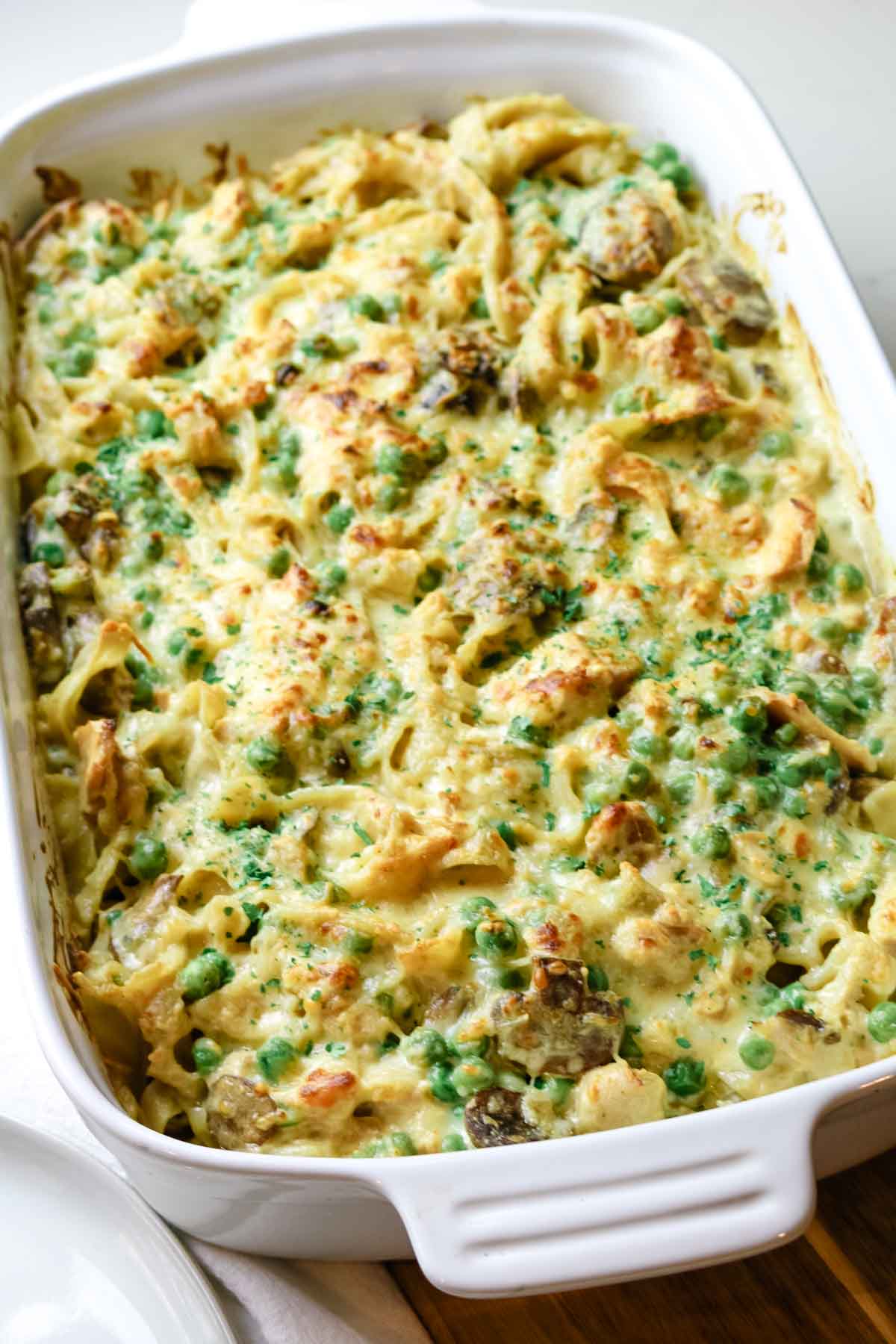 If you're looking for the best tuna casserole with only simple ingredients and no canned soups - you will love this Easy Tuna Casserole Recipe. It's a classic recipe that comes together quickly in a baking dish.
But, as with all foods, this classic dish has an expiration date. Many love this comfort food, but you may be wondering how long it will last in the fridge.
Once you make a delicious tuna noodle casserole recipe, you must learn about proper storage techniques and the recommended consumption time.
Don't let your food go to waste – keep reading for more helpful information, or jump to any of the sections below.
Jump to:
Why proper food storage is important
Food quality: Proper food storage helps to preserve the quality and freshness of food, which can affect taste, texture, and nutritional value.
Reduce food waste: When food is not stored correctly, it can spoil quickly, leading to food waste. And food waste inevitably means wasting money.
Save money: By storing food properly, you can extend its shelf life, reducing the need to buy new groceries frequently. This can lead to significant savings in the long run. And when you're using wholesome ingredients like wild tuna and gluten-free egg noodles, the price of your meals may already be higher than conventional food.
Food safety: When food is not stored properly, it can quickly become a breeding ground for viruses, pathogenic bacteria, and other microorganisms that can cause foodborne illnesses. And that's not fun for anyone.
💭Pro tip: Avoid food waste - learn proper food storage. According to USDA, it is estimated that between 30-40% of all food supply goes to food waste. (source)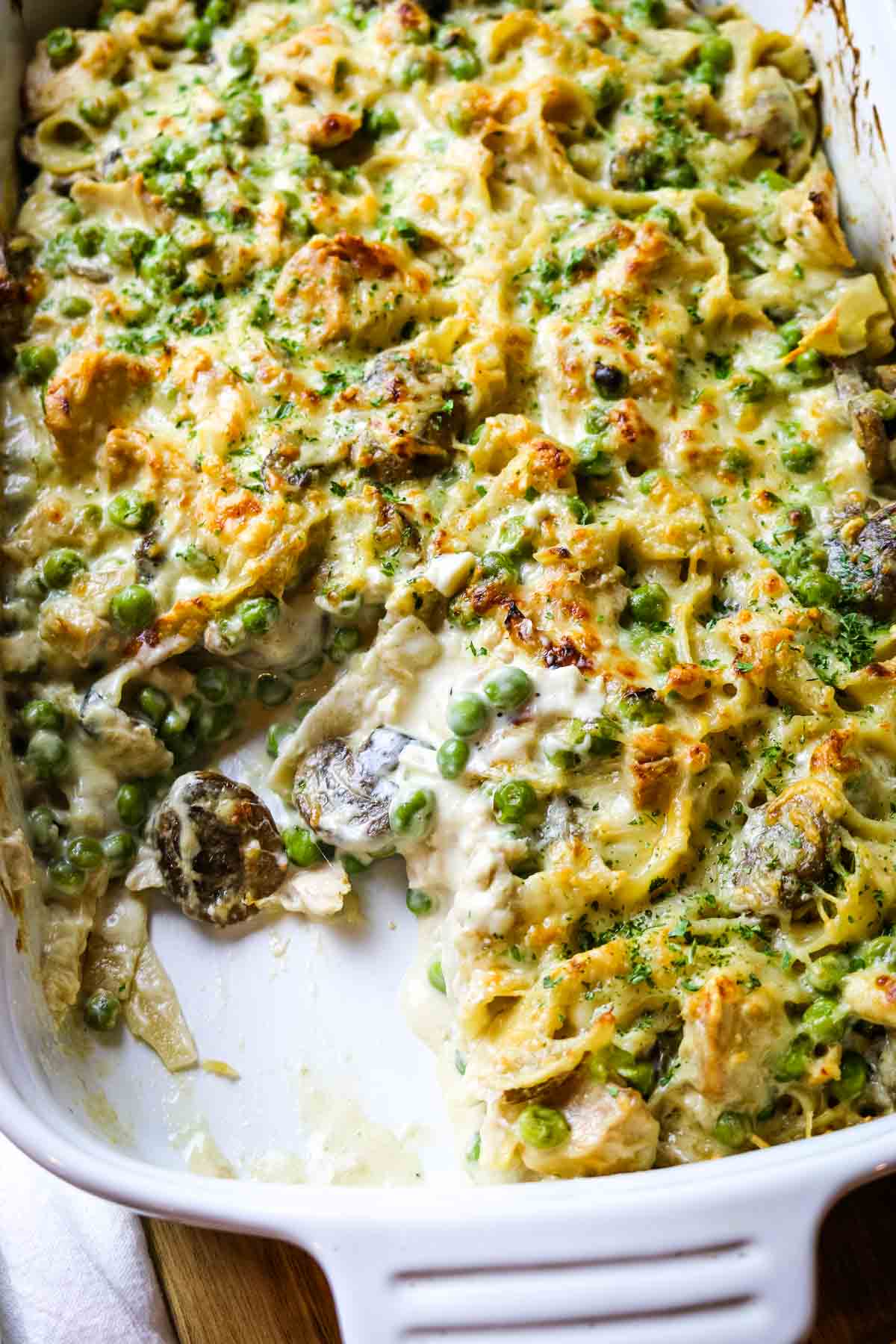 Storage Instructions
Here are some steps to properly store leftover tuna casserole:
Cool down completely: Before storing your tuna casserole, cool it to room temperature. This helps prevent bacteria growth and prevents moisture from accumulating in the container.
Use an airtight container: Transfer the tuna casserole to a glass container with a tight-fitting lid. This helps to keep out air, which can cause the food to spoil quickly.
Label and date: Labeling the container with the name and date of preparation is essential. This helps you track when the food was made and ensure that you use it before it goes bad.
Refrigerate promptly: Transfer the container of tuna casserole to the refrigerator as soon as possible. Ideally, it should be refrigerated within two hours of cooking. The recommended temperature for refrigerators is 40°F or below.
This brings us to the most essential part of this informative post:
How long does tuna casserole last in the fridge
The precise answer depends on a few factors, such as the ingredients used and how the casserole is stored. But generally, you can store homemade tuna casserole in the refrigerator for 3-4 days, provided you use the above storage instructions.
It is important to note that as time goes on, the quality and taste of the tuna casserole may begin to deteriorate, and the risk of food poisoning increases.
The exact lifespan of your tuna casserole will depend on various factors, such as the temperature of your fridge and the quality of the ingredients used.
Therefore, if you are unsure about the freshness or safety of your leftover tuna casserole, it is better to err on the side of caution and discard it.
💭Pro tip: It's important to note that the 3-4 day guideline is just an estimate and should be used as a general rule of thumb.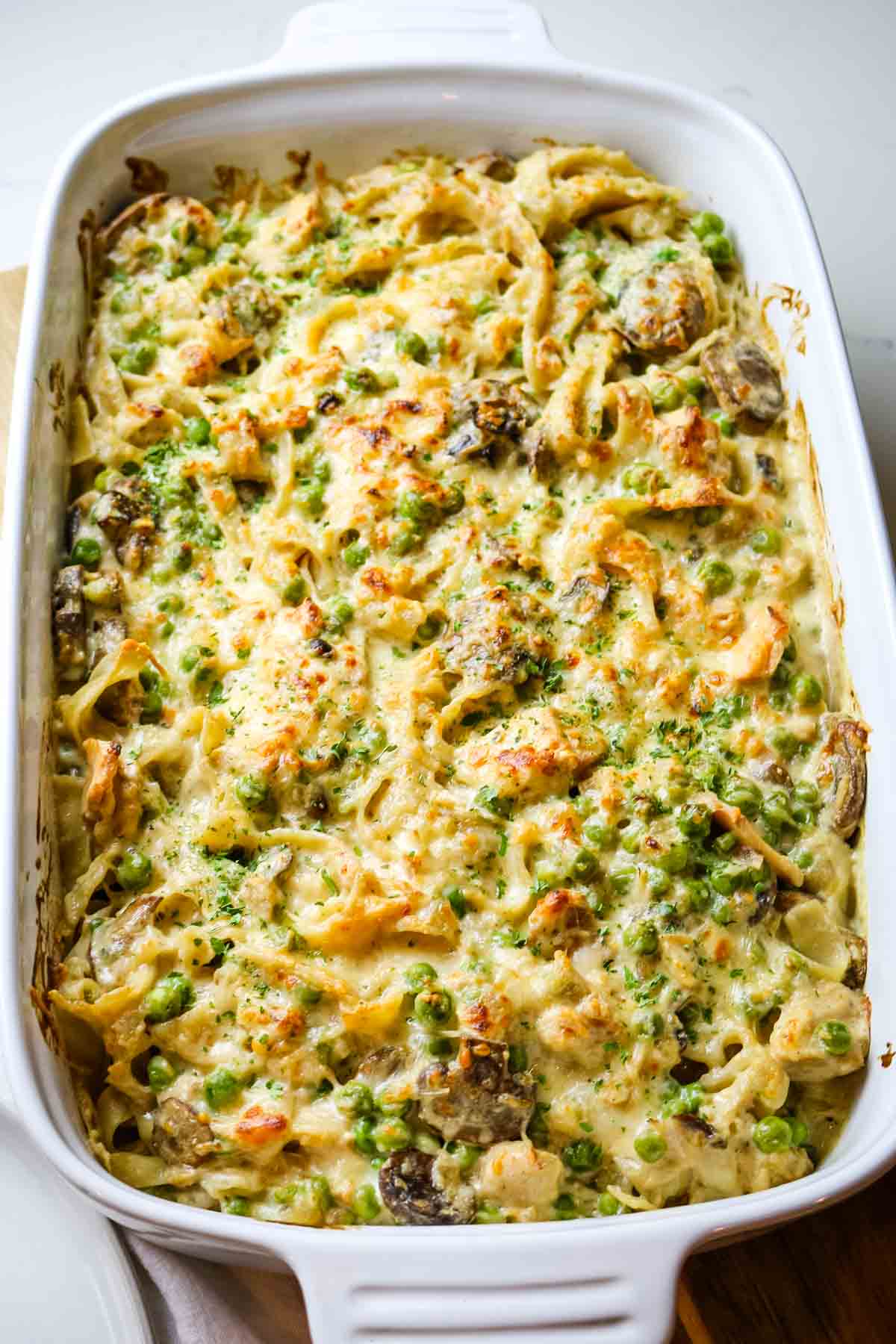 Best storage containers for leftover casserole
DO use these containers:
Glass containers with airtight lids are generally oven-safe and can go straight from fridge to oven. They also do not absorb odors and flavors from the food. I love these fantastic baking glass dishes.
Ceramic or stoneware dishes with lids are another great oven-safe option. These are excellent because they provide even heat distribution, which can help prevent hot spots and burn casseroles.
Stainless steel containers with lids are lightweight, durable, and do not break like glass or ceramic. They are dishwasher-safe and an excellent option for storing casserole dishes.
DO NOT use these containers:
I recommend against using a plastic container to store tuna casserole as it may absorb food flavors and the possibility of chemicals leaching into your food during microwave reheating. (source)
Silicone containers are an easy, lightweight option for storage, but I would avoid reheating the tuna casserole in it as we still don't know the long-term health effects of cooking in silicone.
Can you freeze tuna pasta bake?
Tuna casserole freezes wonderfully in a freezer-safe container. However, keep in mind; freezing can affect the texture and quality of the casserole.
After you follow steps 1-3 above, follow these additional tips for the best way to freeze tuna casserole:
Allow to cool
Use airtight containers
Label and date
Freeze promptly: Put the container in the freezer as soon as possible. Ideally, freeze the casserole within two hours of cooking. Use freezer-safe containers and transfer to heavy-duty freezer bags for the best quality and to avoid freezer burn.
Use within 2-3 months: You can store tuna casserole in the freezer for up to three months. After that, the quality and texture may start to deteriorate.
Thaw properly: Thaw the tuna casserole in the refrigerator overnight when ready to eat. Reheat it in the oven until it reaches an internal temperature of 165°F.
💭Pro-tip: Transfer leftover tuna casserole into a small portion for individual servings and freeze. You'll have an easy and quick lunch the next time you want to indulge in this tuna pasta bake.
Leftover Casserole Serving Suggestions
This easy tuna noodle casserole is excellent when freshly served on the same day. But with proper storage, you can still enjoy a delicious dish for easy and perfect lunch the next day or even dinner.
Pair this classic tuna casserole with these easy options like sauteed green beans or avocado cabbage slaw to elevate a balanced meal.
Leftover tuna casserole pairing suggestions
FAQs
Can I store tuna casserole in fridge without a lid?
It is not recommended to store tuna casserole in the fridge without a lid, as this can allow air and moisture to get in and affect the quality and safety of the casserole. Storing the casserole dish with a tight-fitting lid is best.
What can I use to cover tuna casserole?
If you don't have a tight-fitting lid to your storage container, you can cover the casserole with plastic wrap like saran wrap or cling wrap. Alternatively, you can use aluminum foil, pushing down tightly around the edges.
How can I tell if my tuna casserole has gone bad?
If your tuna casserole has an unpleasant odor, unusual texture, or visible bacterial growth, it may have gone bad and should be discarded. Remember always to use your best judgment when determining if perishable foods are still good to eat, and never consume food with any signs of spoilage, like strong smell or strange texture.
Looking for more related posts? Here are some ideas: