This Simple Egg Drop Soup is rich in nutrition and healthy fats. It doesn't have a thickener making this an easy paleo breakfast, lunch or dinner.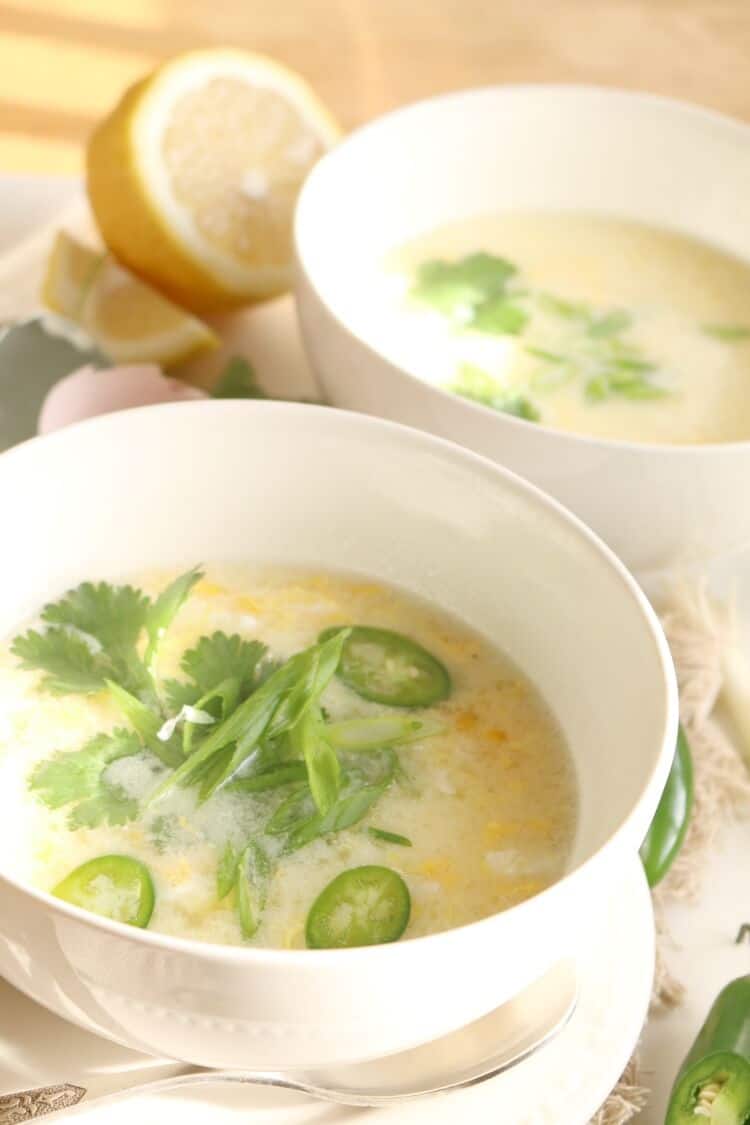 This post may contain affiliate links for your convenience.  Thank you for supporting this site with purchases made through these links.  See full DISCLOSURE for details.
Search the interwebs and one will literally get millions of hits for egg drop soup. Traditional Asian recipes call for a thickener such as corn starch. Everything from fish sauce to ginger to garlic is used to add more flavor to the soup. Some recipes use whole eggs while others only whites. I suppose a lot of these variants depend on your own personal preferences and in my current busy season, my preference is simple, easy and flavorful.
Is there a wrong way to eat Egg Drop Soup?
I can't exactly call this recipe mine. But it's my version of the Egg Drop Soup. One that has no thickener, only nutritious bone broth, pastured eggs and a handful of green add-ins. Oh, and coconut milk. I add about a cup of coconut milk to my egg drop soup for those healthy fats.  Don't worry,  the coconut flavor is very subtle but adds creaminess and richness to the soup.
Sometimes I'll add butter instead (in addition?) to the coconut milk. There's really no wrong way to eat egg drop soup. You can also add leftover roast chicken or your favorite veggies for additional sustenance.
Related: The Makings of Bone Broth – 3 Methods
The simpler the better
Now let's talk about the eggs. Traditional Egg Drop Soup in most Asian places have very thin and wispy egg ribbons (is that even a thing?). There's a fool proof technique to achieve that. However, I personally don't mind the chunky eggs in my egg drop soup. Especially if it saves me time and dishes! I crack the eggs directly into the stockpot and quickly whisk, one egg at a time. Saves time, and an extra cup to wash because…. simple.
Sidenote: I use the same method to add eggs to this Potato & Sorrel Soup.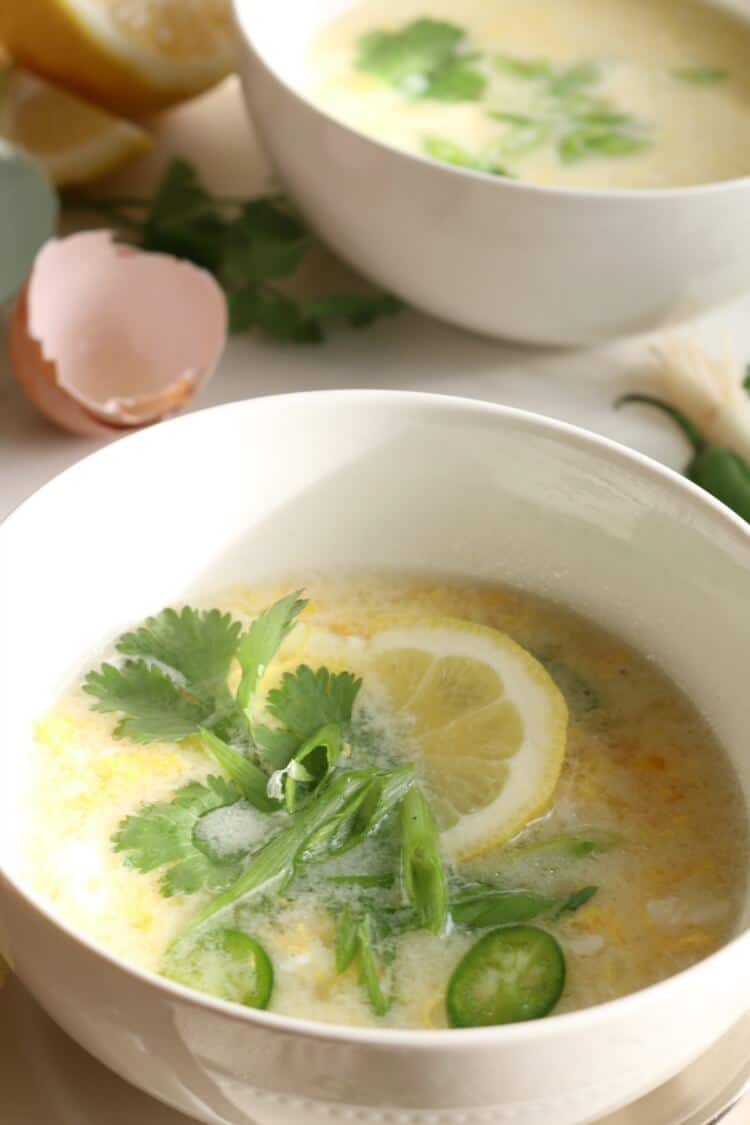 How to Achieve Wispy Eggs
However, should you prefer the ribbon like eggs the key is to whisk it separately in a small bowl with a fork and slowly, in a steady stream pour it into the boiling broth as you stir the soup. The eggs will cook on contact with the hot broth even off heat.
Simple Egg Drop Soup
Simple Egg Drop Soup
Simple yet full of nutrition with bone broth and healthy fats.
Print
Ingredients
4

cups

of bone broth

(buy here or make your own)

3

eggs

salt & pepper to taste

1

cup

coconut milk

, optional (buy here)*

Add ins such as fresh cilantro

, green onions, jalapenos and a slice of lemon
Instructions
In a small saucepan, bring bone broth to a boil.

Take off heat and add eggs one at a time, whisking vigorously after each egg. For wispy eggs: whisk eggs separately in a small bowl and gently pour into the pot, stirring constantly. The eggs will cook on contact with the hot broth even off heat.

Season with salt and pepper. Add coconut milk is using.

Season with cilantro, green onions and jalapenos.
Recipe Notes