Learn how to store fresh dill to extend the shelf life of this delicate herb and enjoy its flavor longer. Check out these 3 easy ways to preserve herbs without additional ingredients or equipment.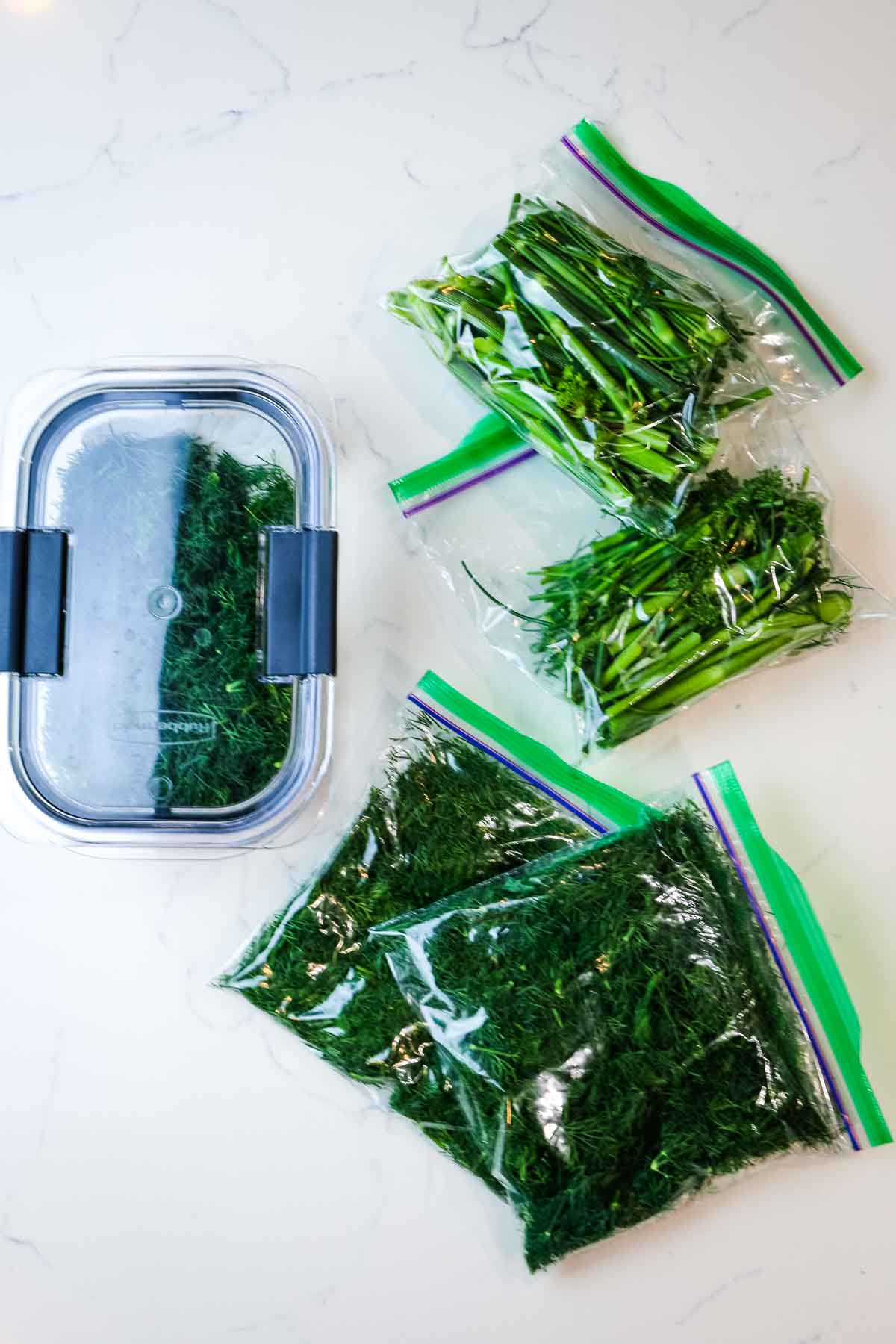 Have a bumper crop of dill right now? Don't let it go to waste!
Discover three easy methods to extend the shelf life of your dill so you can have a ready supply of flavorful dill to enhance your dishes in various ways.
It's particularly great with seafood recipes and as garnish in soups.
Fresh dill has been a personal favorite herb of mine for years and for a good reason. It has a unique and distinct flavor profile and is known for its fresh and herbaceous taste with a hint of sweetness.
Say goodbye to sad and dying herbs in the back of your fridge, and hello to long-lasting, delicious dill!
Jump to:
Why you'll love this post
Easy methods with no other ingredients - These three methods are incredibly easy and require no added oil or fancy equipment like ice cube trays. It's all about simple techniques to preserve fresh dill and keep it tasting fresh and flavorful.
Extend the shelf life of fresh dill - No more wasting those precious herbs! Fresh dill can be pricey, so capture that vibrant flavor for longer. Whether you source this popular herb from the grocery store or your herb garden - this is a great way to enjoy it even during off-season.
Have dill ready for various usage - Need some creamy dip? Check. Want to add a burst of freshness to your grilled salmon? You got it. With preserved dill on hand, you'll have the perfect herb at your fingertips to take your dishes to the next level.
💭Make it Nutrient-Dense: Use the freezing method to capture the nutrition and flavor of the dill when the dill is at its peak freshness.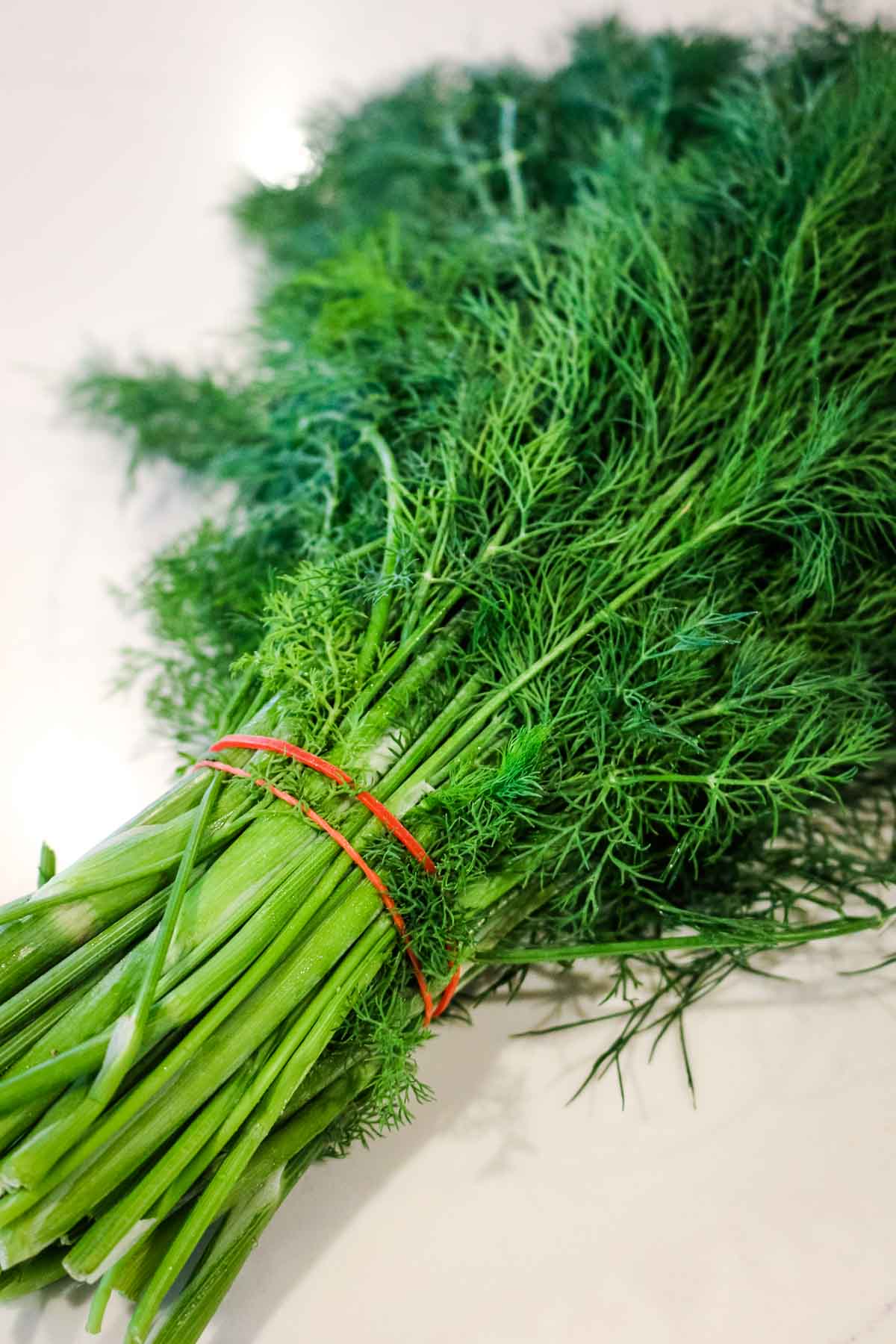 Wash and dry fresh dill
First things first. No matter how you store dill, you must start with clean and fully dry herb.
Starting with washed and dried dill sets the foundation for optimal flavor, texture, and food safety in the coming weeks (and months if freezing)!
If you store dill for longer use, you have to ensure it's free from dirt and potential contaminants.
Plus, washing the dill also helps to revive its appearance. You'll notice that the dill looks more vibrant and appealing after a good wash in cold water. And the drying process helps preserve the flavor and improve texture, making the dill crisper and more enjoyable.
When dill is fully clean and dry, it's an ideal garnish or pop of color and taste to any dish!
Before you learn how to store fresh dill, follow these simple steps to ensure your aromatic herb is clean and dry:
Wash the dill bunch under cool running water.
Shake off excess water, being careful not to handle the dill too roughly to prevent damaging the delicate leaves.
Pat dry with paper towels, absorbing as much excess moisture as possible. You can also roll the towel around the dill and squeeze it lightly.
The best method to remove excess liquid is to run the dill in a salad spinner.
Air dry the dill on a clean towel, paper towel, or cooling rack to allow good air circulation.
💭Pro tip: Don't skip the drying! Fully dried dill captures the flavor, improves texture, extends shelf life and ensures optimal taste in recipes. 
Option 1: Store in glass jar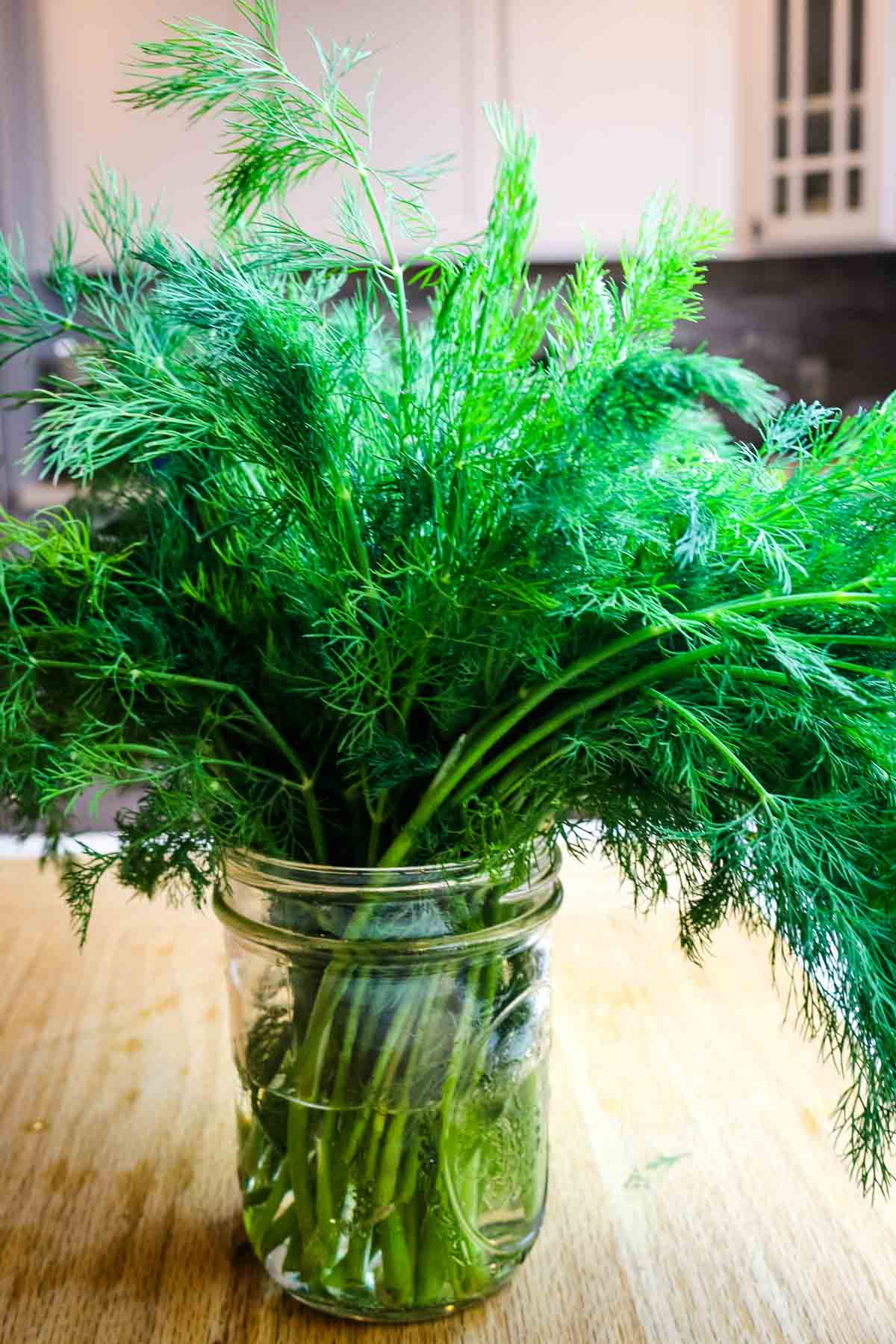 Supplies needed: A glass mason jar.
How long will dill last: Up to a week.
Where to store: This is an excellent method if you have extra space on your fridge shelf.
Pros: Whole dill sprigs are great for easy and quick garnish.
Cons: This method requires regular upkeep: removing wilted dill sprigs and adding just enough water to the jar as needed. There's also the risk of the glass jar being knocked over and the water spilling out since it's not sealed.
How to store fresh dill in a glass jar:
Trim about 1" of the ends of the dill sprigs (the stem parts) and remove any wilted or discolored parts.
Take a clean glass mason jar and place the dill sprigs inside, ensuring they fit comfortably without being too tightly packed. You will have a bouquet of dill with dill leaves draping over the sides.
Add about 2 inches of cool water to the bottom of the jar.
From here, you can cover it with plastic wrap, a bag, or a light kitchen flour sack and secure it with a rubber band at the bottom of the jar.
Place on a refrigerator shelf and pull out as needed.
Option 2: Chopped fresh dill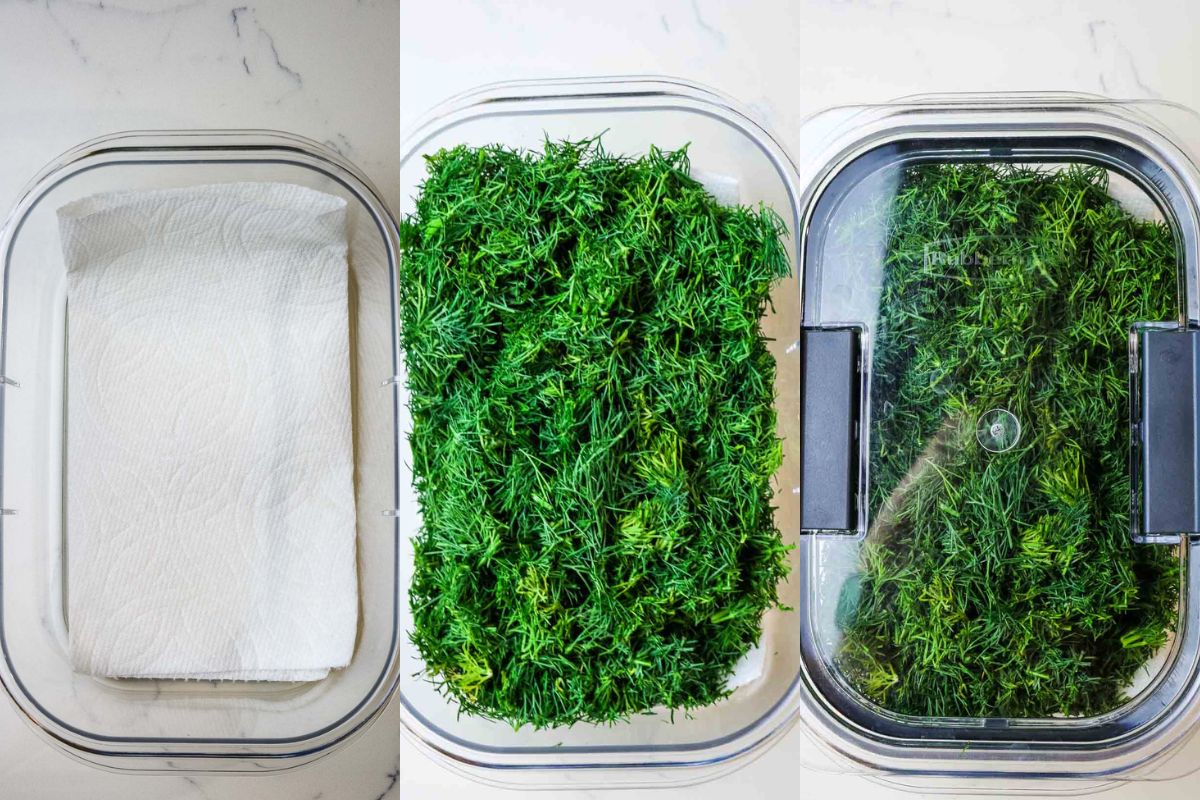 Supplies needed: An airtight container and a paper towel to absorb any moisture.
How long will dill last: Up to 14 days.
Where to store: In an airtight container on the shelf or crisper drawer in your fridge.
Pros: Dill is ready to use, saving time in the kitchen, and allows you to take as little or as much dill as required per recipe. This is the easiest way to keep dill for long-term storage.
Cons: Chopped dill loses its vibrant flavor and aroma more quickly than whole sprigs.
How to store fresh dill chopped in a container:
Note: Check out how to chop fresh dill for a comprehensive post on chopped dill. Turns out, there's a lot to learn about this fresh herb!
Remove the dill leaves from the stems and chop the dill into small pieces or to the desired size.
Choose a clean, airtight container suitable for storing herbs. Glass or plastic containers with tight-fitting lids work well.
Line the bottom of the container with a paper towel (I fold mine into thirds).
Transfer the chopped dill to the container. Seal the container to prevent the air and moisture from entering to help maintain the freshness and flavor of the chopped dill.
Store the container in the refrigerator on a shelf or crisper drawer.
Option 3: Wrap in a paper towel
Supplies needed: A paper towel, kitchen flour sack, and a large gallon-size ziplock bag.
How long will dill last: Up to 16 days.
Where to store: Crisper drawer in your fridge.
Pros: Less space is needed; dill lasts longer; and less upkeep.
Cons: Dill will wilt faster without water and has the potential of drying out the dill.
How to store fresh dill wrapped in a paper towel:
Lay the dry dill sprigs on the paper towel, either in a bunch or arrange them in a single layer.
Carefully roll the paper towel to cover the dill, creating a neat bundle.
Place the wrapped dill in a resealable plastic bag or airtight container.
Seal the container tightly to prevent air and moisture from entering.
Place in the fridge, and when ready to use, unwrap the paper towel and take out the desired amount. Reseal the remaining dill and return it to the fridge.
💭Pro tip: Avoid using a damp paper towel as the moisture will actually cause the dill to wilt and spoil quicker.
Freezing Fresh Dill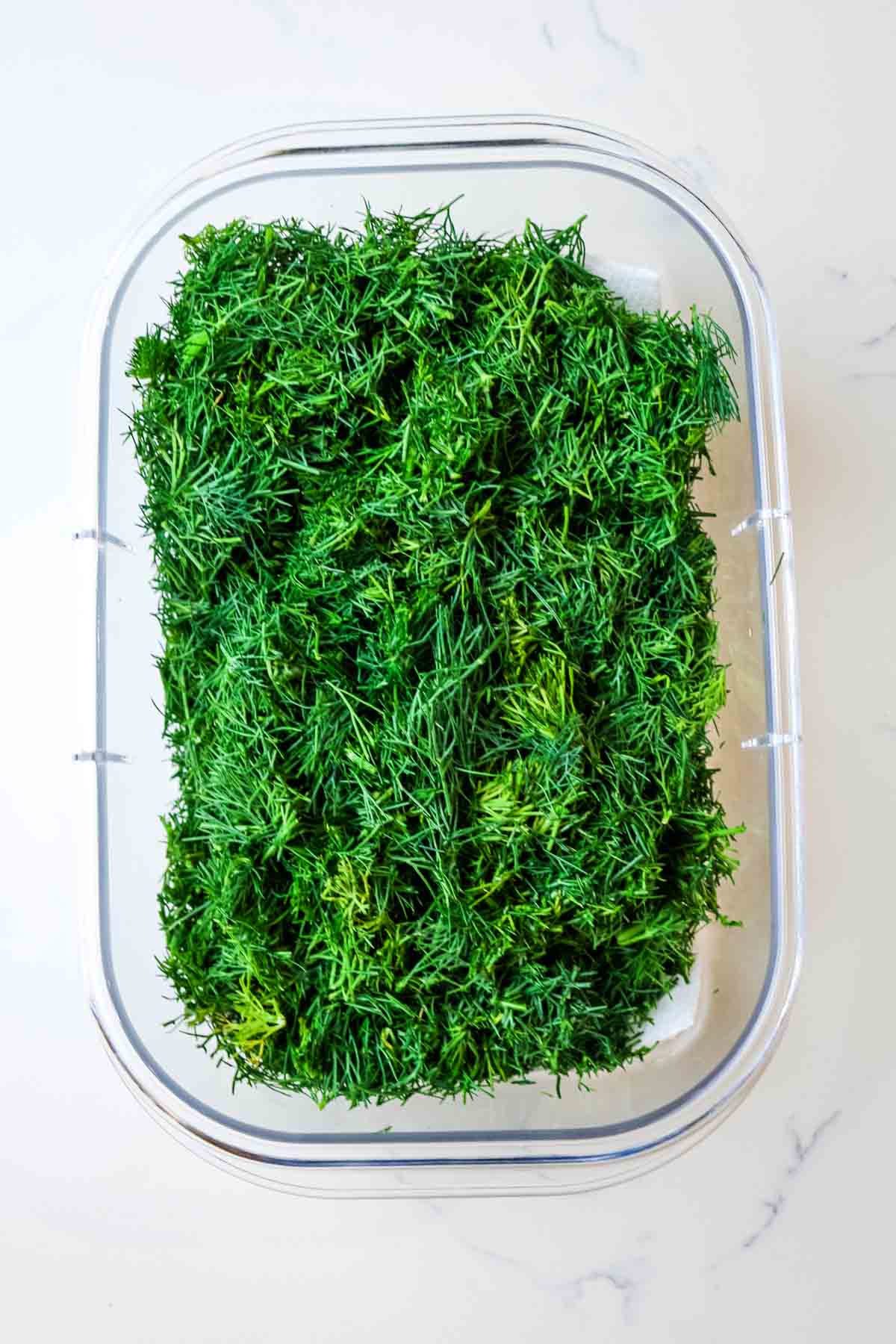 The above methods are great for having dill available for up to two weeks. But beyond that, you may want to consider freezing fresh dill.
Freezing dill can be a practical way to extend its shelf life and ensure this flavorful herb is on hand while minimizing waste and maximizing convenience in your kitchen.
The good news is that you don't need anything beyond dill and a freezer-safe bag. Freezing fresh herbs in ice cube trays and covering them with olive oil is an excellent way to preserve hardy herbs, but it's not a great option for delicate herbs like fresh dill.
But not to worry - you can freeze dill for a long time and enjoy fresh flavor even when it's out of season.
How to freeze fresh dill:
Start with clean, dried, and chopped dill.
Place the chopped dill or stems into the freezer bag, pushing out as much excess air as possible to avoid spoilage.
Label and date the bags and lay them flat in the freezer. It's best to freeze the dill quickly to maintain its quality.
Freeze for up to 6 months for the best flavor.
And here's the great thing about frozen dill - you do not have to thaw it before using it!
That's right - you can use frozen dill directly from the freezer. Remove the desired amount from the freezer for recipes requiring chopped dill and add it directly to the dish. The frozen dill will thaw instantly and impart its flavor into your recipe.
Frozen dill can be used in various dishes like soups, stews, marinades, and salads. While the texture of frozen dill may slightly change after freezing and thawing, the flavor and aroma will remain intact.
While frozen dill can be used in most recipes - you may want to opt for fresh when it comes to garnishing, like for cucumber salmon bites.
Helpful Tools & Links
Below are some affiliate links that may be helpful to you as you consider storing fresh dill for longer storage. You can find some of these items cheaper at your local store, but having a link helps you know what you're looking for.
Using stored dill in everyday meals
Whole sprigs: Fresh dill weed stored in a glass of water in the fridge or wrapped in a paper towel are great for most recipes that call for dill. You can add tough stems to broth like chicken stock, beef broth, or fish broth for flavor and added health benefits.
Chopped dill: This is excellent for a variety of dishes, everything from light salads like cucumber and tomato salad to roasted purple cabbage to potato medley. There are many different ways to include tender herbs in your meals and add unique flavor to each dish!
Frozen dill: It's no surprise that the texture of this delicate herb will differ after thawing. Therefore, frozen dill is best for adding to soups such as gluten-free chicken noodle soup, Lagman Uzbek soup, and fish soup.
Stored dill pairing suggestions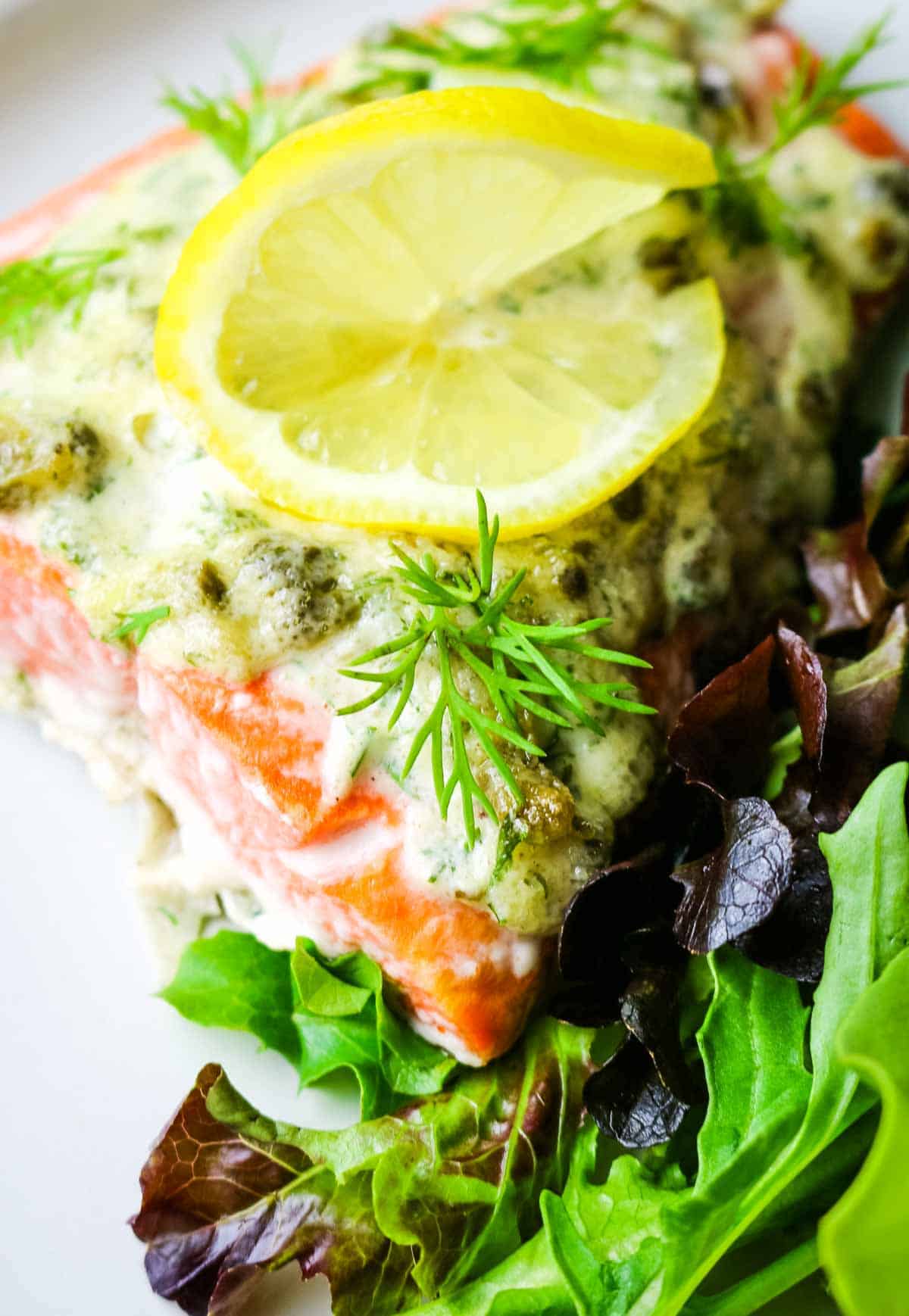 FAQs
Can I store dill with other herbs?
It's generally best to store dill separately from other soft herbs, as each herb has its unique aroma and flavor. Storing them separately will help maintain the integrity of their characteristics.
How can I prevent dill from wilting in the refrigerator?
To prevent wilting, ensure the dill is properly hydrated. Trim the ends of the stems, place them in an inch of water or two, and cover the dill loosely with a plastic bag. Changing the water every few days will help keep the dill fresh and vibrant.
Can I use frozen dill in recipes that call for fresh dill?
Yes, frozen dill can be used as a substitute for fresh dill in most recipes. However, note that the texture may change, so it is best suited for cooked dishes like soups and casseroles rather than fresh garnishes.
Looking for more related posts? Here are some ideas: