Learn how to chop fresh dill to maximize this cut herb in your cooking and elevate any meal easily! Learn how to cut dill in its entirety - from stems to feathery leaves. Say goodbye to food waste and unlock the full potential of dill in your cooking.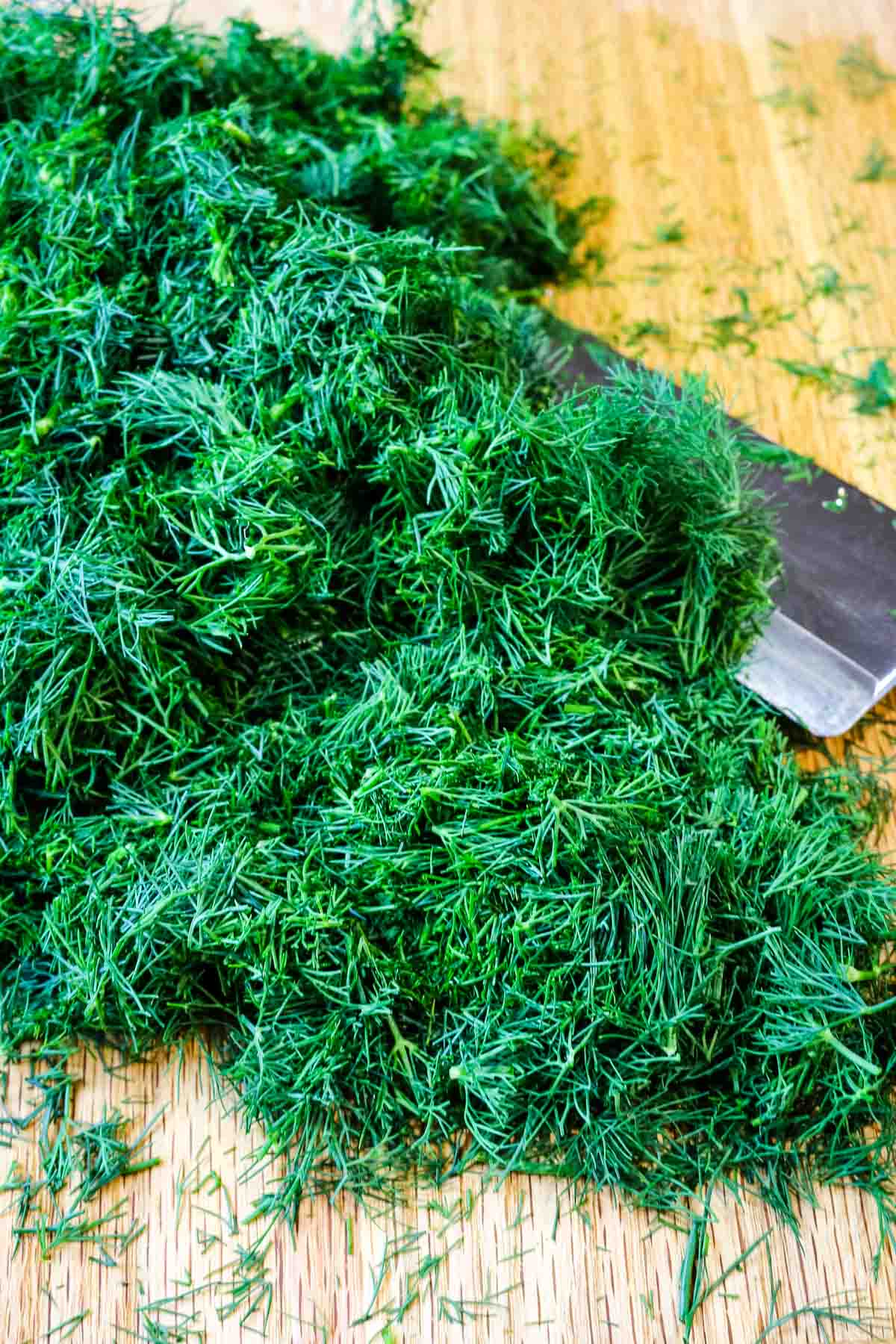 You may not have given much thought about how to chop fresh dill, but there is a right and a wrong way to do it.
All herbs, whether fresh or dried parsley, basil, or dill, have the unique ability to elevate any meal. And dill herb especially provides a subtle and aromatic touch to your culinary creations, adding a burst of freshness to your meals.
And while baby dill can easily be chopped without much forethought, mature dill needs more tender love and care.
In this post, I share how to chop fresh dill to maximize this cut herb in your cooking. Avoid food waste and use the entire plant, from stems to frond-like leaves to their full potential.
Jump to:
Dill vs. dill weed
Dill and dill weed are often used interchangeably, but they mean the same dill plants. However, there is a slight distinction in their usage.
Dill is an aromatic herb with feathery green leaves and a fresh, grassy, and slightly sweet flavor. When someone refers to "dill," they generally talk about the entire dill plant, including its leaves, main stem, and even dill seeds.
The term "dill weed" refers explicitly to the feathery green leaves of the dill plant. It is the most commonly used part of the plant in cooking and is known for its delicate flavor and fragrance. It is a favorite herb among many home cooks.
Dill weed is typically used fresh, either as a garnish or as an ingredient in various dishes, such as salads, sauces, dips, and soups.
The best part about fragrant dill is that all parts can be used in cooking.
💭Make it Nutrient-Dense: Check your farmer's market for the best and freshest dill! Herbs locally and organically grown have more nutrients than conventional counterparts.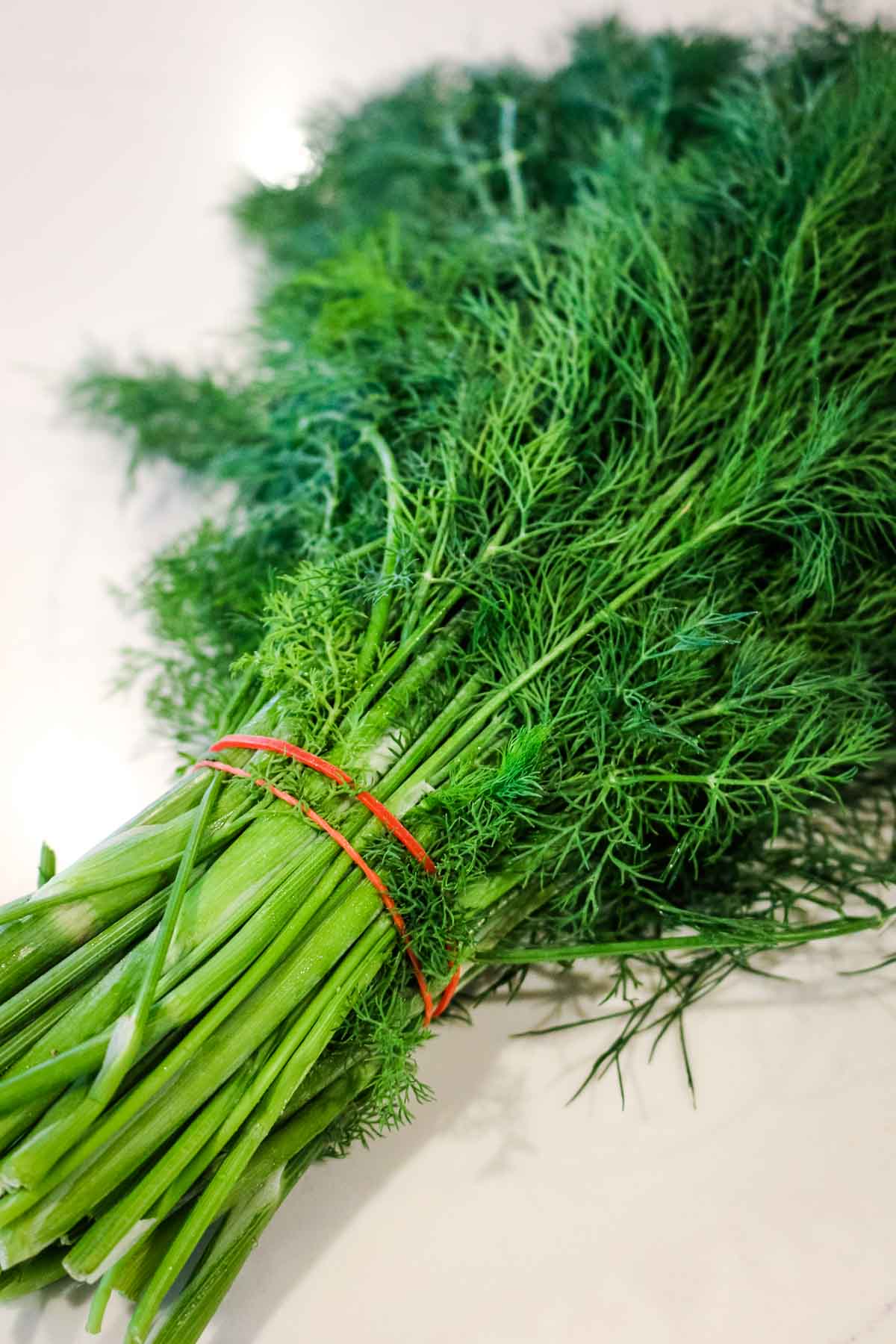 Why you'll love this post
Cut for long-term use. If you've come across a bumper of fresh dill from your garden or farmer's market, you may want to preserve it for the best results to enjoy the flavors of fresh herb throughout the year.
Always have dill ready. When you have a bunch of dill cleaned, dried, and cut - you can easily incorporate it into your recipes, whether it's a last-minute garnish, salad dressing, or a refreshing dip.
Use the whole plant - nothing goes to waste! Utilize whole sprigs of dill, including the main branch and older leaves, minimizing waste and maximizing its potential. You can make the most of this versatile herb by learning how to cut the leaves and stems effectively.
Elevate any dish with fresh dill. When you know how to chop dill quickly, you can enhance any dish's flavors and visual appeal. Plus, you have total control over how finely or coarsely you want the dill cut.
💭Pro tip: The easiest way to add a pop of color and refreshing taste to any meal is by a light sprinkling of fresh dill.
Wash and dry dill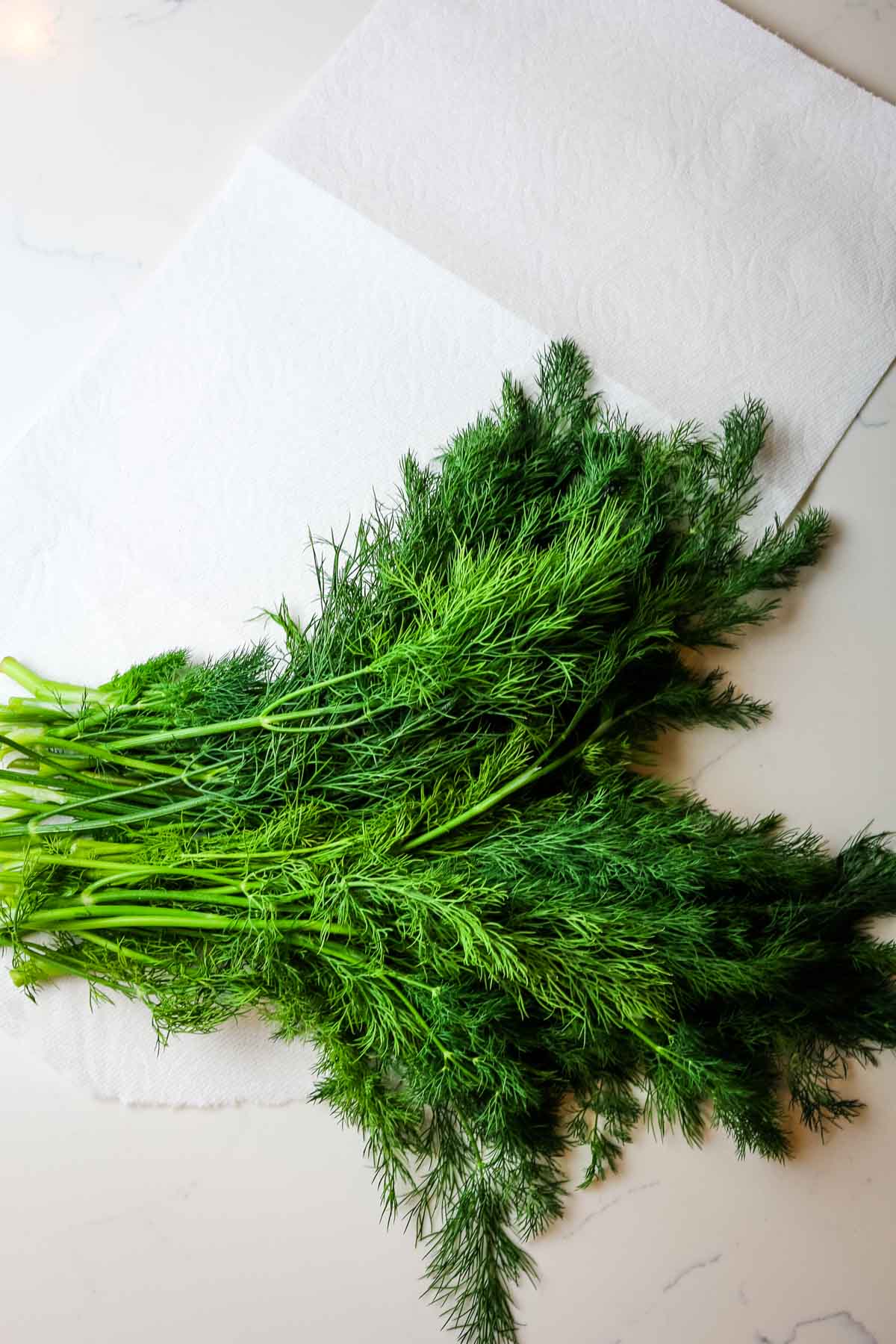 As with all herbs, washing them well removes dirt, dust, and other impurities.
Drying the dill well is important to prevent it from wilting quickly or becoming slimy.
Follow these simple steps to ensure your dill is clean and dry:
Wash the dill bunch under cool running water.
Shake off excess water, being careful not to handle the dill too roughly to prevent damaging the delicate leaves.
Pat dry with a paper towel, absorbing as much excess water as possible. You can also roll the towel around the dill and squeeze it lightly.
The best method to remove excess liquid is to run the dill in a salad spinner.
Air dry the dill on a clean towel, paper towel, or cooling rack to allow air circulation.
💭Pro tip: Individual dill plant is one of the easiest herbs to grow in an herb garden. The best time to harvest dill is when the flower heads have not developed on the top of the plants, exposing seed heads.
Separate dill weed from stems
The first step in efficiently cutting fresh dill is separating the dill weed (the feathery leaves) from the stems.
Follow these simple steps to separate the dill leaves from the dills stalks:
Lay the dill bunch with the stem closer to you and the dill leaves on the opposite side.
Grasp the top of the dill plant firmly with your non-dominant hand.
Starting from the top of the dill, strip the leaves downward with your dominant hand, brushing your fingers at the stem. As you move your hand down the stem, the leaves should easily separate from the stem.
Sort the leaves and stems separately.
How to cut dill weed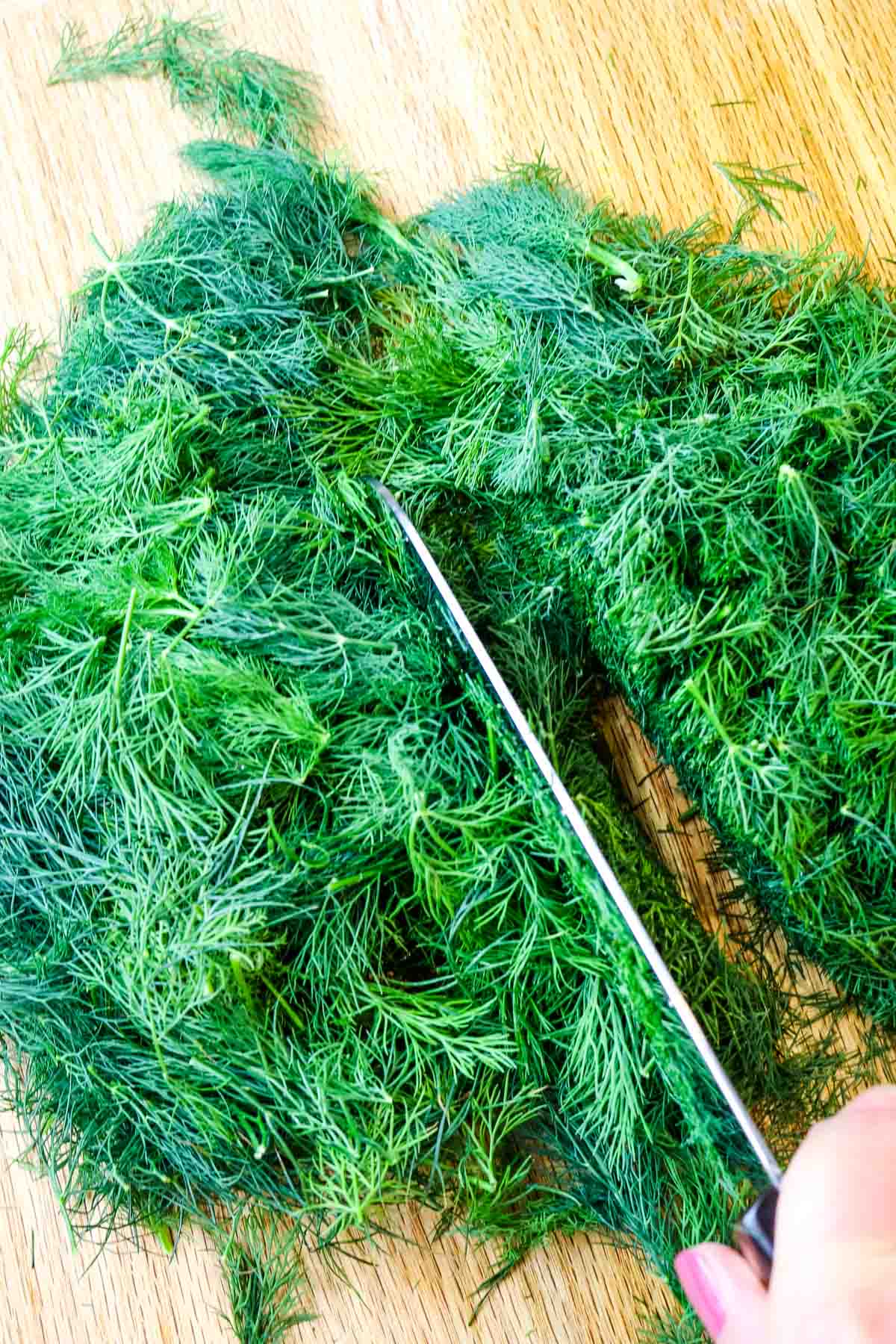 Now that you have cleaned and dried the dill and separated the leaves from the stems, it's time to cut the fresh dill.
How finely to chop fresh dill will vary depending on the specific recipe and your personal preference. Coarsely chopped dill is great as garnish, while fine dill is more flavorful.
Follow these simple steps to chop dill:
Gather the dill sprigs together, aligning the stems at the base, and hold the bundle firmly with your non-dominant hand.
Position a sharp knife perpendicular to the dill stems.
Begin chopping the dill into small pieces by making downward, rocking motions with the knife. Using smooth and steady movements, work your way across the dill stems.
As you chop, check for desired consistency and continue chopping if you want the dill finer.
How to cut dill stems
Don't be tempted to toss the dill stems! They are a great source of vitamins, and true to the heart of Prepare and Nourish, we desire to maximize all foods in their entirety!
While dill fronds are most commonly used in cooking, dill stems can still be utilized in various ways to reduce waste and add subtle herbaceous notes to your dishes.
How to chop fresh dill stems will depend entirely on what recipe to use them for. But for best flavor, keep dill stalks whole; therefore, they do not require a lot of chopping.
For example, you can leave the dill stems intact and save them for adding flavor to bone broth or dill pickles. I suggest cutting them to a size easy to handle and store in a small freezer-safe bag.
Helpful tools & links
Below are some affiliate links that may be helpful to you as you make this chop and store dill for later use. You can find some of these items cheaper at your local store, but having a link helps you know what you're looking for.
Using chopped dill in everyday meals
Chopped dill can be a versatile and flavorful addition to various dishes. Add fresh leaves to salads like potato salad and cabbage and cucumber salad, a refreshing fish soup, or roasted vegetables like sheet pan pepper and sausage.
It's also a great way to add flavor to ranch dressing, dips, or marinades for a tangy kick. Let your creativity flow and experiment with different recipes to explore the full potential of freshly chopped dill in your everyday meals.
Chopped dill pairing suggestions
Storage and freezing instructions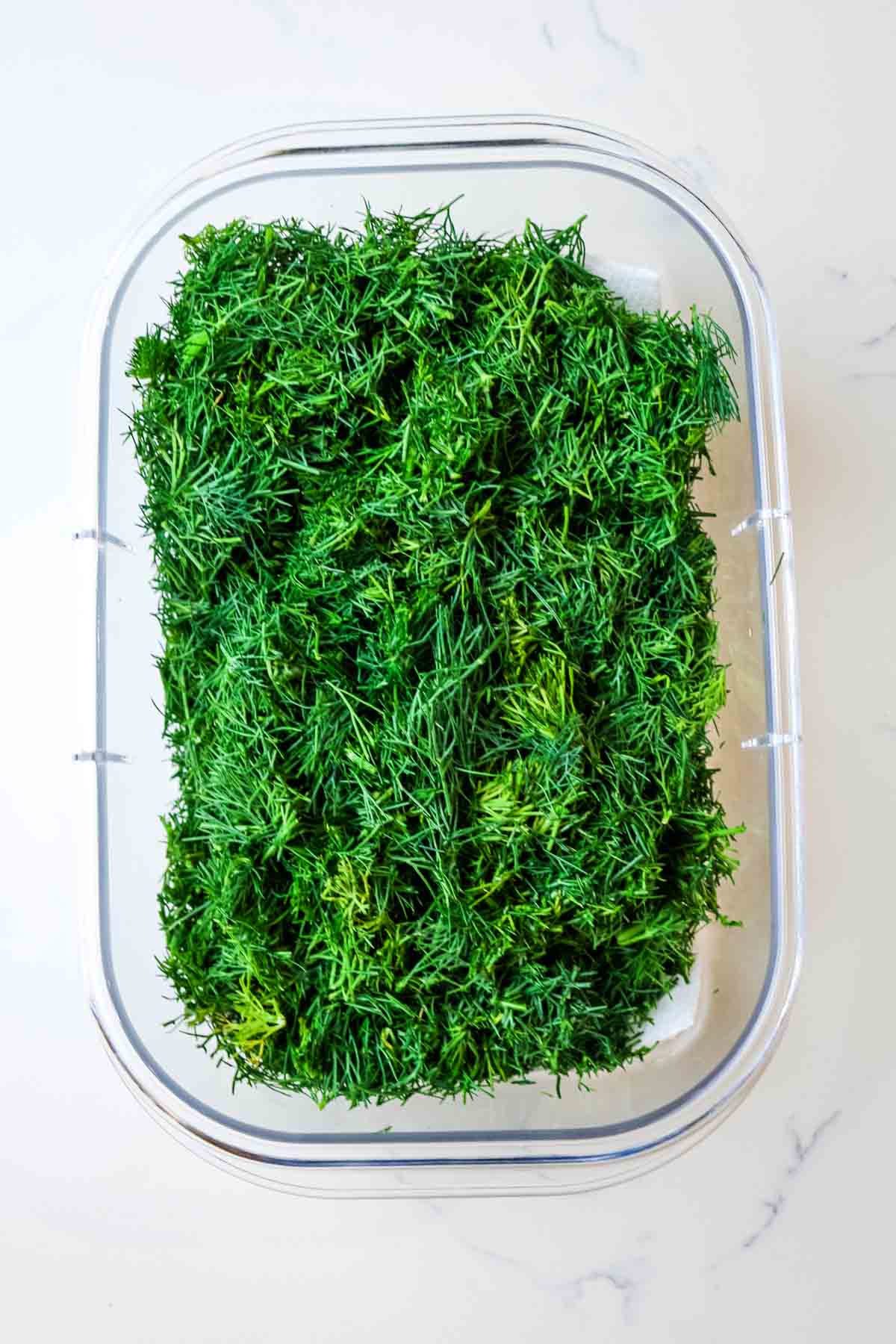 To store: Place the chopped dill leaves in an air-tight container lined with a paper towel. Seal and place in the refrigerator for up to 8 days.
Storage containers: These glass snap containers are perfect for this purpose.
To freeze: For long-term storage, you can freeze chopped dill leaves in a freezer-safe bag for up to 6 months. You can also freeze the dill stems similarly for future flavor additions to the broth and other recipes.
FAQs
How long does fresh dill stay fresh after chopping?
When stored properly, finely chopped dill can stay fresh for up to 8 days! The best way to get the most usage out of your fresh dill is to ensure it is completely dry before storing it in an airtight container. If there is as little as a droplet of water in the dill, it will begin to spoil immediately.
Are there any parts of the dill plant I shouldn't use when chopping?
While both the dill fronds and the stems are edible and flavorful, it's best to discard the very tough and woody parts of the stems. Use those tough stems for hardier recipes like beef broth.
Can I chop dill in advance and save it for later?
Yes! Surprisingly, it can last up to 8 days when washed clean, dried well, chopped, and stored properly in an airtight container.
Looking for more related posts? Here are some ideas: