Tender and juicy, these oven-baked Coriander Chicken Kebabs are perfect on a bed of rice (or greens for low-carb) and topped with Cilantro Kefir Sauce for extra probiotics and flavor.
This post is in partnership with Nancy's Yogurt. Opinions, recipe, and photography are my own - I only recommend products I truly love and support and want to share with you.   See full DISCLOSURE for details.
If you're still conflicted about low fat vs full fat, make yourself a cup of tea and let's talk. Even before delving into traditional foods, I was always skeptical about joining this low-fat-fat-free party. Call it gut-instinct but even when I was a raw foodist (yes, yes I was ;)) I could not wrap my mind around eliminating or significantly reducing my fat consumption. It's as if I knew deep down that the main culprit with my health issues wasn't how much fat I was consuming but rather what kind.
Related: Nourishing Foods Defined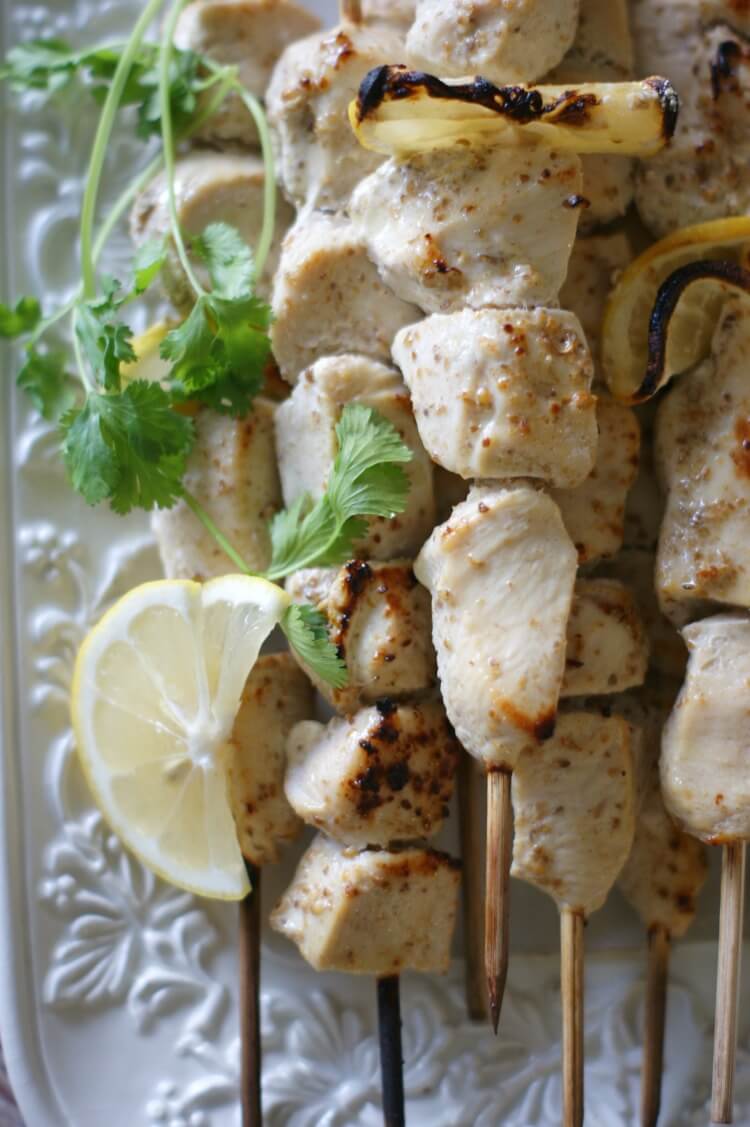 As it turns out, fats found in healthy, grass-fed animals are actually essential for the nervous and immune system, especially considering that more than 50% of human brain is saturated fat. (source)  It's especially important for children to get adequate amounts of healthy fats.
Related: 6 Reasons Why You'll Fail at Real Food
It's for this reason that I love supporting companies that prioritize the quality of their products more than the quantity. I have been a fan of Nancy's Yogurt for many years now and I trust them to provide dairy products made from local, organic, pasture-raised cows on small family farms.  Their most recent product is their Whole Milk Kefir, rich in live probiotics to support immune and digestive health. They are free from pectins or other thickeners and is an overall delicious treat.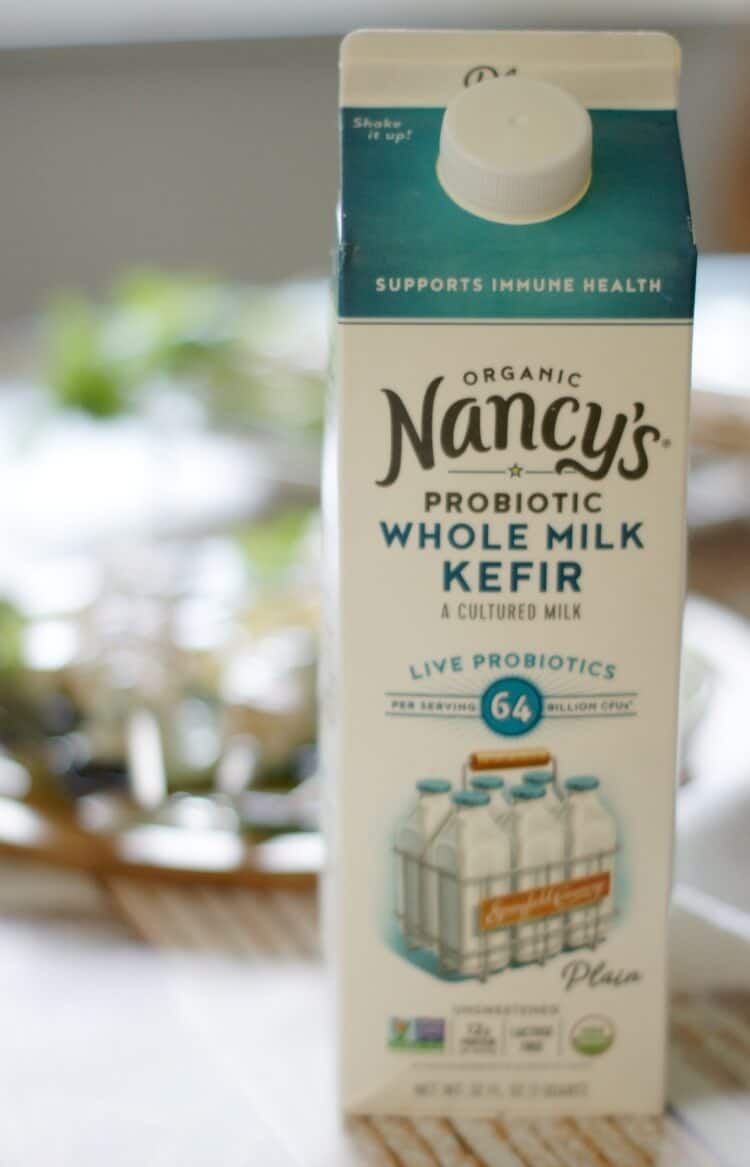 I don't think a dairy product can get any better than this. Full fat and fermented? Move over kale, this is the new superfood, or rather a superfood that has been resurrected!
Milk kefir is a great dairy product for those who are lactose intolerant as the lactose is broken down to lactic acid because of major enzyme action.  Many who typically have digestive upset when consuming milk do fine with milk kefir and other cultured foods. But as always, it's important to listen to your body and do what is right for you individually. 
Nancy's Whole Milk Kefir contains more than 50 billion CFUs in every cup serving with 11 different probiotic strains to deliver live, beneficial bacteria to the digestive tract.  This kefir also happens to work as a great tenderizer for chicken breast.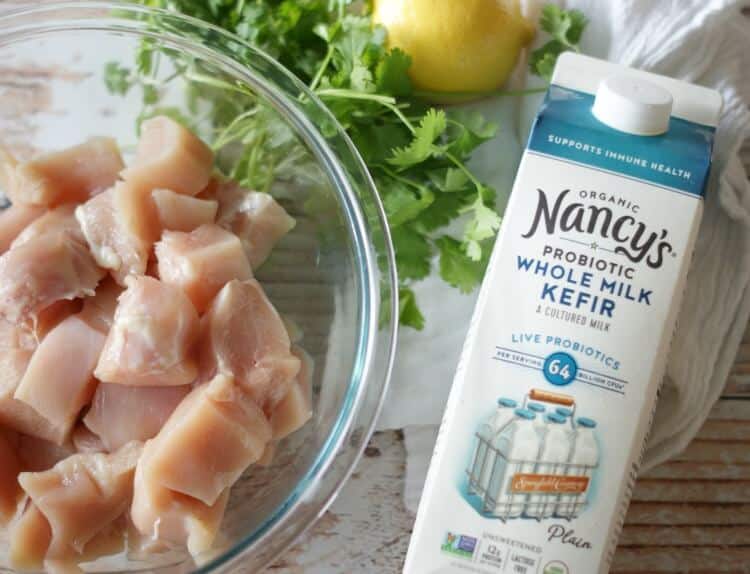 Coriander Chicken Kebabs
The process of using fermented dairy to marinade the chicken is pretty much out-of-this-world amazing. It breaks down the tough fibers of the meat, making it tender yet juicy. And although I don't prefer to heat fermented foods, in some cases it's appropriate.  Generously seasoned with coriander (a.k.a. cilantro seed), the chicken is tender and flavorful.
Coriander + Kefir + Chicken = Party for your taste buds
The sauce is equally delicious with zesty garlic and aromatic cilantro and of course the milk kefir used as vehicle to provide billions of probiotics. You can dunk the chicken in the kefir sauce or spoon some of the sauce atop the chicken gracefully with the pinky up. I typically go with the former but go with what makes you happy.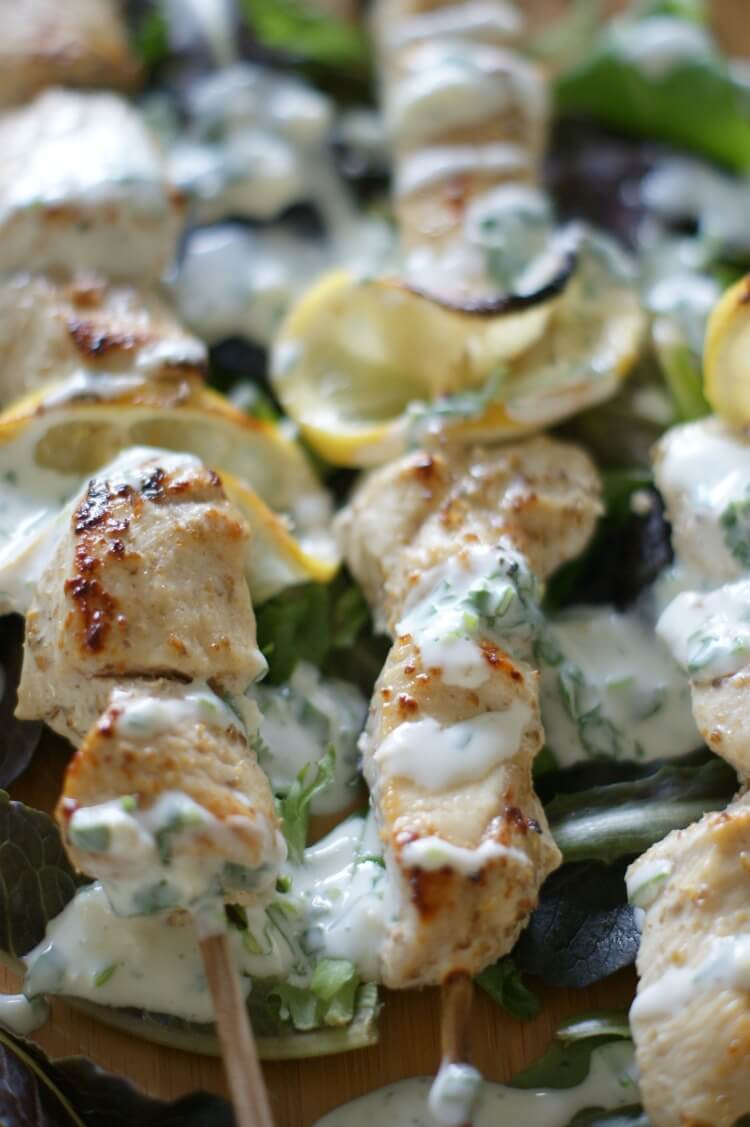 Simple tips for easy Chicken Kebabs:
Marinate chicken for at least two hours, overnight is best.  Chicken breast is a tough cut and since we're going for that juicy and tender texture (because who wants to eat a rubber chicken anyways?!), be sure to let the chicken soak in a kefir-ish bath for at least a few hours.
Large ziplock bags are popular for marinating meat, however, I prefer medium glass bowl as harmful toxins from bag can leach into food, especially when acidic mediums such as kefir and lemon juice is used.
I usually grind my own coriander in the coffee grinder. The coriander is incredibly pungent when the seeds have just been broken up. It is lightyears better and fresher than already ground coriander from the store. You can purchase whole coriander seeds here.
Soak the skewers in water for 30 minutes before using them. This way they will not burn in the oven and it'll be a cinch taking the chicken off.
Take the marinated chicken out of the refrigerator 30 minutes prior to cooking.
Use cooling rack inside a foil-lined baking sheet when cooking the kebabs to create a ventilation.
Printable Recipe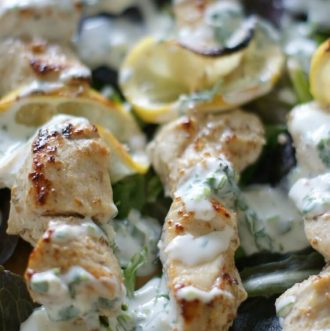 Coriander Chicken Kebabs with Cilantro Kefir Sauce
Tender chicken pieces marinated in kefir and garlicky cilantro kefir sauce to top it off.
Ingredients
Chicken Kebabs
2

pounds

organic chicken breast (3 fillets)

1

cup

organic whole milk kefir

2 ½

tablespoon

freshly-ground coriander

2

teaspoons

unrefined salt

½

teaspoon

white pepper

1

fresh lemon slices, optional

10

wooden skewers
Kefir Sauce
1 ½

cup

organic whole milk kefir

½

cup

finely minced fresh cilantro

4

garlic cloves, minced

1 ½

teaspoon

unrefined salt
Instructions
Chicken Kebabs
Cut chicken breasts into 1 - 1-½" pieces and place in a medium glass bowl. Add rest of marinade ingredients, except lemon slices, and combine well. Set aside in the refrigerator for 2 hours or overnight.

Thirty minutes before cooking, remove chicken from refrigerator and allow to come to room temperature. Soak skewers in water. Preheat oven to 400 F degrees.

Thread chicken pieces onto skewers and add a lemon slice in the center. Place on a prepared baking sheet. Bake for 20-25 minutes or until chicken is cooked through, turning once mid-cooking. Broil for the last minute or two.
Kefir Sauce
Combine kefir, finely chopped cilantro, garlic and salt together in a small bowl.
To Serve
Serve chicken kebabs on a bed of rice, buckwheat, quinoa or green mix for a low-carb meal. Drizzle with kefir sauce.
Notes
Total time does not include marinating chicken. 
Nutrition Information
The information shown is an estimate provided for your convenience by an online calculator. It should not be considered as a substitute for a professional nutritionist's advice. See our complete Nutritional Information Disclaimer.
©Prepare and Nourish • Content and photographs are copyright protected. Sharing of this recipe is encouraged and appreciated but please do NOT screenshot or copy/paste complete recipes to websites or social media.


You May Also Like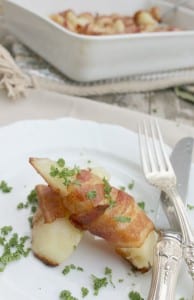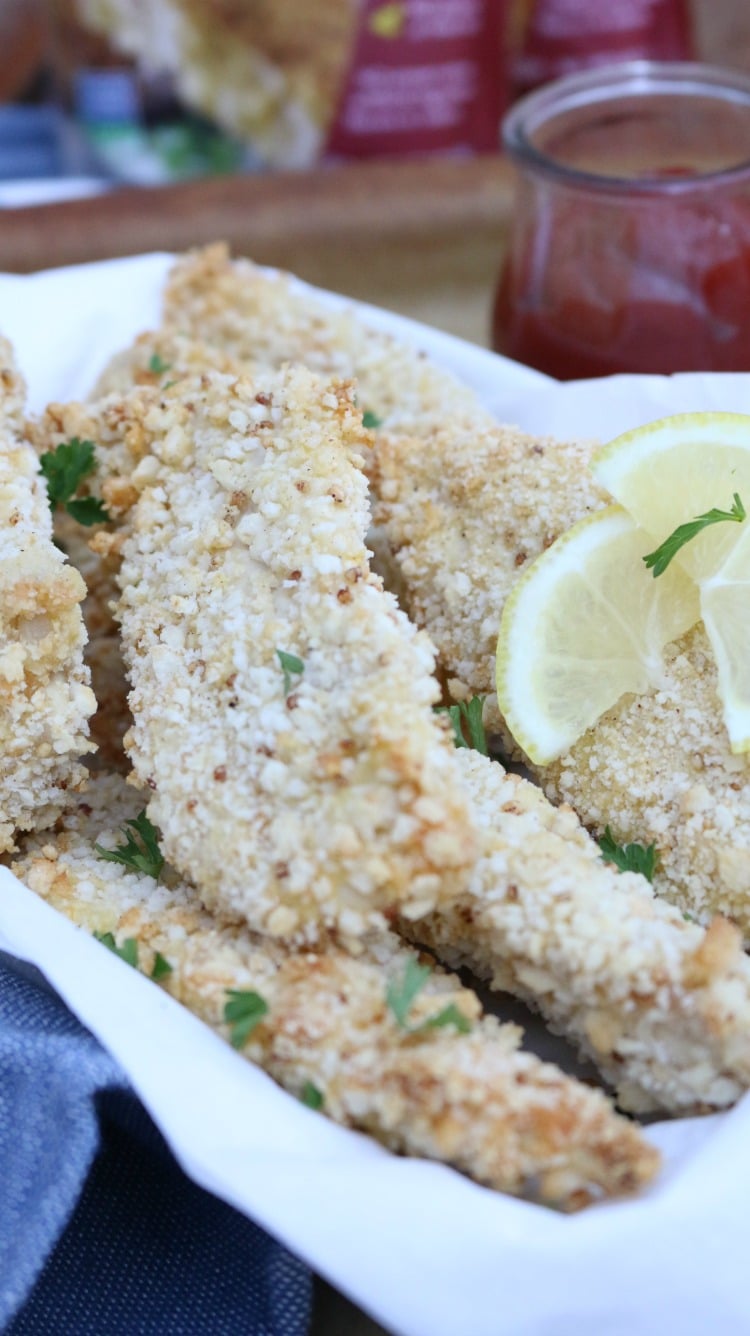 Baked Gluten-Free Chicken Tenders
Easy Chicken Scalloped Potatoes
STANDARD FTC DISCLOSURE:
In order for me to support my blogging activities, I may receive monetary compensation or other types of remuneration for my endorsement, recommendation, testimonial and/or link to any products or services from this blog. Please note that I only endorse products that are in alignment with Prepare & Nourish's ideals and that I believe would be of value to my readers. Prepare & Nourish is a participant in the Amazon Services LLC Associates Program, an affiliate advertising program designed to provide a means for sites to earn advertising fees by advertising and linking to Amazon.com. Statements on this website have not been evaluated by the Food and Drug Administration. Products and/or information are not intended to diagnose, cure, treat, or prevent any disease. For additional information, please visit my full Disclosure page.