Vanilla bean extract is often used for baking. Find out how to make your own batch with just two ingredients! This super easy recipe is all you'll need for all your baking needs.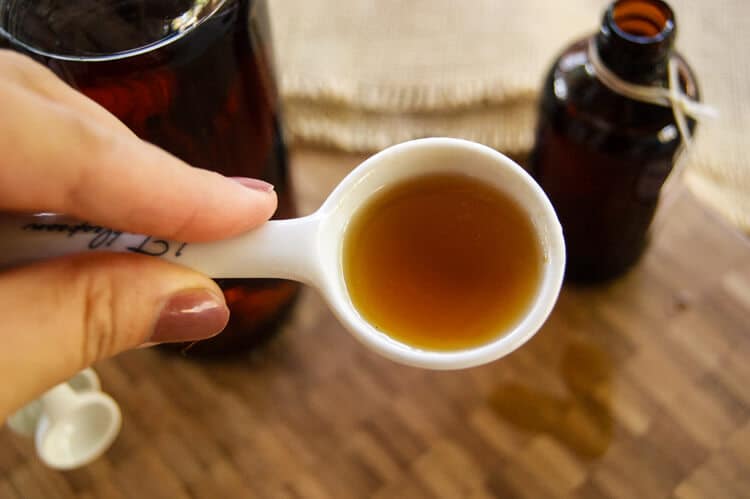 Baking season will soon be upon us and with that comes many baking sessions.
Making your own vanilla extract isn't difficult and it doesn't require a lot of ingredients or time, but it does take some planning ahead. The months of August and September is the perfect time to make a batch of vanilla extract for the fall and winter baking season.
How to Make Vanilla Bean Extract
As with any extract, the purpose of the alcohol is to 'extract' or 'pull away' fragrant compounds from the vanilla beans. The result is a rich and pure, sweet-smelling homemade vanilla extract.
This process can take anywhere from one month to 6 months. But the actual hands-on time making vanilla extract is actually quite simple.
Be sure you're using good quality vanilla beans and drown it with good quality (gluten-free!) alcohol and set aside in a dark place for a few months.
That's it. That's the entire recipe.
Is removing beans necessary after making vanilla extract?
I don't remove the beans when it's ready to be used.
In fact, I will often scrape off the vanilla seeds from a used vanilla bean to add to my homemade 3-Ingredient Paleo Vanilla Ice Cream.
To get more use out of the vanill beans, I add more vodka to that jar or bottle and set it aside for a few more months.
That way, I can typically get more mileage out of a package of vanilla beans. However, if you prefer the extremely rich, dark vanilla extract, then I wouldn't advice double-dipping like that but I personally haven't noticed a difference in the quality of the vanilla extract. You can re-purpose the used vanilla beans in other recipes.
How to find the Best Quality Vanilla Bean
Vanilla bean quality is determined by moisture content.
Gourmet (Grade A) vanilla beans are extremely moist, so much so that the beans will leave oily residue on your fingers after touching.
Vanilla beans with high moisture content are soft to the touch and flexible when bent. All vanilla beans should be vacuum sealed to prevent exposure to air. This is essential to a high-quality vanilla bean.
Prices for vanilla extract have increased significantly in recent years. That's because vanilla beans have gone up in price.
Madagascar Vanilla Bean is top quality and priced reasonably, considering prices overall. It is a splurge nonetheless, so keep that in mind when opting to make your own.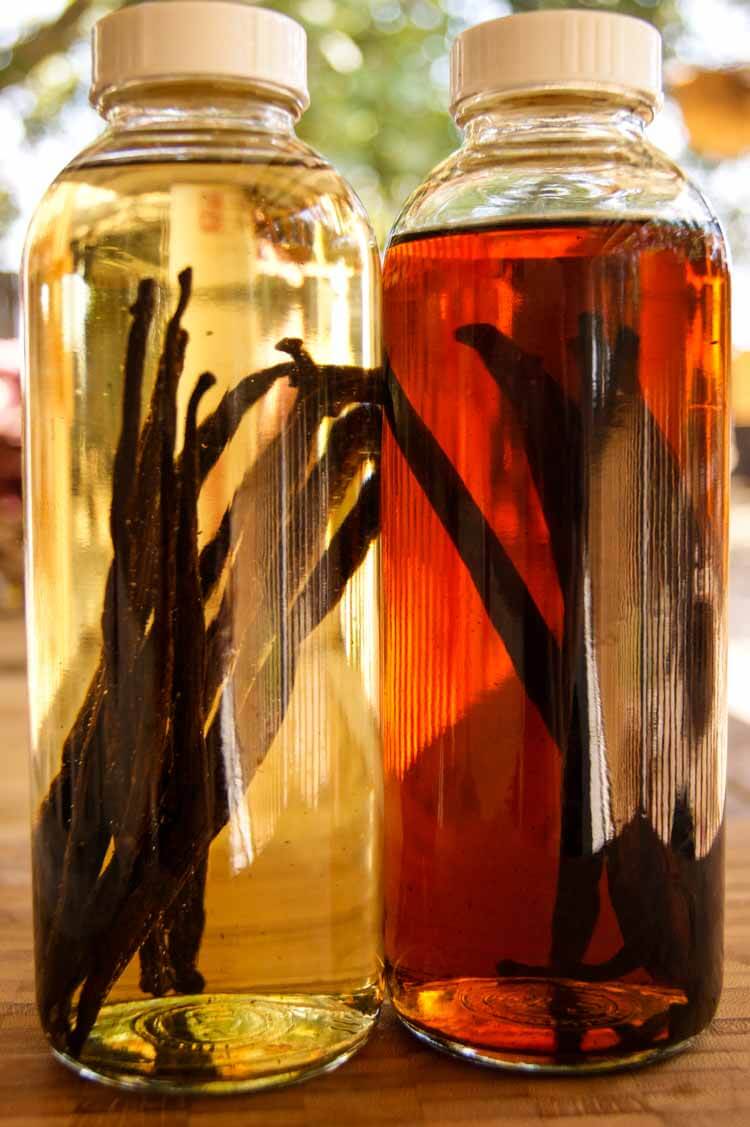 Above is a picture of two batches of vanilla extract. On the left is the new, fresh bottle of vanilla extract and the right contains a bottle of previously made vanilla extract, after 3 months of infusion. Though it may not be as dark as you would find on the store shelves, it is just as potent. But if you so desire, you can up the vanilla beans and use more for a richer, darker hue.
What alcohol to use to make Vanilla Extract
The most popular spirit used to make vanilla extract is vodka.
Unfortunately, it is now often made with plants derived from genetically modified organisms.
Because of this, I prefer organic vodka by Phillips Distillery, made from organic corn and distilled and bottled using organic standards.
My local Costco used to carry 1.75L bottles of organic vodka but have since stopped. However, they are readily available at specialty stores like BevMo. Absolut Vodka and SKYY are also great options as they strive to use non-GMO ingredients in their products.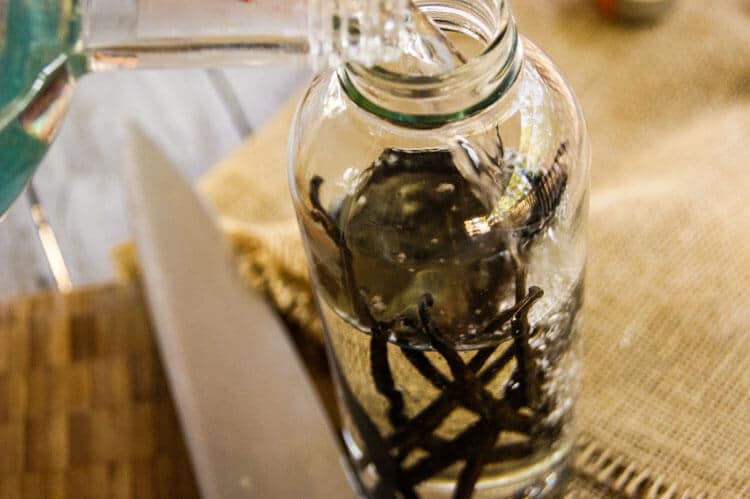 Vanilla Bean Extract Recipe
To impart those vanilla flavors into the alcohol medium faster, I always split the vanilla beans. This step is optional and if you're short on time, you can just toss the beans and vodka together and you're good to go.
But I do find that this way the vanilla pods are more exposed and are quicker to infuse the vodka.
Transfer the split beans to a 16-ounce jar or glass bottle.
Pour vodka over the vanilla beans making sure they are all covered.
Cover tightly, give it a shake and let sit in a dark area for at least a month. The longer, the more flavor the vanilla beans have imparted. Use it just like you would your store-bought vanilla extract.
Use it just like you would your store-bought vanilla extract.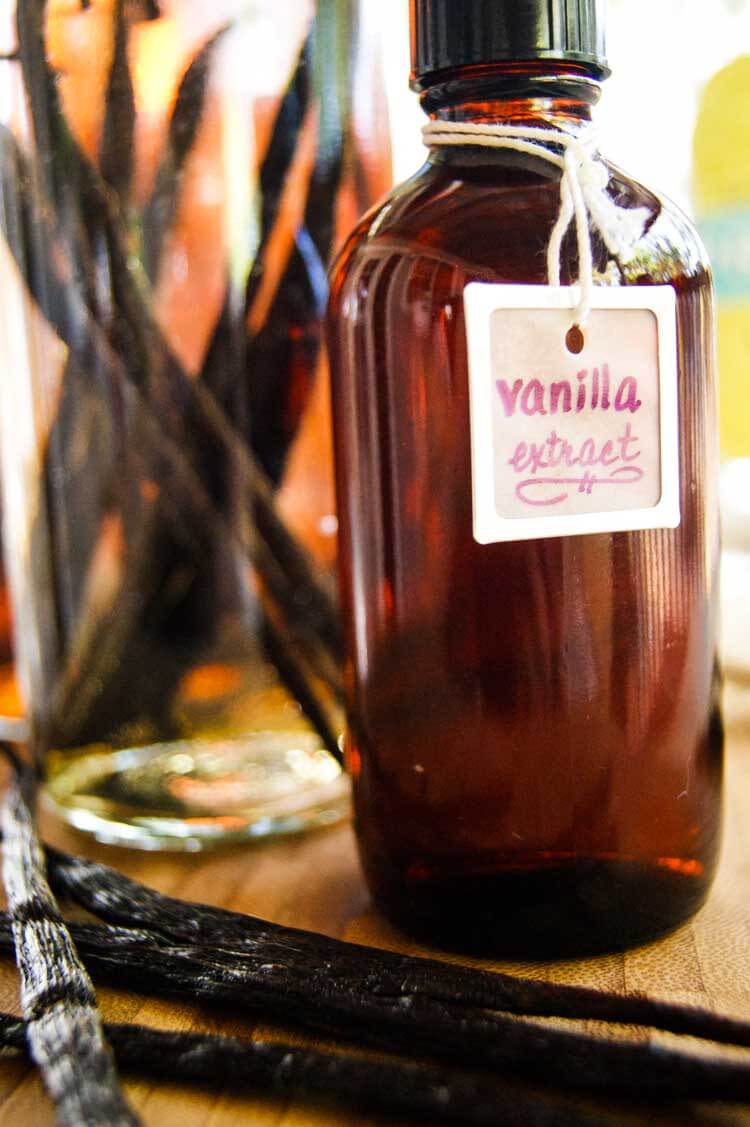 Vanilla Bean Extract as Gifts
This vanilla bean extract makes a great gift if poured in a pretty bottle with a dainty label. These corked bottles would make an awesome vessel to this homemade concoction. Use a regular chalkboard sticker label such as THIS one or use something like THIS craft label.
Printable Recipe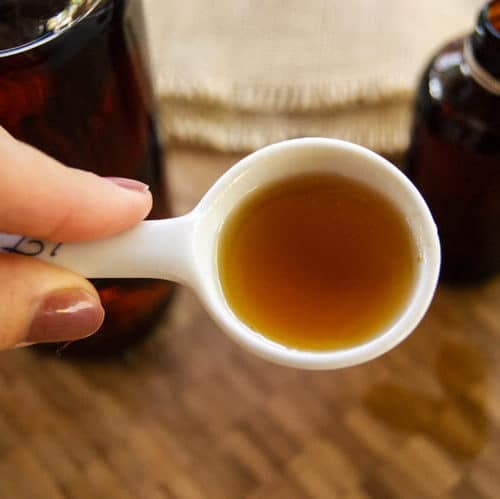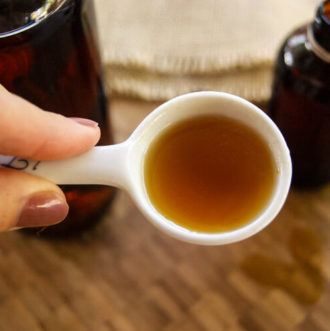 Vanilla Bean Extract
Make this easy batch of Vanilla Bean Extract with just two ingredients! This super easy recipe is all you'll need for all your baking needs.
Ingredients
10

Madagascar Vanilla Beans

14

ounces

gluten-free nonGMO vodka
Instructions
Score vanilla beans down the center to expose vanilla seeds.

Transfer vanilla beans to a glass 16-ounce jar or bottle.

Pour vodka over vanilla beans, making sure to cover up all beans.

Place bottle or jar to a dark spot in kitchen and regularly give the bottle a shake to stir things up.

Vanilla bean extract will be ready in 3-4 months. Store in dark, cool place.
Notes
Nutrition
Calories:
65
kcal
|
Carbohydrates:
1
g
|
Fat:
1
g
|
Sodium:
1
mg
Nutrition Information
The information shown is an estimate provided for your convenience by an online calculator. It should not be considered as a substitute for a professional nutritionist's advice. See our complete Nutritional Information Disclaimer.
©Prepare and Nourish • Content and photographs are copyright protected. Sharing of this recipe is encouraged and appreciated but please do NOT screenshot or copy/paste complete recipes to websites or social media.
If you liked the recipe above, please consider rating the recipe and leaving a comment below. Also, be sure to follow me on Facebook, Instagram, and Pinterest.
How to Use Vanilla Bean Extract
Paleo Vanilla Ice Cream
Paleo Baked Apples with Pecan Crumble
Paleo Coconut Flour Banan Bread Muffins
>>> Pin This <<<
This post was originally published on August 21, 2015 and has been updated since.