This Healthy Carrot Salad has shredded raw carrots, caramelized onions, and refreshing cilantro tossed with pungent spices and apple cider vinegar makes a great addition to any meal.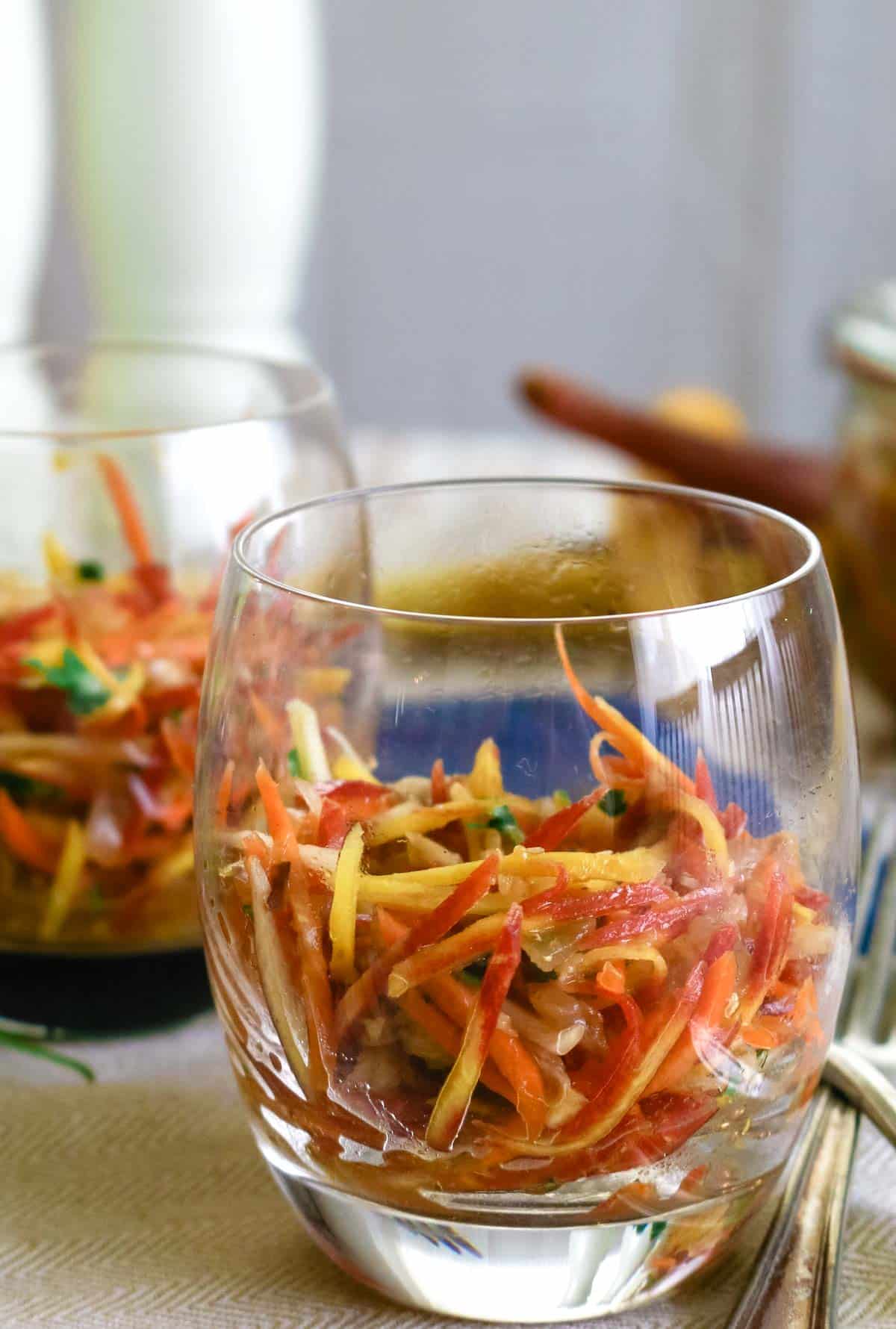 This easy carrot salad has all the major flavors: the sweetness of caramelized onions, crunch of carrots, fresh zesty garlic, pungent spices like cumin and coriander, and of course refreshing cilantro.
All tossed well in extra virgin olive oil and apple cider vinegar, this salad is healthy without sacrificing flavor.
Healthy Carrot Salad
Not only is there major flavor action happening in this salad, it's also quiet healthy by most standards.
This carrot salad is made without mayonnaise. Instead, the leftover extra virgin olive oil from caramelizing onions is used as the only choice of fat. That combined with apple cider vinegar and aromatic spices makes a fantastic dressing.
Additionally, cilantro and garlic offer their own obvious health benefits. Cilantro is a popular detoxifying antioxidant. And garlic is packed with nutrients like B vitamins, zinc, folate, phosphorus, magnesium, among others. Garlic is also high in enzymes.
One of the key enzymes in garlic, alliinase is released when the garlic is crushed or chopped. This enzyme is then converted to an antibacterial and antiviral compound called allicin. This compound is especially beneficial for gut health as it kills bad bacteria while fostering the growth of good bacteria.
The conversion between alliinase to allicin needs time to take place. So when you're cooking with garlic, wait at least 10 minutes between chopping it and using it for maximum benefits. You can read more about this amazing garlic and allicin connection in this article.
Helpful Tip: For maximum health benefits of garlic, wait 10 minutes between chopping it and using it for the enzyme allicin to activate. This may be beneficial for gut health as allicin is known to kill bad bacteria while allowing good bacteria to thrive.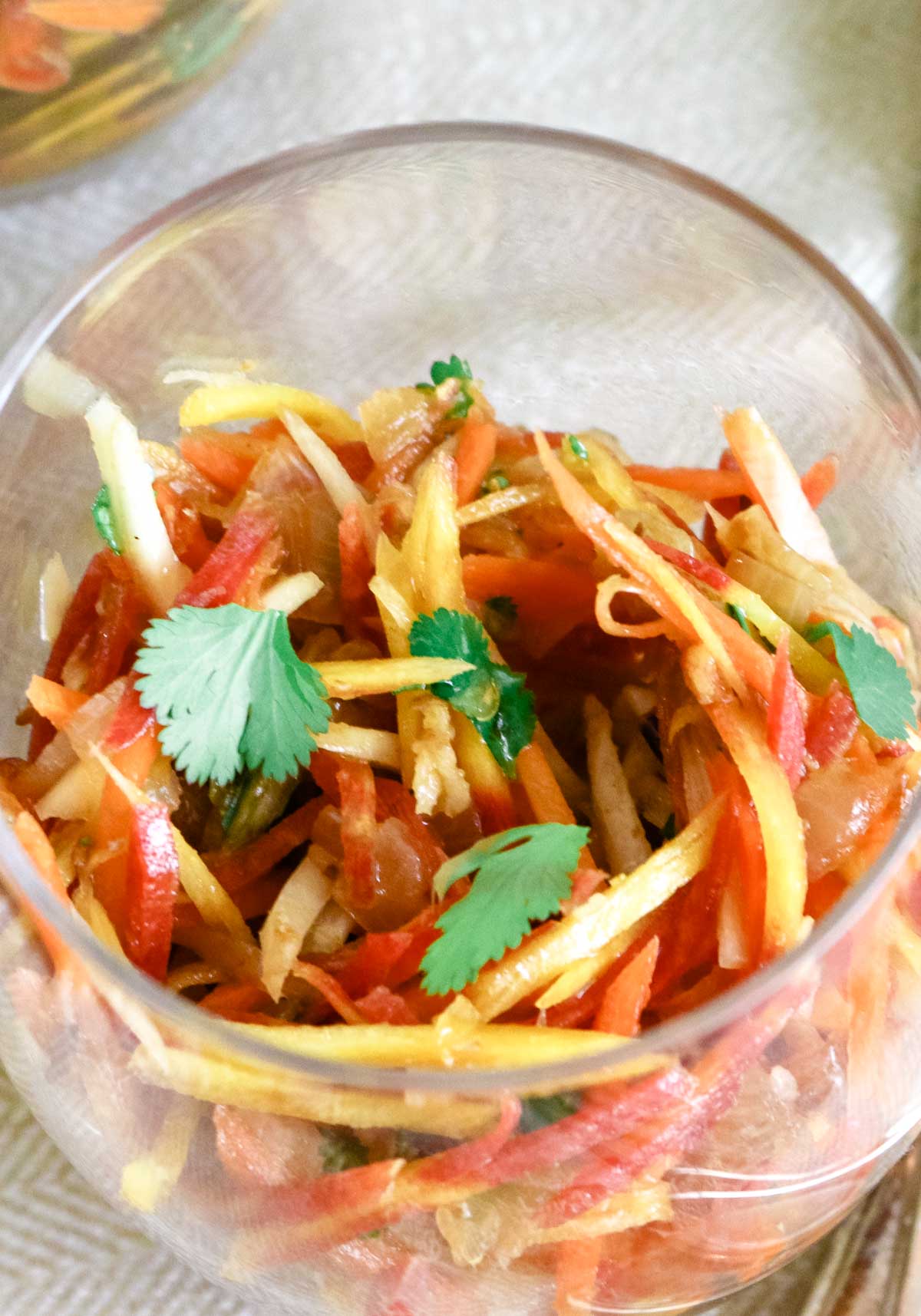 Raw Carrot Salad with Apple Cider Vinegar
As mentioned above, this easy carrot salad has one of the most simplest dressings. The extra virgin olive oil used to caramelize onions is combined with apple cider vinegar along with a small handful of seasonings. All together creates amazing flavor.
Raw carrots have unique health benefits. They contain indigestible fibers that bind toxins and help excrete them. Further, this humble root vegetable may combat bacterial growth and overall reduce inflammation
An endrocrine physiologist, Dr. Ray Peat discovered that regular consumption of raw carrots lowers estrogen. And having healthy (not elevated) levels of estrogen generally translates to less inflammation and better thyroid and liver health.
I don't know about you but I love simple recipes that naturally come with numerous health benefits.
What is the best way to cut carrots?
You'll find that this particular recipe calls for carrots that have been thinly sliced into small uniform strips that look like matchsticks. In culinary terms, this is called a French cut or most commonly known as julienne.
Shredded carrots look similar to julienne carrots in that it also creates long strips but they're not always uniform. Grating on the other hand makes short, raggedy fragments, which is what we would like to avoid for this particular recipe.
This recipe was largely inspired by a popular Russian salad known as Morkovcha, or Korean-style Carrot Salad. In many Slavic homes, one can often find a julienne slicer/mandoline similar to this one that makes it easier to process pounds of carrots.
Sharp cuts in carrots, or any vegetable for that matter, creates different texture and releases different compounds. Julienne method ensures even cutting size, which is essential in this recipe with the use of apple cider vinegar. It also adds more crunch without the salad becoming soggy so quickly.
How do you julienne carrots?
Now that you know the importance of using the julienne method for this salad, here are some simple ways to do so:
Traditional Knife: this is the obvious choice for most with just a sharp chef's knife and a wooden cutting board. Start with cutting a cleaned carrot into 2-3" pieces. Then cut off the four sides to form a rectangle. This will stabilize the carrot on the cutting board. Cut the carrot lengthwise into equal pieces. Stack them and cut again through the stacks to form matchsticks.
Julienne peeler: This tool is great because it's very small (great for those with limited kitchen space) and yet still does a good job.
Julienne Mandoline/Slicer: This is probably the most efficient than the above two methods giving you more julienne carrots in less time.
Storebought carrot matchsticks: Many stores will have ready-made packages of carrots cut into matchsticks. Even though this option is great in a pinch, it fails to deliver the same results. If time permits, try to slice your own carrots into julienne cuts. It's worth the extra effort.
Helpful Tip: There are three main ways to get those perfect julienne-cut matchstick carrots: sharp knife & cutting board, julienne peeler, and julienne mandoline. Find what works for you!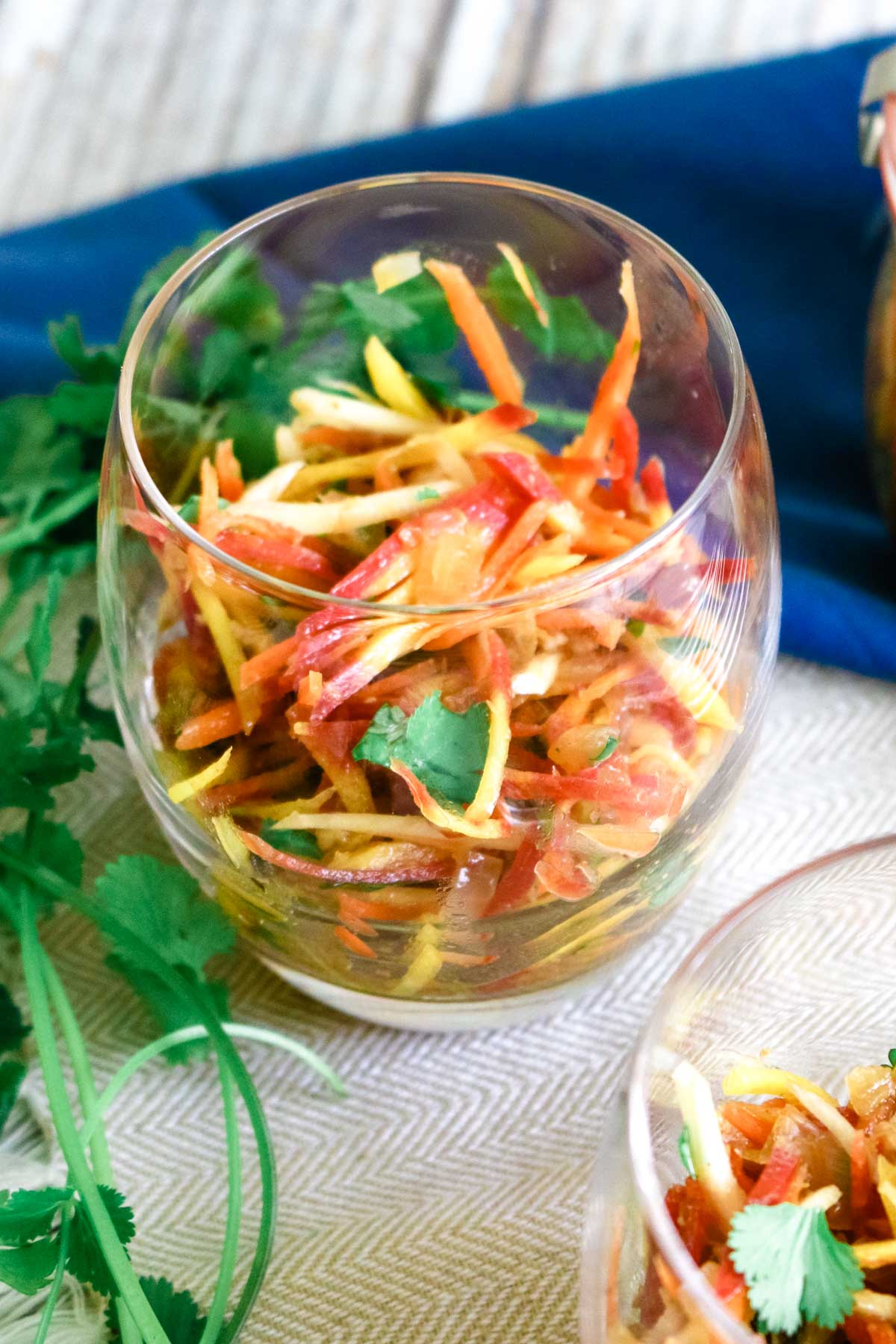 Frequently Asked Questions and Helpful Tips
What are the best carrots for Healthy Carrot Salad?
I love using heirloom rainbow carrots that can commonly be found in farmer's markets. They come with a range of purple, orange, yellow, and white carrots and are transformed into the most beautiful carrot salad.
However, you can choose regular orange carrots that we all know and love. They can readily be found in any grocery store. If you're using store-bought ready-made carrot matchsticks, those are just your traditional orange carrots.
As far as size, look for medium size carrots. Large carrots are easier to cut but they sometimes lack that sweet flavor. Eight medium-size carrots should yield approximately 2 cups of julienne carrots, which is what you will need for the recipe.
Do you have to peel carrots?
Unless they have unsavory spots, it is not necessary to peel carrots. The carrot skin has great nutrients and removing that would eliminate those essential benefits. Having said that, you may find that peeling carrots will make the salad more visually appealing.
Also, some find the carrot skin bitter and unpleasant. It really is a matter of personal preference. If you choose to leave the skin on, make sure to give them a good wash and scrub with vegetable scrubber.
Helpful Tip: It's not necessary to peel carrots. You can just wash them with warm water and scrub with a vegetable scrubber to get rid of any dirt or residue.
Make Ahead Tips for Healthy Carrot Salad
This salad is a great option for potlucks and parties. Because of the texture and the size, julienne-cut carrots hold really well after time. As a result, this salad will not get soggy. In fact, the salad becomes more pungent as the flavors meld together over time.
Make-ahead tip: Combine all ingredients together per recipe, except the cilantro. Add cilantro just before serving and toss gently.
This Carrot Salad can be made up to 6 days in advance and stored in a closed container in the refrigerator.
How to Make Healthy Carrot Salad
The complete printable recipe is below in the recipe card for your convenience.
This easy carrot salad will quickly become a favorite for potlucks and parties. It has simple ingredient list and yet so flavorful. Start with sauteeing onions just before caramelizing them. Combine onions with carrots, fresh garlic, apple cider vinegar, ground cumin, ground coriander, and toss with fresh cilantro to garnish. So flavorful yet so easy!
Step 1. Saute onions in a healthy fat like extra virgin olive oil or avocado oil.
Step 2. Cut carrots into thin julienne strips. Add the rest of the ingredients except for the fresh cilantro and combine well.
Step 3: Once the onions have cooked until translucent and have cooled to room temperature, add them to the carrot mixture and combine well. Garnish with cilantro and enjoy!
Helpful Tools for Healthy Carrot Salad
More Ways to Enjoy Carrots
This easy Carrot Salad is a great way to add more of this humble root into your diet but there are other ways to enjoy carrots. Check these recipes out:
Did you make this? Please leave a ⭐ recipe rating in the recipe card below and leave a review in the comments. Thank you!💚
Printable Recipe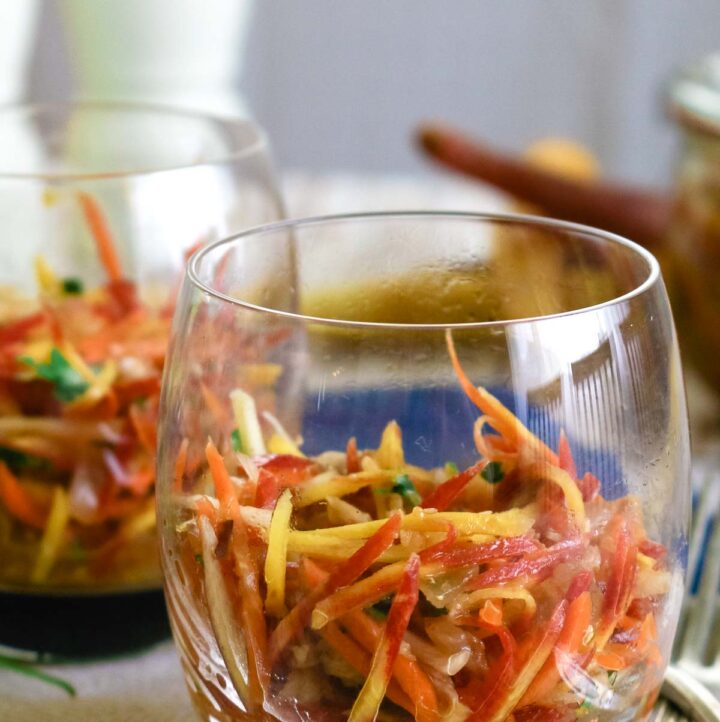 Healthy Carrot Salad
Shredded raw carrots, caramelized onions, and refreshing cilantro tossed with pungent spices and apple cider vinegar makes a great addition to any meal.
Notes
Avocado oil may be subbed for extra virgin olive oil.
8 medium carrots should yield approximately 2 cups of julienne carrot strips
Fresh parsley may be subbed for cilantro.
Carrot salad can be kept in a covered container in the refrigerator for up to 6 days.
Nutrition
Calories:
163
kcal
|
Carbohydrates:
16
g
|
Protein:
2
g
|
Fat:
11
g
|
Saturated Fat:
2
g
|
Polyunsaturated Fat:
1
g
|
Monounsaturated Fat:
8
g
|
Sodium:
1250
mg
|
Potassium:
462
mg
|
Fiber:
4
g
|
Sugar:
7
g
|
Vitamin A:
20404
IU
|
Vitamin C:
11
mg
|
Calcium:
60
mg
|
Iron:
1
mg
Nutrition Information
The information shown is an estimate provided for your convenience by an online calculator. It should not be considered as a substitute for a professional nutritionist's advice. See our complete Nutritional Information Disclaimer.
©Prepare and Nourish • Content and photographs are copyright protected. Sharing of this recipe is encouraged and appreciated but please do NOT screenshot or copy/paste complete recipes to websites or social media.
This post was originally published February 2017 but has since been updated to include helpful information.