You will love this Easy Roasted Bok Choy Recipe made in your Air Fryer. With minimal preparation and just 5 simple ingredients, you'll have a side dish that's both delicious and packed with health benefits. Ready in 15 minutes, it's a dish you will make again and again.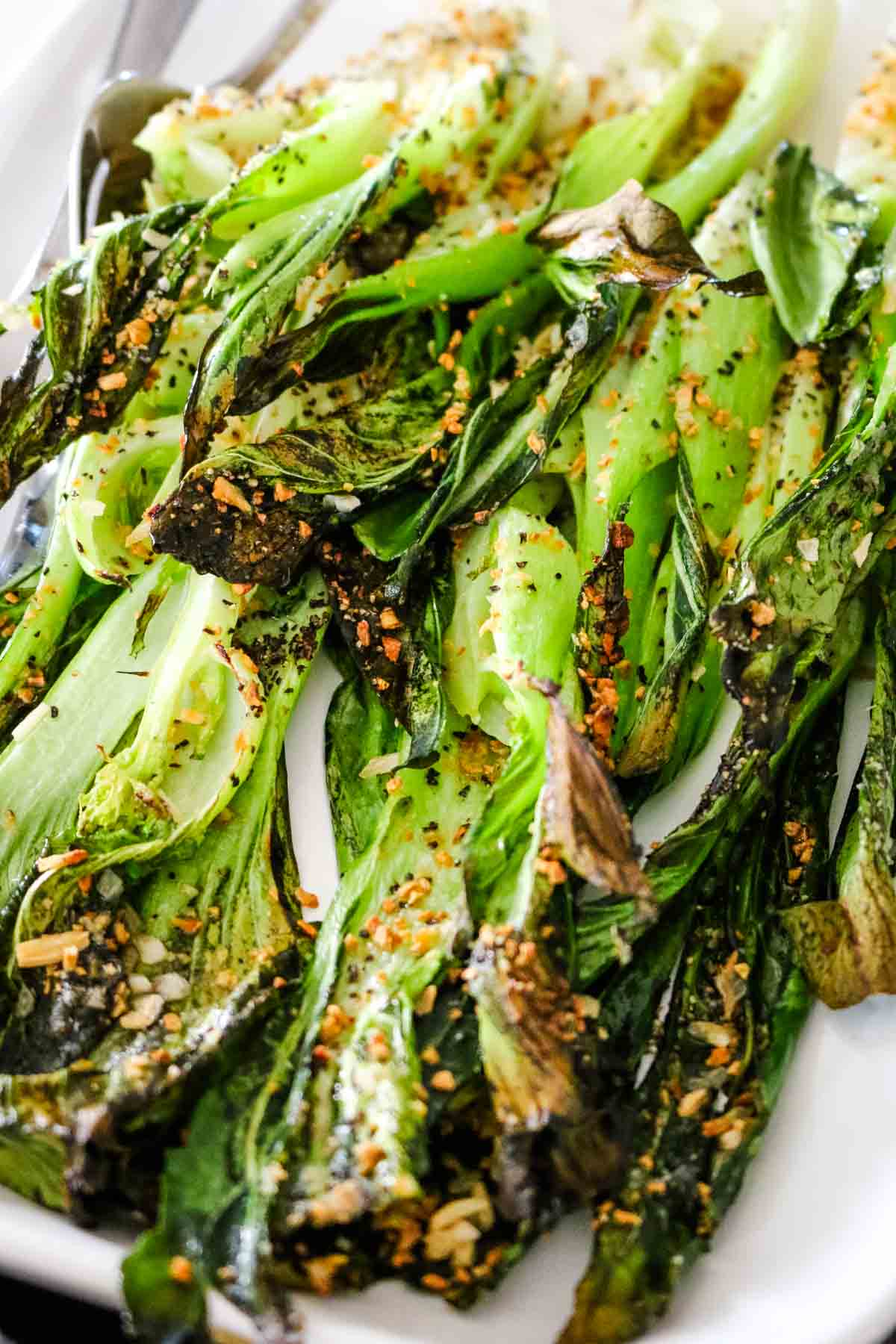 If you're looking for a quick, delicious, and a simple way to enjoy bok choy - you have to try Air Fry Bok Choy. Seasoned with a simple blend of dried onion and garlic gives a nice crunch and major flavor without overpowering the sweet and mild taste of these leafy greens.
Plus, this is a great recipe whether or not you have an air fryer. Of course, the best way to make perfectly crispy bok choy is in an air fryer, but you can use your regular oven. Either way, with just 5 minutes of bok choy prep time and a handful of ingredients, you'll have a delicious side dish in under 15 minutes!
Be sure to check out all my air fryer recipes, and if you're in the market for a non-toxic air fryer, you can find my favorite, all stainless steel air fryer on my shop page. 
Jump to:
Why you'll love this recipe
Easy to make - You'll love how quickly and easily this dish comes together. Most hands-on time is spent washing and drying these leafy greens under cold water. From there, it comes together quickly.
Perfect texture - Air frying bok choy is an easy way to achieve crispy lettuce leaves and tender stalks. This will become your new favorite side dish that the whole family will love.
Versatile - The mild and slightly sweet flavor complements a wide range of flavors and cuisines and is a wonderful change from regular green veggies, adding diversity to your plate. Pair it with your favorite main course for an easy weeknight meal.
💭Fun Fact: Bok choy, also known as Chinese cabbage or pak choi, is a leafy green vegetable that belongs to the cabbage family among over cruciferous vegetables like cauliflower, broccoli, and napa cabbage.
Ingredients
Learn how to make roasted bok choy in the air fryer with three basic ingredients plus salt and pepper. This easy recipe takes just a few minutes of prep time and makes a delicious side dish.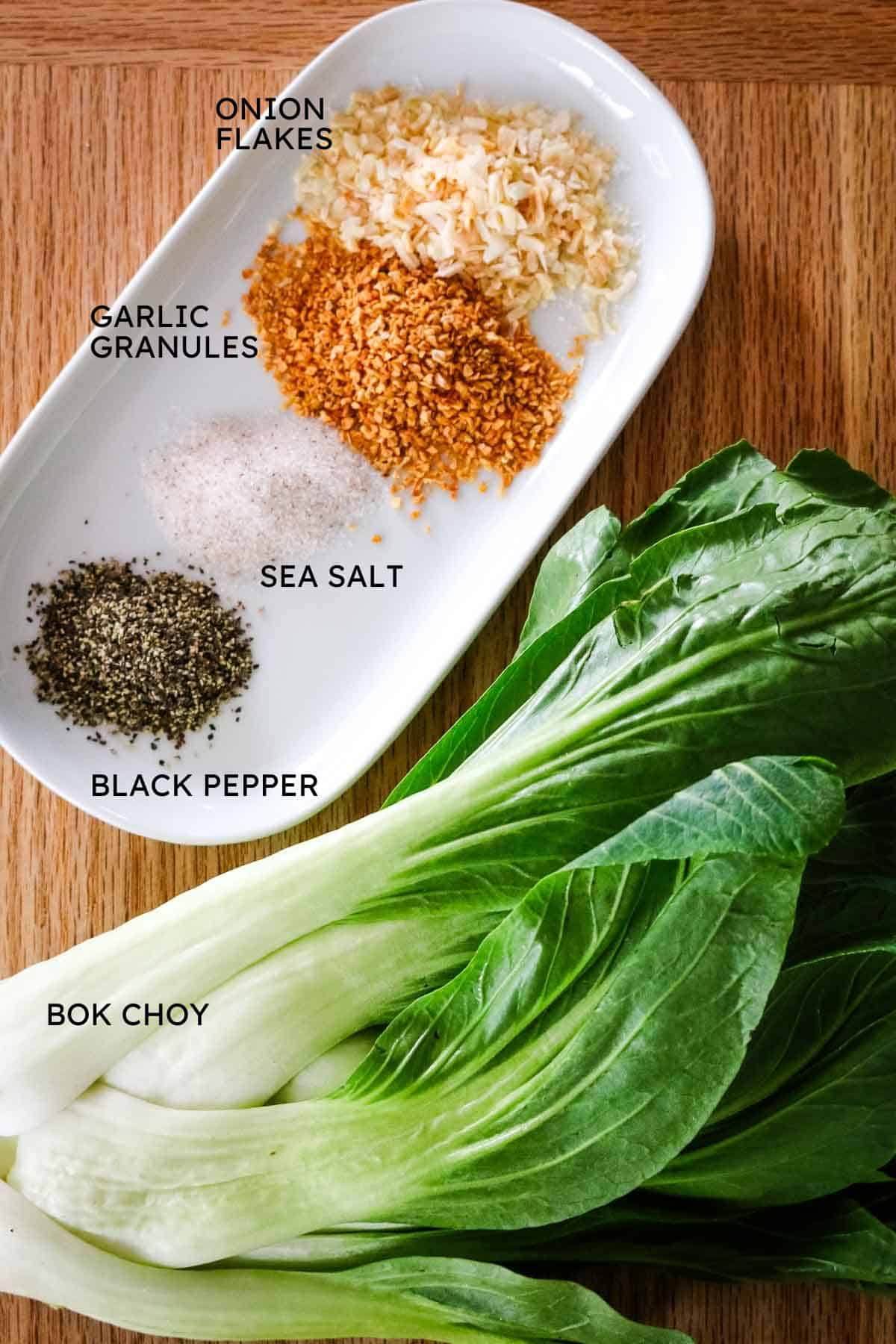 Bok choy heads: this versatile vegetable comes in "heads," - you can use either mature bok choy or baby bok choy for a milder flavor. When roasted, the bok choy leaves become crispy, while the stalks and bulbs are tender and sweeter.
Minced garlic granules: adds a savory and aromatic flavor to the bok choy.
Onion flakes: dried onion flakes add a subtle onion flavor without the sharpness and pairs well with the garlic.
Salt and pepper: these common seasonings enhance the flavor of the bok choy and balance the overall flavor profile of this easy side dish.
See the recipe card for exact quantities.
Substitutions and Variations
Make it spicy - add red pepper flakes or a dash of sriracha for a fiery twist.
Add citrus flavor - Zest some lime or lemon and add to the seasonings. After roasting, squeeze some lemon juice or lime juice to brighten the flavors and add a refreshing citrus note.
Asian-inspired - bok choy is excellent with most Asian recipes, but you can also take this side dish up a notch. Add ginger and sesame seeds to the seasoning and drizzle with sesame oil and green onion garnish just before serving.
Herbaceous bok choy - give this side dish a fresh herbaceous flavor by adding fresh herbs like cilantro, dill, or parsley.
Serve it deluxe - sprinkle some cheddar cheese and top with bacon bits for a loaded bok choy side dish.
Make it Nutrient Dense
Staying true to the heart of what Prepare and Nourish is all about, there are ways to ensure you get the maximum nutrition in this recipe. Even though it's an incredibly simple recipe, you can take purposeful steps to turn this into a nutrient-dense dish.
Use quality ingredients. Opt for fresh and vibrant bok choy from your local farmer's market. Look for crisp, green leaves and firm stalks when selecting your bok choy. Better yet, go with organic bok choy to avoid pesticides.
Use healthy fats. Ensure the cooking spray does not contain rancid vegetable oils like canola oil. My favorite is Chosen Foods avocado oil. But you can also use healthy saturated fats for extra flavor, like bacon grease and beef tallow. Avoid using sesame oil for roasting but you can drizzle a few tablespoons of sesame oil for flavor at the end.
Cook bok choy properly. Roasting bok choy increases the bioavailability of nutrients as it's easier to digest but you don't want to overcook it where it's turned to mush.
Helpful Tips
Time-saving tip - Skip the step of mixing the seasonings in a small bowl and season the bok choy directly on the sheet to save time and extra dishes to wash.
Cooking time varies - Depending on the thickness of the bok choy and your air fryer or oven, you may need to adjust cook time accordingly to prevent overcooking. Air fryers typically cook quicker than regular ovens. Some air fryers can roast perfectly crispy bok choy leaves in 5-6 minutes so watch them closely!
Clean-up tip - To cut down on clean up, consider lining your baking sheet with a piece of parchment paper before adding bok choy. But keep in mind, this will prevent the bok choy from browning.
Cut bok choy in even layer - Aim for evenly-sized sections of bok choy to ensure even cooking. This will help prevent some pieces from becoming overcooked.
Step-by-Step Instructions
The complete printable recipe is below in the recipe card for your convenience.
The air fryer bok choy recipe is very straightforward and simple. Grab your ingredients and let your air fryer to do the work.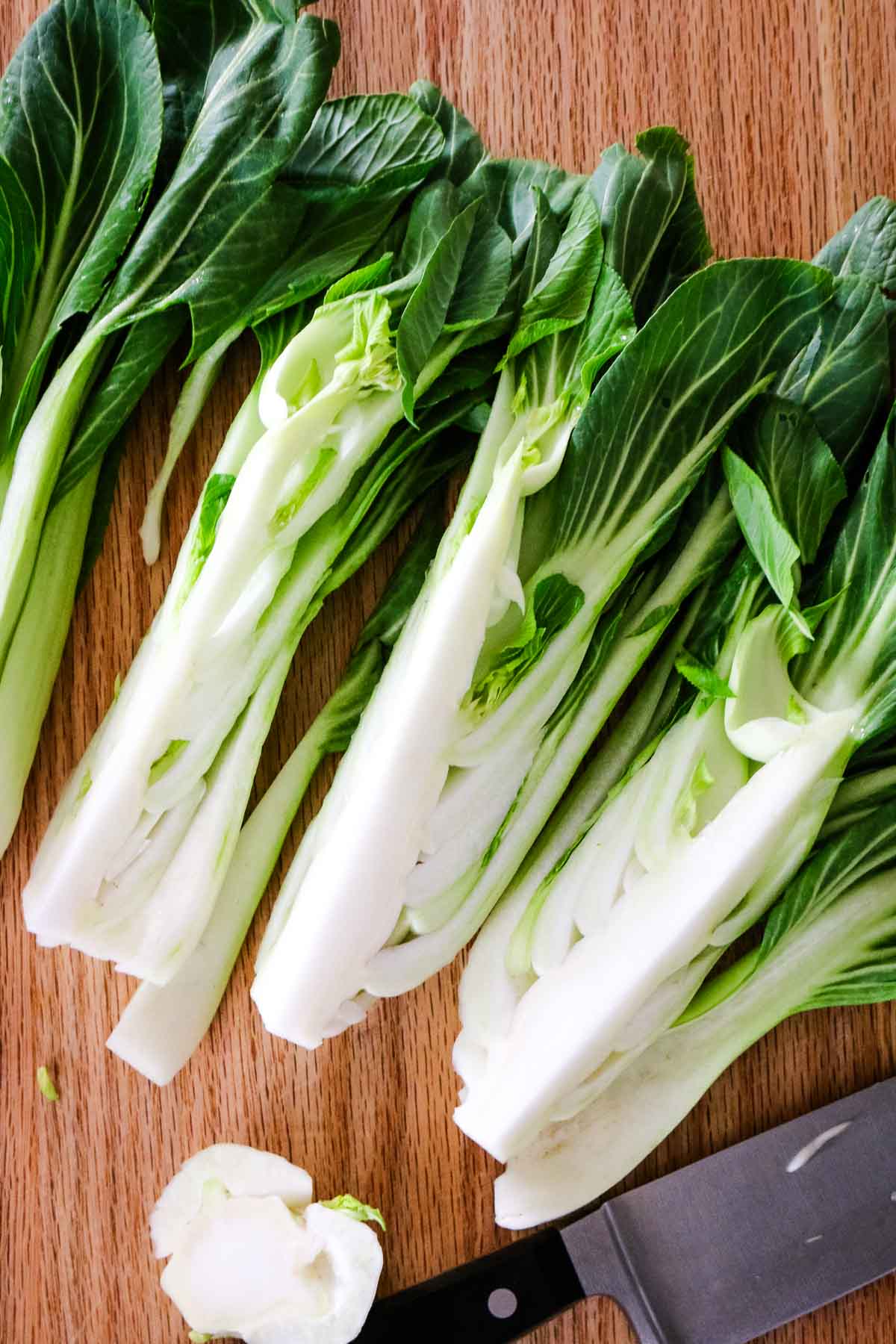 Step 1. Prep
Trim the ends of the bok choy heads and cut them into quarters, then into eights. Rinse and dry them well.
Step 2. Spread
Spread the cut bok choy in a single layer on a baking sheet (if using a toaster air fryer) or air fryer basket.
💭Pro tip: Rinse the bok choy thoroughly under running water to remove any dirt, especially between the leaves. Pat dry with paper towels or spin dry in salad spinner.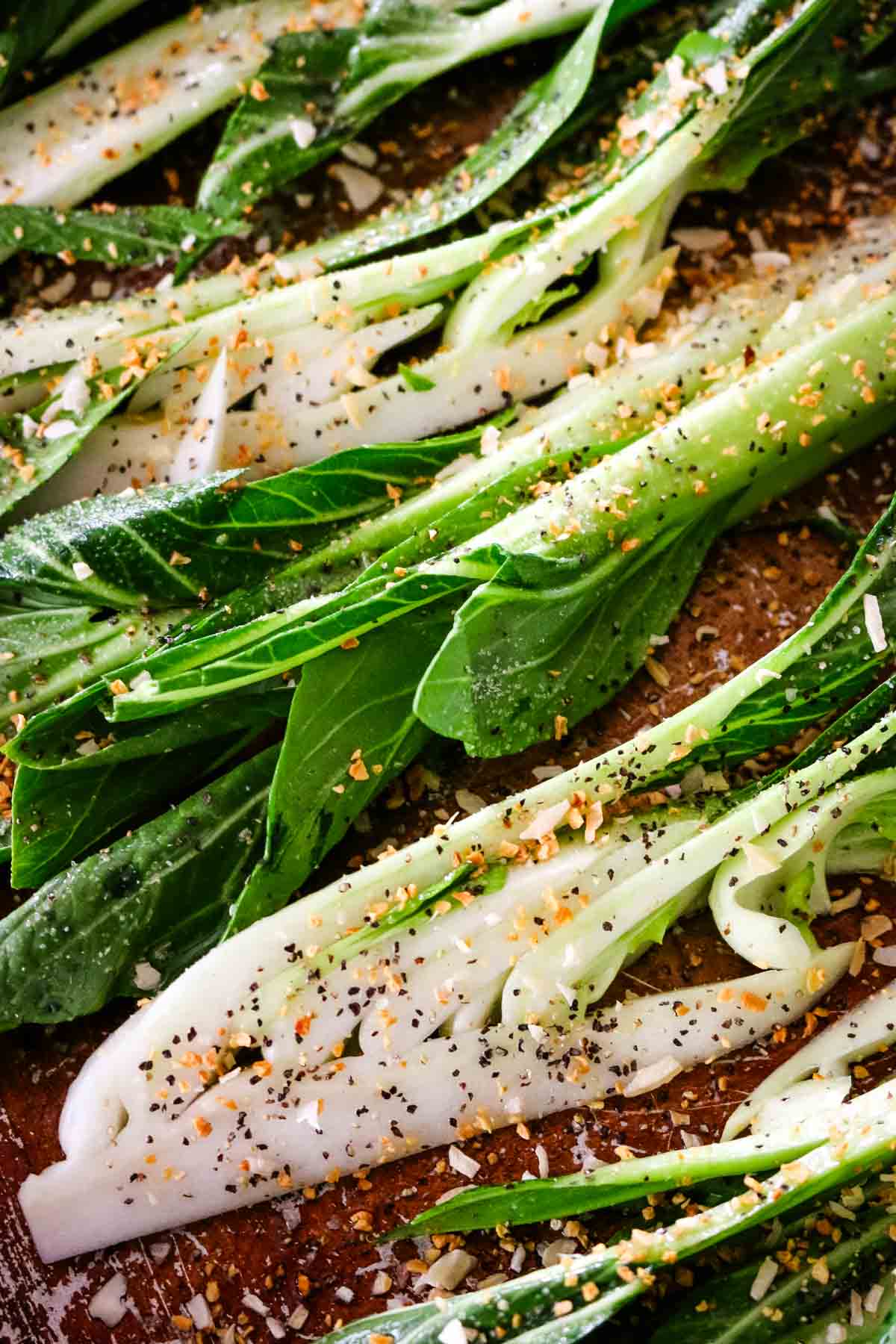 Step 3. Season
Spray the bok choy with cooking spray. In a small bowl, stir the seasonings together and coat bok choy evenly.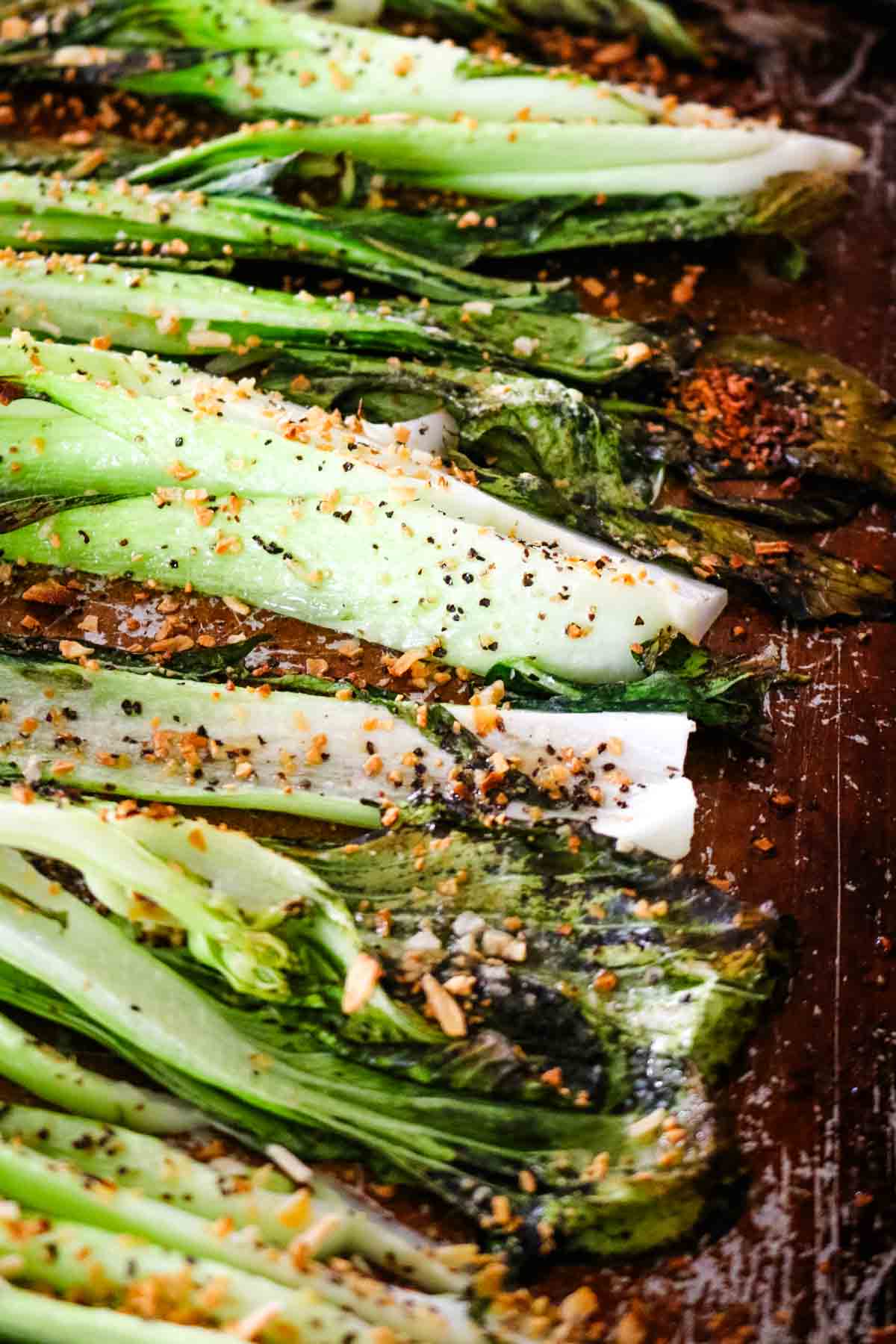 Step 4. Roast
Roast in a preheated air fryer or oven until leaves are crispy and slightly charred.
💭Pro tip: If roasting in an oven, use the top rack to achieve those crispy leaves.  
Helpful Tools & Links
Below are some affiliate links that may be helpful to you as you make this simple recipe. You can find some of these items cheaper at your local store, but having a link helps you know what you're looking for.
Serving Suggestions
Roasted bok choy pairs well with a variety of dishes. It's a staple in Chinese cuisine and other Asian-inspired dishes like spicy pork ramen and Vietnamese shaking beef bowl. You can also incorporate roasted bok choy into your favorite stir fry for a delicious bok choy stir-fry.
My favorite way to serve it is with white rice and add a healthy protein like grilled steak or chicken to make it a complete meal.
But bok choy is terrific with any meal - you don't have to limit to dinnertime only. Try it with air fryer hash browns or pulled pork breakfast skillet. You can also drizzle some sriracha mayo over it and garnish with green onions for a loaded side dish.
Air Fryer Bok Choy pairing suggestions
Storage and Reheating Instructions
To store: Leftover bok choy should be stored in an airtight container in the refrigerator for up to 4 days.
Storage containers: These glass snap containers are perfect for leftovers - they can go from fridge to toaster oven.
To reheat: To reheat, place the glass container in a non-preheated air fryer convection oven and set it to 400˚F until warmed through. You can follow the same steps in the post on reheating roasted potatoes in air fryer.
FAQs
Can I use baby bok choy instead of regular bok choy?
Yes! Baby bok choy can be used in this air fryer recipe. Depending on the size of your baby bok choy, you may need to reduce cooking time since baby bok choy tends to cook faster due to its smaller size.
Can you freeze bok choy?
While it's not common to freeze roasted bok choy, it is possible. However, it's important to remember that the texture and taste of the roasted bok choy will change after freezing and thawing. To freeze the bok choy, transfer it to an airtight freezer-safe container and freeze it for up to 2 months. Thaw overnight at room temperature and reheat per instructions.
I don't have cooking spray - can I use regular oil?
Certainly! The cooking spray makes it incredibly convenient to coat the bok choy and ensures you use a minimum amount. However, you may evenly drizzle avocado or olive oil and toss well to ensure the bok choy is coated well.
Can I cook frozen instead of fresh bok choy in the air fryer?
I recommend using fresh bok choy for better texture and flavor, but you can use frozen bok choy. If using frozen bok choy, I suggest you thaw it first, then pat dry to remove excess moisture, as frozen vegetables can release water when cooked. Then proceed with the recipe as written for cooking bok choy.
Looking for more great side dish recipes? Here are some ideas:
Did you make this? Please leave a ⭐ recipe rating in the recipe card below and leave a review in the comments. Thank you!💚
Printable Recipe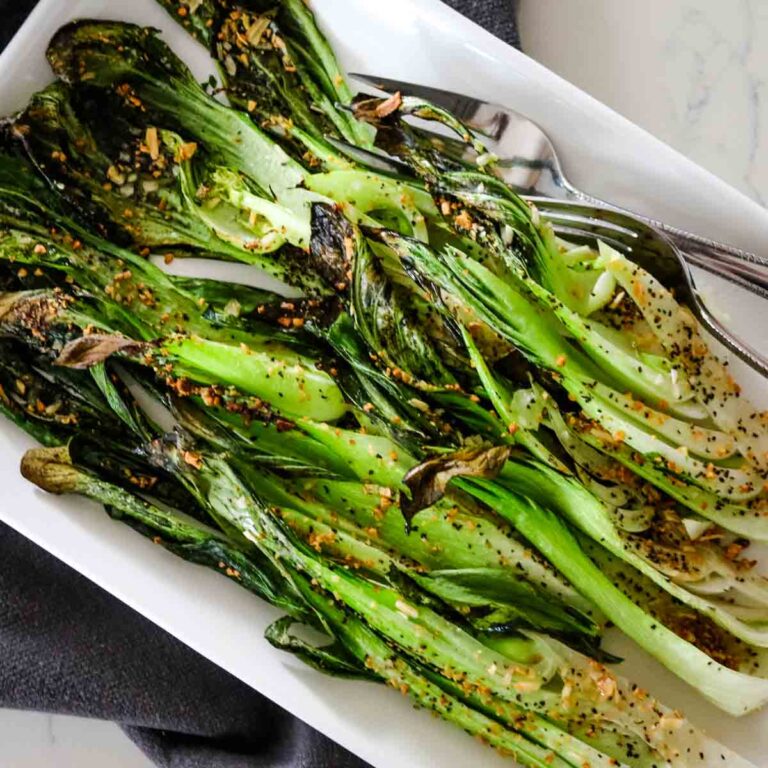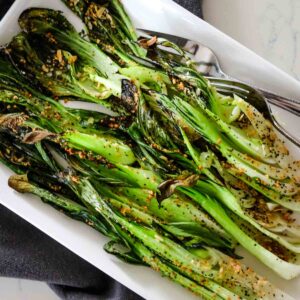 Roasted Bok Choy in Air Fryer
Crispy, flavorful green edges cooked to perfection in the air fryer. Pair this quick, easy, and healthy side dish with your favorite grilled meat for a simple dinner.
Instructions
Prep: Preheat oven or air fryer to 425˚F. Trim the ends of the bok choy heads and slice them in half lengthwise, then quarters, then into eights. Rinse them well to remove any dirt, making sure to get between the leaves.

Spread: Place the cut bok choy in a single layer on a baking sheet or the air fryer basket with the cut side up. Avoid overcrowding. If necessary, cook in batches.

Season: In a small bowl, stir the seasonings together. Spray the bok choy with avocado oil or olive oil and season with the spices making sure to get into the crevices between the leaves.

Roast: Cook the bok choy in the air fryer for about 6-8 minutes or oven for 8-10 minutes or until the leaves are crispy and slightly charred.
Notes
Roasting time will depend on the size of the bok choy. Baby bok choy is smaller and more tender; therefore, it cooks quicker. Start checking it at 5 minutes.
No need to flip the bok choy during cooking.
If using an oven - use the top rack for crispier leaves.
Storage: Leftover bok choy can be stored in the fridge in an airtight container for up to 4 days. Reheat in the air fryer until warmed through.
Nutrition
Calories:
21
kcal
|
Carbohydrates:
4
g
|
Protein:
2
g
|
Fat:
0.2
g
|
Saturated Fat:
0.04
g
|
Polyunsaturated Fat:
0.1
g
|
Monounsaturated Fat:
0.02
g
|
Sodium:
656
mg
|
Potassium:
308
mg
|
Fiber:
1
g
|
Sugar:
1
g
|
Vitamin A:
5068
IU
|
Vitamin C:
51
mg
|
Calcium:
123
mg
|
Iron:
1
mg
Nutrition Information
The information shown is an estimate provided for your convenience by an online calculator. It should not be considered as a substitute for a professional nutritionist's advice. See our complete Nutritional Information Disclaimer.
©Prepare and Nourish • Content and photographs are copyright protected. Sharing of this recipe is encouraged and appreciated but please do NOT screenshot or copy/paste complete recipes to websites or social media.