Upgrade your breakfast game with these Perfectly Crispy Shredded Hash Browns in Air Fryer. This hashbrowns recipe goes from frozen to golden brown delicious in 15 minutes, and no flipping is necessary!
If you ever wondered if you can put shredded hash browns in the air fryer - the answer is a resounding - Yes!
Air fryers are incredibly versatile kitchen appliances that can cook various dishes. Their ability to quickly and evenly cook food with minimal effort makes them popular with home cooks who want to enjoy delicious, crispy food.
My air fryer (I have a toaster-oven type) has been working overtime, cooking everything from salt and pepper chicken wings to roasted zucchini.
It's super convenient to whip up a batch of croutons in the air fryer in 10 minutes for weeknight salad or fry bacon-wrapped jalapeno poppers for game day.
Jump to:
Why you'll love this recipe
Easy to make - Unlike cooking hash browns on a stovetop, making them in an air fryer doesn't require you to flip them over to ensure even cooking. You can place the hash browns in the air fryer basket or sheet and let the appliance do the work.
Crispy texture - One of the best things about making frozen hash browns in an air fryer is that they turn out incredibly crispy. The hot air circulating the food helps to create a perfectly crispy texture that's hard to achieve with other cooking methods.
Quick breakfast - Put the hash browns in the air fryer and let them cook while you prepare for the day. In just a few minutes, you'll have hot, crispy hash browns to give you the perfect start to your day.
Ingredients
Learn how to make perfectly crispy shredded hash browns in the air fryer with 2 simple ingredients, plus your favorite seasonings. This easy breakfast recipe takes only 15 minutes, from start to finish, and takes frozen hash browns to delicious crispy shredded potatoes.
Frozen hash browns: The base ingredient of this simple recipe. You can use your favorite store-bought hash browns. Or learn how to make and freeze hash browns from Yukon gold potatoes, which is what I used here.
Cooking spray: Use a spray oil like avocado or olive oil spray to coat the hash browns and ensure a crispy texture.
Seasonings: Simple seasonings like sea salt, garlic powder, and paprika are added for flavor and to enhance overall taste.
See the recipe card for exact quantities.
Substitutions and Variations
Use sweet potatoes instead of regular potato hash browns for a slightly sweet and nutritious alternative.
Season with your favorite seasonings like onion powder, cayenne pepper, or Italian seasoning. This is a great recipe to let your personal preference shine because there's so much room for creativity.
Add in fresh herbs for a refreshing touch of flavor and pop of color.
Air fry hash brown frozen patties using the same method. Adjust cook time to achieve deliciously crispy patties.
Make it Nutrient Dense
Staying true to the heart of what Prepare and Nourish is all about, there are ways to ensure you get the maximum nutrition in cooking hash browns in air fryer. Even though it's an incredibly straightforward recipe, you can take purposeful steps to maximize nutrition.
Use stainless steel air fryer. Unfortunately, air fryers with baskets are likely coated in Teflon non-stick coating. Most convection toaster-oven air fryers, however, have stainless steel interiors. I love my Emeril Lagasse Power Air Fryer 360XL. It comes with crisper trays allowing heat circulation, much like the bottom of the air fryer basket does.
Watch the hash browns ingredients. Most store-bought hash browns include canola oil in their hash browns and, most definitely, in hash brown patties. While homemade hash browns are always ideal, grabbing a bag of frozen hash browns from the store can be helpful. I recommend checking ingredient labels to avoid rancid vegetable and canola oil.
Try a solid fat. This recipe is super easy and uses a cooking spray like avocado oil for convenience. But if you want to use traditional fats, melted butter, tallow, or bacon grease, makes these incredibly delicious air fryer hash browns.
💭Pro-tip: Consider making hash browns from scratch using leftover baked russet potatoes. Learn how to make homemade hash browns. 
Step-by-Step Instructions
The complete printable recipe is below in the recipe card for your convenience.
The air fryer hash browns recipe has very simple steps: dump the frozen hash browns in air fyer, coat with a little oil, and season if desired.
Step 1. Add
Spread frozen hashbrowns on an air fryer tray in a single layer.
Step 2. Season
Spray the hash browns with cooking oil and season with seasonings.
💭Pro tip: Preheat the air fryer to ensure that hash browns cook evenly.
Step 3. Air Fry
Pop the tray in the air fryer and cook until golden brown and crispy.
Step 4. Serve
Remove from the air fryer and serve the hash browns hot.
💭Pro tip: Combine hash browns, bacon, and eggs for a hearty comfort food for breakfast in this complete sheet pan breakfast.
Helpful Tips
No flipping needed - Flipping the hash browns at the halfway point is totally optional. I find that you can achieve perfectly crispy air fryer hash browns in the air fryer without flipping.
Avoid overcrowding for best results - Overcrowding the basket or cooking tray can allow the hash browns to cook unevenly and prevent them from getting crispy.
Watch for doneness - The cooking time may vary depending on the size and thickness of the hash browns, as well as the model and brand of the air fryer. The best way to brown potatoes is to keep an eye on them and start checking around the 8-minute mark.
Cook longer if necessary - A general cook time of 10-12 minutes is sufficient, but keep them in longer for extra crispy hash browns.
Helpful Tools & Links
Below are some affiliate links that may be helpful to you as you make this recipe. You can find some of these items cheaper at your local store, but having a link helps you know what you're looking for.
Serving Suggestions
The best part about this perfect side dish recipe is you can achieve perfectly crispy shredded hash browns in an air fryer in just the same amount of time it would take you to fry some eggs to pair it with.
Serve air fryer hashbrowns as a delicious breakfast side dish - it pairs well with a variety of other breakfast items like homemade breakfast sausage patties and your choice of eggs.
You can also add in your favorite fresh fruit and warm drink for a well balanced comforting breakfast.
Air Fryer Hash Browns pairing suggestions
Storage and Reheating Instructions
To store: Leftover hash browns can be stored in an airtight container in the fridge for up to 4 days.
Storage containers: These glass snap containers are perfect for leftovers.
To reheat: Place the leftover hash browns on a baking sheet and bake them in a preheated air fryer until heated through and crispy. Warm them up in a cast iron skillet over medium heat. Add some butter or another healthy fat first and cook for a few minutes, stirring occasionally.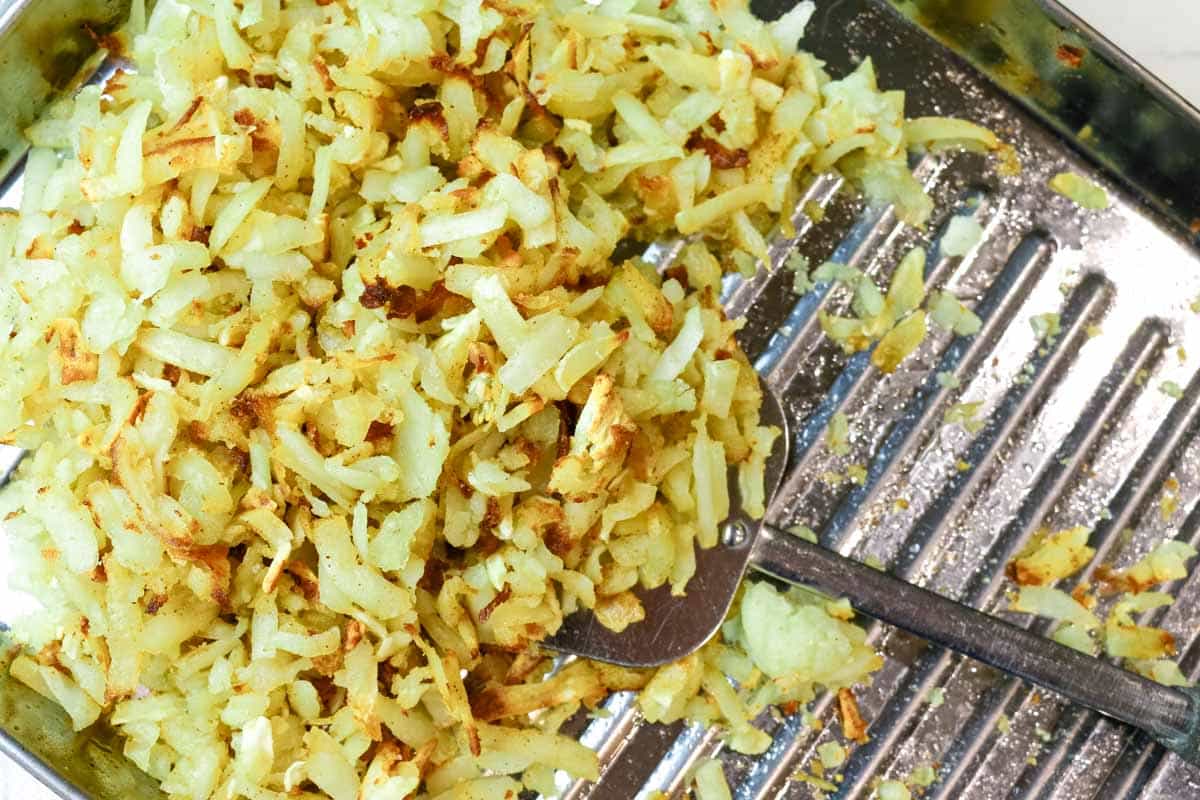 FAQs
How long do frozen hash browns take in air fryer?
Frozen hash browns typically take 10-15 minutes to cook in an air fryer, but cooking time may vary depending on the size of your air fryers and how much you are cooking. Shaking or flipping the hash browns halfway through is not necessary but may speed up the cooking.
Why won't my hash browns get crispy?
Air frying potatoes is an easy way to achieve golden brown crispiness. To get crispy hash browns, make sure they are frozen but pat down with a paper towel to remove any excess moisture. Cook them in an even layer with enough oil and heat until they are golden brown and crispy on the outside.
Should I thaw frozen hashbrowns before frying?
It is not necessary to thaw frozen hash browns before cooking them in an air fryer. Cooking them directly from frozen can actually help them get crispier. However, make sure to remove any excess ice crystals by patting them dry with a paper towel before cooking.
Looking for more great breakfast ideas? You may also like:
Did you make this? Please leave a ⭐ recipe rating in the recipe card below and leave a review in the comments. Thank you!💚
Printable Recipe
Perfectly Crispy Shredded Hash Browns in Air Fryer
Upgrade your breakfast game with these crispy air fryer hash browns. This hashbrowns recipe goes from frozen to golden brown delicious in 15 minutes, and no flipping is necessary!
Notes
Storage: Leftover hash browns can be stored in an airtight container in the fridge for up to 4 days.
Helpful Tips:
Don't overcrowd the air fryer tray. If you have a lot of hash browns to cook, do so in batches to ensure they get perfectly crispy.
If cooking frozen hash brown patties, adjust cooking time.
Overall cook time will depend on how thick the hash browns are and what model of air fryer you are using. Basket-type air fryers tend to cook food quicker than convection-type.
Please note: Nutrition facts does not include cooking spray.
Nutrition
Calories:
71
kcal
|
Carbohydrates:
15
g
|
Protein:
2
g
|
Fat:
1
g
|
Saturated Fat:
0.1
g
|
Polyunsaturated Fat:
0.2
g
|
Monounsaturated Fat:
0.02
g
|
Sodium:
310
mg
|
Potassium:
248
mg
|
Fiber:
1
g
|
Sugar:
0.02
g
|
Vitamin A:
62
IU
|
Vitamin C:
7
mg
|
Calcium:
9
mg
|
Iron:
1
mg
Nutrition Information
The information shown is an estimate provided for your convenience by an online calculator. It should not be considered as a substitute for a professional nutritionist's advice. See our complete Nutritional Information Disclaimer.
©Prepare and Nourish • Content and photographs are copyright protected. Sharing of this recipe is encouraged and appreciated but please do NOT screenshot or copy/paste complete recipes to websites or social media.