Breakfast Kale Egg Cups are a wonderful addition to special brunch or can be made for a quick breakfast instead. Made with turkey or ham deli cold cuts to hold the eggs, cheese and other toppings and baked to perfection. Paleo, Low-Carb, Whole 30, GAPS compliant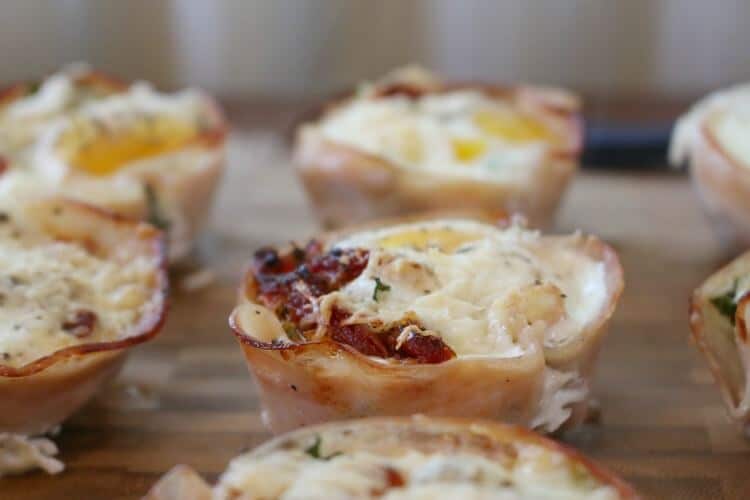 I don't know about you, but I'm always on a hunt for more simple ideas to keep the family well fed.  One way to do that, is by making a large batch of breakfast items for easy grab-and-go mornings.  While I really cherish our sit-down, slow breakfasts - it doesn't quite work out that way all the time.  When it doesn't, I turn to recipes such as these Breakfast Kale Egg Cups.  But if grab-and-go breakfast isn't your jam, these can totally be enjoyed as part of a relaxing brunch.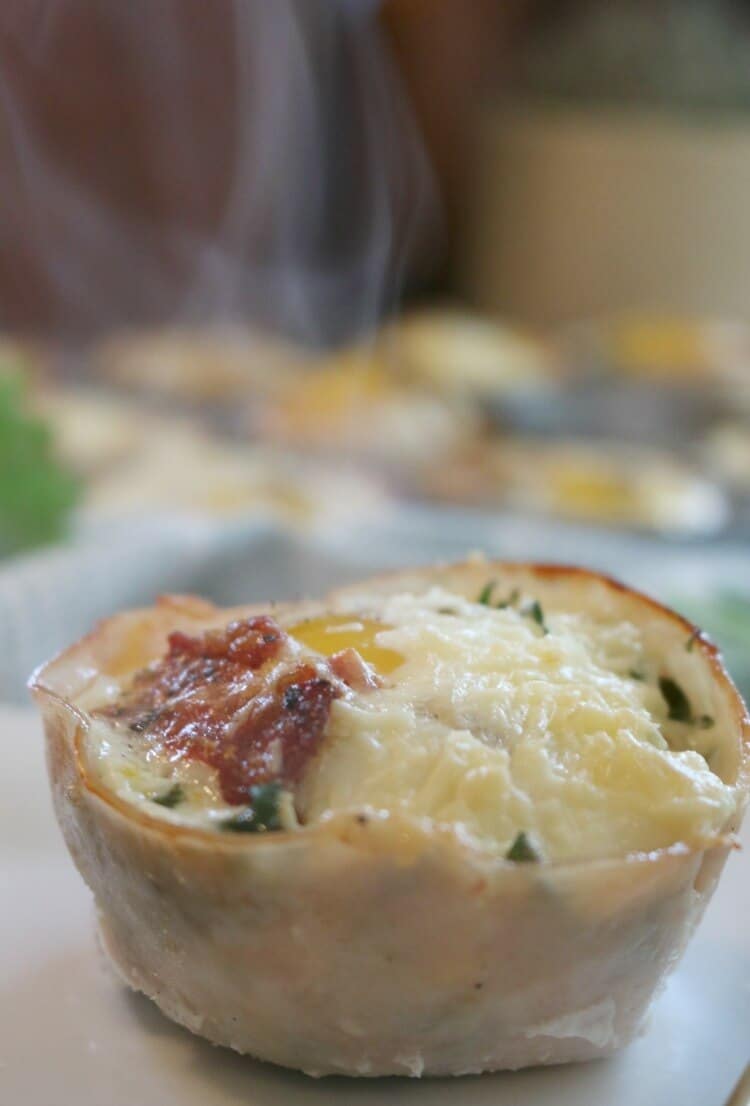 Your Favorite Greens
This recipe is pretty flexible, feel free to use whatever green you have on hand. My garden just happens to be overtaken by kale currently, so I naturally gravitate towards recipes with kale.  I used regular curly kale, but chard and spinach would work great too.
Rinse the greens, if they came from your garden or a farmer you trust.  Otherwise, you can soak in vinegar solution to remove any residual pesticides and other nasties.  Dry the greens, or at the very least, give a firm shake over the sink to remove excess water.
Unless you're using baby kale, I recommend removing the spine.  I simply hold the kale leaf upside down with my left hand, and slide my thumb and index finger on the other hand down the leaf at the spine, removing the soft part of the leaves and leaving the spine intact.  The easiest way to cut kale is to stack the leaves together, roll them lengthwise, and cut across the roll, creating ribbons.  This works great for this recipe but cut the kale however you wish.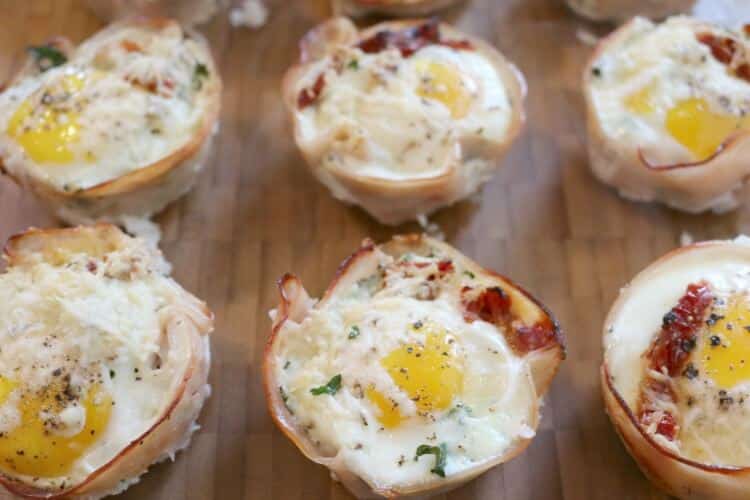 Your Favorite Deli Meat
Being a mostly gluten-free household, we don't make a lot of sandwiches around here and for this reason, we don't have deli meat stashed away in the refrigerator often.  Every now and then, I will throw a sandwich in my kid's lunchbox, but only out of last minute desperation.
Having said that,  I appreciate the convenience of having organic deli meat on hand for easy and unique meals.  I used turkey though I personally love ham.  The hubs wants me to limit our pork consumption (except for bacon, bacon stays), so I reached for a pack of organic, antibiotic and hormone free turkey deli meat.  Read the ingredient list and if you're on a healing diet like GAPS, watch out for added sugar.
Any meal of the day!
These egg cups land somewhere between quick breakfast and special brunch.  The sun-dried tomatoes and parmesan add a nice Tuscan touch to the otherwise common breakfast.  But more than that, these cups don't have to be limited to just the wee hours of the morning, they are also a great snack in the afternoon and make a wonderful light dinner as well.
These egg cups also freeze well, making this a wonderful to-go breakfast, provided that you bake the egg thoroughly.  Pull them out of the oven just 2 minutes shy of their full cooking time to enjoy the runny egg for breakfast.
To freeze, be sure to bake the eggs fully (full 10 minutes), then cool on a cooling rack.  Place in small freezer-safe containers and stick in the freezer for later use.  To reheat, heat a tablespoon of butter (or bacon fat!) on a cast iron skillet and place the egg cups directly on top.  Close the skillet with a lid, and warm on medium heat for 2-3 minutes.  The bottoms will be perfectly browned and the egg cups will be thoroughly re-heated.
Low Carb Breakfast Kale Egg Cups
Serve these for a quick breakfast, special brunch or a midafternoon snack. These cups have the perfect balance of protein, healthy fats and even vegetables. 😉
Printable Recipe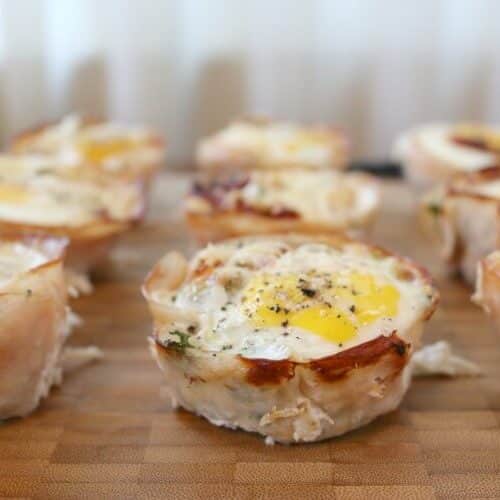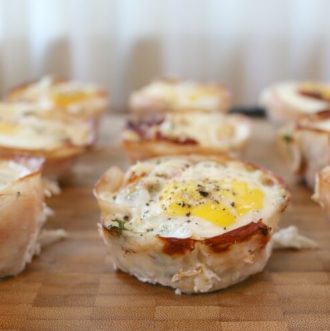 Breakfast Kale Egg Cups with Parmesan and Sun Dried Tomatoes
Serve these as an easy breakfast or a special brunch. The addition of sun dried tomatoes and parmesan makes this a delectable treat.
Ingredients
1

tablespoon

butter or bacon fat

12

slices

of turkey or ham deli meat

(organic preferred and check for added sugar!)

6-8

kale leaves

despined and chopped

12

pastured eggs

⅓

cup

whole milk

½

cup

parmesan cheese

optional

½

cup

sun dried tomatoes

sea salt & freshly ground pepper to taste
Instructions
Preheat oven to 400F degrees.

Grease

muffin pan

with healthy fat such as butter or lard. Though the deli meat doesn't usually stick to the pan, this assures that removing the cups will be a breeze.

Line the muffin openings with thinly-cut slices of turkey or ham deli meat, making cups.

Divide chopped kale amongst the muffin openings, spreading it somewhat evenly within each cup.

Break in one egg per muffin cup.

Pour ½ tablespoon of milk into each muffin cup, right over the egg. Top with parmesan and a few pieces of sun-dried tomatoes. Season with

black pepper

. Season with salt if desired.

Bake for 8-10 minutes, depending on how runny you desire the yolks to be. Remove and allow to sit for a few minutes before digging in.
Notes
To freeze, store these cups in freezer-safe glass containers.
To reheat, heat a tablespoon of butter (or bacon fat!) on a cast iron skillet and place the egg cups directly on top. Close the skillet with a lid, and warm on medium heat for 2-3 minutes. The bottoms will be perfectly browned and the egg cups will be thoroughly heated.
Nutrition Information
The information shown is an estimate provided for your convenience by an online calculator. It should not be considered as a substitute for a professional nutritionist's advice. See our complete Nutritional Information Disclaimer.
©Prepare and Nourish • Content and photographs are copyright protected. Sharing of this recipe is encouraged and appreciated but please do NOT screenshot or copy/paste complete recipes to websites or social media.
Pin this!