Find out what ButcherBox is, where they source their meat, if it's worth it and how to order from them to get the best value.
If you've been here for any length of time, you may have heard me talk about ButcherBox before. We have been using ButcherBox for almost three years now and have gotten pretty well versed in this area of getting the most bang for our buck.
This is a very comprehensive ButcherBox review and goes over how to order in 6 simple steps. If you are already aware of all that ButcherBox has to offer and want to take advantage of the special promotion that they are currently running, simply click here to claim your offer for FREE all-natural meat with your first ButcherBox order.
Here at Prepare & Nourish, we are all about finding easy solutions to make health and wellness achievable. We strive to always direct you to brands, companies, and products that we genuinely love, trust and personally use ourselves.
For years, finding sustainably grown, ethically raised, grass-fed protein that didn't break the bank and was easy to access has been the greatest challenge in the wellness culture.
Thankfully, those days are of the past and we now have a solution that gives you quality grass-fed beef, heritage pork, free-range chicken, and other healthy proteins at affordable prices.
In this post, we are sharing all the ButcherBox details and tips to maximize your savings.
What is ButcherBox?
ButcherBox is a meat distributor. They work with family farms and cooperatives to bring quality meats to your door every month. ButcherBox is committed to offer grass-fed, pasture-raised, heritage breed, organic, and wild-caught proteins.
The health benefits of responsibly-sourced meats are plenty. Conventional meats often contain trace hormones, antibiotics, and pesticides. Grass-fed and sustainably-raised meats, however, are void of that but they also have higher amounts of vitamins and minerals than their conventional counterparts. Grass-fed meats are also a great source of polyunsaturated fats (healthy fats) and generally taste better.
How does ButcherBox work?
ButcherBox is a monthly subscription - which is why it makes it so convenient! But...there are plenty customizations that you are free to do to make this serve you and your family best.
The idea is for ButcherBox to partially or fully serve as your monthly source of meat. So instead of going to your local meat butcher, you formulate an order of frozen meats from the comfort of your own home. You can order a mixed box or customize your own mix of beef, chicken, pork and salmon cuts based on your family needs (details on that below!).
The meat is conveniently individually packed at the peak of freshness and arrives frozen to your doorstep on dry ice, on your chosen delivery date. From there, you are free to stockpile your freezer or defrost for immediate consumption.
How much does ButcherBox cost?
It's worth mentioning right away that if you're used to purchasing conventional meat, ButcherBox prices may seem high. But you have to remember that you are getting the best quality proteins - that means grass-fed beef, heritage pork, pasture-raised chicken and wild salmon.
Even so, what I really love about ButcherBox is that they offer several options in terms of cost, quantity and frequency based on your family's various needs. The biggest difference in cost would be in the size of box purchased.
Classic Box: $129-$149 for 9-14 pounds of meat which averages $10.64 to $16.55 per pound
Big Box: $270 for 18-26 pounds of meat which averages $10.38 to $15.00 per pound
I realize that $10 per pound of meat is nothing to make light of, especially when so many are struggling to put healthy food on the table as it is. And your own real food priorities may look entirely different, one that doesn't include organic meats but rather the cheapest cut of chicken you can possibly find. And that is okay. We hope you can use this as a resource for your future meat purchases but at the very least consider ButcherBox in ways that would maximize your savings.
Over the years, we have learned that we can afford ButcherBox on a budget, making meat cost less than $10 per pound. There's also value in serving meat as a "side" with a variety of vegetables at every meal - this helps to stretch the nutrient-dense meats even more.
ButcherBox often run member-only specials that can be added to your monthly order. I almost always take advantage of these. Some of these options include or have included in the past:
5 pounds of bacon for $25
3 pounds of chicken drumsticks for $12
10 pounds of grass-fed ground beef for $49.99
2 pounds of boneless country style ribs for $11.99
But here's the best part: I only use ButcherBox to purchase meats that I cannot get locally at a good price. That usually means grass-fed beef and pastured pork. I almost always opt for organic chicken at Costco (though not free-range) and this works best for us for right now. However, I regularly add a whole chicken fryer to our ButcherBox to make amazing bone broth.
Some money-friendly things to know about ButcherBox:
ButcherBox always offers FREE shipping
Your subscription can be every 4 weeks, every 6 weeks, or every 8 weeks
Your subscription can be paused in increments of 1-6 months (convenient for vacation or budget needs)
Your subscription can be cancelled at any time
Customer service is super helpful and are quick to address any issues
Think about what you are already spending on meats. You'd be surprised to find out that you are already spending close to ButcherBox prices for sustainably-grown proteins.
Does ButcherBox have good meat?
In short, we have been impressed with all their meats. When cooked right, even the chewiest of cuts (i.e. roasts) are tender and delicious. And though we're no meat connoisseurs, we can taste the difference in texture and flavor - a direct result of how these animals are raised.
The meat that we have purchased from ButcherBox has been considerably more tender and juicier than the storebought counterparts. You also have to respect the various cuts and cook them accordingly. Don't expect the same marbled tender juiciness from a roast as you would from a steak.
When animals are humanely raised - they eat grass and get plenty of space to roam and exercise. As a result, the meat has less fat but more healthy omega 3s and other vitamins. If you're not used to grass-fed/grass-finished beef, you may notice a gamey flavor. That is a result of sustainably raised cattle. Humane and ethical practices means better meat - so all parties benefit.
One of the reasons we love ButcherBox is because they partner with small farms and cooperatives to bring high-quality protein to kitchen tables across the country. We appreciate their dedication to humane sourcing and source meat from ranchers they trust. We always seek to support our local farmers with our wallets. Here's a snapshot of the kinds of meats ButcherBox sources form small farms:
BEEF: 100% Grass-fed and grass-finished beef, humanely raised, never given antibiotics or added hormones, pasture raised, great source of omega-3s, vitamins, and minerals
PORK: heritage-breed pork, humanely raised, never given antibiotics or added hormones, "old world" genetics for fine marbling and flavor as nature intended
CHICKEN: free-range, USDA certified organic with certified organic feed, Global Animal Partnership certified, humanely raised, never given antibiotics or hormones
SEAFOOD: wild caught, sustainably harvested, no artificial coloring or additives, never given antibiotics or hormones

How does ButcherBox ship their meats?
ButcherBox ships their meat in sturdy boxes, with frozen individually-wrapped cuts packaged well on dry ice. After nearly three years of being a ButcherBox customer, I can vouch for their care in the shipment of the meats. They vacuum seal their meats and it is delivered frozen solid.
The packaging is so well done that it remains solid for the entire day until I can get to it in the evening. A few times, the outer edges of some chicken packages wasn't frozen solid, but it was still partly frozen that I had no concerns leaving it in the box well into the evening.
Can you cancel ButcherBox at any time?
Yes, you may cancel your ButcherBox subscription at any time prior to next delivery. You don't even need to email or call them - it can all be done from your account and there are NO cancellation fees.
Is ButcherBox worth it?
For our family - YES! It may be different for yours but keep reading for a comprehensive analysis.
The amazing quality, fair value and convenience that ButcherBox offers is unparalleled in the industry. But let's look at some of those pros and cons to a ButcherBox subscription.
PROS
Convenience - ButcherBox does the heavy lifting for you on this one. Curating, selecting, and delivering quality meat - so you can focus on other important things. The beauty of a delivery service is that we can order quality meat from ranchers we trust without having to leave our home. Consider the time it would take to drive down to the butcher and hand select your monthly meat, especially when there are so many other valuable things you'd rather be doing.
Variety - If selecting the mixed box, ButcherBox will curate the cuts for you. This is great if you're wanting to experiment with cuts you normally would not purchase. If selecting the custom box, you can still have a good variety of different cuts in your box. ButcherBox has also expanded from just beef and chicken to now include pork and seafood.
Quality - As mentioned above, quality of meat is exceptional and of great value to us, as is to ButcherBox.
CONS
Cost - There's definitely a cost difference between conventional and grass-fed meat. ButcherBox meat may even be more costlier than comparable meat from your local cow share or supermarket. (That's why I generally try to get cuts from ButcherBox that isn't available to me locally) This is one area that each family will have consider based on their unique needs. Do the best you can to eat well without hurting your budget.
Amount - ButcherBox accounts for how many meals you can get out of a box. For example, a small mixed box will have 9-11 pounds of meat at $5.38 per meal for 24 meals. That could be enough meat for 10-12 dinners for 2 people or 5-6 dinners for a family of 4. You want to be mindful of what is included in each box and consider what you would serve it with. You may potentially need to supplement accordingly with meat sourced elsewhere.
I understand that ButcherBox isn't for everyone. As mentioned before, the quality of meat may not be a priority for you in this season of life. Or perhaps you're working through some health issues and you are concerned with the quality of your meat. Wherever you find yourself on this spectrum, we hope this ButcherBox review was helpful to you whether you're going for it now or sometime in the future.
How to order ButcherBox
If you are ready for your first order of sustainably raised meats from ButcherBox, follow these simple instructions.
Step 1. Choose your box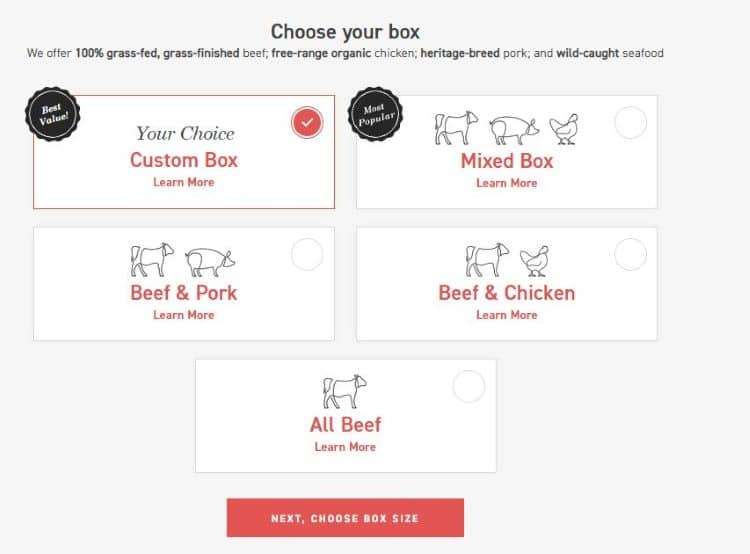 When you first sign up with ButcherBox, you will be prompted to add your email, which will then lead you to a screen where you can select one of several different types of boxes:
Custom Box
Mixed box (chicken, pork, beef)
Beef & Pork box
Beef & Chicken box
ALL beef box
We typically get the custom box (you can always change it in your account settings) because it allows the flexibility to customize my preferred cuts of meat.
Step 2. Choose your box size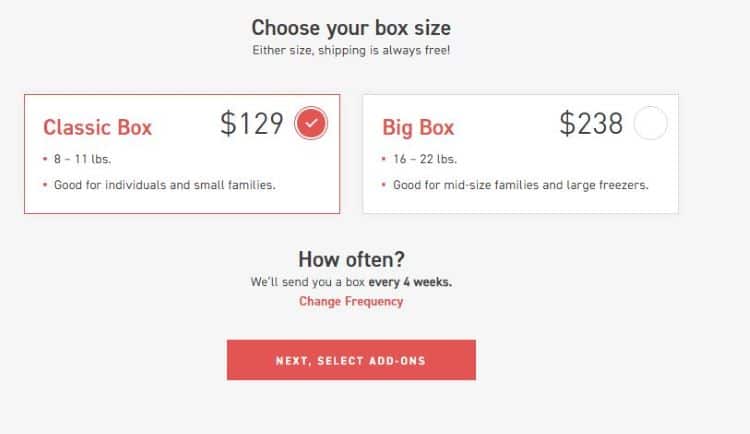 If you choose a pre-curated box (all but custom), you will then be prompted to select the size of the box. A classic box, or in this case, small is $129 which will give you 8-11 pounds of meat. Big box is priced at $238 for 16-22 pounds.
If you decide with custom box, the price is slightly higher. But you're getting slightly more meat and potentially prime cuts of meat. This is our preference since we can really get the most value when we are able to customize our own meat box.
Step 3. Choose your frequency
The frequency will default to a delivery every 4 weeks. However, you can change that to every 6 weeks or every 8 weeks when you select your box size. This is helpful when traveling or to meet budget goals.
Step 4. Choose your meats
You will not see this screen if you selected a pre-curated box (all but custom). However, if you are going with a custom box, you will select your meats. With this option, you can customize exactly what you want to receive in your box. You can see all the options and how to get the most bang for your buck.
It's clear on this screen how you can maximize your ButcherBox delivery. For example, you can select 6 of the Bone-in Pork Butt at 5.5 pounds each. At checkout, you will pay $149 for 33 pounds, making it just $4.51 per pound of heritage-breed, pastured pork. Alternatively, you can also select 2 of the boneless pork chops, 2 Italian sausage, and 2 ground pork for a total of 12 pounds. At $149 for 12 pounds, you are coming up at $12.41 per pound.
Selecting a custom box is great to maximize your savings (as in the pork butt example above) but it's also a savvy way to purchase expensive cuts (filet mignon and other premium steaks) at a much more affordable price.
Step 5. Choose your add-ons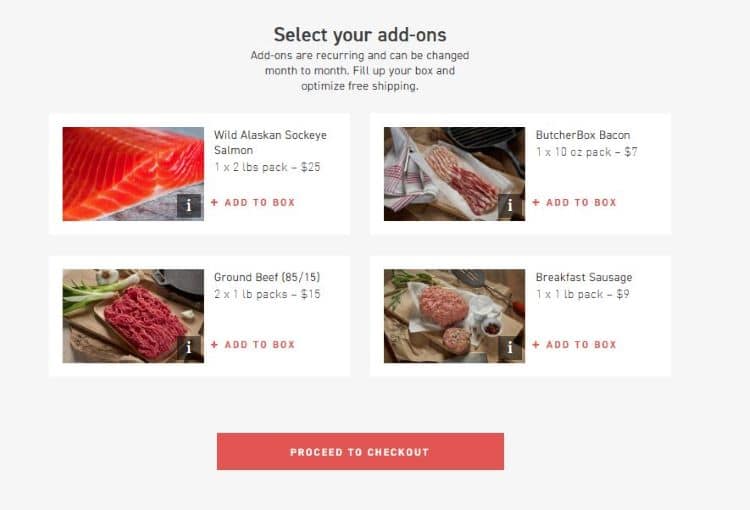 Add-ons are specials that can be added for an additional cost to your regular meat order. They vary from month to month and are often on seasonal rotations.
Step 6. Checkout
The last step is to input your shipping and billing information and you are done. If there are any current offers that you have claimed with sign-up, they will show up on the right side under Order Summary. Note, that these offers vary depending on time of signup but I include details on how to claim an offer for FREE Thanksgiving turkey below, as an example.
Remember, you can always change the type, size and frequency of your meat subscription. You can also always ALWAYS cancel at any time.
How to get a FREE all-natural meat
Claim your FREE 10-14 pound free-range, all natural Thanksgiving turkey HERE (<<< this link will automatically take you to whatever current deal ButcherBox is running) with your first ButcherBox.
This is such a great deal - one you can't pass by! Picking out a turkey always seemed daunting to me, not to mention the price tag for a natural turkey. Take advantage of this special offer now through November 14, 2020.
Just go HERE, enter your email address and "claim offer" to get the FREE Thanksgiving turkey FREE all-natural meat automatically added to your order.
Get Your First ButcherBox
We hope this review was helpful to you as you seek better and healthier ways to feed your family well. We hope it make you more confident about ordering your first ButcherBox. Click here to claim special offer and enjoy the quality meats that ranchers across the world take so much pride in.
Healthy Recipes using ButcherBox meats
Instant Pot Ribs Recipe (using ButcherBox St.Louis Style ribs)
How to Make Real Bacon Bits (using ButcherBox bacon)
Best Taco Meat Recipe (using ButcherBox ground beef)
Sheet Pan Garlic Butter Salmon with Asparagus and Potatoes (using ButcherBox wild salmon)
If liked this ButcherBox review, please consider leaving a comment below ⇓. Also, be sure to follow us on Facebook, Instagram, and Pinterest.
>>>Pin This<<<